It was a night for the stars as ATL turned all the way up on Tuesday! WE held an exclusive screening event for season two of Growing Up Hip Hop: Atlanta at the Woodruff Arts Center, and the stars were shining! The cast dominated the red carpet and impressed fans during a Q&A session about the upcoming season before turning up at the after party! Here are some of our favorite moments from last night!
Zonnique walked the red carpet with the most adorable date WE have ever seen!
Bow looked every inch the executive.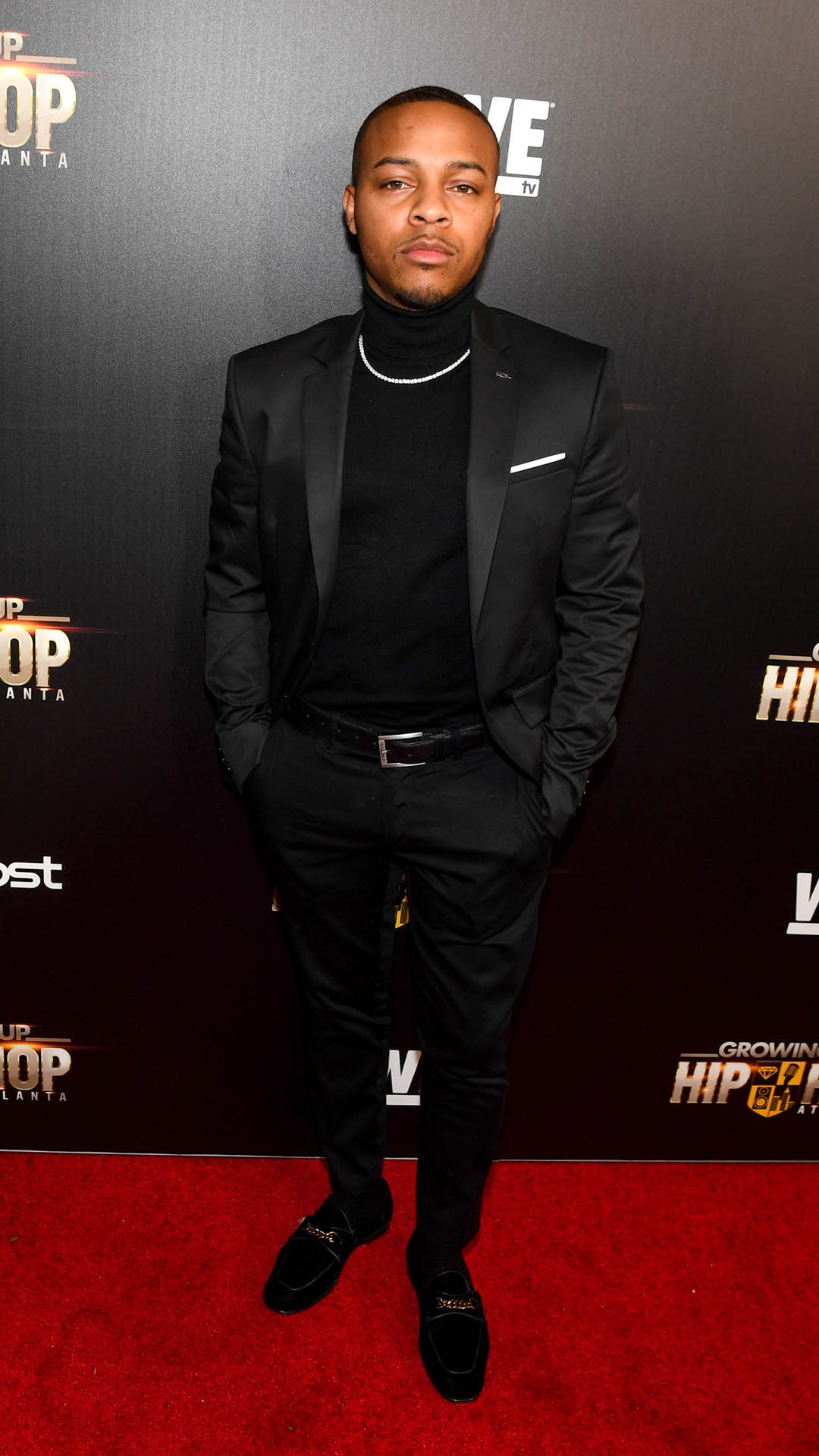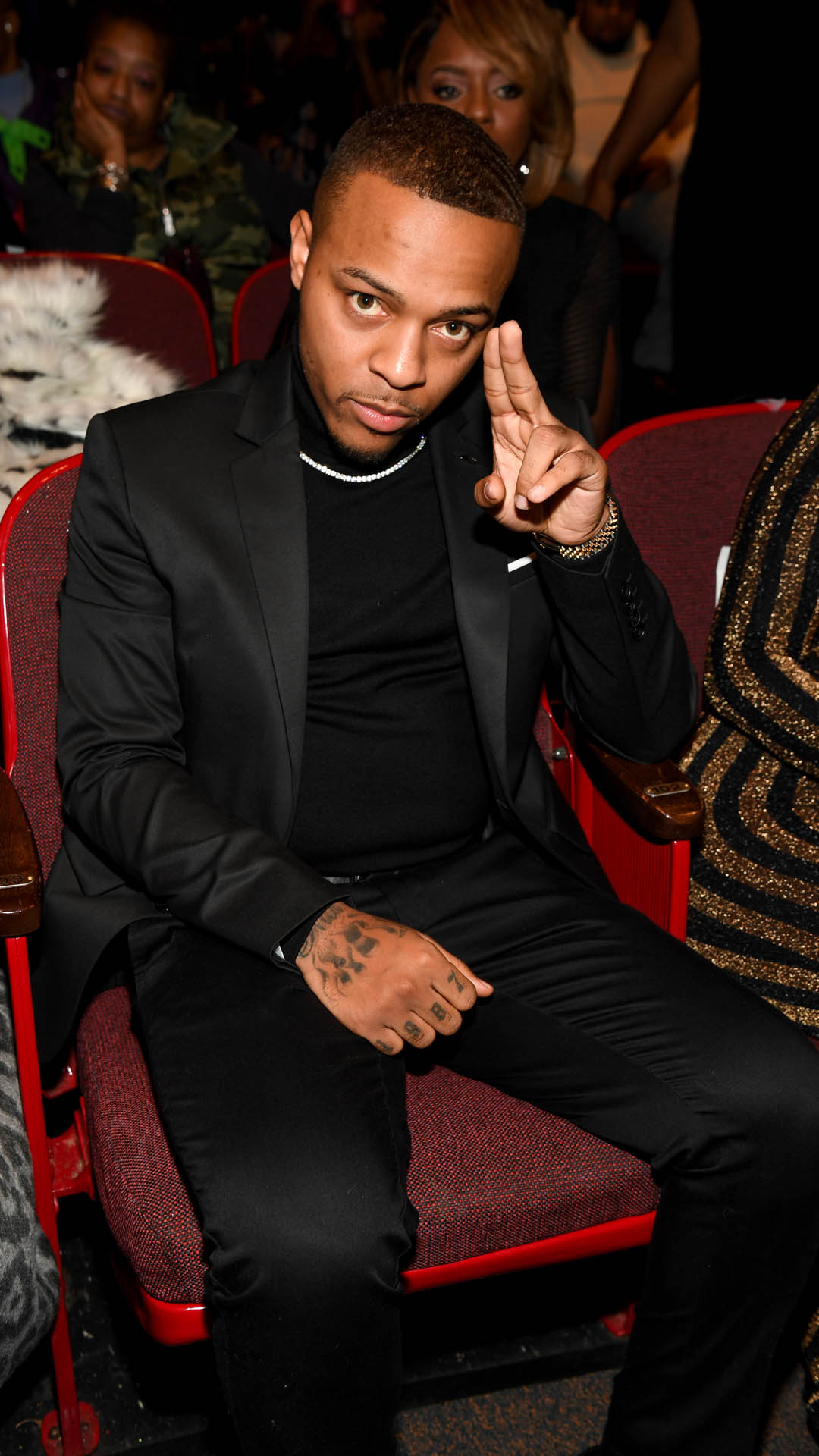 Da Brat looked SO SO Fresh!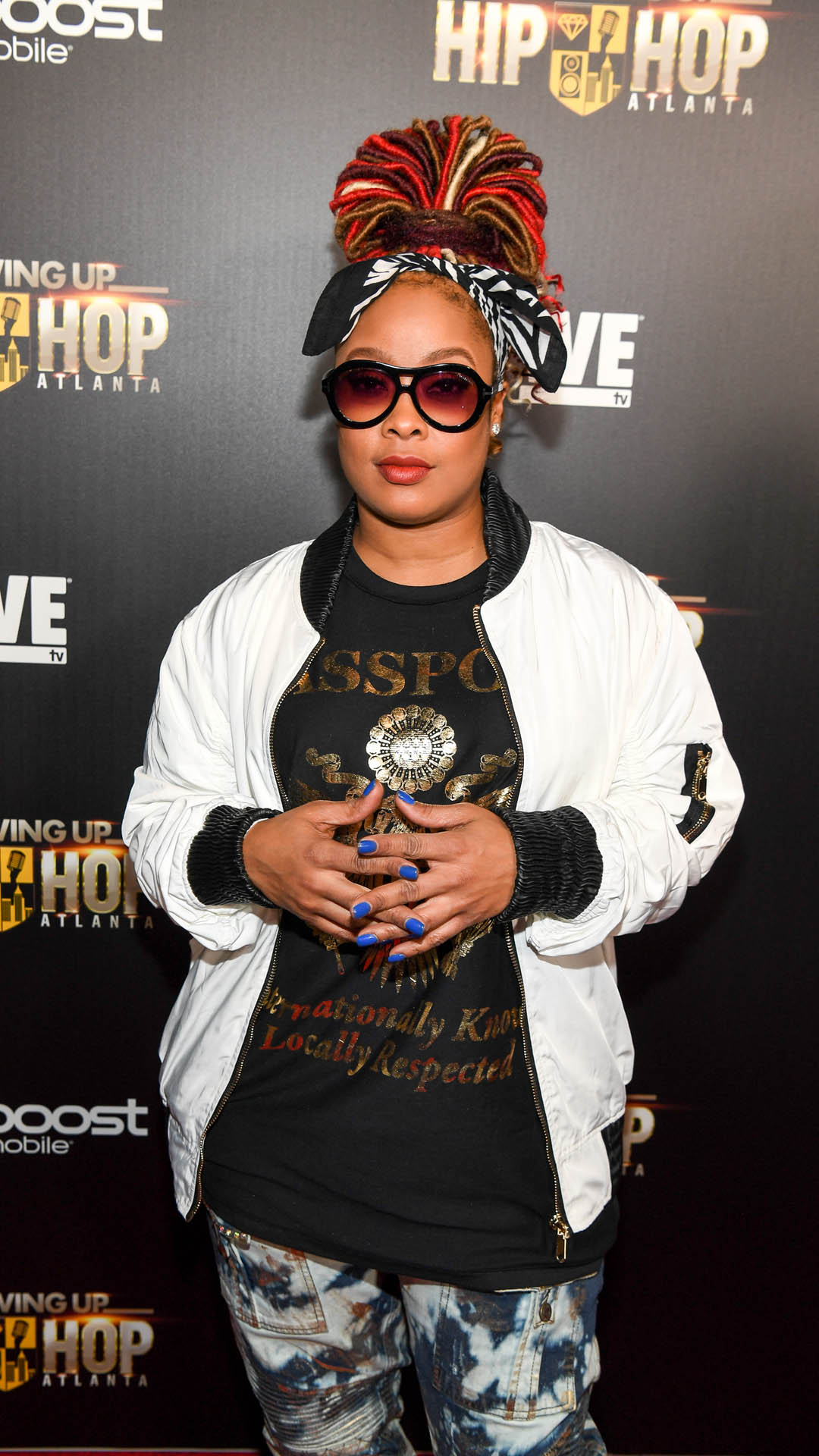 There were definitely some proud dads in the house!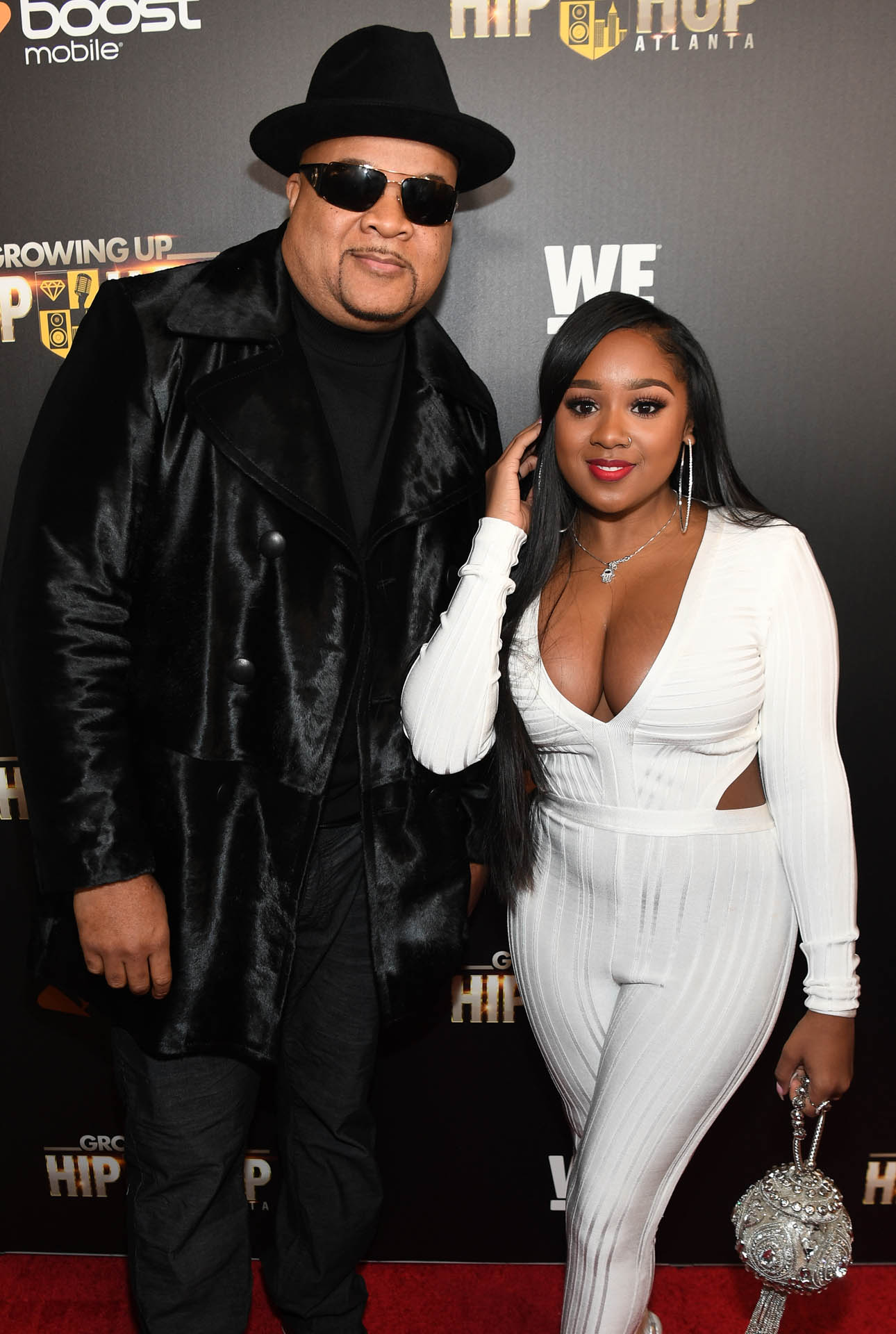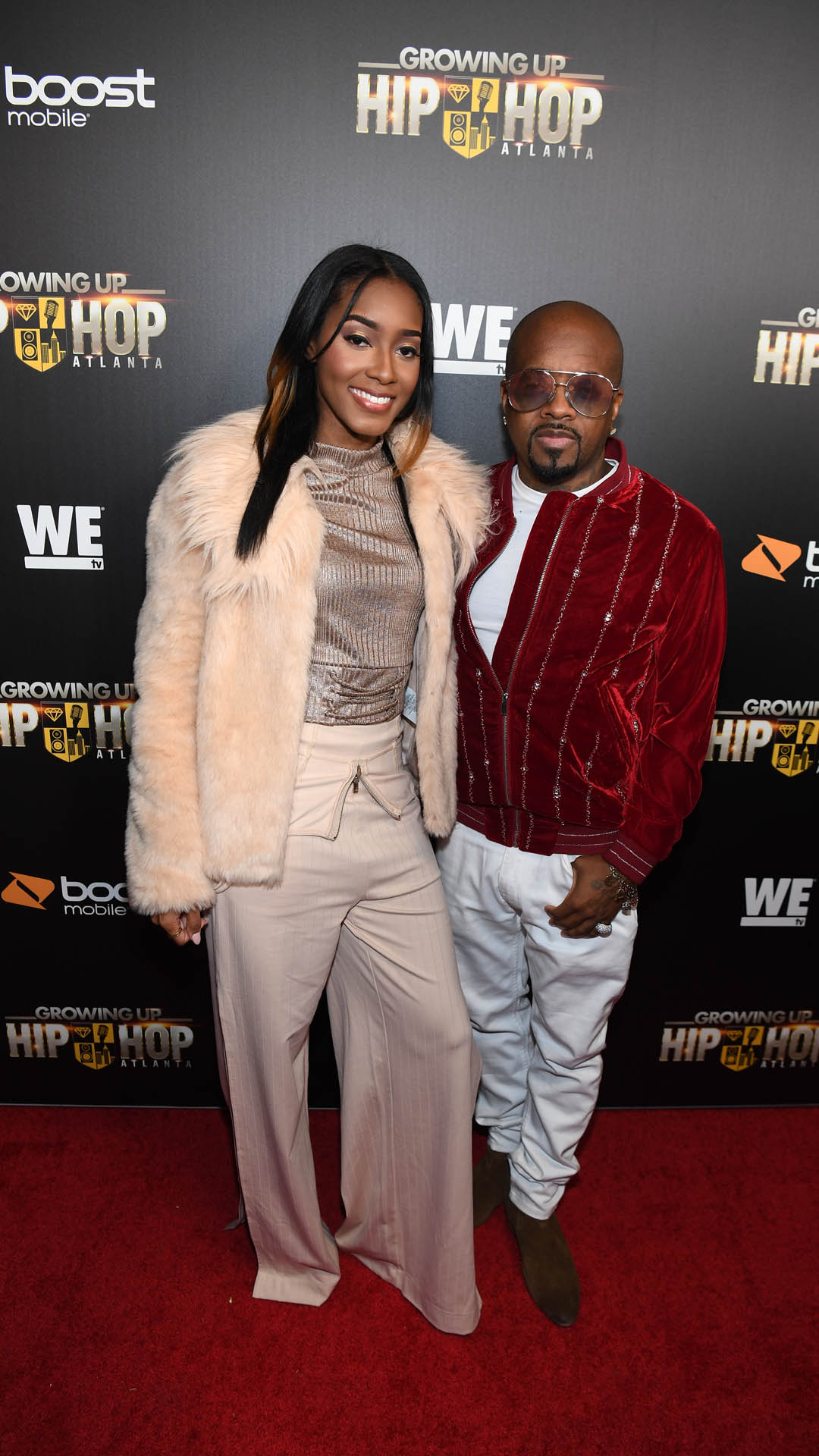 Love & Hip Hop Atlanta hit the red carpet! Lovely Mimi and her boo thang, Kareem showed some love for #GUHHATL!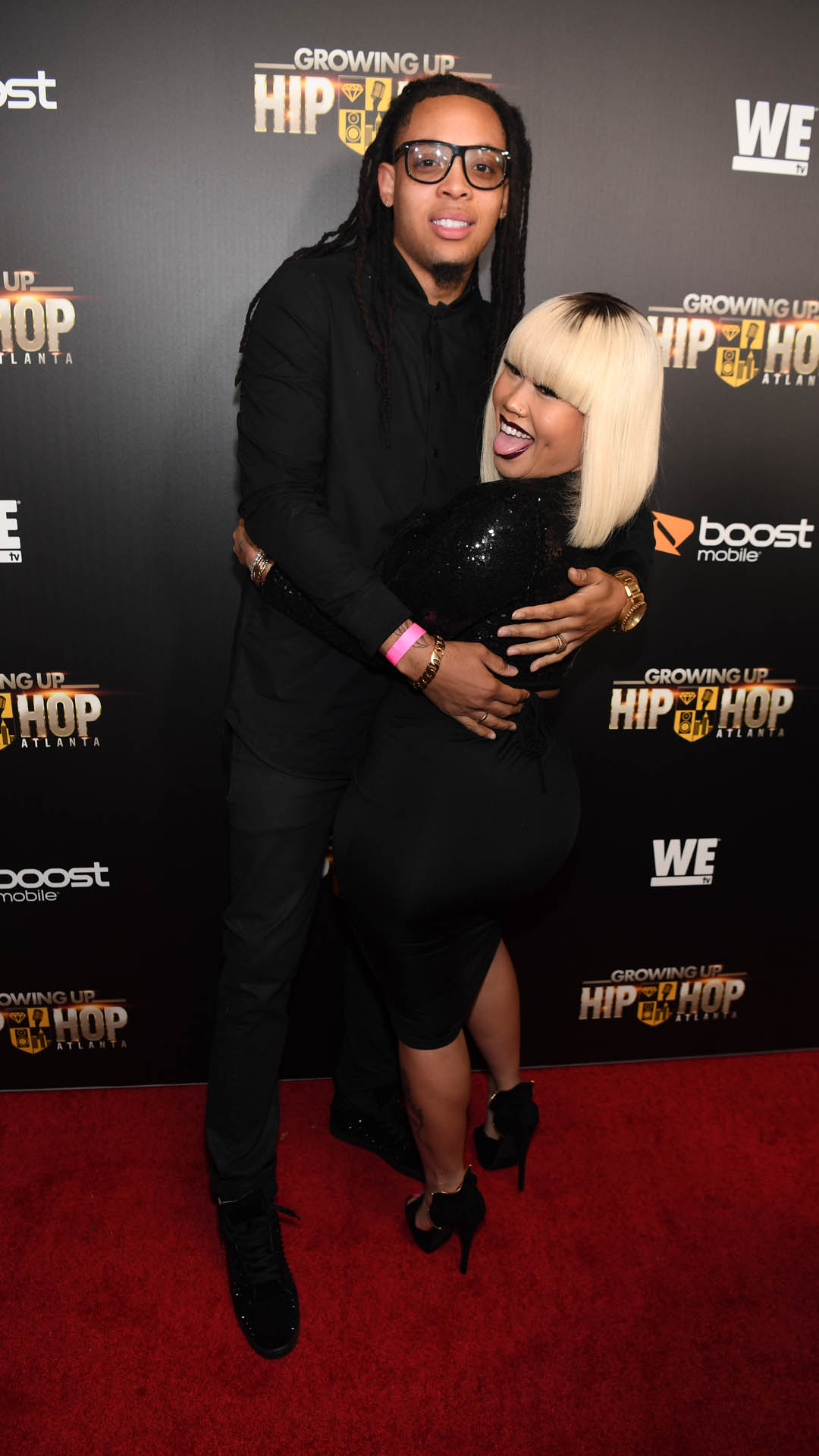 Real Housewives of Atlanta's Kenya Moore and Cynthia Bailey looked fierce as hell!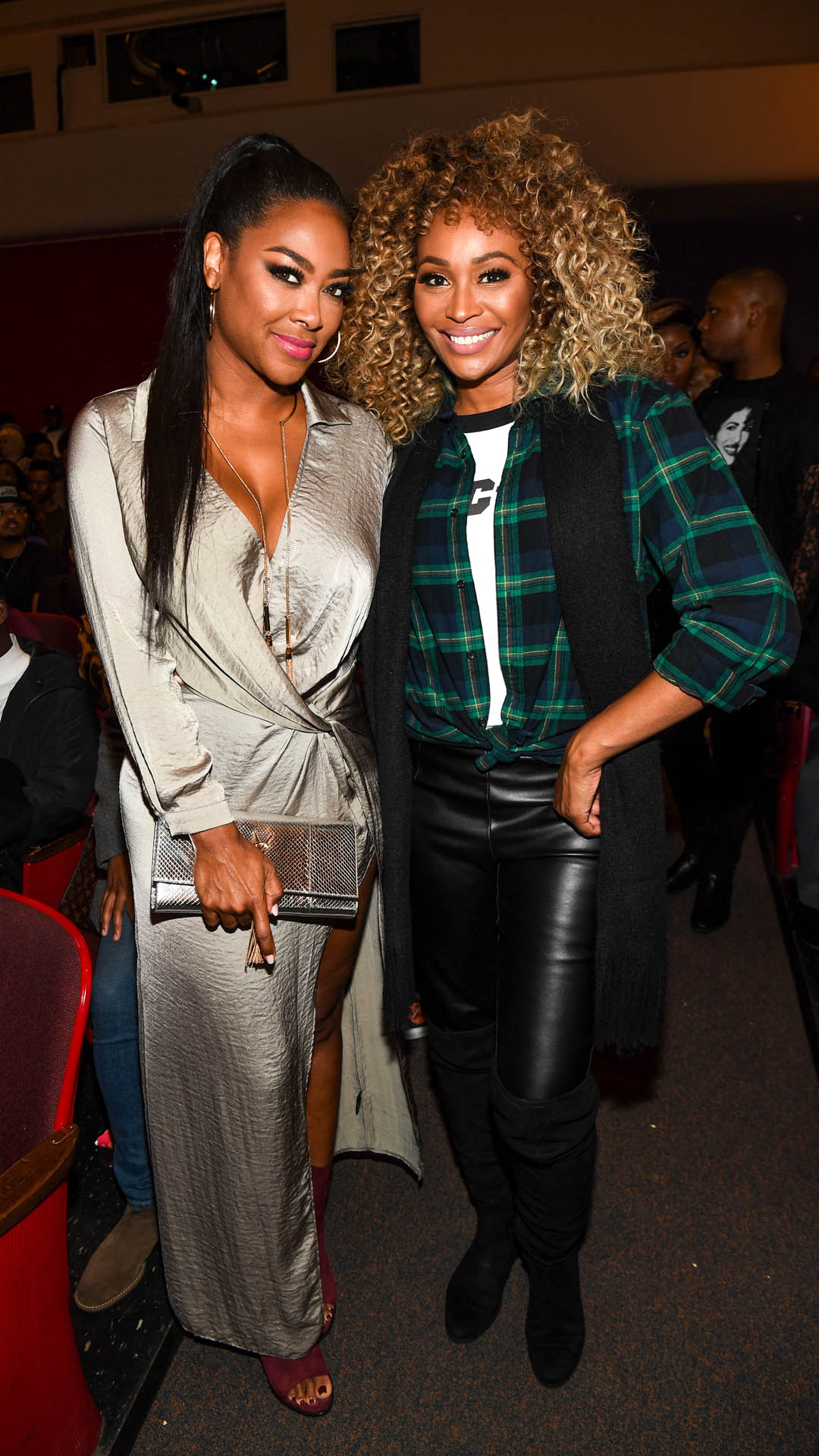 Our favorite sisters came through and blessed us!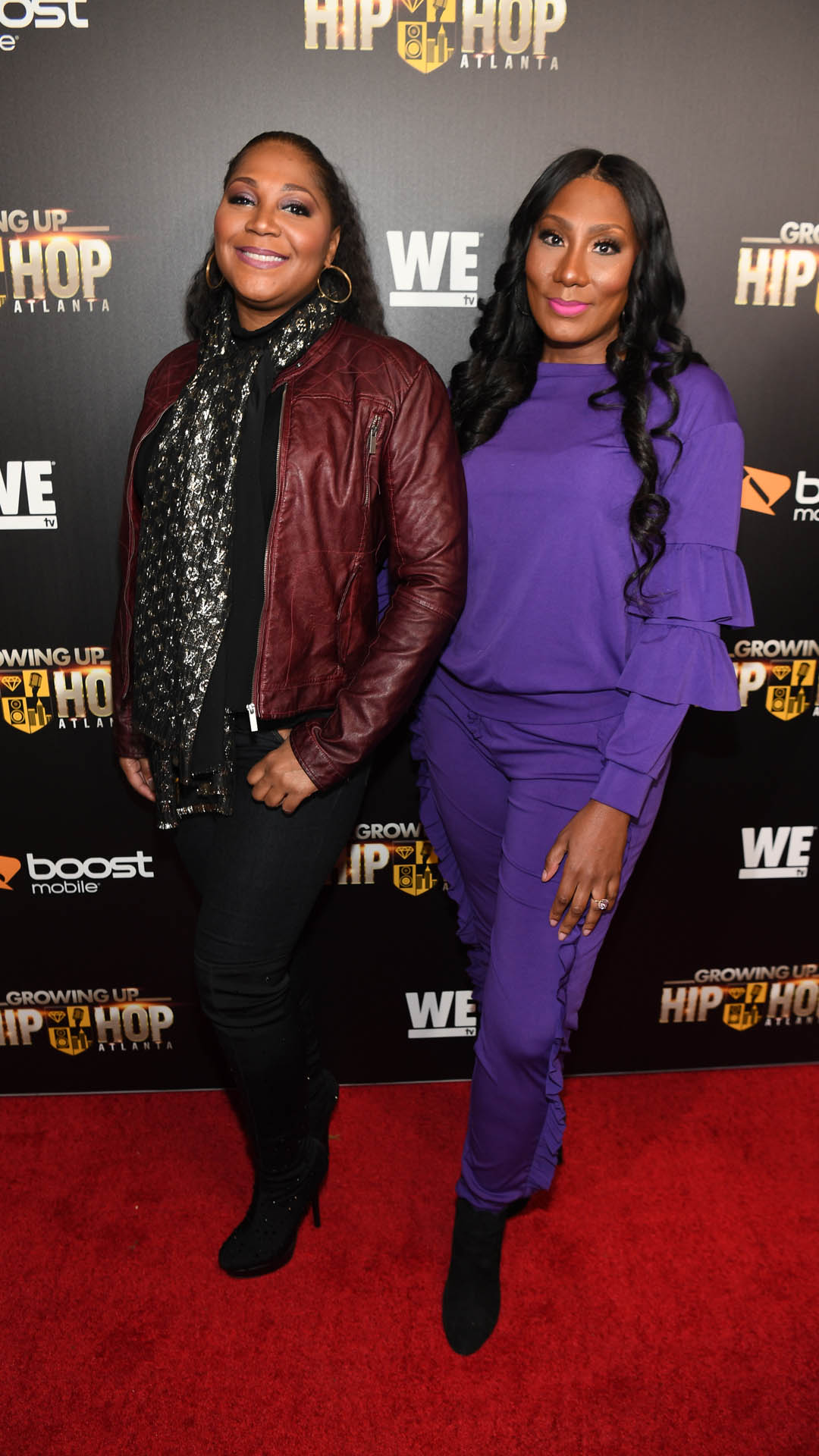 It was one big happy family with Mama June, Alana and Pumpkin with her lil' Pumpkin!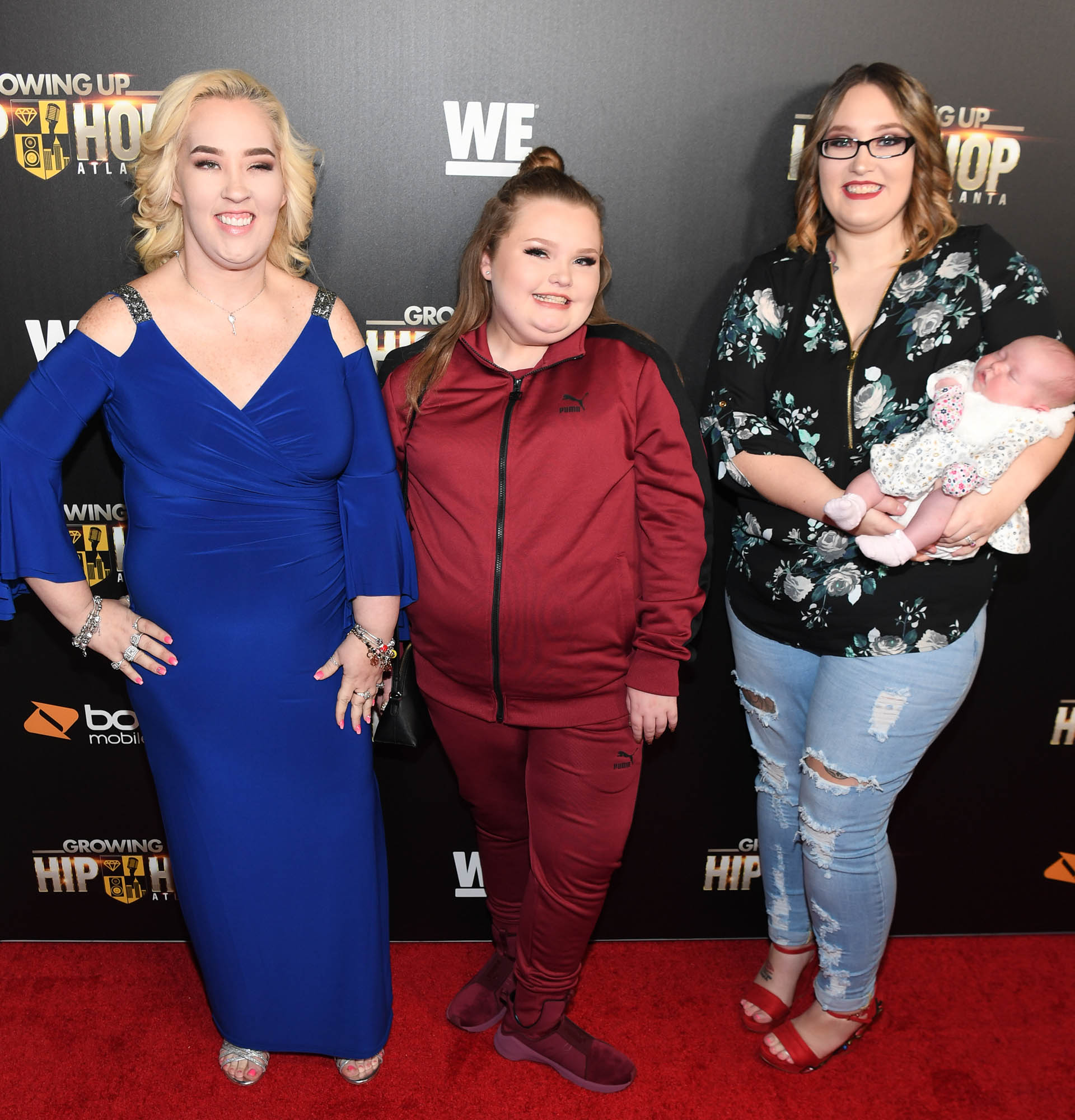 Ayana and Reginae were twinning and WE are here for it!
WE think Shaniah was definitely winning last night!
After the screening, the cast took the stage for a Q&A session hosted by Rickey Smiley.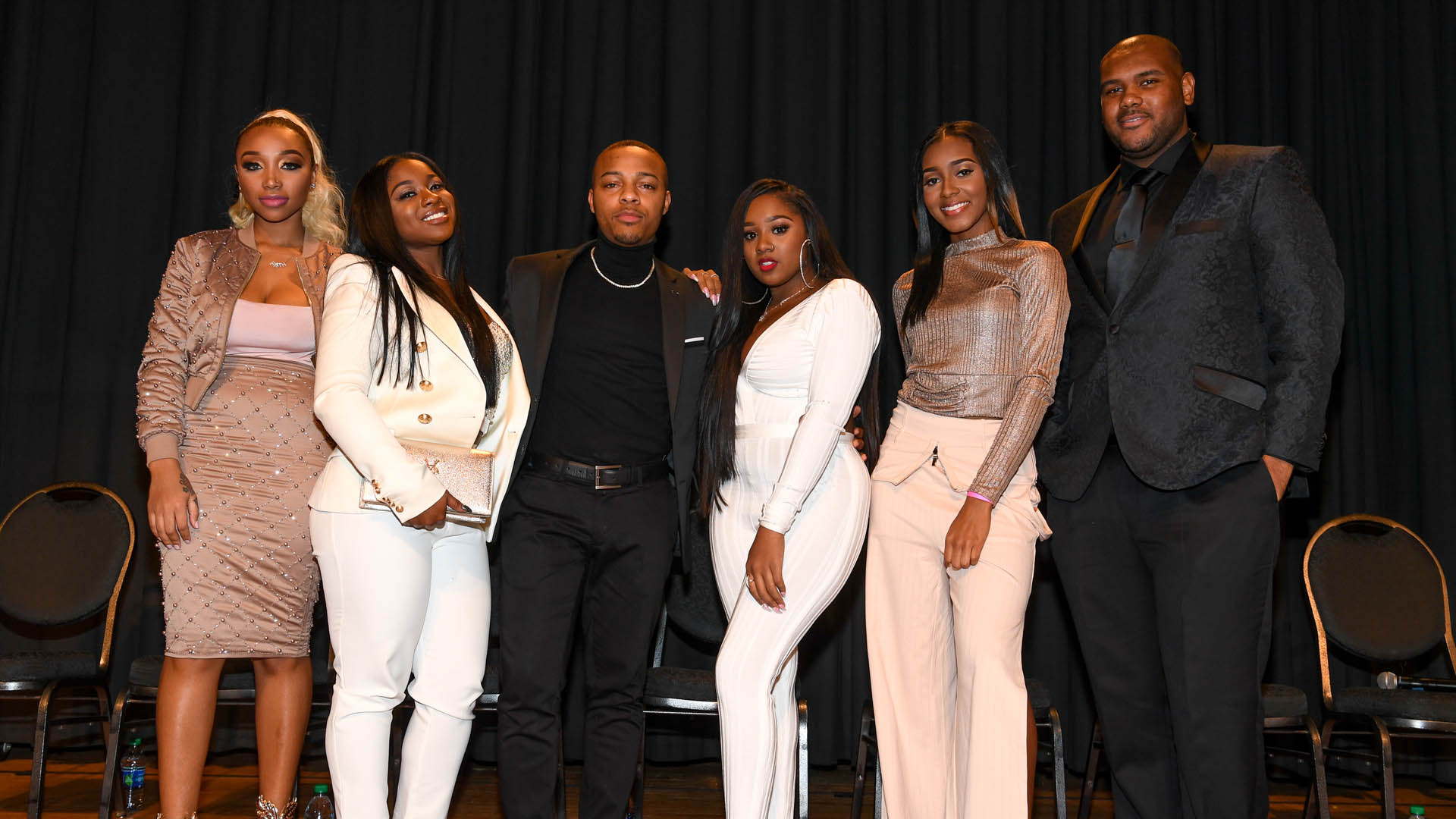 Bow Wow gave us a nice summary of just how lit the night was!
WE can't wait for the season premiere! Tune in TONIGHT at 9/8c!
Photos courtesy of Getty Images
It's the New Year and WE are so excited to see what the Braxtons have in store for us! Here's how they rang in 2018.
Toni wished her fans a "Merry New Year!"
But nothing excited us as much as her hyping up more new music! WE can't wait for her next single.
Speaking of new music, Towanda gave us this New Years gift.
Toni's son, Diezel, said goodbye to 2017 with a montage of some of his favorite moments of the year.
It was a busy year of ups and downs for our favorite family, but WE think they all came out on top! Happy New Year, and make sure you check back here each week for updates on the Braxtons as well as the upcoming, all-new season of Braxton Family Values!
Growing Up Hip Hop: Atlanta star, Shad Moss sat down with Good Day LA and dished on the new season of #GUHHATL!
The trailer for season two showed some tense moments between Moss and Jermaine Dupri, but Shad was quick to clear the air by saying he and JD are in a good place.
"We're definitely close, we're definitely close. Of course, this was at a time when things weren't going the way I wanted them to go and I was just venting my frustrations to Jermaine. We'll always be tight. We speak every single day and he's more than a mentor, more like a father to me," explained Shad.
Last season, WE saw Shad and his father trying to work through their issues to try to mend their relationship, and he says this season takes it a step further.
"This season I got rid of all of the dark stuff, and now I'm back focused trying to put the music out and it's a lot of drama," he hinted.
Shad, also known as Bow Wow, is no stranger to the stage since he's spent most of his life in the spotlight as a rapper. He has some advice for those wanting to get into the industry.
"Just stay focused, set a goal and go for it. Try your best to surround yourself with people who believe in you, people who have a lot of love and positivity. That's the key is to have a good team. Don't feed into the peer pressure of the business, there is a dark side to the business," Shad explained.
He also revealed that his retirement from the industry has been put on hold, he's back with new music! He told Good Day LA that Diddy is on his first single!
WE can't wait to see what else Shad and the rest of the #GUHHATL crew is up to when the show premieres January 11 at 9/8c.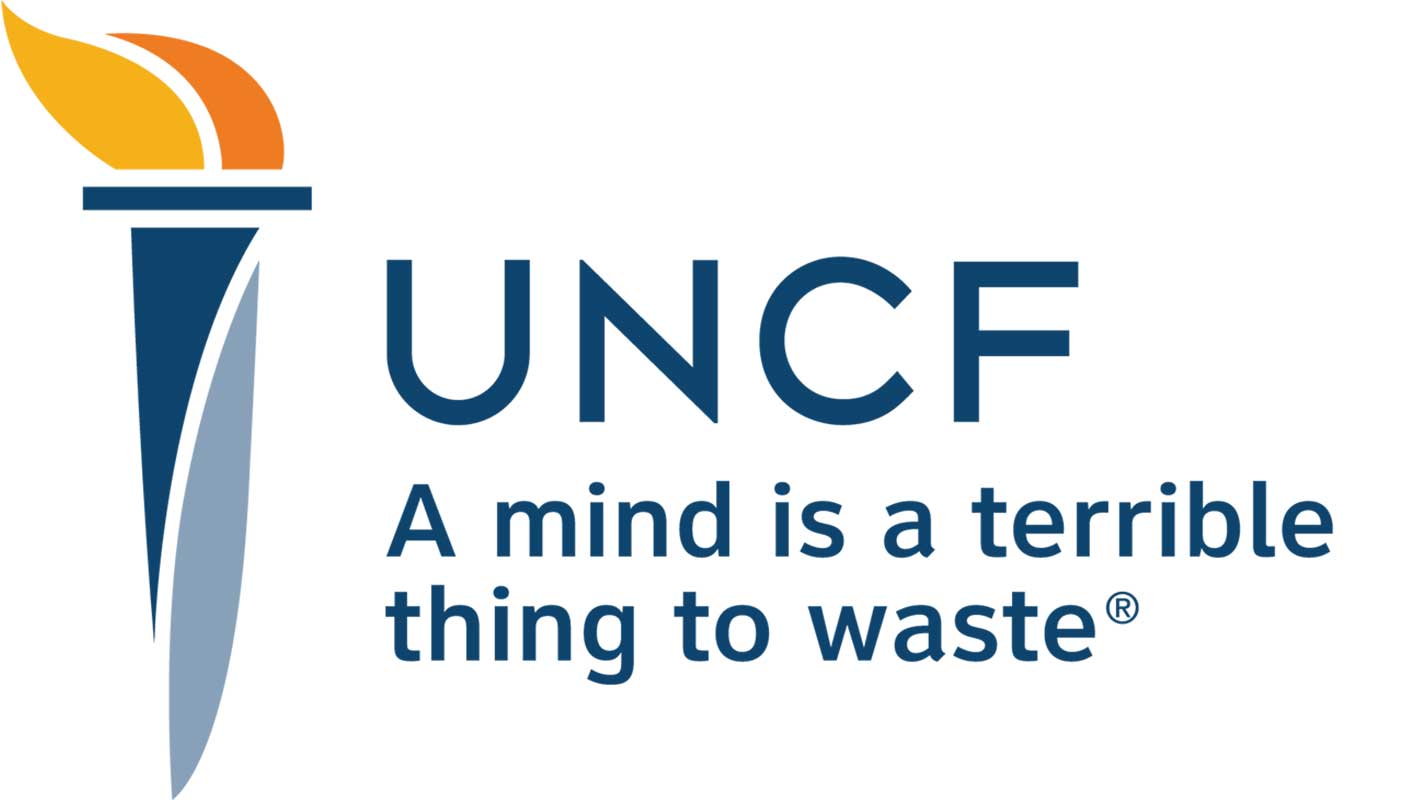 UNCF will honor civil rights trailblazer Dr. Martin Luther King Jr. with celebrations in Detroit, Minneapolis, New York, Los Angeles, Washington, D.C. and Anderson, S.C.
"This is an especially powerful year for our celebrations, as it marks the 50th anniversary of Dr. King's tragic assassination," said Michael L. Lomax, president and CEO of UNCF. "We honor his sacrifices when we teach the next generation about the act of giving back. By serving our communities, we build bridges to a better future for us all."
Various celebrations are planned to engage the community in honoring and recognizing the contributions of Dr. King, a graduate of UNCF-member institution Morehouse College.
Check out the full list of events!
ANDERSON, S.C. 


Theme: After 50 Years: The Dream Lives!
When: January 15, 5:45pm
Where: Anderson County Civic Center

The Anderson County Ministers Organization, along with the Atlanta regional office of UNCF, will host its annual Dr. Martin Luther King Jr. birthday celebration on Monday, January 15, 2018, starting at 5:45 p.m. at the Anderson County Civic Center. For over a decade, this event has celebrated the life and achievements of civil rights icon Dr. Martin Luther King Jr., Morehouse College graduate of the class of 1948. Dr. Stephen Peters, a noted educator and advocate for youth, will serve as this year's keynote speaker. Event is open and free to the public.
DETROIT


Theme: The Dream Continues…
When: January 15, 8:30am
Where: Shriners Silver Garden Events Center, Southfield, Michigan

On Monday, January 15, 2018, the UNCF Michigan office and the Detroit Inter-Alumni Council will commemorate one of our most famous alumni, Dr. Martin Luther King Jr. (Morehouse College 1948). The 26th Annual MLK Birthday Celebration Breakfast will be held at the Shriners Silver Garden Events Center in Southfield, Michigan. Honorees include one of Detroit's power couples, former COO of the Charles H. Wright Museum of African American History, Tyrone Davenport; and Linda Forte, former chief diversity officer for Comerica Bank.
MINNEAPOLIS


Theme: Building Bridges for a Bold Dream
When: January 15, 7:00am
Where: Minneapolis Armory

David Oyelowo, award-winning actor known for his critically acclaimed role in "Selma," will serve as keynote speaker at the Dr. Martin Luther King Jr. holiday breakfast on Monday, January 15, 2018 at the newly renovated Minneapolis Armory at 7 a.m. CST. Organized in partnership by General Mills and UNCF, the event will focus on achieving justice through empathy, understanding and actionable change.

The annual holiday breakfast began when UNCF and General Mills joined together to host a community celebration to honor the legacy of Dr. King. What started with 800 guests in 1991 has grown so large that it reached capacity seating at the Minneapolis Convention Center. Past speakers have included former Secretary of State Gen. Colin Powell, New Jersey Sen. Cory Booker, Rev. Joseph Lowery, the late Yolanda King, U.S. Rep. John Lewis, Marian Wright Edelman, Donna Brazile, Vernon Jordan and former Massachusetts Gov. Deval Patrick.

With the help of the community, including the Corporate Community Service Coalition, an organization made up of 100 volunteer employees from 14 Minnesota companies, the MLK holiday breakfast continues to inspire change in the world and honor those individuals whose footprint uplifts the community. This year's Lifetime Legend Award honoree is Adair Mosley, interim president and chief executive officer at Pillsbury United Communities. Mr. Mosley has played a key leadership role in the development of North Market, a new kind of grocery store that provides access to nutritious food, health care services, and community wellness education in North Minneapolis.

To purchase tickets, which are $50, or for more information on the 28th annual Dr. Martin Luther King, Jr. holiday breakfast, please visit: MLKBreakfast.com. The event will be broadcast live on Twin Cities Public Television at 8 a.m. CST.
NEW YORK


Theme: As We Rise, We Give Back
When: January 15, 9:00am
Where: Antun's, Queens Village

Building stronger communities through the legacy of Dr. Martin Luther King Jr., UNCF's Greater New York Inter-Alumni Council will host the 28th annual Martin Luther King, Jr. Awards Breakfast on Monday, January 15, 2018 at Antun's in Queens Village. Rev. Rashad Moore, assistant minister, Abyssinian Baptist Church, serves as the keynote speaker

Lorenzo Johnson, a graduate of Wilberforce University and a dedicated IAC member is this year's Alumni Honoree. Our Community Award recipient is Alpha Phi Alpha Fraternity Inc., Zetta Zeta Lambda Chapter, for their service and support of youth scholarships and education in the Queens area.

Tickets for the Greater New York Inter-Alumni Council's Martin Luther King, Jr. Awards Breakfast are $55.00. This year, guests are invited to attend as Patrons. Patron tickets are $100.00. The names of Patrons will be announced, their names will be listed in the program insert and they will receive special gift as a token of our appreciation. Purchase tickets to the event HERE.

For more information about the Martin Luther King Jr. Awards Breakfast, contact Walter Dogan at 917-294-7914 or walterdogan@gmail.com.
LOS ANGELES


When: January 21, 8:30am
Where: Congresswoman Juanita Millender-McDonald Community Center, Carson, CA

Hosted by UNCF Los Angeles and the UNCF Los Angeles Inter-Alumni Council (IAC), the 29th annual Dr. Martin Luther King, Jr. birthday celebration will honor Dr. King by raising money to help send more students to and through college. The IAC of UNCF Los Angeles is preparing for their largest community engagement and fundraising event of the year, the 29th Martin Luther King Jr. Day Breakfast. It will be held on Saturday, January 21, 2018 at 8:30 a.m. at the Congresswoman Juanita Millender-McDonald Community Center in Carson, CA.

The UNCF Los Angeles IAC Martin Luther King Jr. Breakfast is the largest breakfast event held in Los Angeles celebrating MLK Day. On January 21, the IAC of UNCF Los Angeles will bring together over 1000 local leaders, alumni and supporters to celebrate Dr. Martin Luther King Jr., whose life continues to make an impact and inspire us all. This year we are proud to have Los Angeles native, Kevin Ross, from "America's Court with Judge Ross" as the keynote speaker. Ross is an alumnus of Morehouse College and earned his J.D. from Southwestern Law School. We invite you to join us, local leaders and change-agents, alumni and others for a morning of food, fellowship and celebration. This is always an event to remember!

To purchase your ticket or table, purchase an ad in the program book, or inquire about sponsorship, call 703.945.3784 or email the Los Angeles Inter-Alumni Council of UNCF at iacuncfla@outlook.com.
WASHINGTON, D.C.


Theme: 35 Years Later, What Would Dr. King think?
When: January 15, 8:30am
Where: Martin's Crosswinds, Greenbelt, MD

For more than 30 years, the Washington, DC, office of UNCF and the Washington Inter-Alumni Council (WIAC) have come together to present the annual Martin Luther King Jr. Birthday Celebration to support students from the Washington metro area and to support UNCF-member institutions.

The 35th annual Martin Luther King Jr. Birthday Celebration will take place on Monday, January 15, 2018, at Martin's Crosswinds in Greenbelt, MD, located in Prince George's County, and will attract an audience of over 650, including public and private sector leaders in business, education and community organizations. The Honorable Rushern Baker, Prince George's County executive, will serve as the honorary chairman. Christopher Jordan Tyson, president and CEO of the East Baton Rouge Redevelopment Authority and HBCU alum of Howard University, will serve as keynote speaker. Leon Harris, anchor with NBCUniversal, serves as the master of ceremonies.
To view images of past UNCF Dr. Martin Luther King, Jr. celebrations across the nation, please visit Facebook.com/UNCF/posts/MLK
To learn more about UNCF, visit www.uncf.org
The New Year is here, and that means an all-new season of Growing Up Hip Hop: Atlanta is here! There is so much to look forward to, from new music to juicy secrets revealed, but above all, there is one thing WE absolutely can't wait to see…the new fashion from this cast of style visionaries! Check out some of our favorite looks from last season before the new season premieres January 11th!
10) DEB'S LUXURY LEATHER
Leave it to Miss Deb to make an entrance, and she did not disappoint when WE first met her in episode 1. Her leather jacket with fur detailing is classic with an edge – a fashion moment made for a queen of hip hop.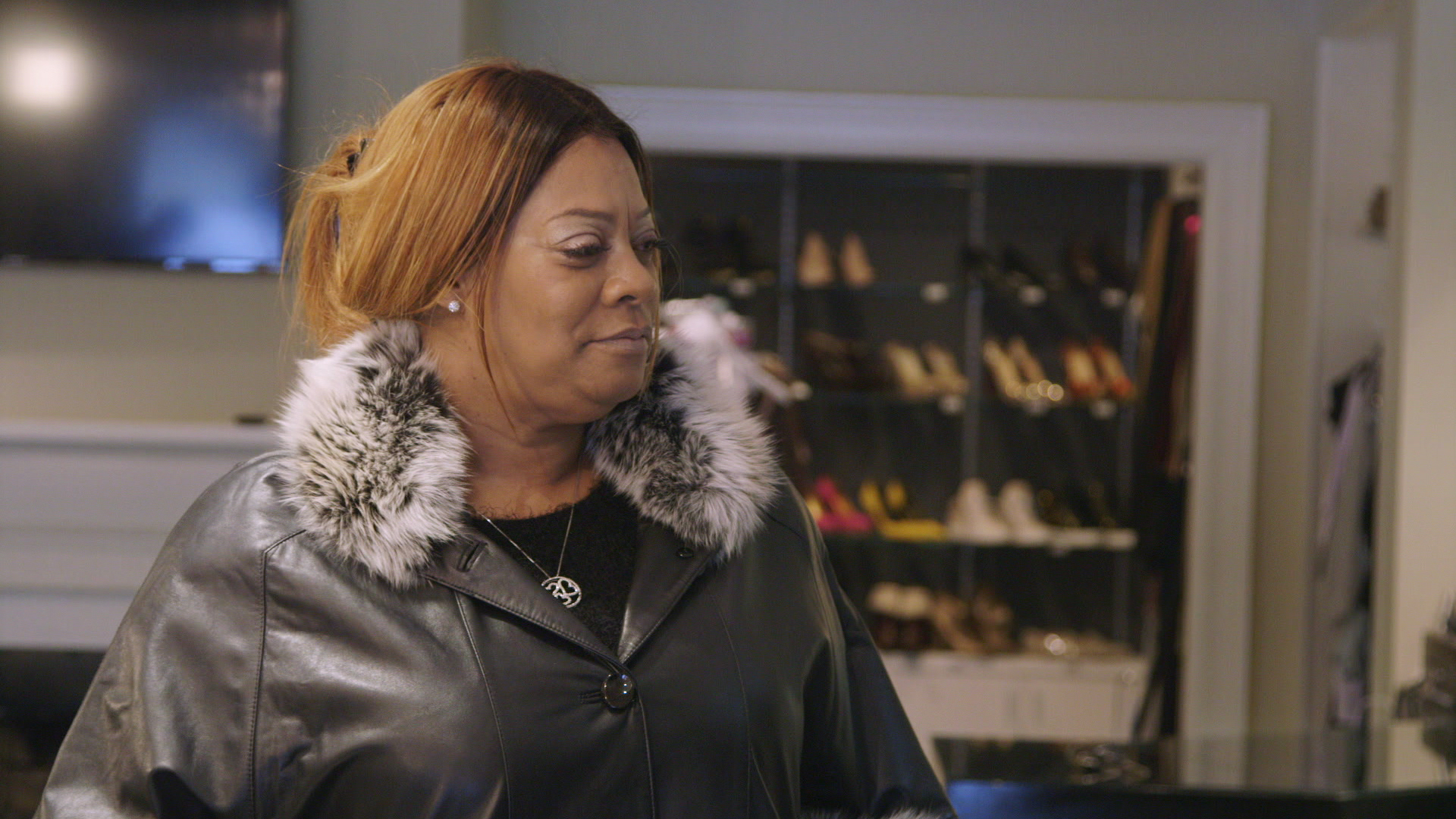 9) TOYA'S ORANGE CRUSH ENSEMBLE
Everything about Toya's outfit here is fire, from her kimono-inspired floral jacket and perfect top knot to her bright orange purse which adds a pop of color to match her top. It is so well coordinated, it's impossible not to take notice. Toya's style is always spot on and from the first episode onward, she did not disappoint.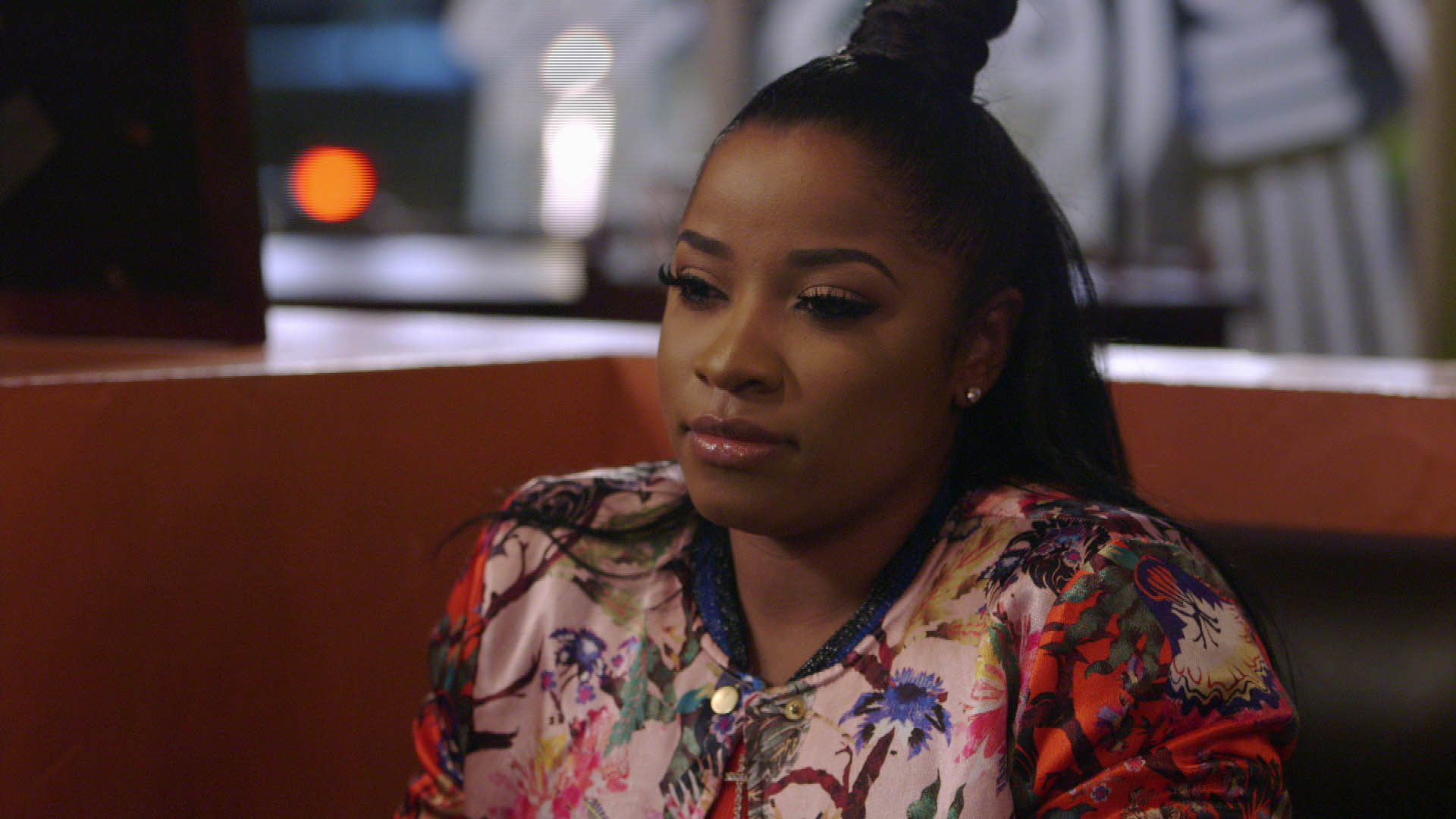 8) ZONNIQUE'S PHOTOSHOOT LOOKS
These were the super sexy looks which sparked an epic feud between Brandon and Reginae that lasted the whole season. And, while the fight may have been what WE were all talking about before, it's about time we discuss how amazing Zonnique looked in these two photoshoot outfits. From the fur jacket with snake skin boots to her sequined bustier top with denim cutoff shorts and jacket, Zonnique worked both these outfits from head to toe and WE cannot decide which one WE love more.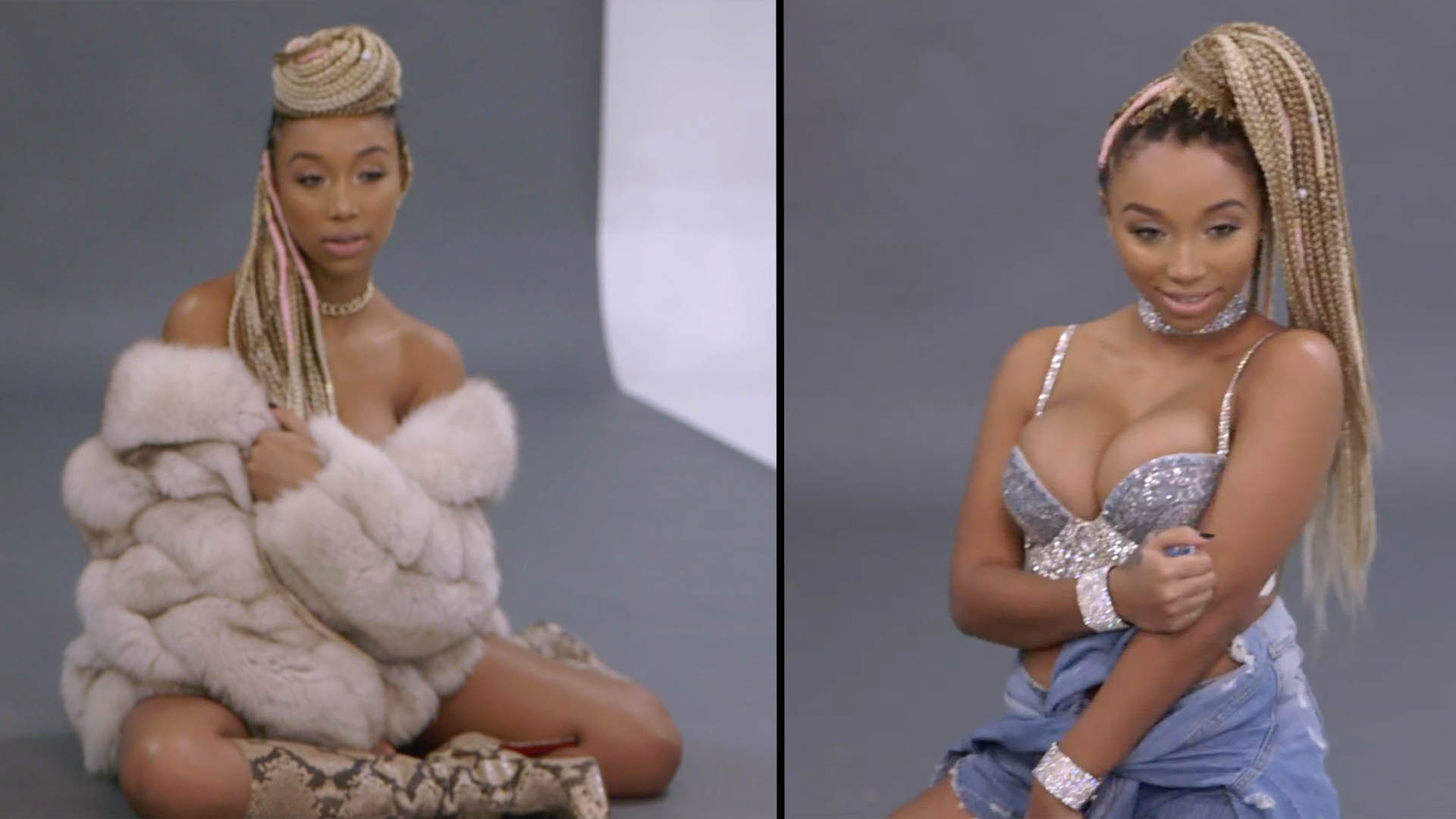 7) REGINAE'S DENIM DREAM
Denim on denim was the classic look of last season and Reginae knew how to make it her own. This two-toned denim outfit was cute and casual with ripped jeans and a royal blue top, but our favorite part is the blue and red sequin star jacket that completely kicked it up a notch and made Reginae shine!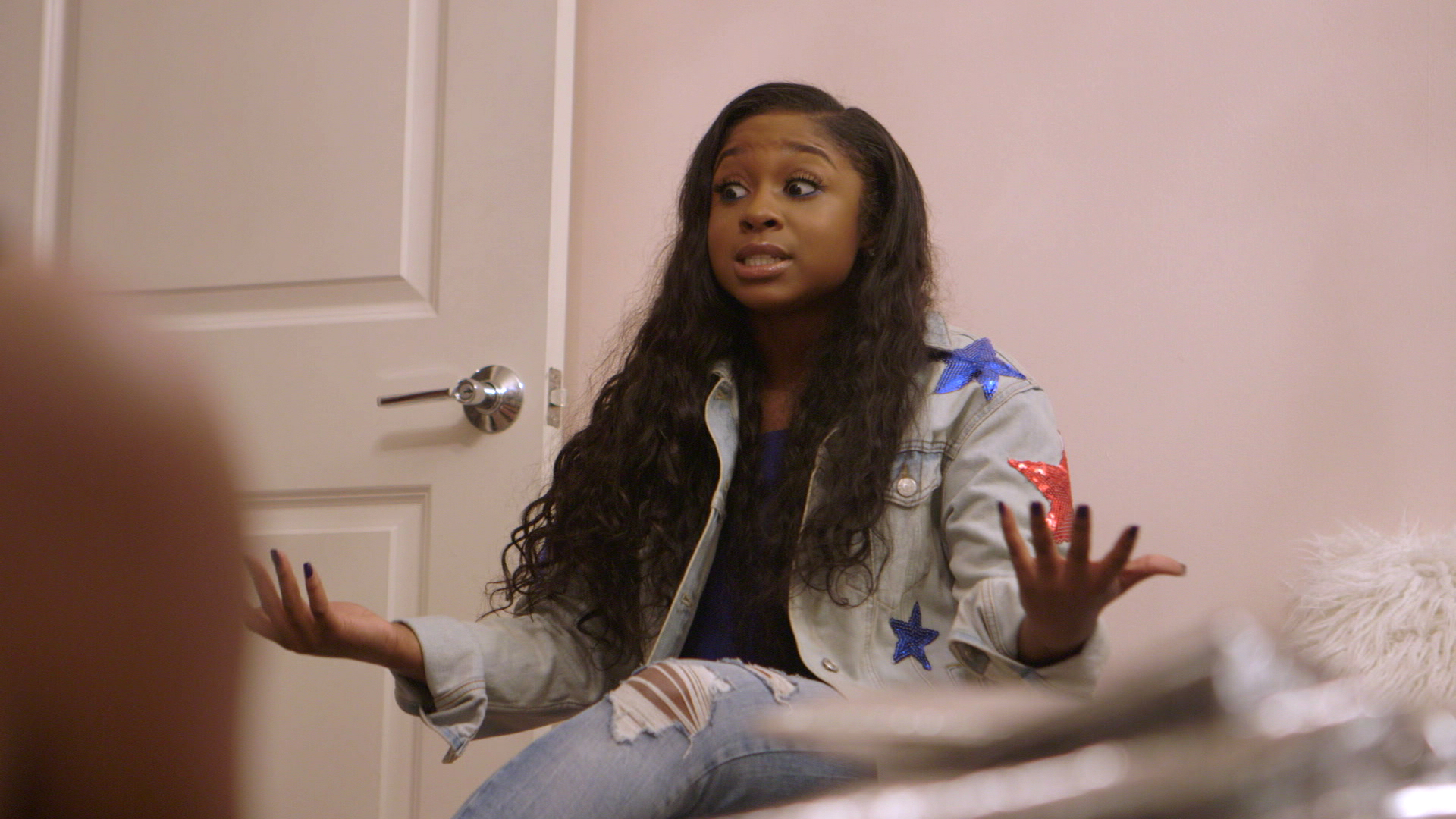 6) AYANA'S CHILL BLACK ENSEMBLE
Ayana goes looking for her girlfriend, Amy after she moves to Atlanta and she looks ready to slay. Ayana's simple black ensemble is extra fierce with the high-wasted jeans, over-the-knee boots, big hoop earrings and lacy choker, but she adds a pop of color with a cute blue and red sweater jacket draped over her shoulders. It's no wonder Ayana is starting her own line, she has an amazing eye for style even with a casual look like this.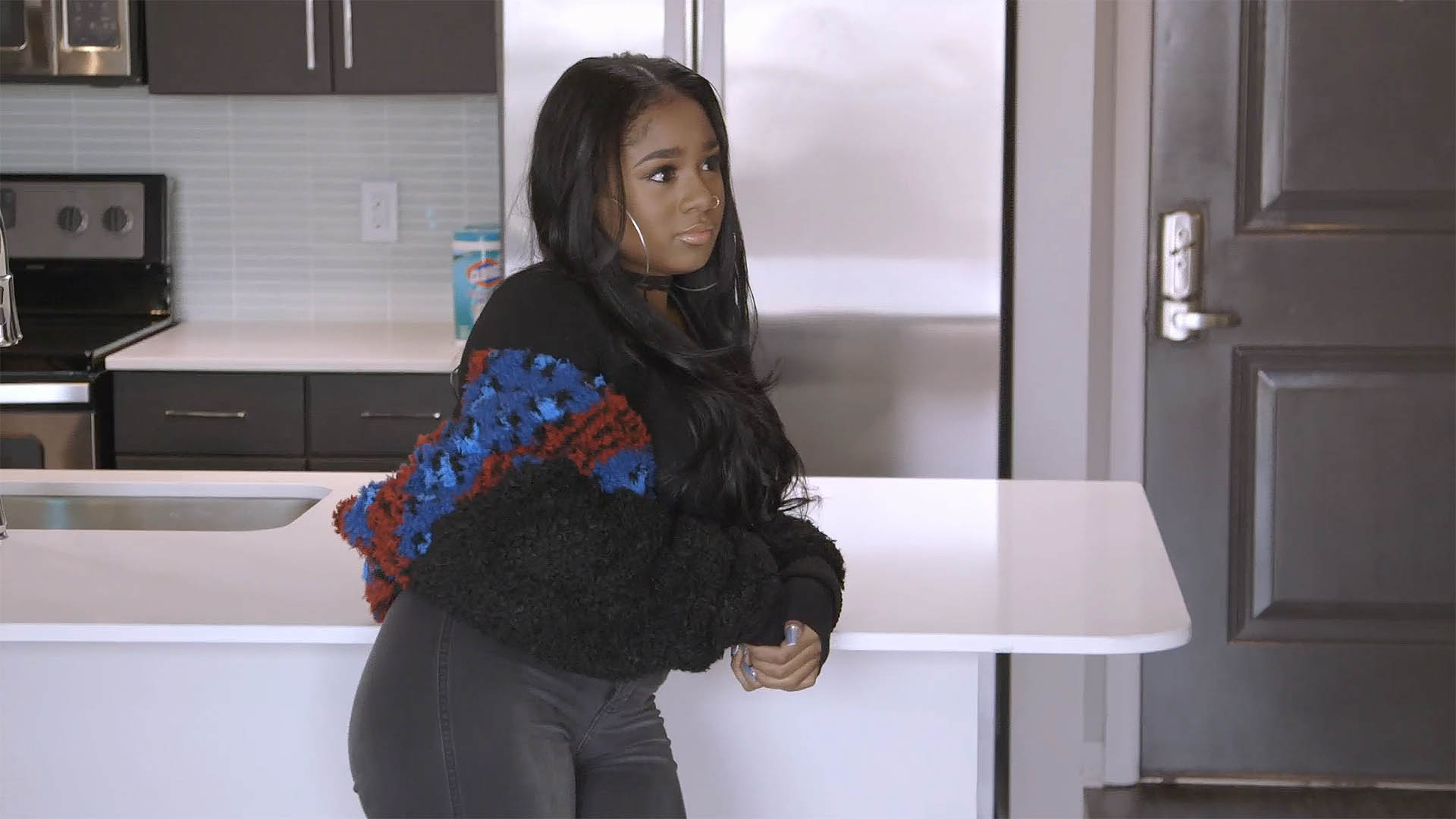 5) TOYA'S PARKA
The moment Toya and Miss Deb fought it out over their children's feud is one to remember, but it was made even more memorable by Toya's amazing coat that she WORKED! This dark green parka with white fur detailing is not only gorgeous, it is everything WE want to keep us warm on the snowy days to come.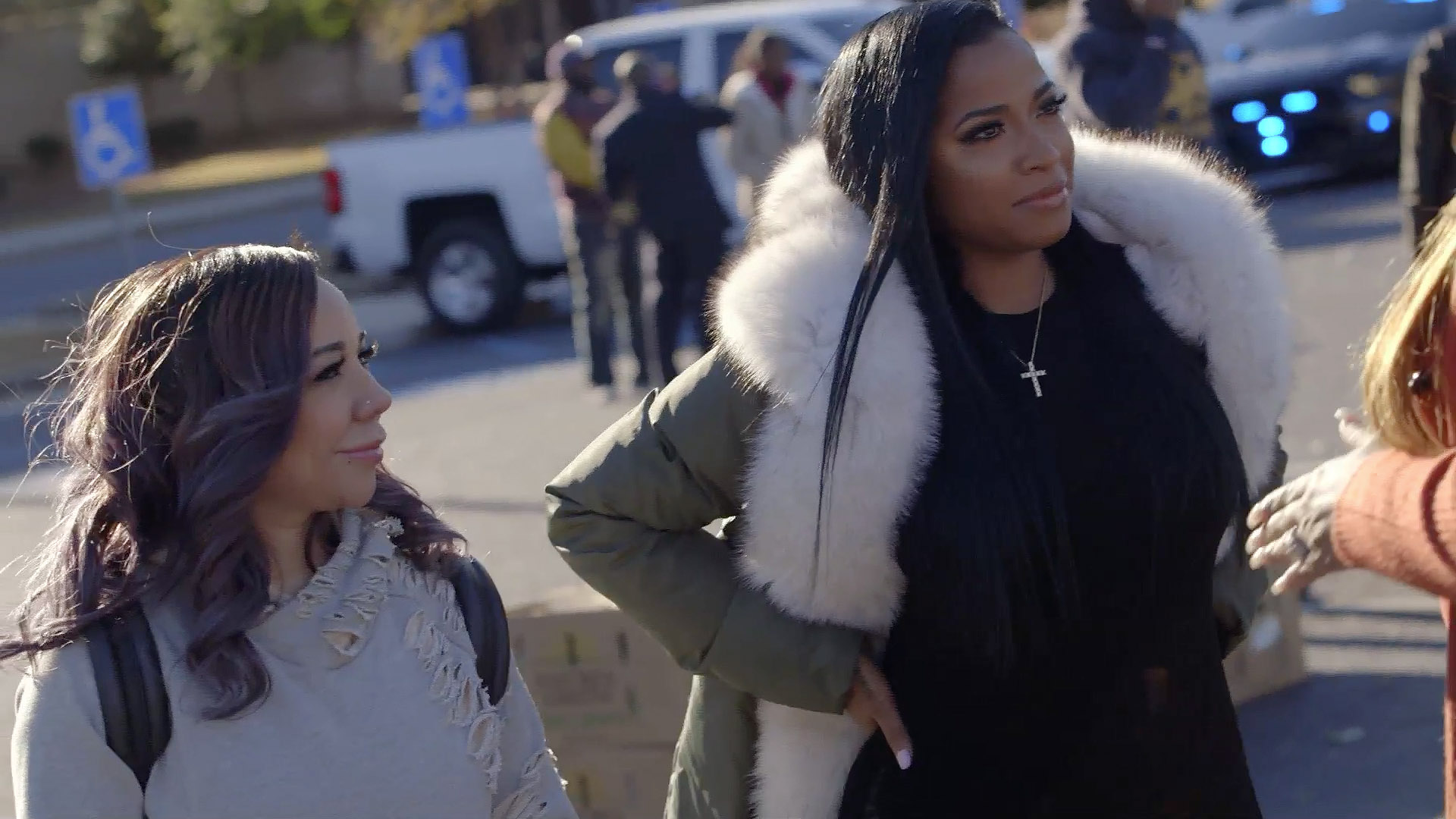 4) TOYA'S DENIM JUMPER
Toya's all-denim jumpsuit from last season took the denim on denim trend to another level (like mother, like daughter!). While WE only got to see this look for a few moments during the episode, it was one of the most memorable outfits of the entire season. Is there any look Reginae's mom can't slay?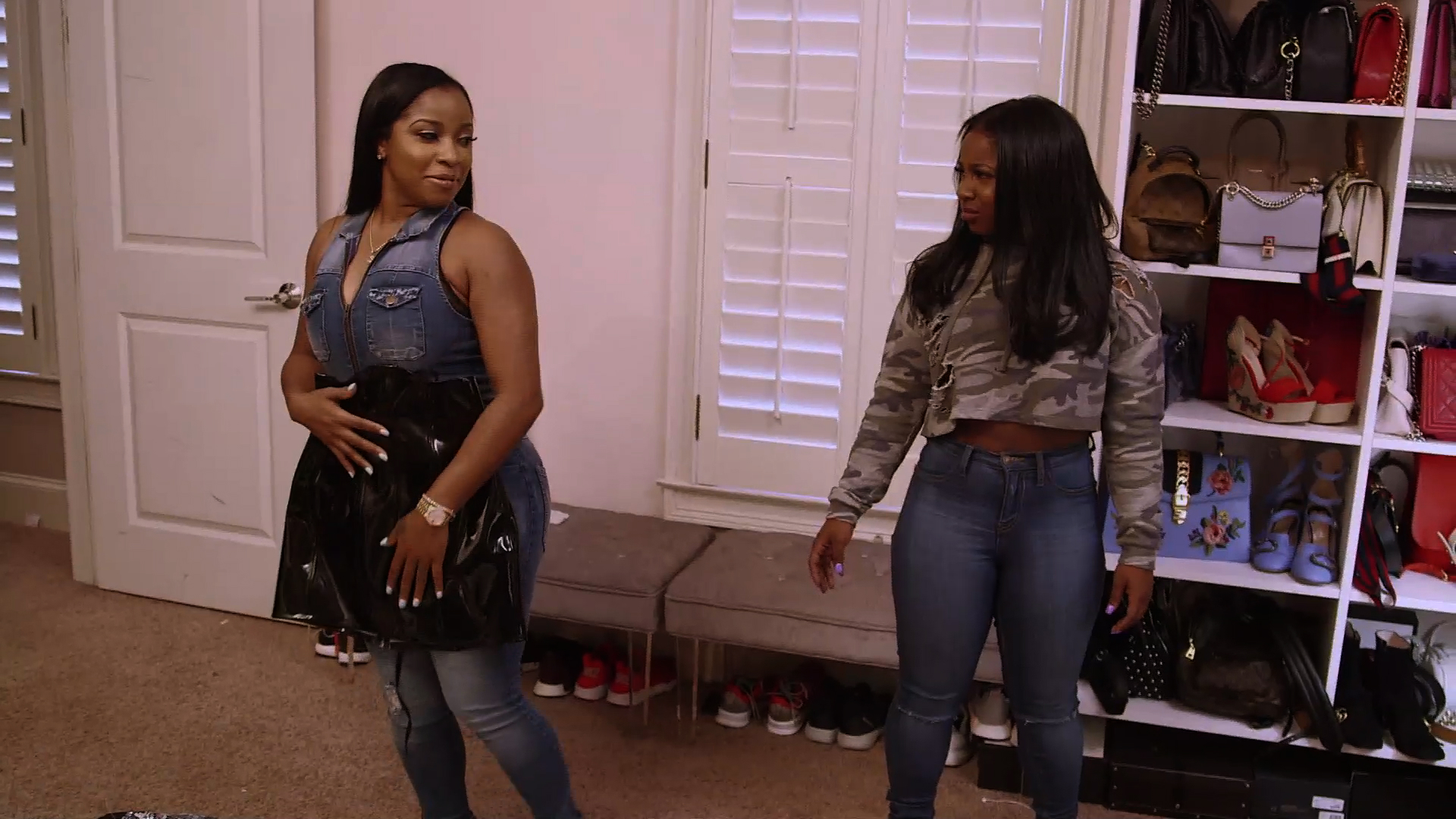 3) LITERALLY EVERY LOOK FROM REGINAE'S 90'S-THEMED BIRTHDAY BASH!
Reginae's unforgettable 18th birthday may have started out rocky at dinner, but her 90's-themed party was the time for everyone to dress up and show off their best looks for the birthday girl, and they did not disappoint. Zonnique's all-white Baby Spice-inspired look was cute, sexy and perfectly 90's. She even brought the perfect prop with her giant rainbow lollipop. Shania looked amazing in her Salt n' Pepa ensemble, perfectly accessorized with some major chains and comic book-style bomber jacket. Ayana kept true to her classic black look, but stepped it up with a mega ponytail and leather pants. And of course, WE cannot forget the birthday girl! Reginae looked like total 90's princess at her party, paying homage to Clueless, she even had the crown to prove it. Her beautiful bright red dress and feather boa kept all eyes on her as she was truly the ruler of her party.
2) MOTHER-DAUGHTER BOOK COVER PHOTOSHOOT
WE love this mother-daughter duo, and we especially love their looks during the shoot for their book cover. Toya's abstract-patterned blouse and pencil skirt looked simply amazing, while Reginae showed off a more mature side with her muted-pink, bell-sleeve blouse with matching choker and black trousers. These two both looked fierce and professional, but with different outfits that highlighted their individual style perfectly.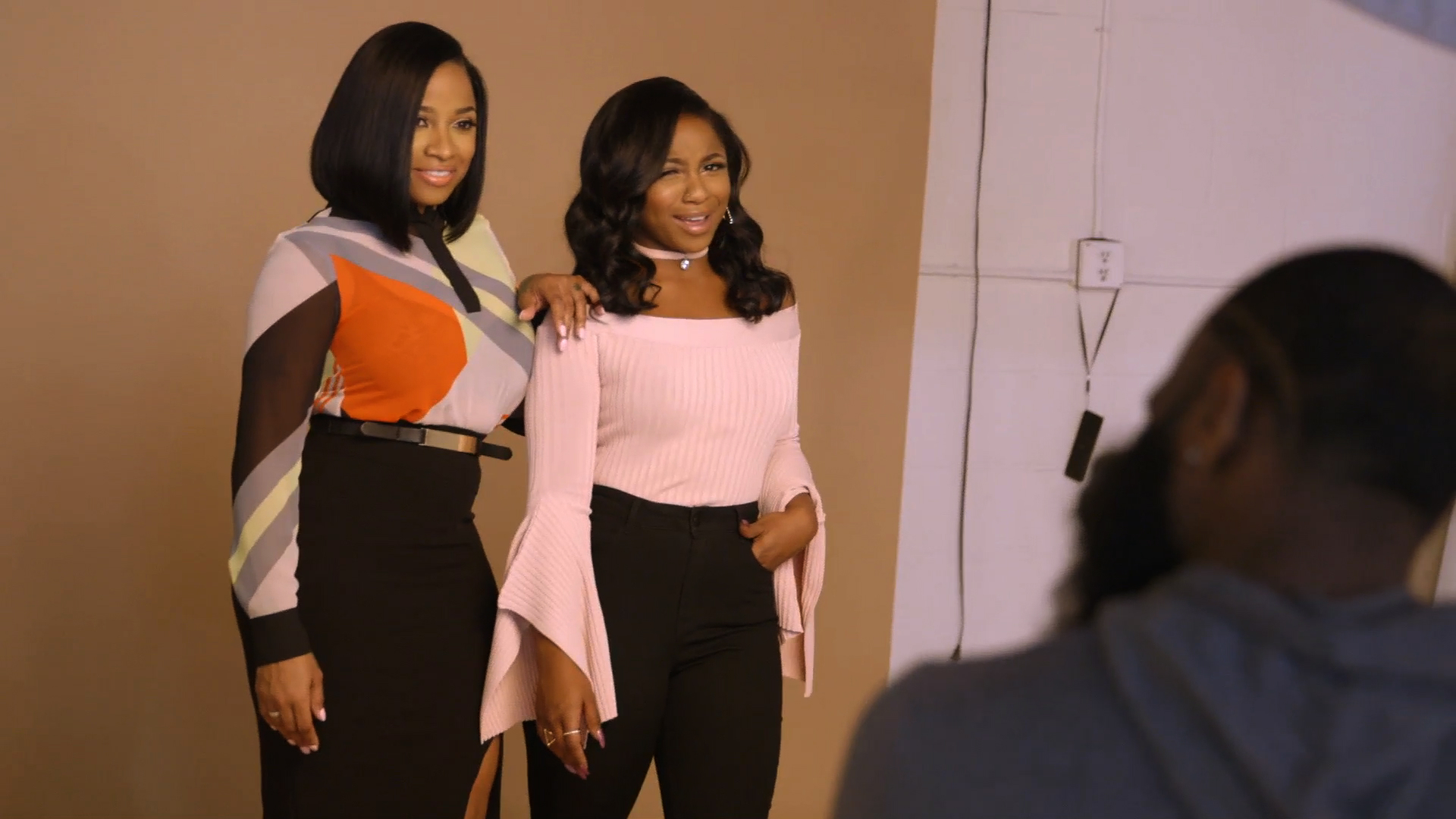 1) ZONNIQUE'S EP RELEASE LOOK
Zonnique looked nothing short of spectacular at her album release party. She stepped into the room like she owned the place in a gorgeous gold cutout dress. It had sparkles, it had chains, and it was perfect for the hip-hop princess who deserved to be the center of attention. She truly showed off her unique and sexy style when it came time to party and WE cannot wait to see more of what this star-in-the-making's got!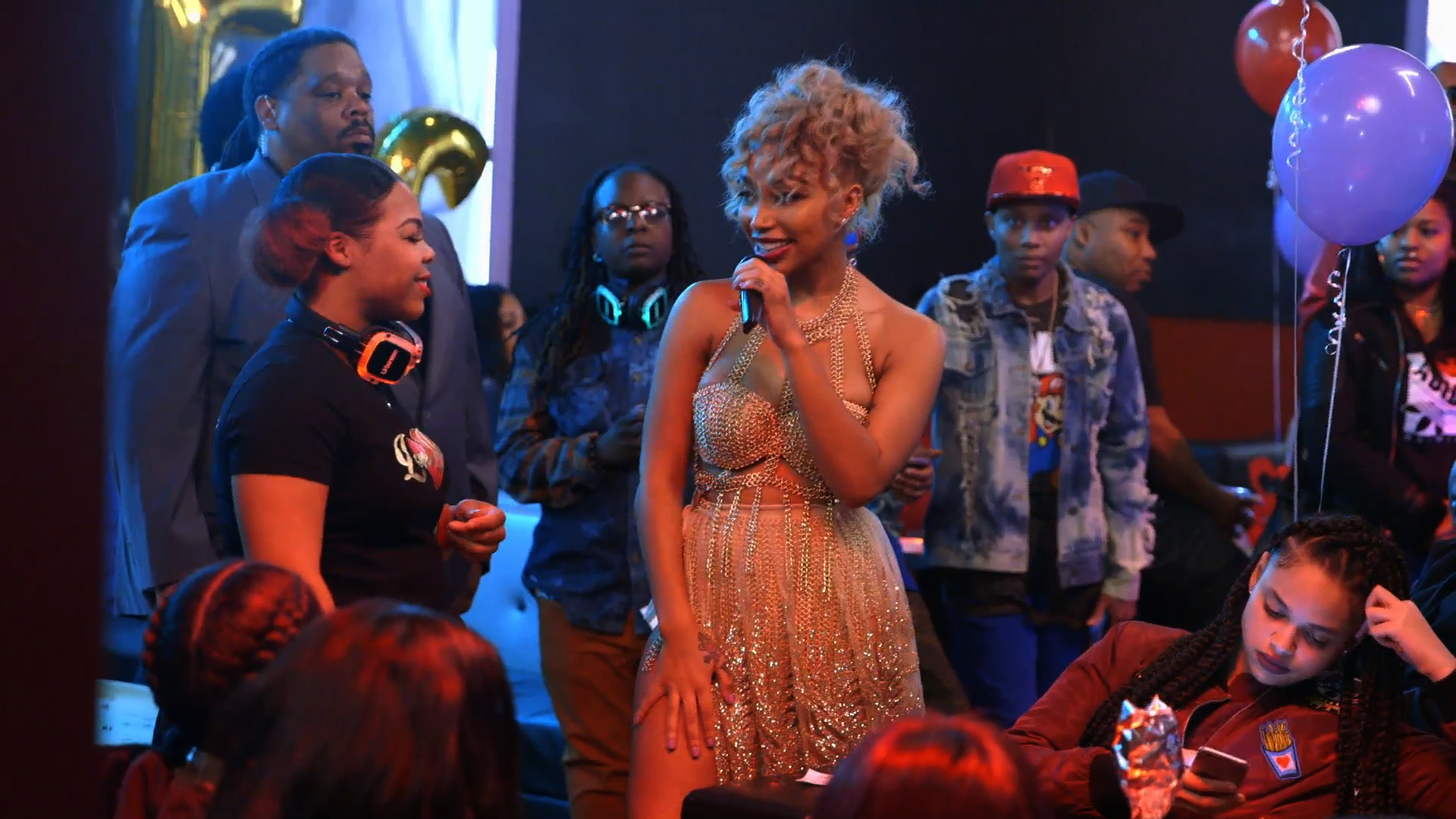 It's been another busy year for the Braxtons! They've given us new endeavors, new music, new tours and major goals for the upcoming year. WE are so excited to see what 2018 brings to them! In the meantime, here's how the Braxtons are winding down this year.
Toni and her boys wished fans a Merry Christmas.
And, it looks like Toni and her boys had anything but a silent night. The trio attended a Christmas party and got this shot with Kanye West.
Logan Herbert must have been on Santa's good list this year!
Towanda celebrated her daughter Brooke's eleventh birthday.
Tamar didn't waste any time getting back to work after Christmas. She picked up right where she left off with performances and meet-and-greets in New Orleans.
Happy New Year! WE can't wait to see what the Braxtons have in store for us in 2018!
As the world anxiously awaits the wedding of Prince Harry and Meghan Markle, celebrity event planner David Tutera shared some of his ideas for the Royal Wedding on HLN.
WE know Prince Harry seems to be a little less conservative than his big brother Prince William, but David Tutera doesn't think Prince Harry will stray too far from Royal traditions.
"I think he'll keep that for another party at another time," says Tutera.
David says he hopes both Prince Harry and Meghan have a hand in the wedding planning since they both have great taste!
As for the what Meghan should wear? WE knew David would have a grand idea!
"Oh, I've been sketching away! I see something very specific for her. She's about 5'6 /5'7 and he's a little over 6 feet and she's got a great stature. She needs to be wearing an A-line gown so it's very simple and pencil to the ground, a sweetheart neckline – I can see an illusion center, so it gives her a little bit of being covered. I see her in an asymmetrical design off to one side that is more structured," explained Tutera.
He added the line of the gown should be a princess cut, because the design creates a longer torso to give her the stature she needs. He also says he sees Meghan wearing a diamond white gown, with no lace and with an accent of pearl or opal.
David says that since the wedding is in May, it's a great season for flowers!
"I see a lot of lavenders – soft lavender, a touch of violet, and dove gray." David also goes on to mention sweet peas, lilacs, hyacinth, and English garden roses. "I really hope she embraces that because I see them as a modern couple, yet stepping into the countryside of England when it comes to the overall design of flowers."
Check out the rest of David Tutera's Royal Wedding ideas here:
Will Prince Harry and Meghan Markle take David Tutera's advice? WE will have to wait and see when the Royal Wedding takes place at St. George's Chapel at Windsor Castle on May 19, 2018.
The stars of WE tv are decking their halls and spreading holiday cheer this season. Here's a look at how some of our celebs are celebrating this year.
For the Basketts, trimming the tree is a family affair!
Kendra's BFF, Jessica Hall, is all of us getting ready for the holidays!
David Tutera sure knows how to get into the Christmas spirit! With just days to go, he's still out shopping for more decorations and Christmas crafts.
And, he has the most beautiful tree WE have ever seen!
Romeo and Master P spread some holiday cheer in Compton this week. The pair showed up to their annual Uncle Santa event with a U-Haul full of toys for the local children.
Reginae Carter and Toya Wright have a lot to celebrate this Christmas!
WE wish everyone a very happy holiday!
Tamar Braxton has been busy touring with the ladies of Xscape and singer Monica on The Great Xscape Tour. While Tay Tay has been going through the roller coaster WE've been watching play out on this season of Tamar & Vince, she has been using the tour to help with her healing process. She chatted with RatedRNB after her Columbia, South Carolina show about her road to happiness, touring, and some holiday favorites.
Tamar says so far, the most memorable moment on the tour has been when they sold out their show in Charlotte, North Carolina earlier this month.
"I think the most memorable moment was when Kandi and Tiny were in my dressing room in North Carolina while the Alabama game was going on. Of course, everyone in the city was gone to that game, but we managed to still sell out. We were like,'Oh my God, can you believe that we are here? We really made it. We really did it.' Tiny and I always said we wanted to do this since we were younger. We just didn't know it would be like this."
Earlier this year, Tamar released her album, "Bluebird of Happiness" and has said in multiple interviews that it was about her quest for happiness. She revealed a few things that put a smile on her face.
"What makes me happy is being around good people, laughing, and smiling, not having any drama because I don't have time for it." She added, "also, being a good mother to my son Logan. I believe co-parenting with Vince and getting along with him to make sure Logan has a stable family environment is important in making me happy."
With 2017 wrapping up, Tamar says she has learned some valuable lessons.
"For me, not to put yourself down. Don't beat up on yourself. I remember when I used to beat up on myself constantly. Instead of looking at the things I did achieve, I looked at the things I didn't. It took away from the overall pure happiness that I wanted to achieve." She continued to explain, "it's almost like I was my own hater."
Since it's the holiday season, WE also learned more about some of Tamar's favorite holiday things!
HER FAVORITE HOLIDAY SONG:
"I would have to say, 'The Christmas Song.' It doesn't get any better than Nat King Cole, my sister's (Toni Braxton), Mariah's, and Whitney's versions."
TAY TAY'S FAVORITE HOLIDAY MOVIE:
"Right now, it's Calliou's Holiday Movie. I've seen it 150,000 times thanks to Logan!"
HER FAVORITE CHILDHOOD CHRISTMAS GIFT:
"The Nintendo Power Pad! It was when Nintendo first came out and they had these little blocks that you could run on and jump over. It was the bomb!"
WE love it! Catch up with Tamar on Tamar & Vince on TONIGHT at 9/8c.
This season, WE are calling on Dr. Ish to tell us which Boot Campers are rising to the top and succeeding during their two weeks at the mansion. Here's what he had to say about season 9, episode 9, 'Petty Little Liars.'
Many animals engage in deception, but humans are the only ones 'smart' enough to lie to themselves…and each other…especially at Marriage Boot Camp! We've seen a lot of squirming and wiggling when it comes to the truth this season, but the one person who's been unwavering about how she feels and what she wants the entire time has been Amina.
She walked her truth right into that Lie Detector room and walked out with one of only a few 'Passes' for the day. And for that, she's this week's Marriage Boot Camp MVP.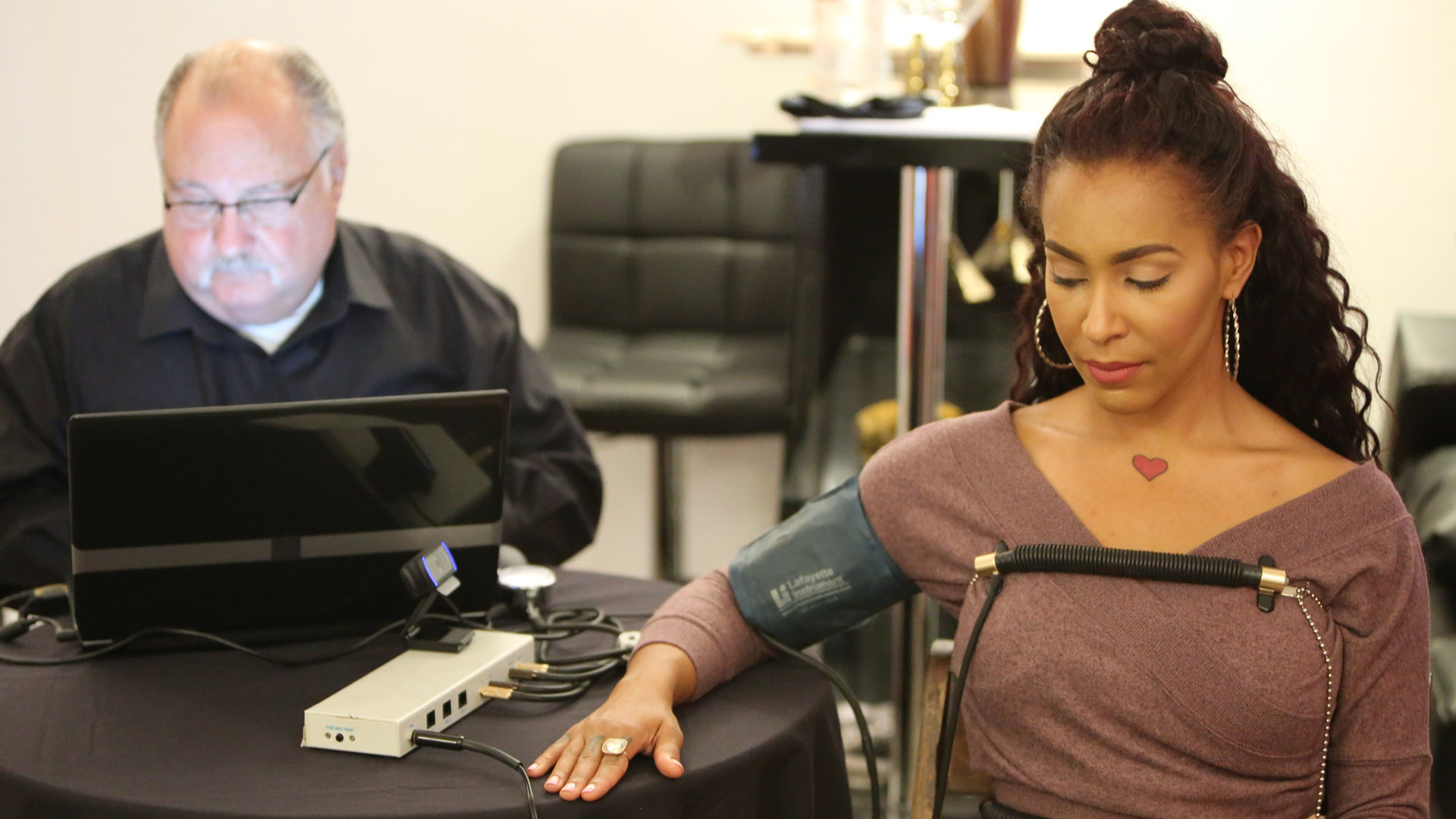 Lie Detector Day is the one day in Boot Camp where we know we're going to have to put in some serious overtime. Why? Because people lie. First to themselves, and that causes them to have to lie to each other…and then to us. Which causes extreme levels of anxiety, agitation and hair pulling in the house. But not Amina, she was as cool as fan all day long knowing how she truly feels.
Agree with how she got here or not, Amina is the one person in the house who has never wavered about her feelings since she arrived. She wanted to be with Peter on Day 1. She wants to be with Peter on Day 9. Now, depending on if Peter can man up or not – and especially after the results of Peter's Lie Detector Test – she may feel differently come Day 10.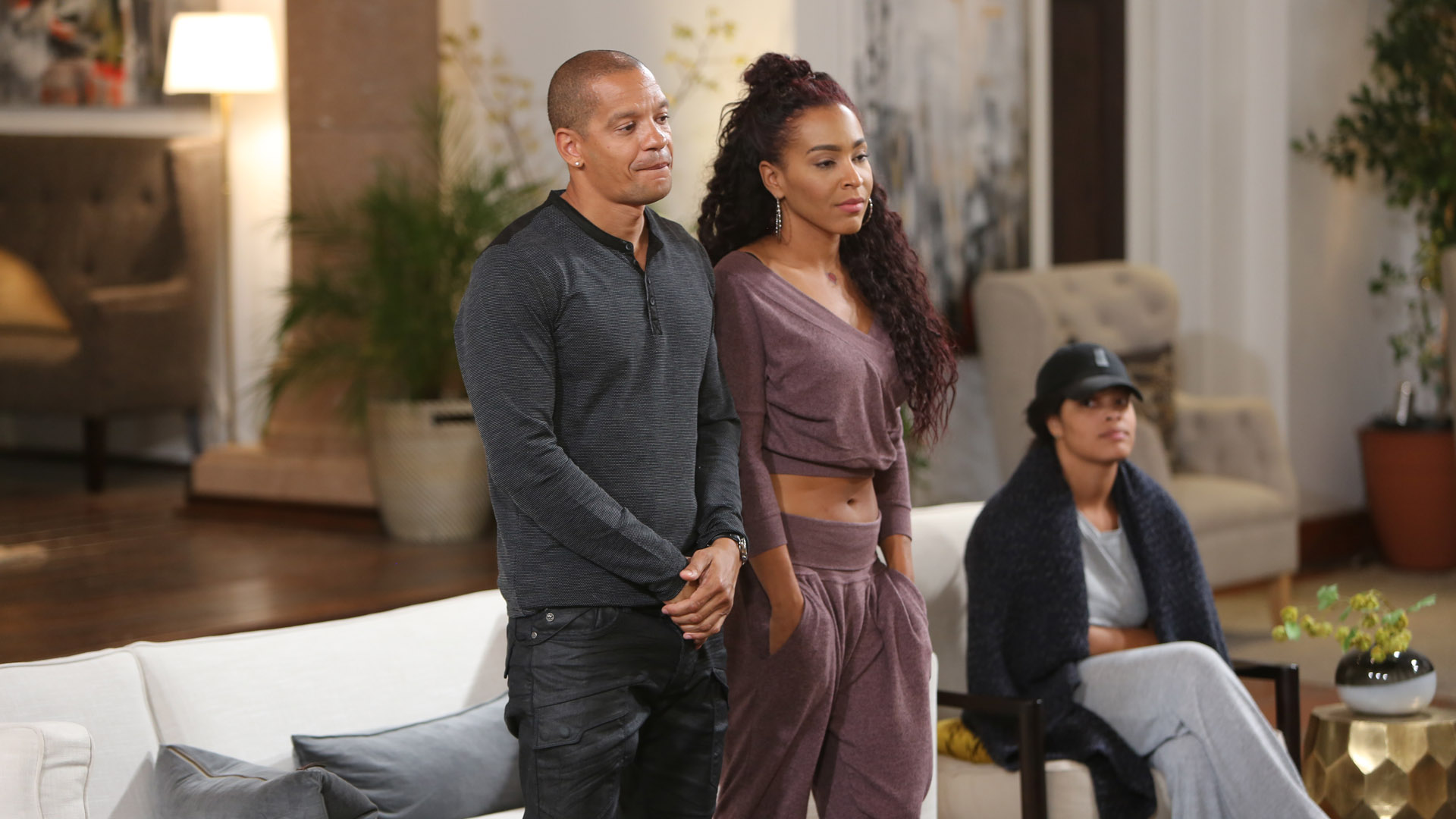 And, her question wasn't easy. If she lied, no doubt Peter would have been out!
QUESTION: Amina, have you cheated on Peter since you've been married?
ANSWER: No.
RESULTS: No Deception Indicated.
If you can't tell yourself the truth, that makes it impossible to tell it to your partner.
Luckily for Judge Lynn Toler, Dr. V. and myself, we're old pros at this, so we know exactly how to help our Boot Campers get to the heart of their truth. We didn't have that problem with Amina. Her truth is obvious. The big question WE have for her is 'why'? Leave together, or go separate ways? What's her truth about that? We'll find out next week!
Tune in to the season finale of Marriage Boot Camp Friday at 9|8c, and check back here to find out who Dr. Ish crowns as the last Boot Camp MVP of the season!