The music industry is a fickle one, with talent here today and gone tomorrow. But, one man has stood the test of time and has continued his dominance: Jermaine Dupri.
The legendary producer and songwriter will be at the center of Power, Influence and Hip-Hop: The Remarkable Rise of So So Def, a one-hour documentary uncovering the unique history of the storied record label. Jermaine will chronicle the early days of So So Def, how the label came to shape Atlanta's music scene, and his rise to becoming a music mogul.
The special will also feature never-before-seen archival footage and original interviews with Jermaine's contemporaries including Mariah Carey, Usher, Snoop Dogg, Will.I.Am, Da Brat, Bow Wow, and Nelly.
Power, Influence and Hip-Hop: The Remarkable Rise of So So Def premieres Thursday, July 18 at 10|9c, following an all-new episode of Growing Up Hip Hop: Atlanta. Get a sneak peek below!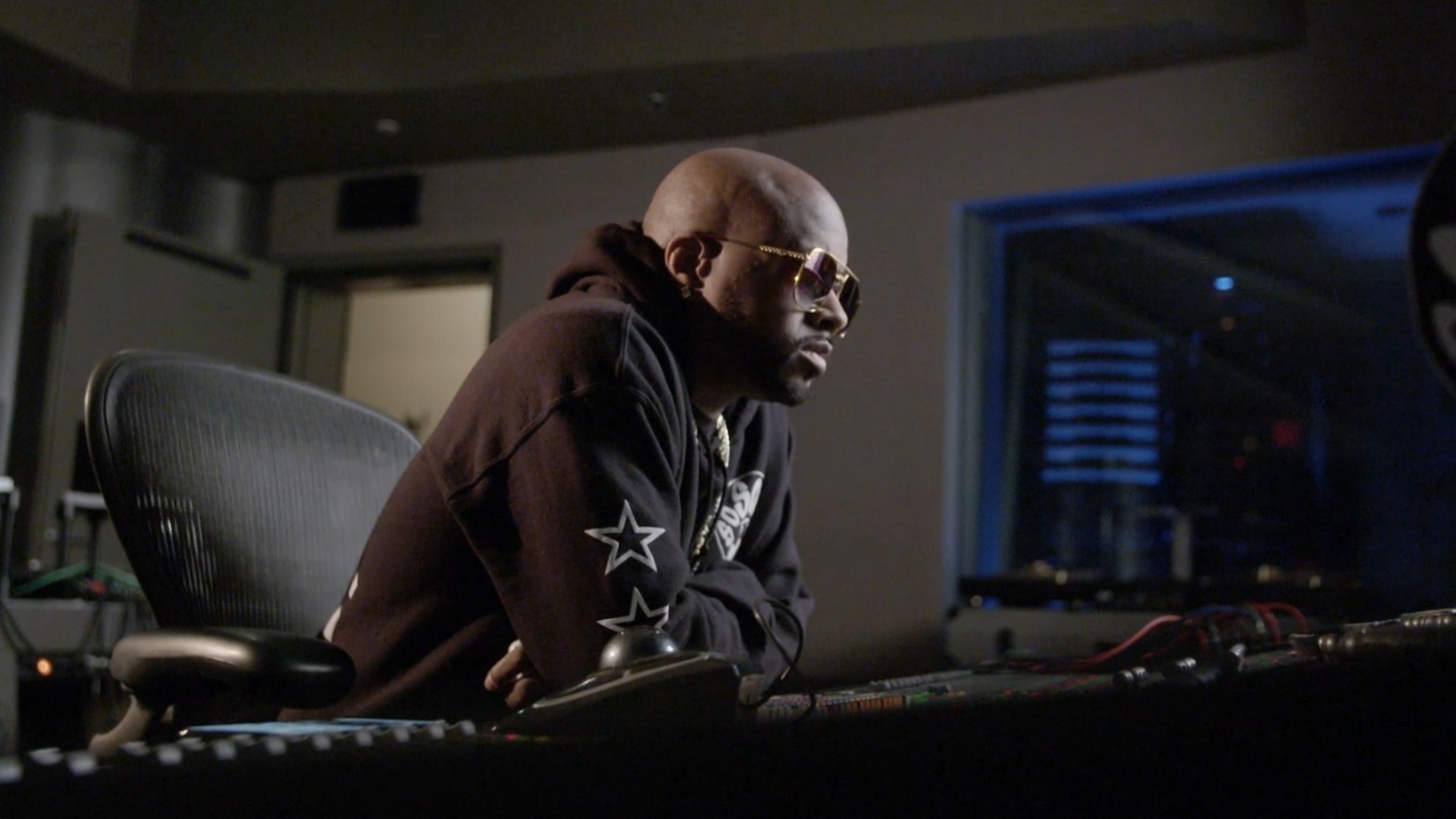 Relationships are beginning to crack for our couples on Life After Lockup. Megan is on the hunt for the truth from Michael, while Tracie pressures Clint into letting her meet his mom unexpectedly. In California, Andrea has a breakdown at Lamar's release and worries if her children will accept him back into their lives. If only our cast had a "Kiwi To My Heart," they may be able to unlock the love inside of them and end the drama once and for all.
Recipe: Kiwi To My Heart
1 cocktail
Ingredients:
1/2 lime
1/2 kiwi
2 teaspoons sugar
2 ounces white rum
4 ice cubes
slice of kiwi (for garnish)
Directions:
Slice lime into 3-4 pieces. Peel kiwi and dice into large chunks. Put lime, kiwi, and sugar into cocktail shaker. Muddle until liquid is formed. Add white rum and ice cubes. Shake until shaker becomes frosty. Pour into martini glass. Garnish with a slice of kiwi cut in the shape of a heart.
Enjoy a "Kiwi To My Heart" while watching Life After Lockup! Make sure to follow #LifeAfterLockup on Instagram and Snapchat!
Everybody is going crazy for this week's #HipHopHappyHour! On Growing on Hip Hop: Atlanta, Bow has to deal with the consequences of his actions through tough love from his family, Tammy gets real with Drea – which causes Tammy to do a double-take about her and Waka's relationship. And finally, Brandon is back and is bringing the drama with him in full force. With everything in the ATL "Going Bananas" this week, will enjoy this frozen coffee drink with a sweet and fruity flair! 
Recipe: Gone Bananas
1-3 servings
Ingredients:
1.5 ounces rum
¼ cup almond milk
¼ cup medium-roast iced-coffee
½-1 frozen banana
2 ice cubes
Splash of vanilla
Directions:
In order, add ice, milk, coffee, banana, rum, and vanilla into blender. Blend on low and gradually increase to low-medium for 45 seconds. After fully blended, pour and serve immediately!
Enjoy a "Gone Bananas" while watching the season premiere of Growing Up Hip Hop: Atlanta! Make sure to follow #GUHHATL on Instagram and Snapchat!
For 12 seasons, Bridezillas has defined and celebrated a cultural phenomenon, which is ultimately and unquestionably the right and the privilege of every bride to demand perfection for her wedding.
Be as demanding and as fearless as you need to be in order to pull off the greatest day of your life. Wear that badge with pride and take your place among the most celebrated, Instagram-worthy, social media-famous legacies and proudly be the next Bridezilla!
To be considered, you must be getting married in the US
between August 2019 – November 2019
This Friday, WE are feeling "Free As A Bird!" On the season premiere of Life After Lockup, many of our inmates are getting the sweet taste of freedom as Tracie finishes up her final hours of parole and Michael is released from jail (again). Off-parole Brittany is even learning what normalcy is as she begins her new life with husband Marcelino, son Giovanni, and new baby girl. With all this freedom, it looks like the whole cast will need to "toast to life" with a glass of "Free As A Bird," a fun twist on The Aviation that substitutes creme de violette with creme de cassis, giving it a subtle berry taste.
Recipe: Free As A Bird
1 serving
Ingredients:
2 ounces gin
.75 ounce fresh-squeezed lemon juice
.5 ounce maraschino liqueur
.25 ounce creme de cassis
Directions:
Combine all ingredients in a shaker over ice; shake and strain into a cocktail glass.
Enjoy a "Free As A Bird" while watching the season premiere of Life After Lockup! Make sure to follow #LifeAfterLockup on Instagram and Snapchat for more cocktail inspiration!
This #ThirstyThursday, WE are back in the ATL!  On the season premiere of Growing Up Hip Hop: Atlanta, Bow Wow's arrest rocks the world and his family, and Da Brat will not hold back her opinions on the whole shocking situation! Meanwhile. Drea Kelly has to face a grueling custody battle with ex-husband, R. Kelly – which isn't easy on her, or her kids. It seems like she will need a big glass of "Georgia Peach," a champagne cocktail with a peachy twist!
Recipe: The Georgia Peach
1-2 pitchers 
Ingredients:
2 bottles champagne
1 bottle peach schnapps
3-4 peaches
1 cup strawberries
Directions:
Cut the peaches and strawberries into large slices. Add fruit into a large pitcher. Pour in Peach Schnapps and champagne. Mix all ingredients together with large spoon.
Enjoy a "Georgia Peach" while watching the season premiere of Growing Up Hip Hop: Atlanta! Make sure to follow #GUHHATL on Instagram and Snapchat!
America's guiltiest pleasure is back — with a twist! Five Love After Lockup couples are returning on the all-new spinoff series, Life After Lockup, as they face parole, restrictions, and temptations that will test their relationships. There's quite a bit of unfinished business that these pairs need to resolve, and WE're more than ready to watch it all play out.
In anticipation for the new series, here are five questions WE want answered!
SARAH VS. MEGAN: WHO IS THE TRUE QUEEN OF MICHAEL'S HEART?
It's the love triangle that had us all on the edge of our seats! With Michael a free man (again), and the truth of his infidelity exposed, he'll surely be spending most of the season cleaning up the mess he's made. He'll need to make the decision between being a family man with Sarah and their two young daughters, or splitting his time with Megan. However, the bigger question might be if the ladies still think he's worth the trouble.
IS THE HONEYMOON OVER FOR BRITTANY AND MARCELINO?
A lot has changed since we last saw Brittany and Marcelino. The couple went off to enjoy newlywed life, welcomed their new baby girl, took in Brittany's son full-time, and moved into a new home. Not to mention, this all happened just months after Brittany's release and the couple's first meeting in real life. Can their marriage survive this hectic new stage of life, or will it prove to be too much for this fan-favorite couple?
NO MONEY, MO' PROBLEMS: WILL SCOTT'S FINANCIAL ISSUES CONTINUE TO AFFECT HIS RELATIONSHIP WITH LIZZIE?
When you're $90,000 in the hole due to a relationship, it's safe to say the thrill is gone. Just ask Scott. Last season, we saw Lizzie walk away from their whirlwind romance when she found out he had no more money to spend and was deep in debt. But, surprisingly, she's back! WE're interested to find out if Lizzie has returned for true love, or for the chance to get back into Scott's pockets.
WILL CLINT AND TRACIE GET THEIR STORYBOOK ENDING?
It was less than 24 hours after Tracie and Clint's wedding when she left him high and dry for "motherf-ckin' crack." While Clint eventually gave his goddess a second chance, WE can't help but think the possibility of her relapsing is a constant threat to their marriage. Will Tracie keep her promise to stay clean and be the wife of Clint's dreams?
CAN ANDREA AND LAMAR'S MARRIAGE SURVIVE L.A.?
At the end of season one, Andrea made the decision to pack up her life in Utah and move to Los Angeles to be with Lamar. Her relocation led to the couple's wedding just a short time after, but problems began to surface when Andrea struggled to adjust to her new L.A. lifestyle. It remains to be seen if the move will become a major point of contention in the couple's marriage.
Watch the series premiere of Life After Lockup, airing June 14 at 9|8c! And, don't forget to follow #LifeAfterLockup on Instagram, Twitter, and Facebook for more exclusive content!
Your guide on where to celebrate LGBTQ Pride Month 2019 all across the country.
___
NEW YORK CITY
Pride Day in Brooklyn | Brooklyn, NY | brooklynpride.org
Pride Day in Brooklyn is on June 8. The day begins with a 5k run through Prospect Park and ends with the Park Slope Twilight Parade along 5th Avenue, from Lincoln Place to 9th Street.
The WorldPride Opening Ceremony is on June 26 from 7-10 p.m. at The Barclays Center. Special guests will include Whoopi Goldberg, Chaka Khan, Ciara, Billy Porter, and others. This year's theme is Stonewall50.
The city's annual Pride March will be held on June 30. The march will start at noon at West 26th Street and 5th Avenue. Marchers will continue past the Stonewall National Monument, then make their way back toward midtown.
CHICAGO
Chicago Pride Fest | Boystown on Halsted Street | northalsted.com
Chicago's annual Pride Fest, will have its celebration from June 22 – 23 from 11 a.m. – 10 p.m. The event will take place in Boystown on Halsted Street, from Addison to Grace Street.
Chicago will hold the 38th annual Proud to Run event on June 29 at Montrose Harbor. The half marathon will begin at 7 a.m., with the 10k and 5k run to follow at 8 a.m.
Chicago's annual Pride Parade will take place on June 30, starting on Halsted and Broadway. The parade will begin at noon.
Los Angeles
LA Pride Opening Ceremony in West Hollywood | West Hollywood Park | lapride.org
The city's Pride Opening Ceremony will take place on June 7 from 6 p.m. – 12 a.m. in West Hollywood Park on San Vincente Blvd., between Santa Monica and Melrose.
2019 Youth Pride Dance | Los Angeles LGBT Center | lapride.org
On June 7, the Los Angeles LGBT Center will hold a Youth Pride Dance for those ages 24 and under. The dance will take place from 7-10 p.m. with a live DJ, refreshments, and giveaways.
2019 LA Pride Parade in West Hollywood | Santa Monica Blvd. in West Hollywood | lapride.org
Los Angeles will host its annual Pride Parade on June 9 from 11 a.m. – 2 p.m. The parade will begin on Santa Monica Blvd., between Fairfax and Doheny in West Hollywood.
San Francisco
Celebration and Rally | Civic Center Plaza | sfpride.org
The city of San Francisco will hold its Pride Celebration and Rally on June 29 from 12-6 p.m. and June 30 from 11 a.m. – 6 p.m. It will take place at the Civic Center Plaza with donations requested at the gate upon entry.
Pride Parade | Market St. | sfpride.org
San Francisco's famous Pride Parade will be held on June 30, beginning at 10 a.m. The parade will occur on Market Street, from Embarcadero to Civic Center.
Under the Rotunda | City Hall | sfpride.org
Under the Rotunda is San Francisco's official Pride VIP Party. The event will be held on June 30 at City Hall with tickets available for purchase.
Houston
 Pride Superstar Competition Finale | 2401 San Jacinto St. | pridehouston.org
Pride Superstar, Houston's Pride singing competition, will hold its season finale on June 6 from 8-10 p.m. at Rich's Houston.
Genderless Cocktail Party | 708 Main St. | houstonpress.com
Houston's Genderless Cocktail Party will be held on June 14 from 8-11:30 p.m. The event will be held at WeWork on 708 Main Street.
Houston Pride Parade | Downtown Houston | pridehouston.org
Houston's 2019 Pride Parade will be held on June 22 from 8-11 p.m. The parade will begin at Smith and Lamar, and finish at Jefferson Street.
Atlanta
50 Years of LGBT Cinema | Out Front Theater | atlantapride.org
50 Years of LGBT Cinema is Atlanta's two-day event at the Out Front Theater. Films being shown this year include The Watermelon Woman, Save Me, Shelter, and more.
2019 Atlanta Pride Run | Piedmont Park | atlantapride.org
Atlanta will hold its annual 5k Pride Run at Piedmont Park on June 15 from 8 a.m. – 12 p.m.
2019 LGBT History Tour | 100 Ivan Allen Jr Blvd NW | atlantapride.org
Atlanta's 2019 LGBT History Tour will take place with Tour 1 on June 2 at 1 p.m., and Tour 2 on June 23 at 1 p.m. The tours begin at the National Center for Civil and Human Rights.
WE hope this Thirsty Thursday will make everyone remain chill! On the season finale of Braxton Family Values, one of the sister's happiest moments leaves Tamar upset, causing a chain of events that leads to a sister meltdown WE never saw coming! The Hustle & Soul season finale is also full of big confessions. Ana's plan to take over The Pink Teacup surfaces during LP's big TV debut. Meanwhile, Jon Jon is making the decision to finally come out to his mom, but needs Cola by his side. WE think it's the perfect time to give Jon Jon an "Anything is Popsicle," a boozy twist on a delicious, summer treat.
Recipe: Anything Is Popsicle
2 Servings
Ingredients:
2 strawberry-flavored popsicles
4 oz. gin
2 oz. simple syrup
2 oz. fresh lemon juice
Small bunch of basil leaves
Lemon wheels, for garnish
Directions:
In a cocktail shaker, muddle the basil leaves with the lemon juice and simple syrup. Add ice and gin and shake well. Strain the cocktail into a glass and add a popsicle. Garnish with lemon wheels.
Have you ever wanted to embody the style of your favorite family, but don't have the superstar budget to do so? WE felt the same, so we've decided to find fashionable and affordable takes on some of the best Braxton Family looks.
Towanda rocked this turquoise pantsuit while on Steve Harvey's talk show, and WE think it's absolutely fabulous! This bright ensemble, paired with simple, color-blocked heels, will guarantee all eyes on you.
Try out our version that's perfect for commanding attention anywhere, and everywhere!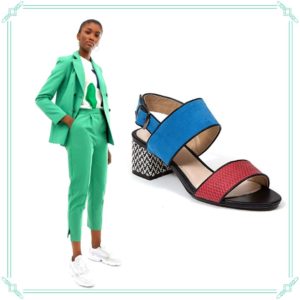 Here's where to find the blazer, the pants, and the shoes.
Come back next week to find out which Braxton outfit we will recreate next, and check out more great looks while watching Braxton Family Values, Thursdays at 9|8c! Don't forget to follow #BFV on Instagram and Facebook!