Family Boot Camp is in full swing and WE are calling on Dr. Ish to tell us which Boot Campers put in the work, made big strides and made progress! Here's his insight on this week's episode, "Who Let the Dogs Out"!
Family Boot Camp is a process and each week gets harder. Week 3 is all about sacrifice. Showing your love for someone is about showing up when it's not convenient for you.
And when the chips were down and the dogs got loose…Renee stepped up! So, she's this week's Family Boot Camp MVP!
That morning, we gave select Boot Campers the choice to make an unknown sacrifice for their family members that would happen later that day. By choosing not to sacrifice, Renee showed that she understood how her always taking the spotlight was actually hurting the dynamic between her and her sisters. The right choice was for her NOT to sacrifice. She got that!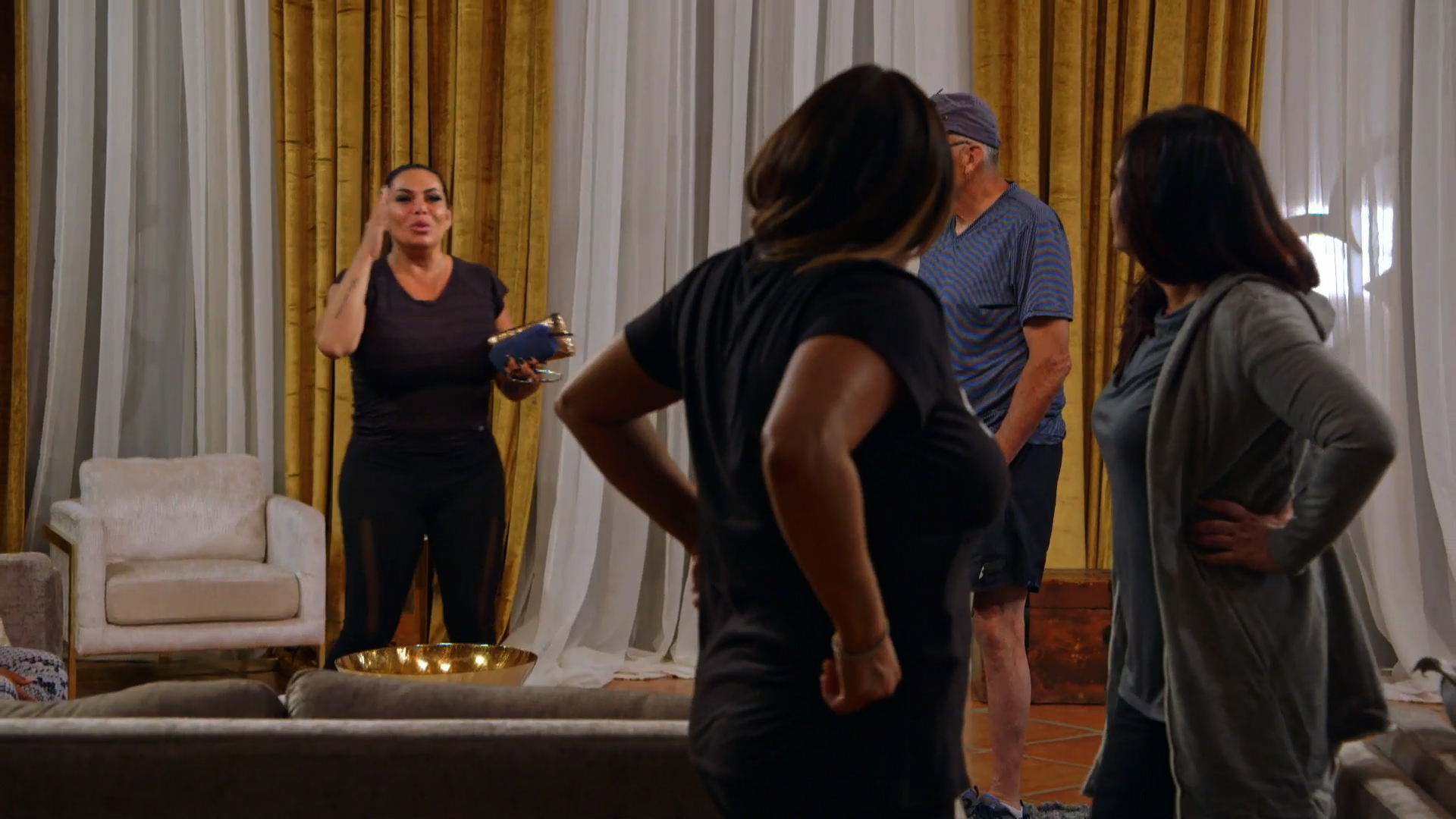 Then we let the dogs out. And things changed. Jennifer and Lana flat out refused to step up and participate in the drill. So Renee stepped up…like they both knew she would. Because that's who she is. That pattern may have worked in the past but at this point in their lives it's no longer working. Renee tried to upset that Mob Wife apple cart for the better and, like most family members do, Jennifer and Lana worked as a teem to keep the status quo even though they all know that needs to change.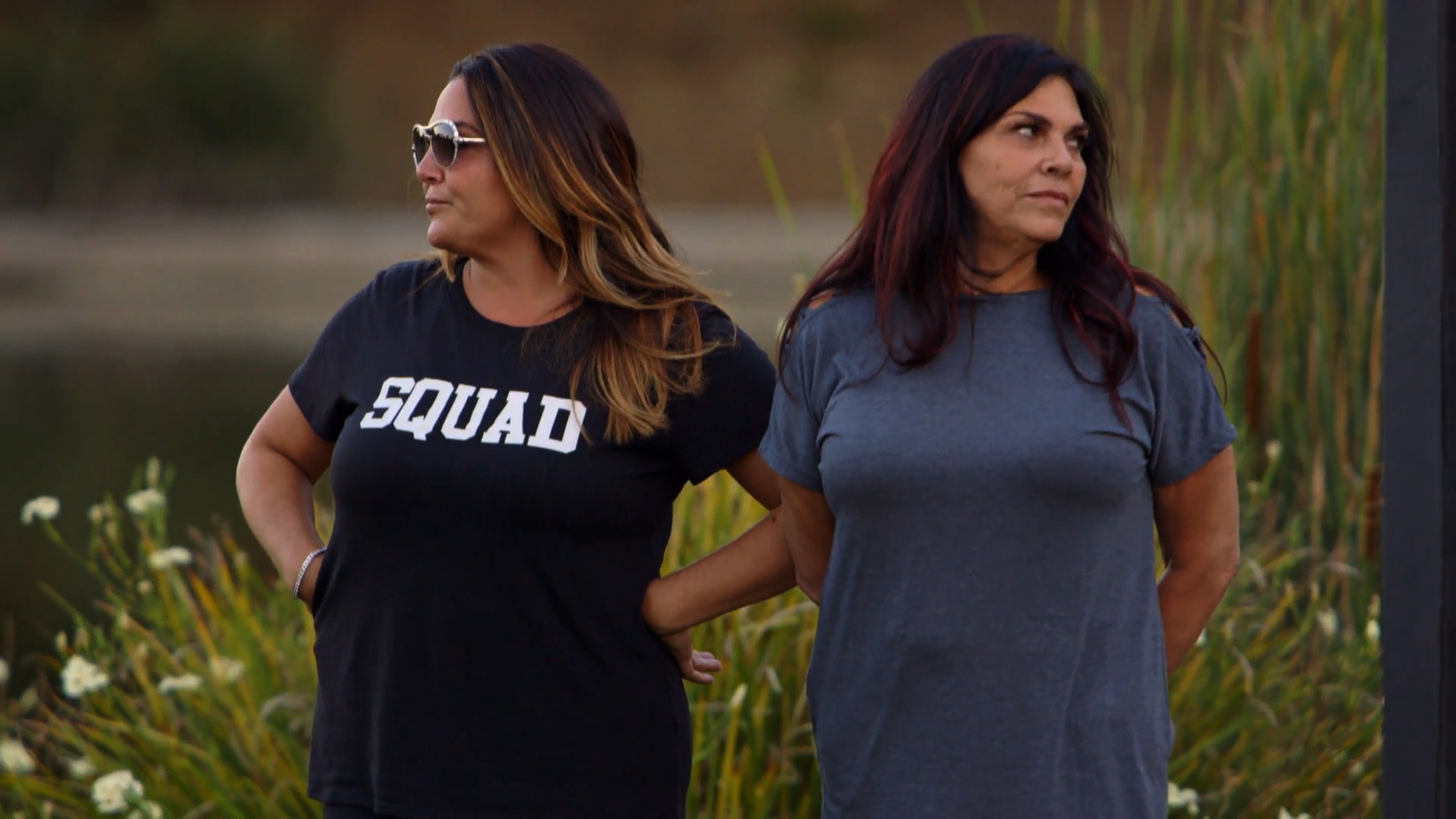 One of the biggest challenges Boot Campers have is finding their voice. At some point in the camp someone always emerges as an emotional leader. As of week 3, that person is Renee! She's leaning harder into the drills than anyone else. She's stepping up and not allowing the other families 'ish' to disrupt her experience. And, she's even attempting to function as Amber's 'autocorrect.' Dangerous job, but I believe she's up for it!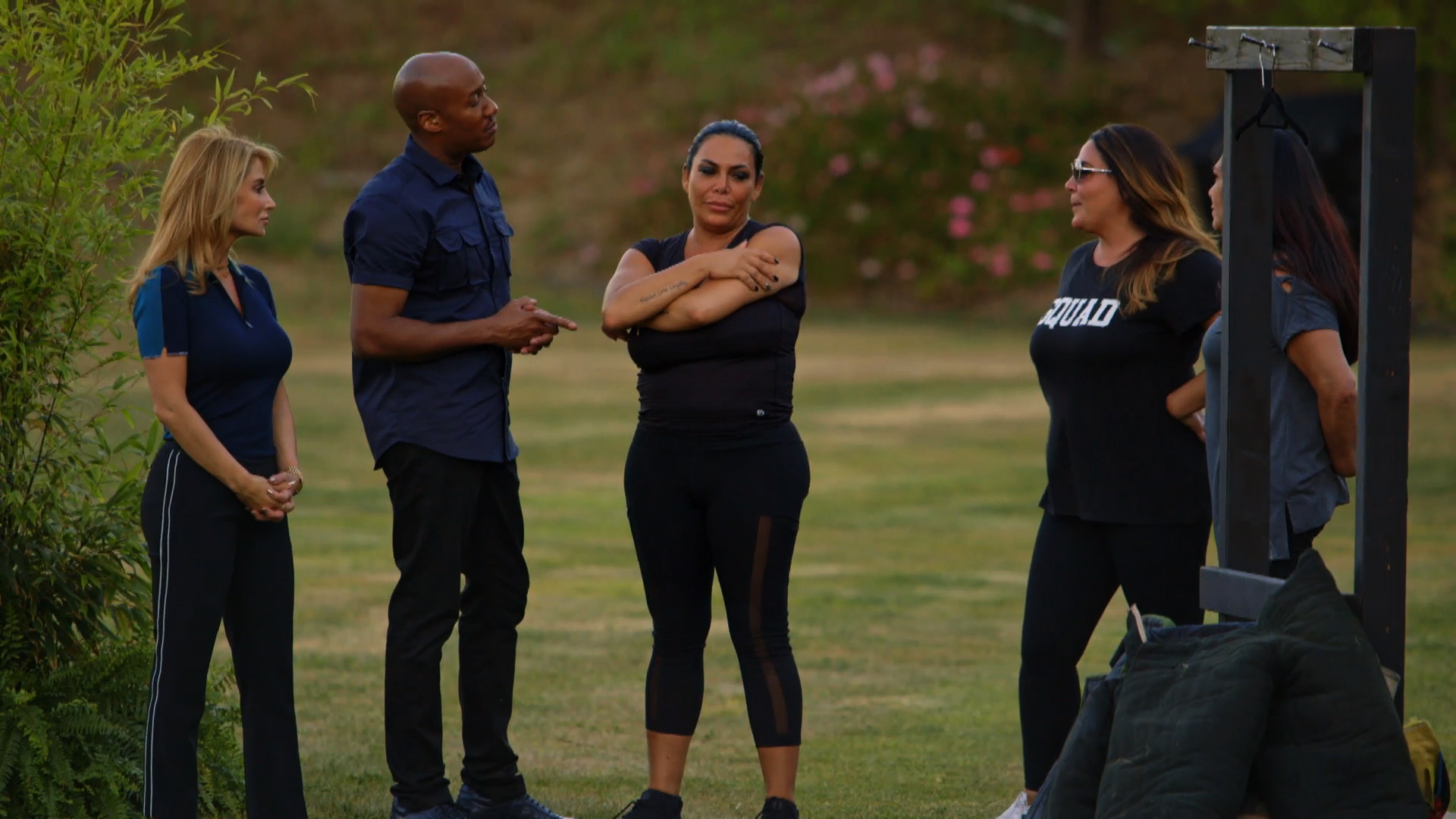 So, for making the sacrifice and jumping in where others are scared to, Renee is proving, yet again, that she's that Lioness WE've all come to know and love! Great job Renee!
Tune in to an all-new episode of Marriage Boot Camp: Family Edition Friday at 9|8c, and check back here to find out who Dr. Ish crowns as the next Boot Camp MVP!
The moment WE have all been waiting for is finally here! Toni Braxton's latest album, "Sex & Cigarettes," has dropped! To celebrate the release of her long-awaited album Toni gifted  us with…
…the WORLD PREMIERE of the music video for her single "Long As I Live" during last night's season premiere of Braxton Family Values and it did not disappoint!
Fans got their first taste of the album back in September when she released "Deadwood" and its music video. (If you missed it, WE have it for you here). Last month, Toni released her second single, "Long As I Live," and fans have been eagerly awaiting the music video.
This is Toni's first solo album in almost ten years (she released "Pulse" back in 2010) and it's both co-written and co-produced by her. This year is also the 25th anniversary of the release of her self-titled debut album which featured her hit songs, "Breathe Again" and "Another Sad Love Song," and ultimately made Toni Braxton a household name.
If you haven't already, make sure you order "Sex & Cigarettes" NOW!



Don't miss all-new episodes of Braxton Family Values Thursdays at 9|8c!
When Bridezilla Sam meets all 14 of her bridesmaids for a dress inspection, she turns into a drill sergeant when her soldiers fall out of line. After shooting insults to her court, six of her bridesmaids dropout in a full-on wedding revolt. Will the maids show up on the big wedding day? WE can't wait to find out who wins this epic Bridezilla fallout.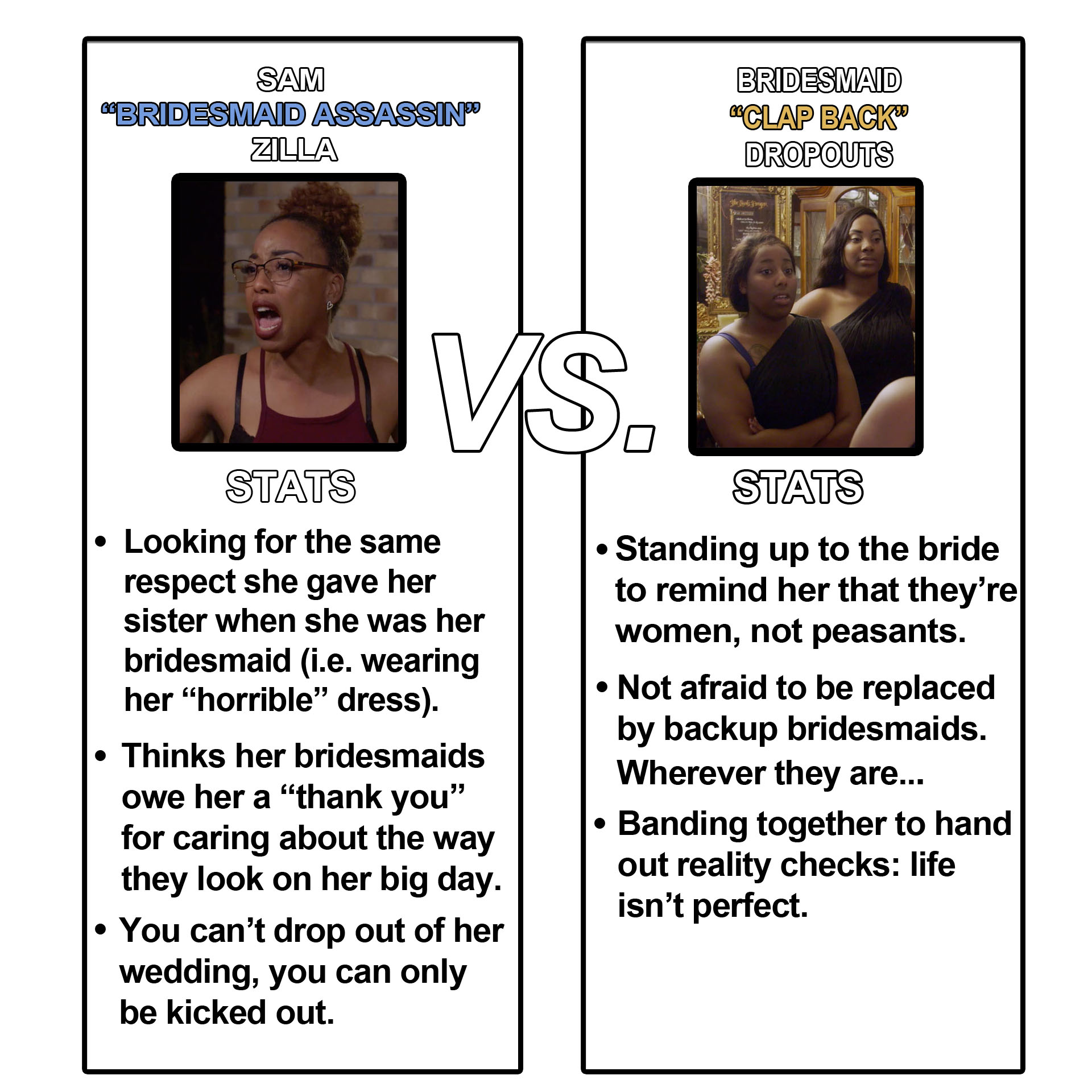 Who do you think will win this battle? Bridezilla Sam or her Bridesmaid Dropouts? Watch Bridezillas Friday at 10/9c to find out!
The Doctors are in, the families have arrived, and they brought all their drama baggage with them! WE are calling on Dr. Ish to tell us which Boot Campers put in the work and made progress! Here's his insight on this week's episode, "Snake in the Grass"!
Here WE are! Family Boot Camp started with a school bell ringing that turned right into a full-on fire alarm! Two names: Amber and Chrissy. Literally less than 15 minutes after we entered the room they blew big! That told Dr. V. and I that this was going to be a long Boot Camp.
But, they settled and the next day Chrissy proved to be the only member of the Jones family who was ready to lean in, and for that reason, she's this season's first MVP!
The morning after the fight, Chrissy womaned-up and not only took responsibility for her part in it, but also was able to address the issue with Amber directly. She told Amber, "I'm not here to be disrespectful to you or be disrespected", and called for a clean slate. Fresh starts are what Family Boot Camp is all about… just usually not quite as early as Day 2.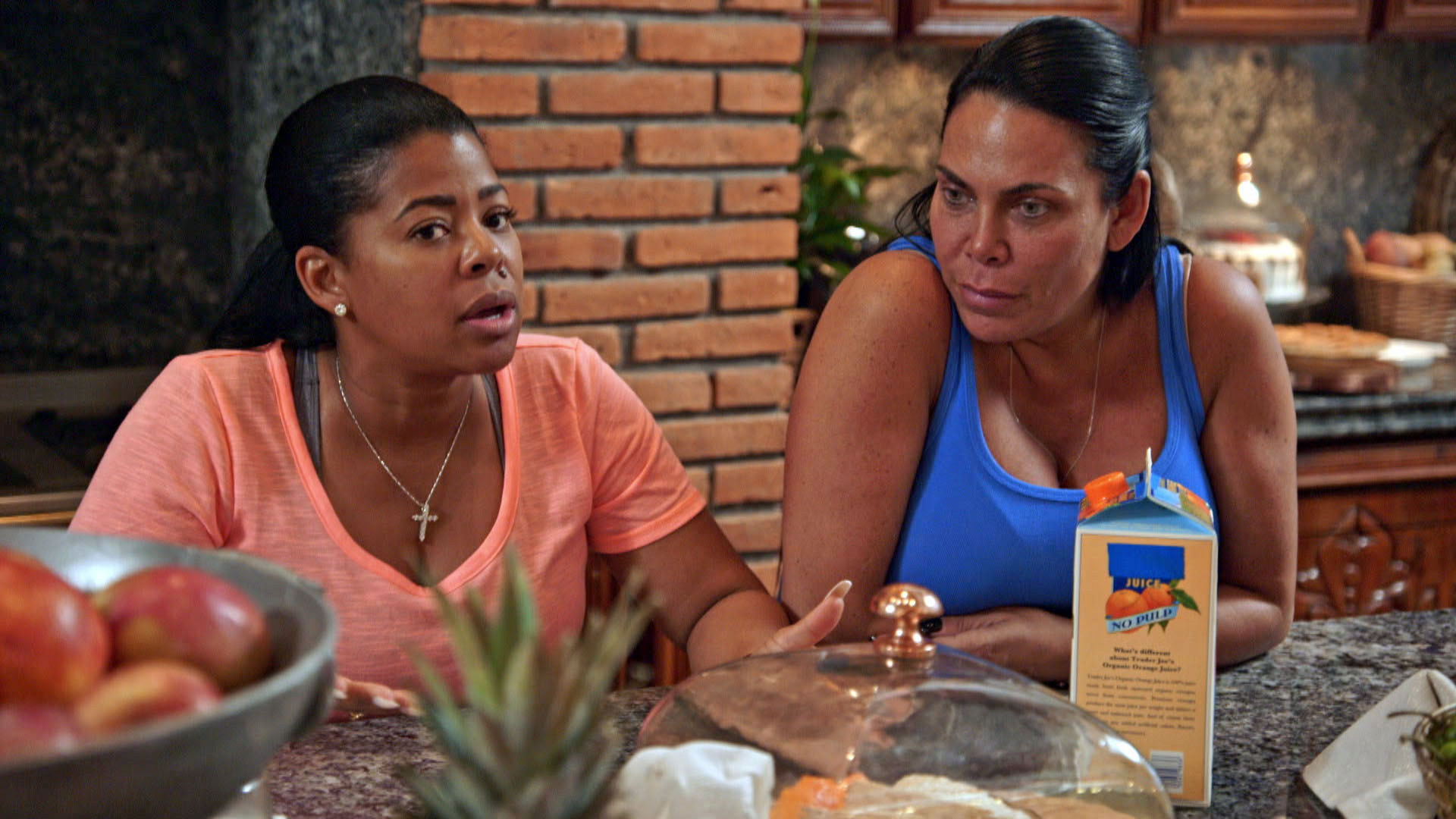 There's no pressure like the pressure your family can put on you to conform and think like they think and do what they do. Jim and Mama Jones were pushing really hard against the drill, not paying attention, talking while other people were taking their turn and keeping their thoughts and emotions in the shallow end of the pool. Then, Chrissy stepped into that booth and dove right into the deep end! Fearless! Leaning in! Trusting the process! Chrissy can see the benefit, if not for all of them, at least for her, and she's jumping at it! That's what this is all about.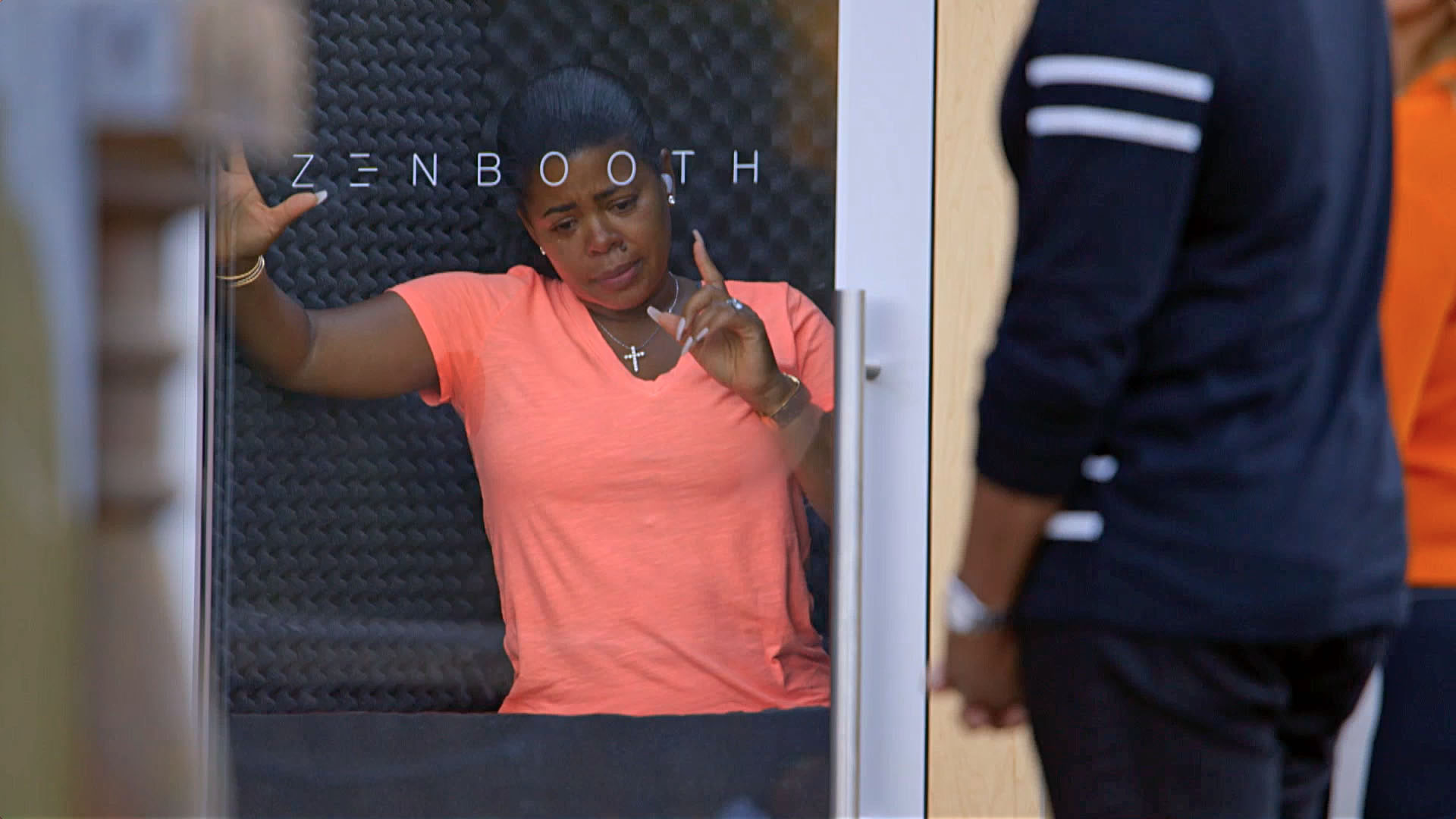 By the end of the snake drill, Chrissy wasn't the only one jumping into the exercises for that day, but that didn't stop Jim and Mama from jumping out of their shoes when they saw our snakes! Jim tried to call our bluff when he said, "Why don't you do something to make me think y'all know what y'all are talking about". Done. We'll do you one better… we'll let Chrissy's tell you in her own words… from the booth. When we dropped that clip his jaw dropped right along with it. This is not our first rodeo Jim. And we never bluff. We only breakthrough!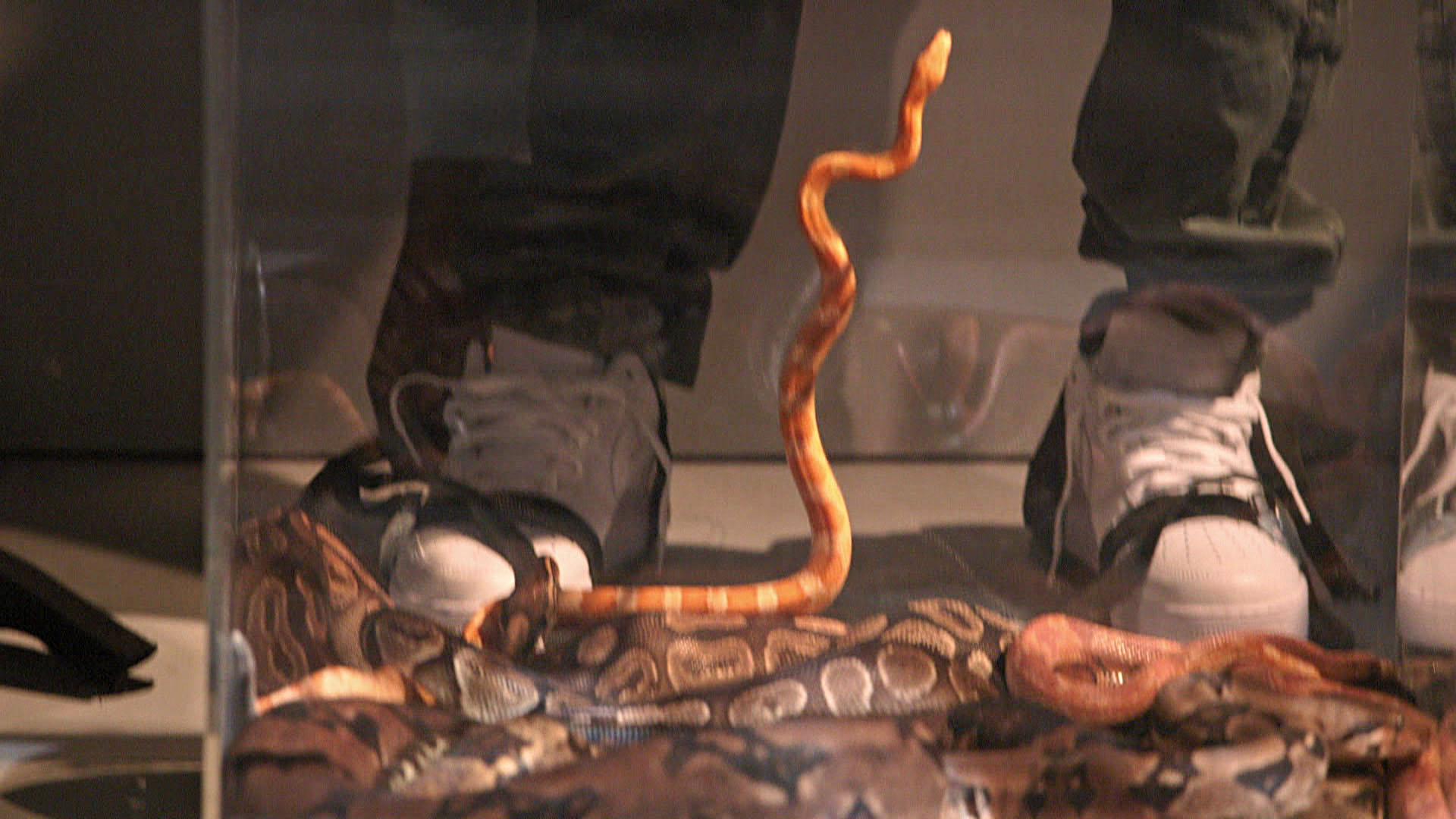 So, Chrissy, great job bucking the family trend and going your own way by wrapping your arms around some of the other Boot Campers and leaning into the drills this week. Work in equals work out, and this week, you worked it right out!
Tune in to an all-new episode of Marriage Boot Camp: Family Edition Friday at 9|8c, and check back here to find out who Dr. Ish crowns as the next Boot Camp MVP!
The sisters are returning for an all-new season of Braxton Family Values, and WE can hardly contain our excitement! This season, WE hoping to see them catch a bit of a break, because last season was one of the most emotional yet! Here's where WE left off…
TAMAR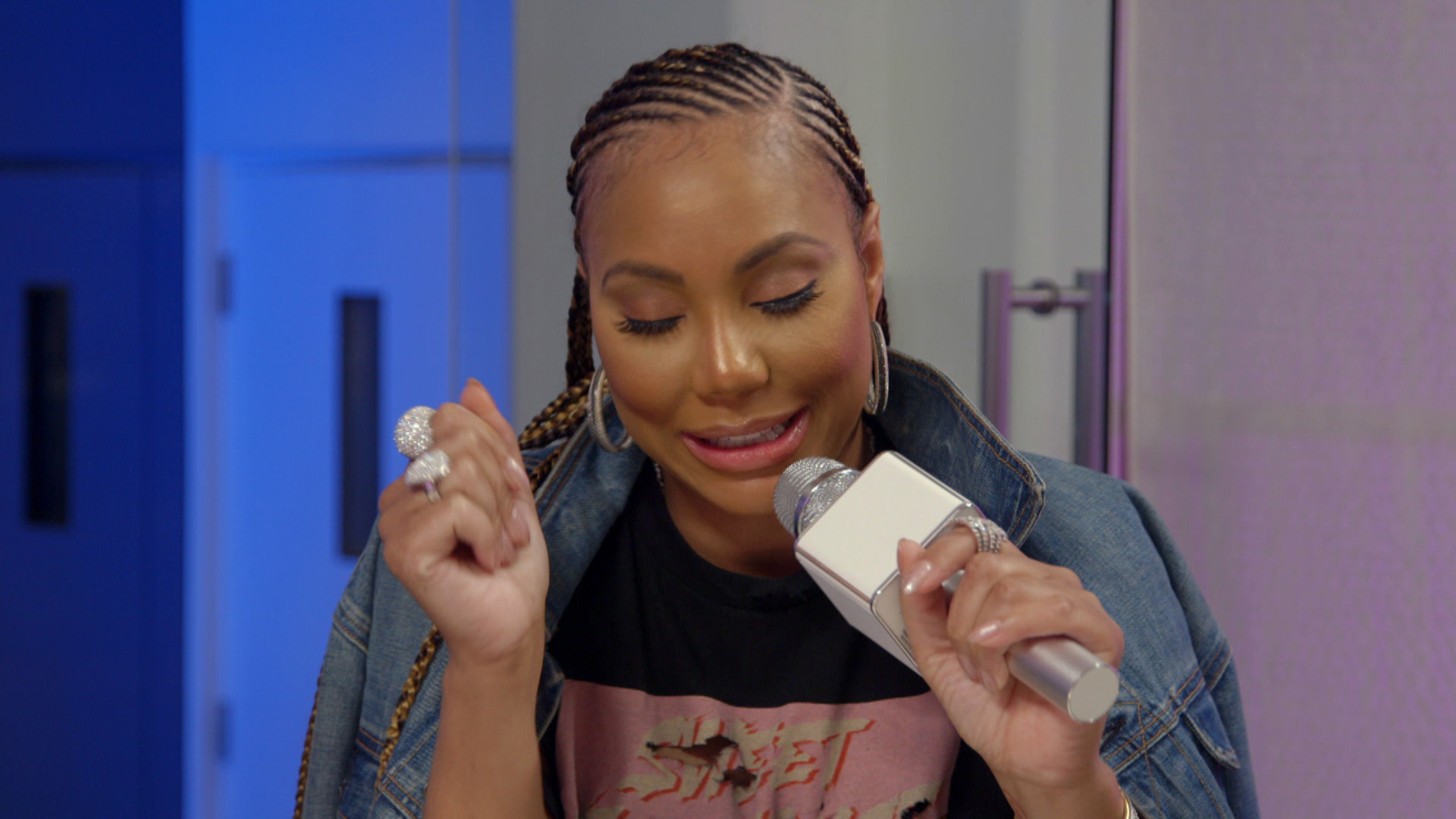 It was an especially tough season for Tamar, who had had enough of the constant tabloid headlines on her marriage, her record label and her departure from The Real. Gossip was the last thing she needed to worry about, especially since she was going through the process of trying to have another baby, revealing the little girl she lost. On Tamar & Vince, emotions were at an all-time high when she opened up about her fight to save her marriage and finding her happiness.
TONI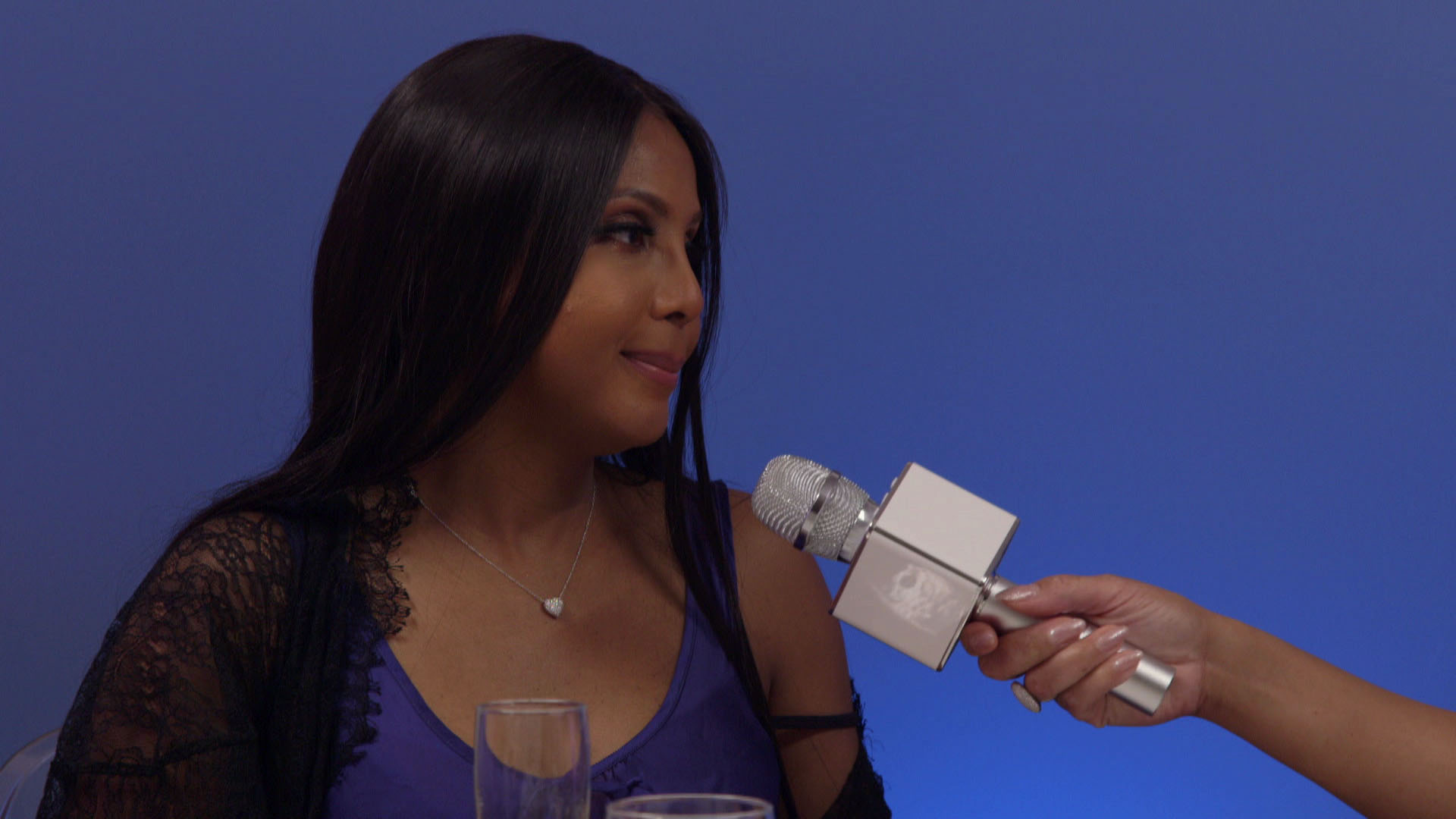 Last season, WE learned that Toni and Birdman were officially an item! But, while she was trying to focus on her new man, she was sidetracked by a couple of Lupus flare-ups as well as some family flare-ups. Then, during their family vacation in Mexico, she stepped up and tried to clear the air with Daddy Braxton and his new wife, Wanda. She is officially big sister goals!
TRACI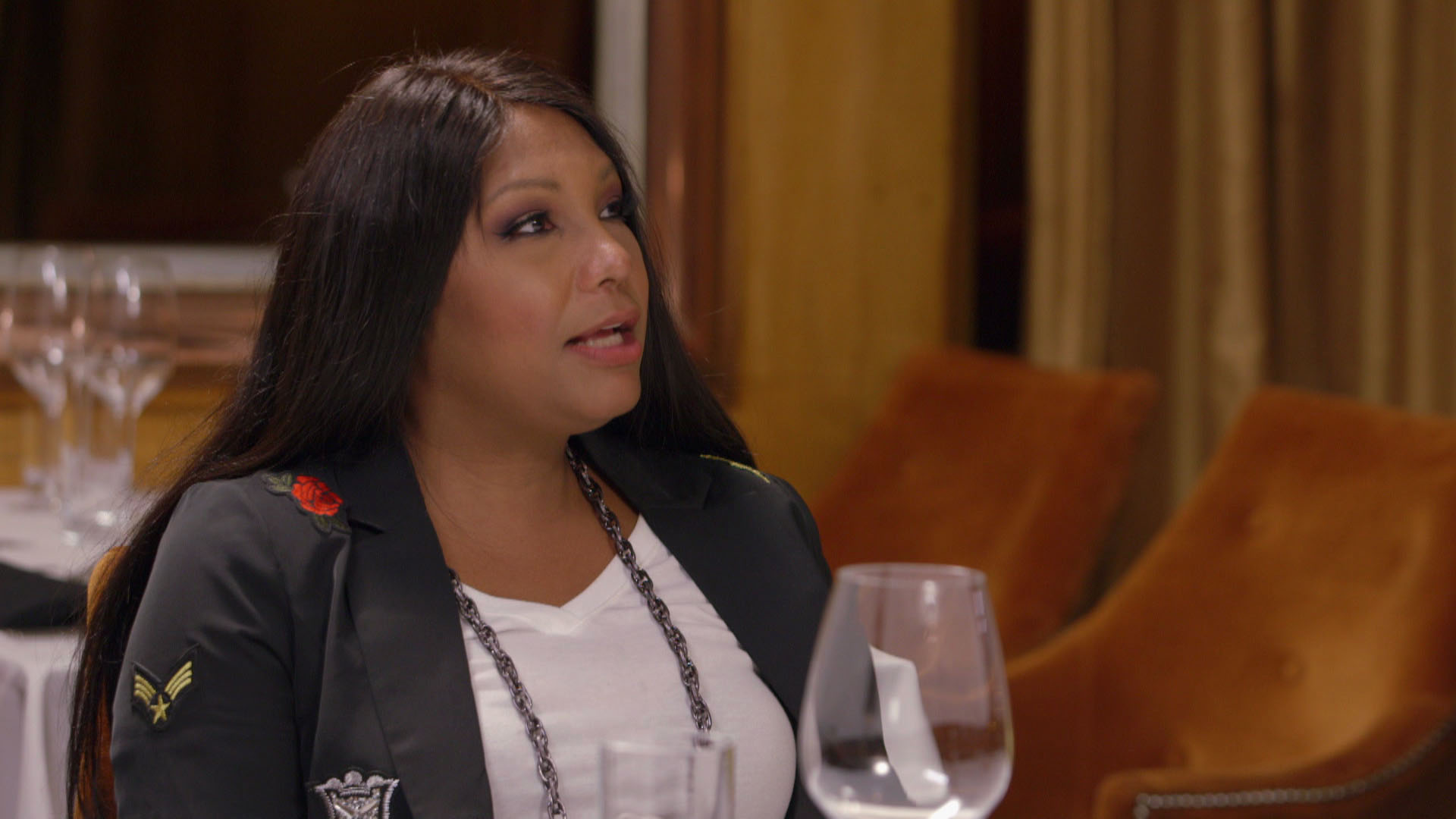 WE were so excited when we learned that Traci was starting to work on a new album last season. However, thanks to some shade that Tamar threw on Twitter two years prior, Traci was having reservations. Thankfully, Traci and Tamar finally cleared the air and were ready to move forward. Then, she became a whiskey brand ambassador and slayed her new role in the best possible way.
TRINA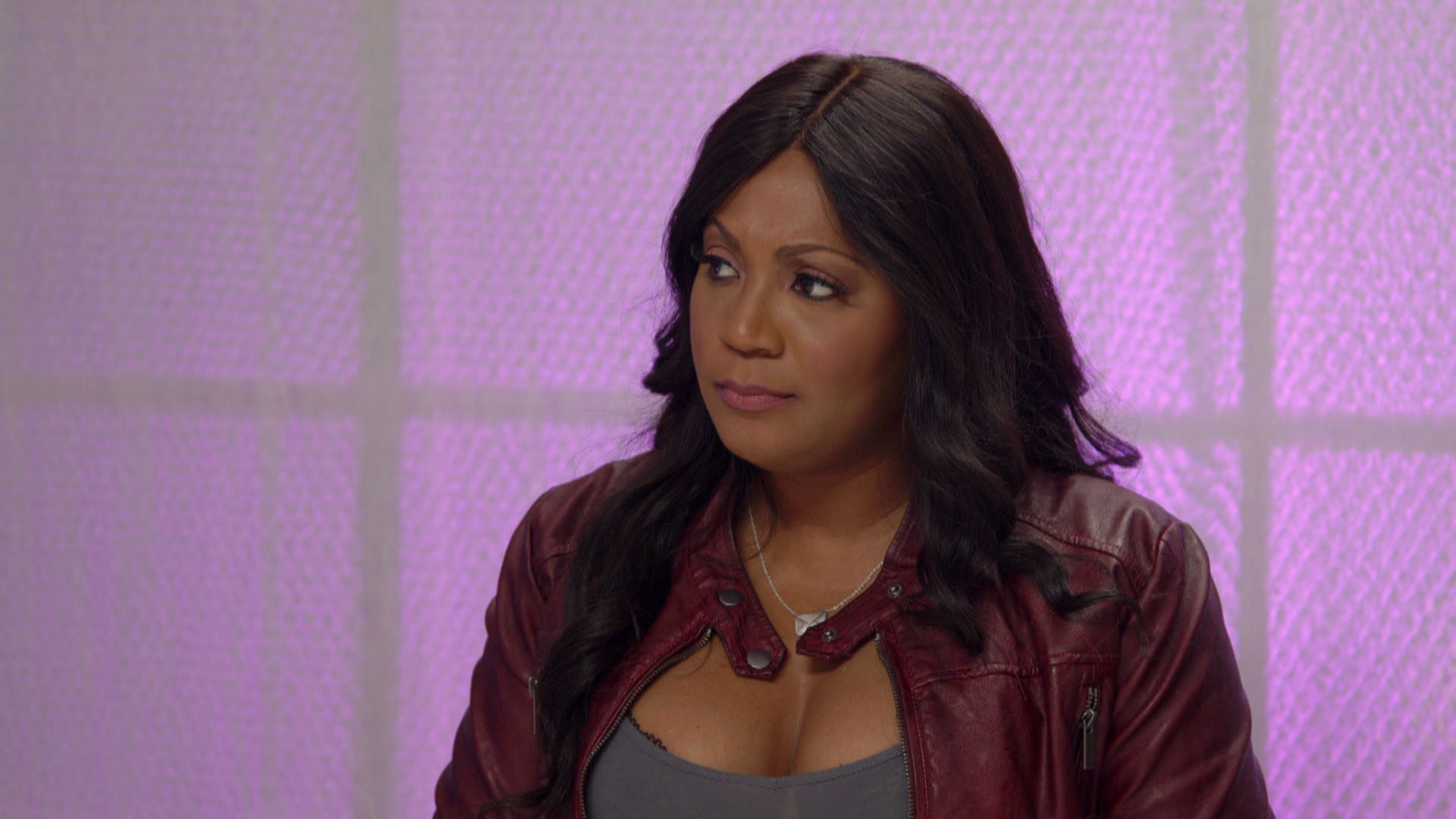 Trina was working on opening up a popup Bar Chix in Atlanta, but her sisters argued with her over everything from the food to the location. The drama amped up when Trina's ex-boyfriend was arrested at her house! Later on in the season, Trina opened up about how much her father's actions and decisions over the years have hurt her. She broke down during a family dinner in Mexico when she confronted her father over skipping her wedding.
TOWANDA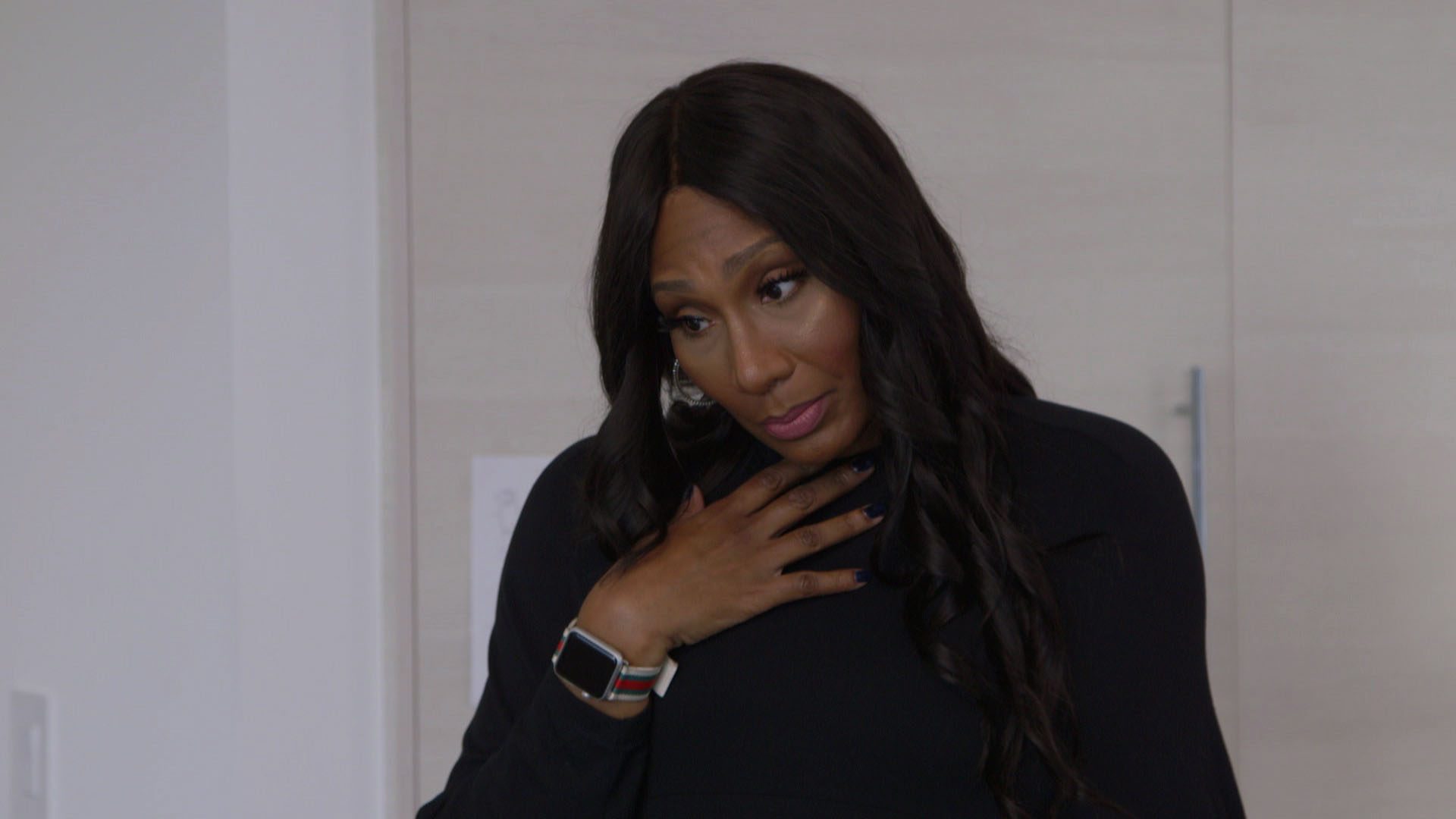 Towanda's divorce battle turned ugly last season when her ex-husband wanted two of her properties AND full custody of their two children. There was no way she was giving in to that! Towanda finally allowed herself to be on the receiving end when it came to advice, and WE think it was a good change for her.
MAMA EVELYN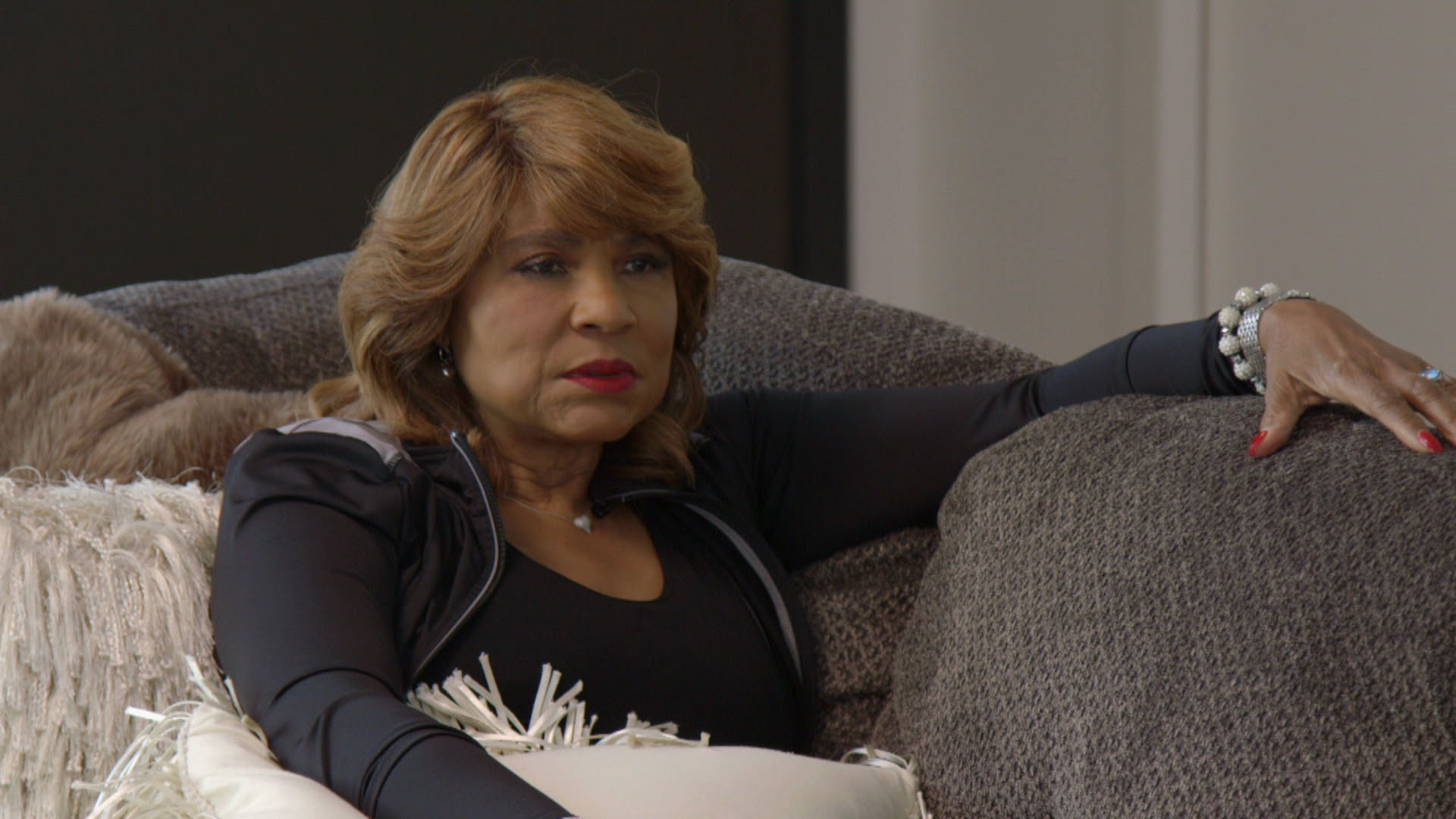 If there's one thing WE love about Mama Evelyn, it's that she doesn't hide how she's feeling. After Tamar released "My Man," Ms. E opened up about what really went down with Daddy Braxton, and WE totally understood why she was seeing red when he showed up in Mexico with his wife!
WE can't wait to see what this season holds. Don't miss an all-new season of Braxton Family Values, premiering Thursday at 9|8c!
Last week, on the season finale of Growing Up Hip Hop: Atlanta, things came to a head and Bow found himself doing damage control with Deb, Brat and JD.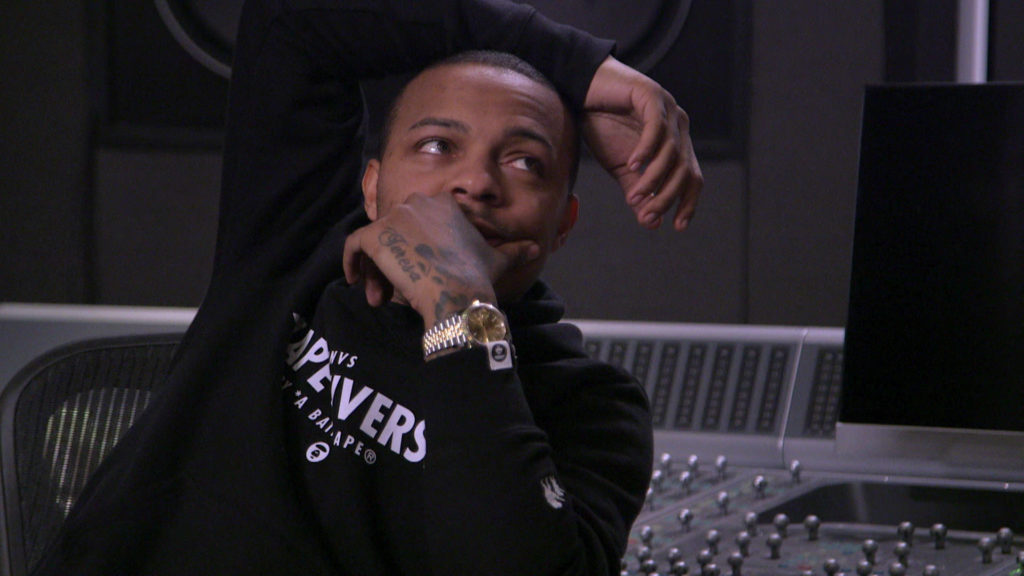 For weeks, Brat has been pushing JD to lay down some consequences for Bow's lack of loyalty to his family. Until now, he's been reluctant to do so because in his eyes, Bow is still a child for whom he feels responsible. But, enough is enough, and he's going to hit Bow where it hurts: the music. JD wants to make Pimpin' choose between him and Bow.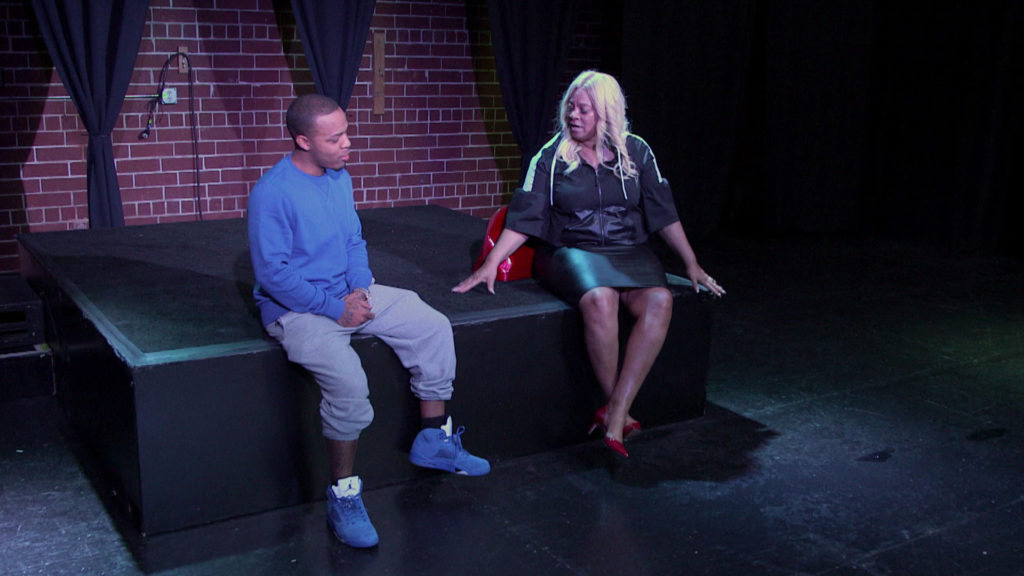 JD and Brat aren't the only ones who have beef with Bow. Bow assured Deb that he would make an appearance at the school she adopted, but in the end, he didn't show up. Luckily for Deb and the kids, Waka Flocka dropped everything to come talk at the school but, that didn't get Bow off the hook. Since Deb couldn't get a hold of Bow, she took to Instagram to put him on blast.

With heat coming from all sides, Bow called his mom for advice. She reminded him that he has to stay loyal to his family, and WE think he got the message. He apologized to Deb and she accepted, but he still has a lot of work to do to get back in Brat and JD's good graces.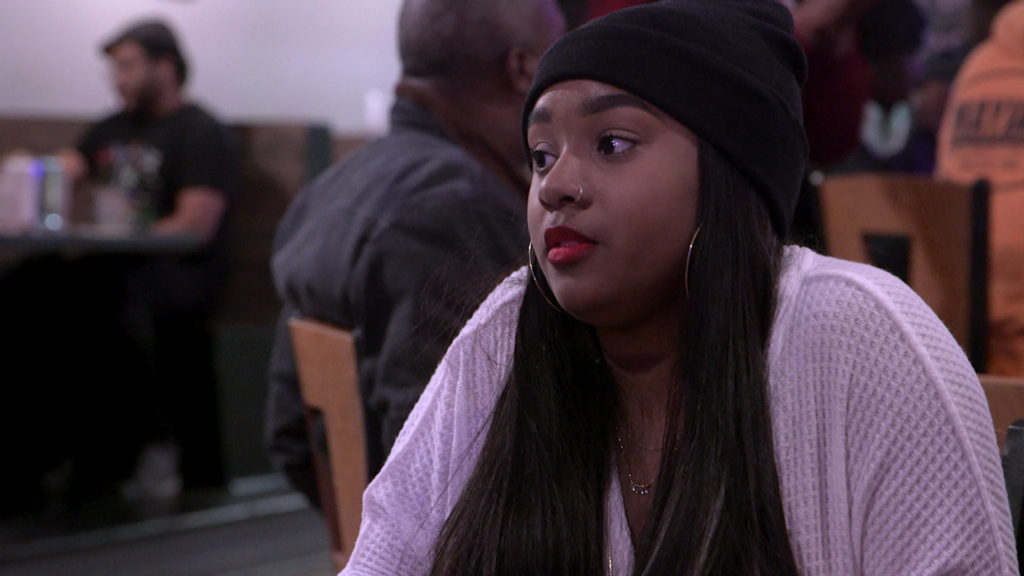 Meanwhile, after Brandon came out to his friends at dinner last week, they feel like they finally understand him now. Unfortunately, his cousin Ayana isn't about to let him off the hook that easily. Ayana let Brandon know that she doesn't trust him before walking out on him. WE hope they'll be able to finally see eye to eye.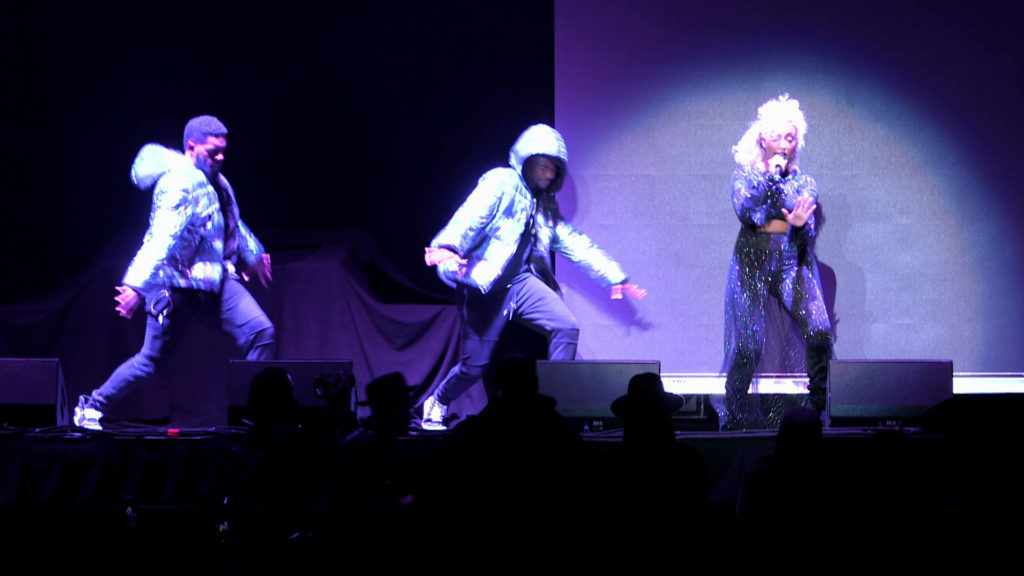 It was a huge week for Zonnique, who started touring with Xscape and had her first major performance in Atlanta. All of her friends made it out in spite of the snow, and WE have to agree with Reginae who said that being a star is in her blood. WE are so proud of her!
WE can't wait to see what's next for the #GUHHATL crew! Keep checking back on WEtv.com for exclusive content, updates on the cast and more!
It's every bride's worst nightmare, the dream dress doesn't fit! Panic would strike anyone who only had 4 days to bounce back with a six-pack, but not Taylor! Taylor, thanks to the internet has her 30-minute miracle ready to go – a body wrap. "How could this possibly bring disappointing results?," thought nobody but Taylor.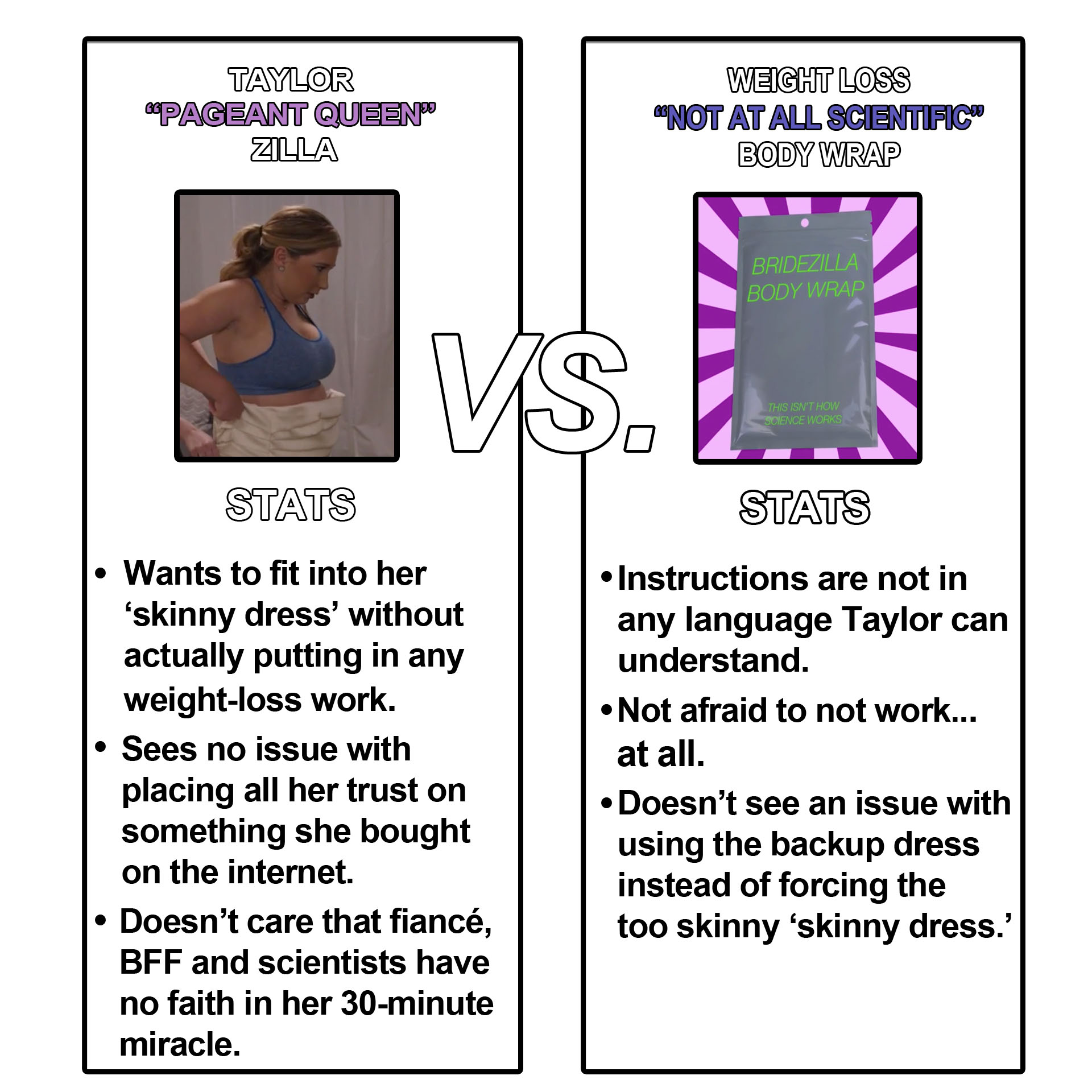 Will Taylor be walking down the aisle in her 'skinny dress' or is it a wrap? Watch Bridezillas Friday at 10|9c to find out!
Politeness suggests it's important to respect your elders, but when it comes to Michelle's dream fairytale wedding, she's not letting her mom get in her way. To cut costs, Michelle doesn't think she has to feed her wedding party, let alone honor the tradition of giving gifts of appreciation to them. When this bridezilla takes on her mother, there's no telling who will make it out of the ring unscathed.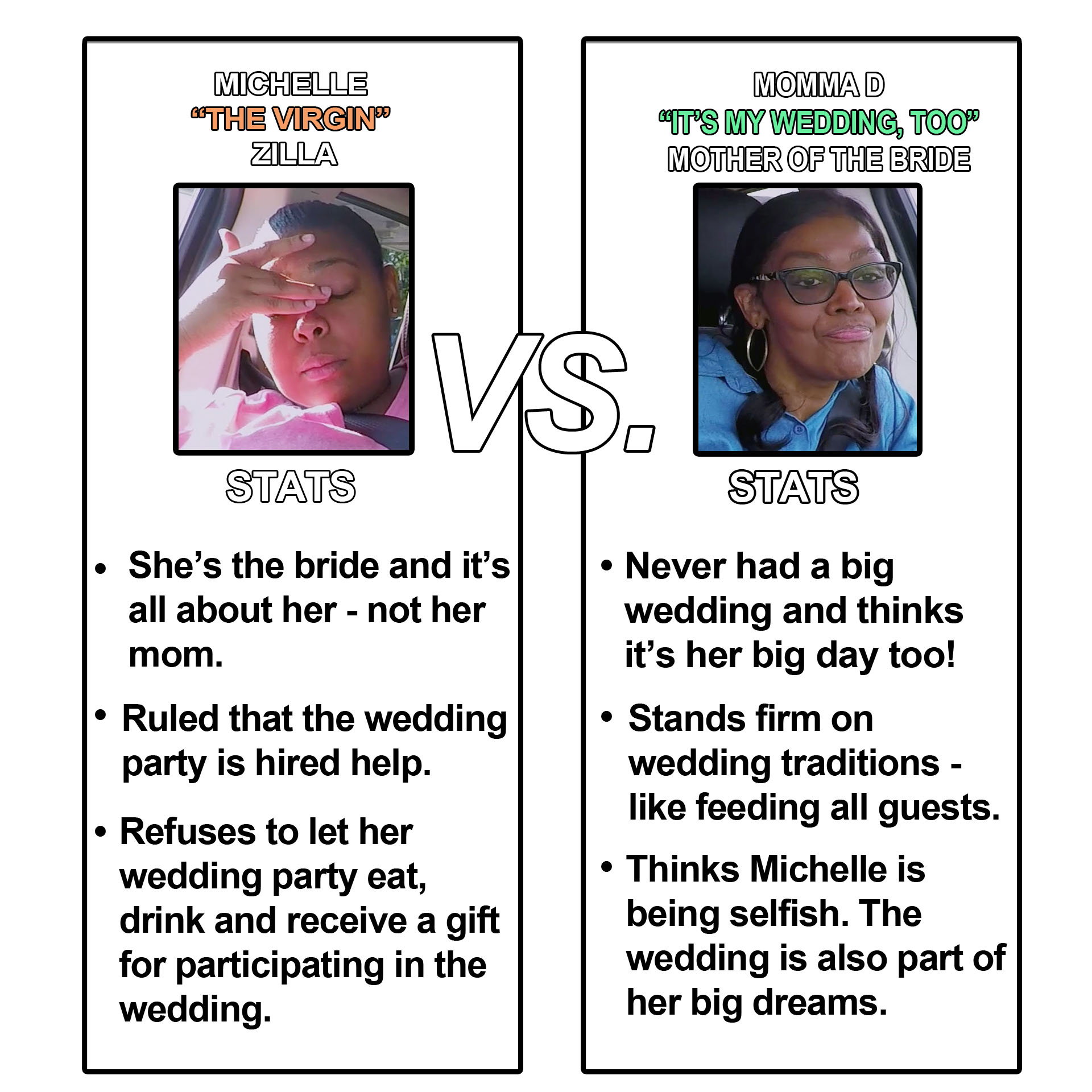 Who do you think will win this battle? Bridezilla Michelle or Momma D? Watch Bridezillas Friday at 10|9c to find out!
WE love Mama June and her family, but sometimes it's just hard to understand what everyone is saying. Check out some of the country grammar WE've translated from last Friday's episode!
Pumpkin: "Either my water just broke or I peed on myself."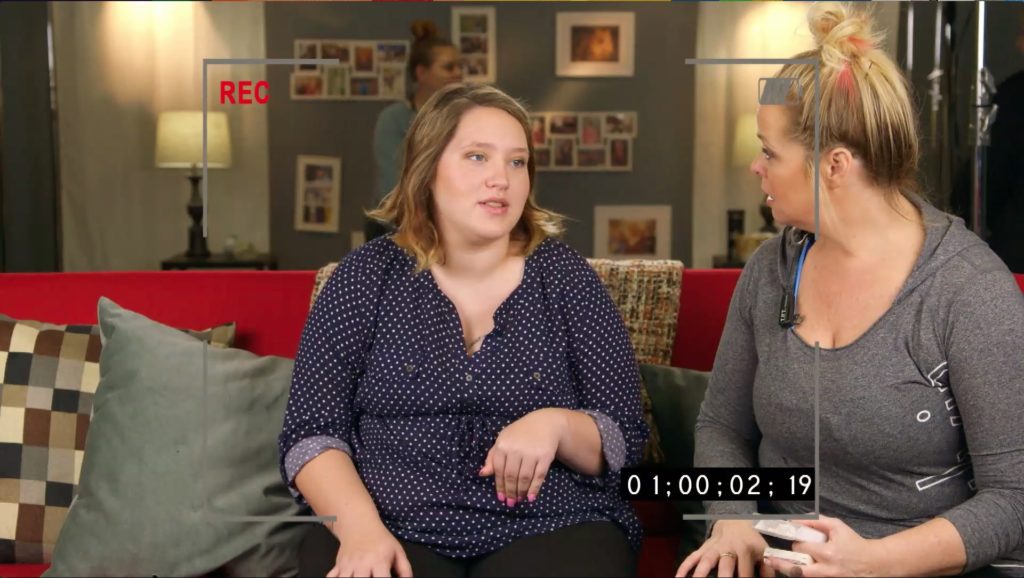 Translation: I think I'm having my baby!
Pumpkin: "There ain't no god damn room back here for you to be god damn flopping around like a f*cking fish out of water."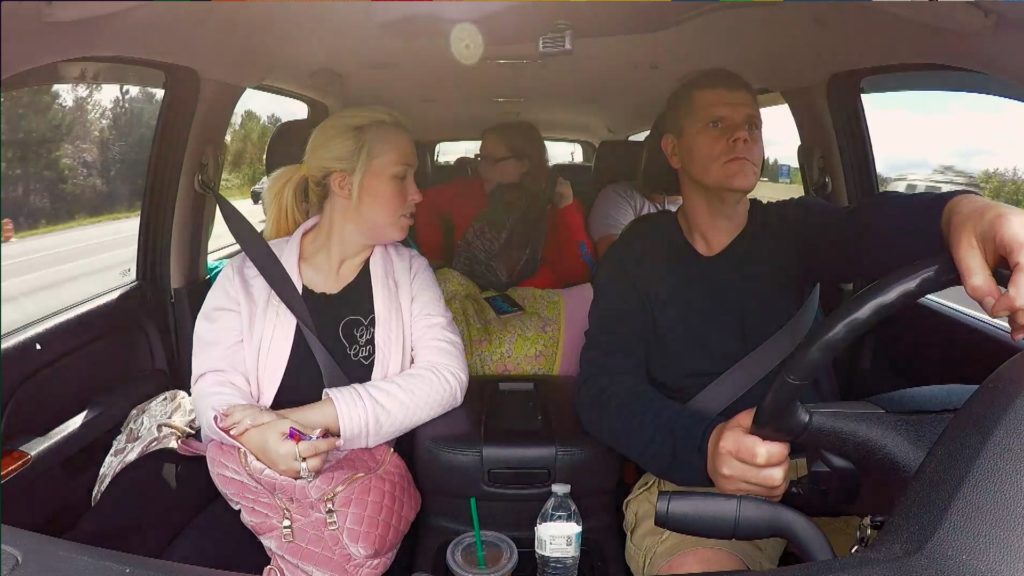 Translation: The backseat of this car is extremely constricted and therefore it is imperative that you limit your movement.
Jennifer: "The truth needs to come out, can you honest to God say that you know that's your young'n?"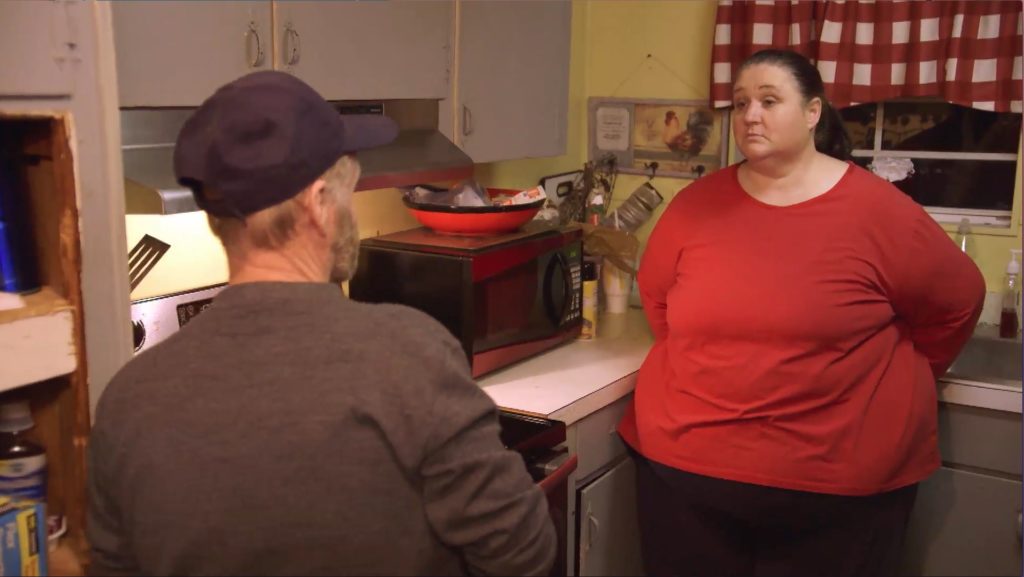 Translation: We need to find the truth about Alana's paternity. Can you honestly say, without a shadow of a doubt that she is your child?
Alana: "I got this, I'm the chairititionist."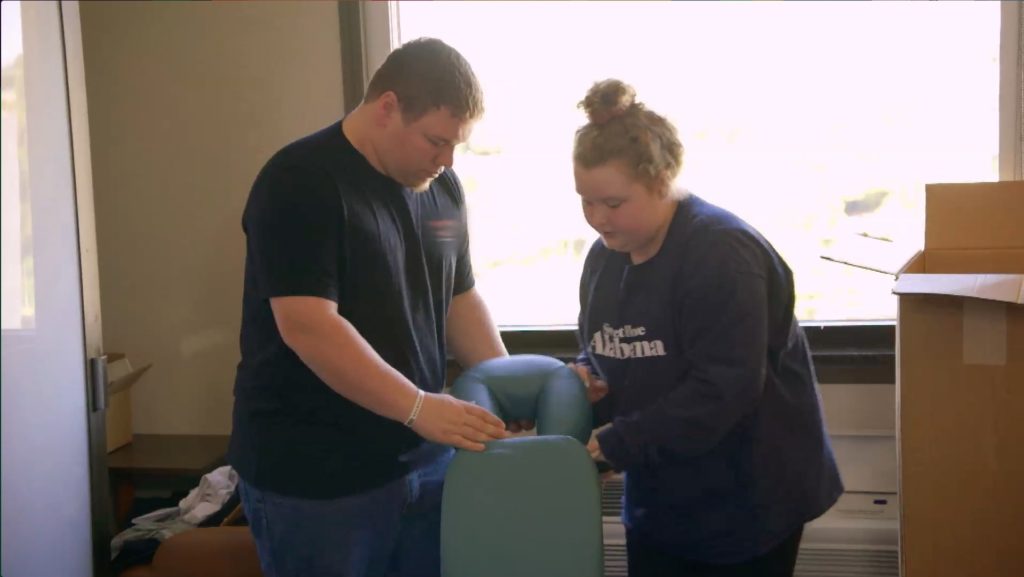 Translation: I am a chair assembly expert
Pumpkin: "Alana, I think you need to give up on that f*ck'n pageant for real."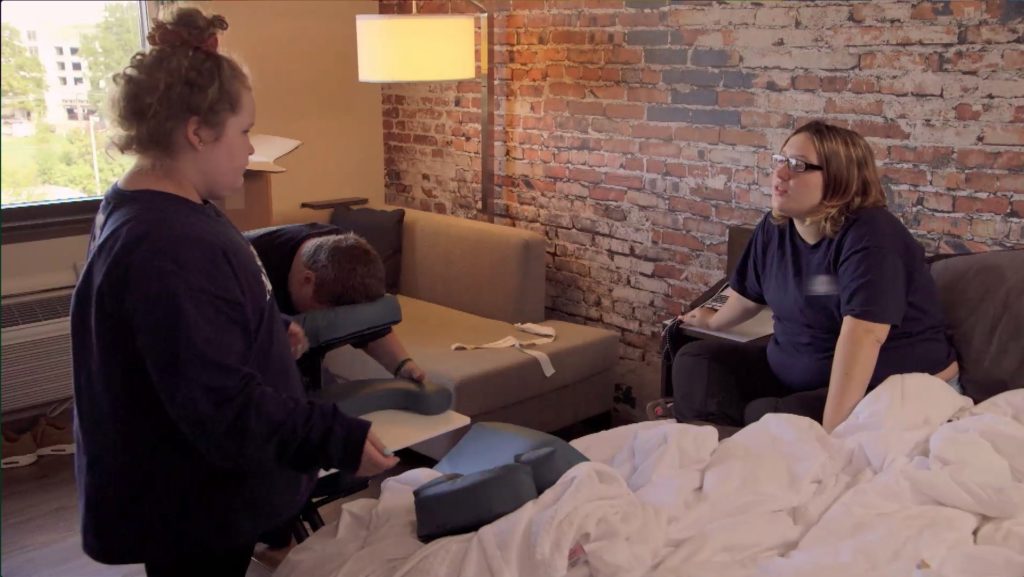 Translation: Alana, it is time you put aside your aspirations that Mama will compete in the pageant, she has much bigger things to concern herself with.
June: "This chair better be compterble because I'm gonna be spend'n a lot of quality time with it"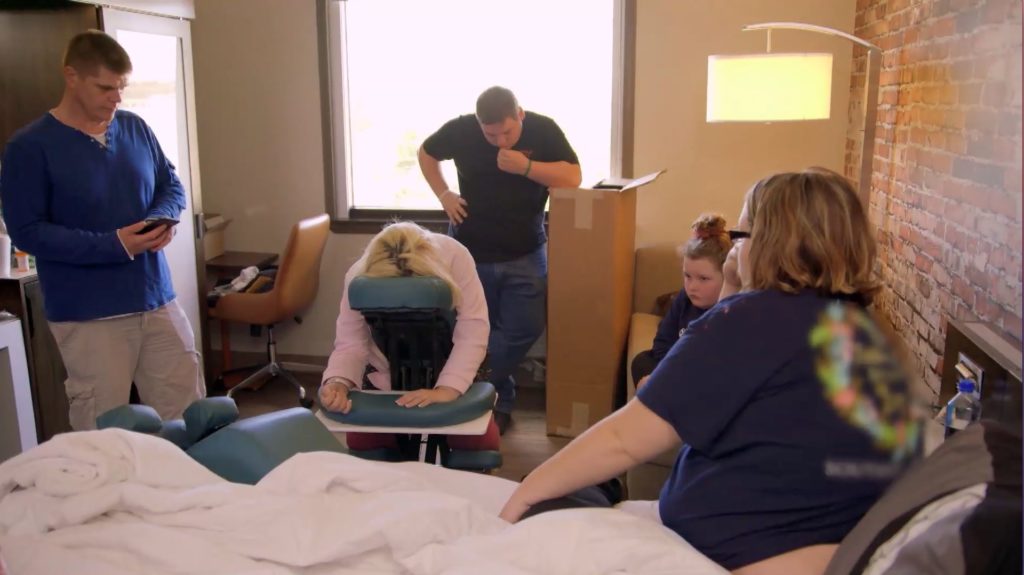 Translation: Due to my eye surgery, I will need to spend the majority of each day sitting in this specialized chair. I sincerely hope it will be comfortable.
June: "I can't believe Pumpkin is fix'n to be a mother of her own, I mean, I'm miss'n everythin. I've been going through so much sh*t my own self, that I ain't had time to sit down and talk to her and see what she's been goin' through.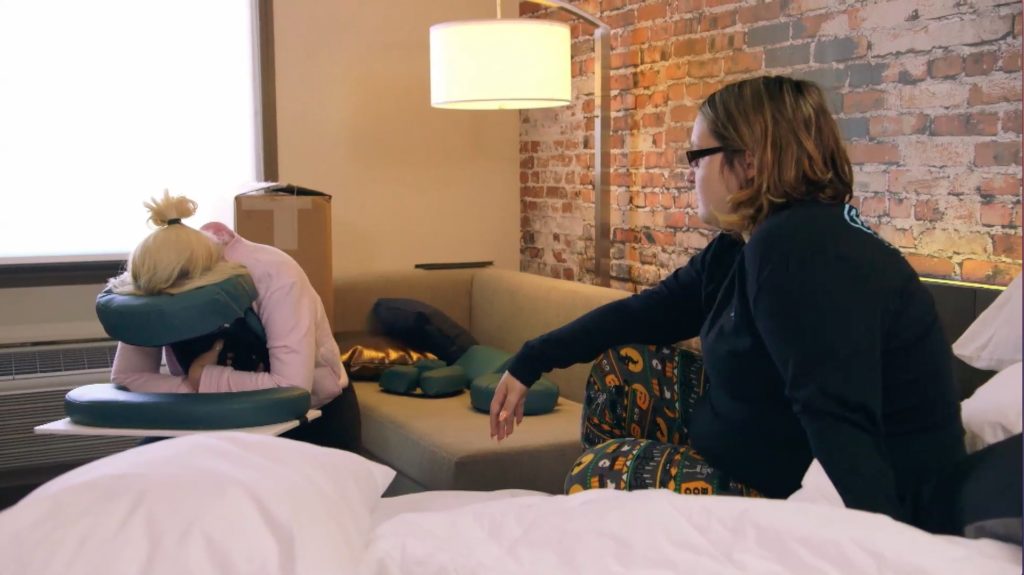 Translation: I cannot believe that my daughter, Pumpkin is about to be a mother. Due to the strenuous events I have undergone in the last few months, I have missed so much of her pregnancy, and I haven't had the time to sit down and speak to her about everything she has been experiencing.
Alana: "This is why Mama said turn on the damn GPS butchu were like 'no-o-o.'"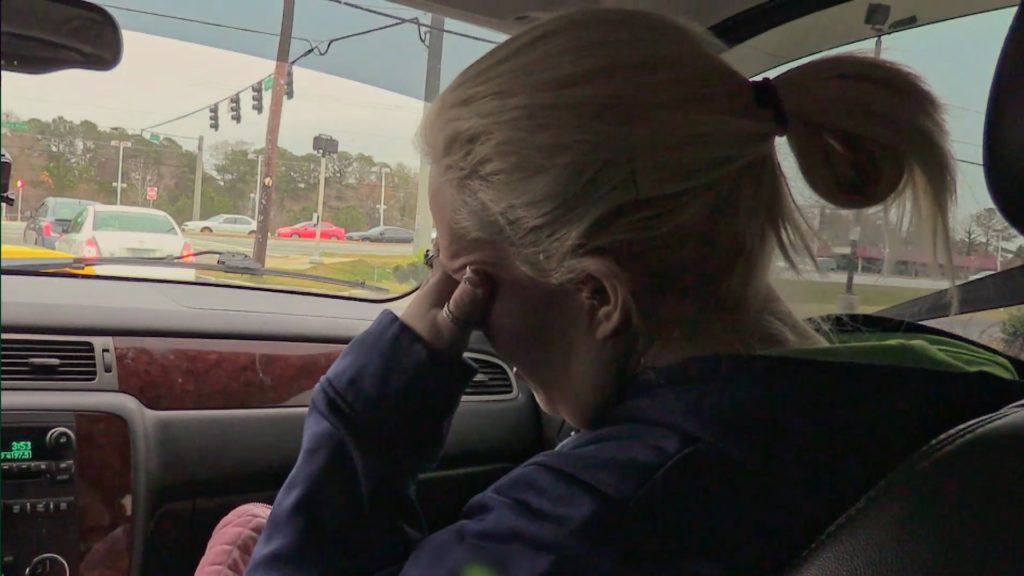 Translation: We wouldn't be sitting in all this traffic if you had just used the GPS to get back home as Mama had suggested.
Pumpkin: "Never in a million years would I not suspect Mama to be there for like the biggest change of my life."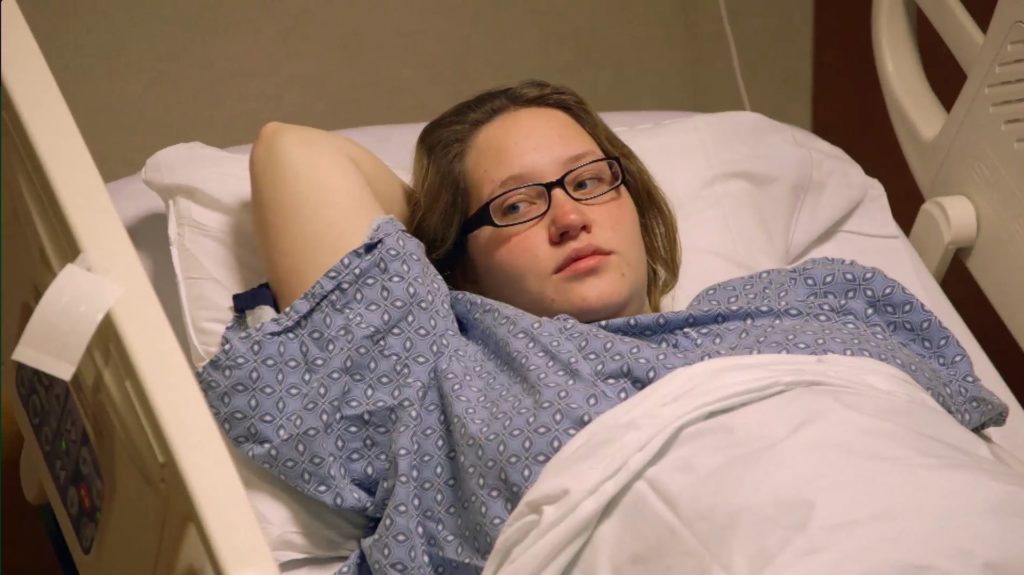 Translation: I would never have expected that Mama may not be able to be here for the most biggest moment in my life.
Even though the season's ended, the drama's just beginning! Check back here to find out when Mama June: From Not to Hot return!
This week on Growing Up Hip Hop: Atlanta, WE got a break from some of the drama that's been going on with the cast. WE know better than to get used to it, but for now, WE'll take it. Here's a look at what happened this week.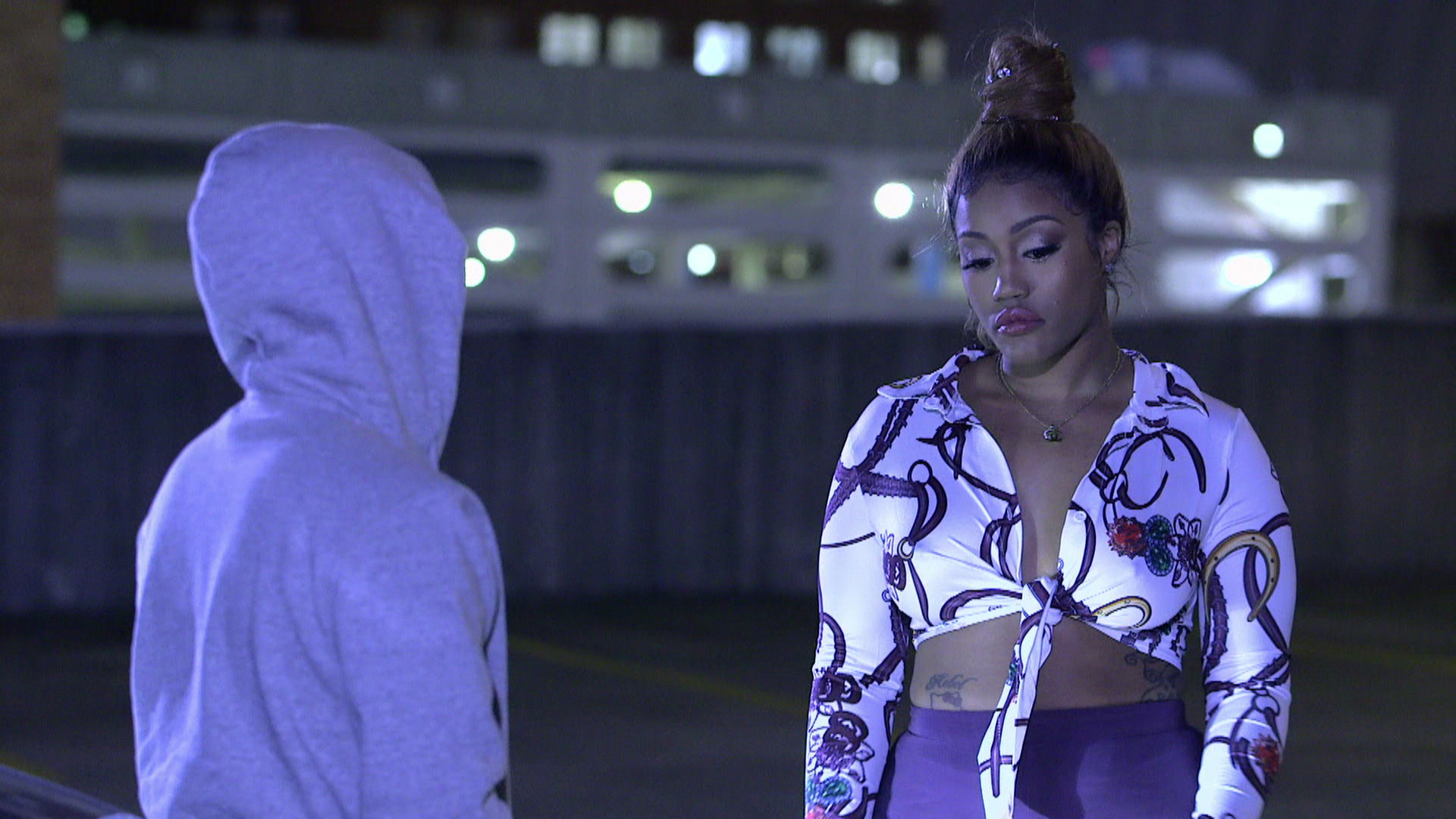 After their explosive blowout that left JD's studio in shambles, Bow and Jhonni talked things out and settled their differences (for now). Even still, Jhonni's unpredictable behavior was called out during a radio interview when the host asked Deb why she takes on difficult artists. Without missing a beat, Deb displayed the ultimate show of loyalty by quickly shifting the focus away from Jhonni's actions and back to her talent. And, Jhonni's not the only one who got a taste of Deb's fierce love this week.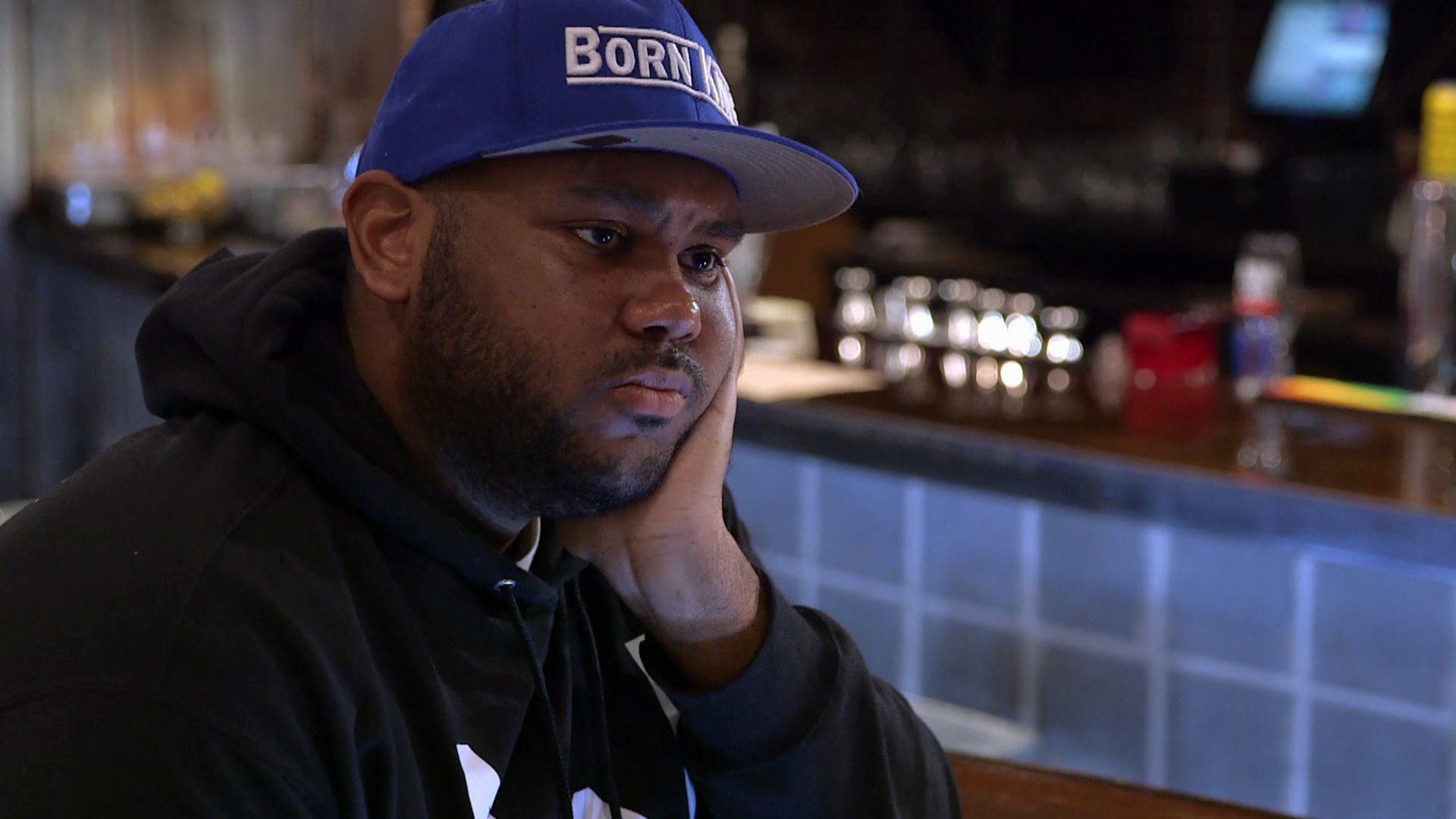 WE finally got a glimpse into the real Brandon. He opened up when a close friend came to visit from out of town, and it turns out that the seemingly overconfident developer isn't so confident after all. During an emotional sit down with Deb, he finally filled us in on his troubled past which includes being beaten as a child and homelessness as a young adult. He let Deb know exactly what she means to him and WE had all the feels. The conversation was especially hard for Deb, who told Brandon that it's time for him to leave her house and learn how to handle things on his own. WE hope Brandon knows that it's for his own good.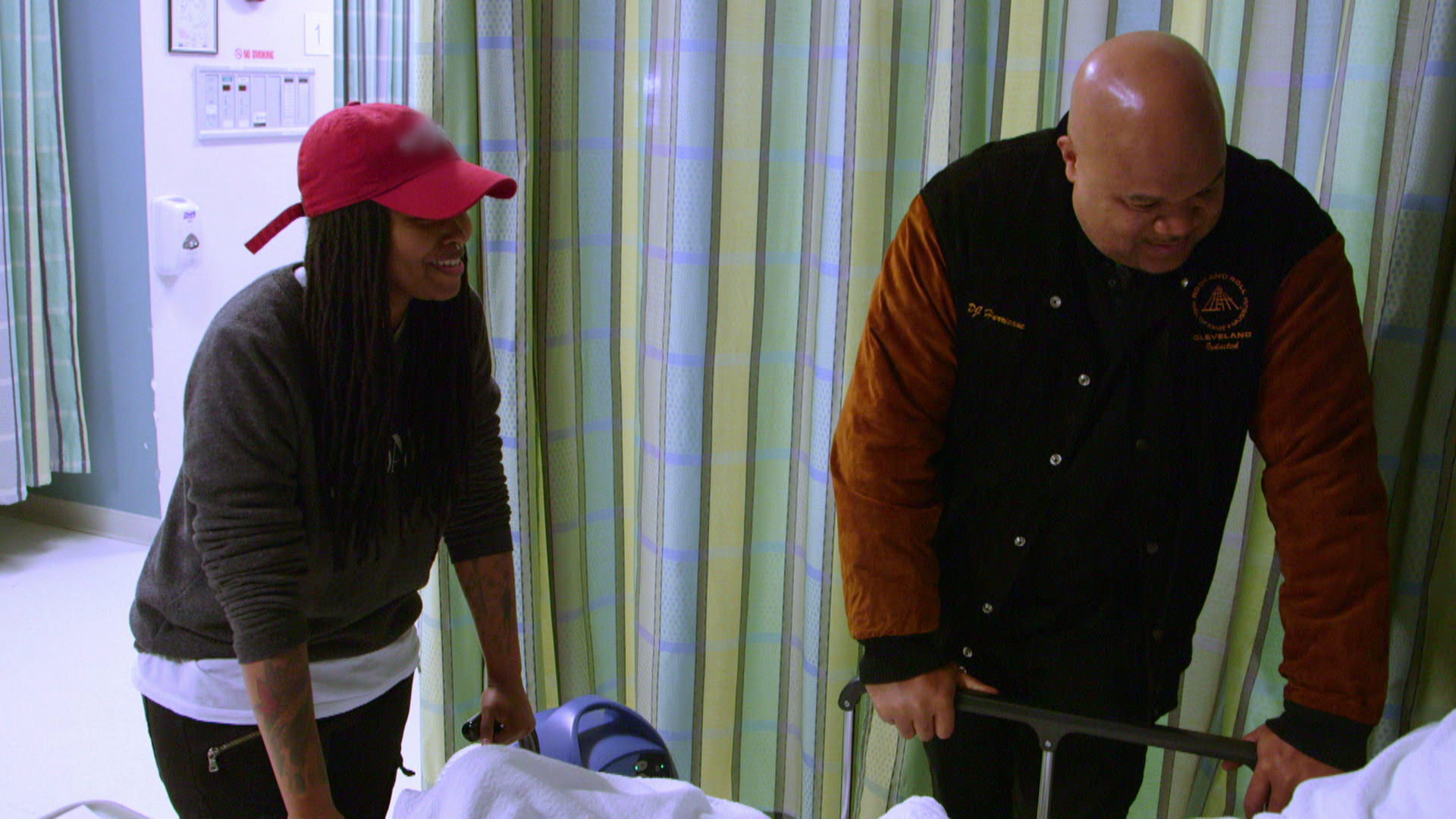 As far as children and their parents go, DJ Hurricane will do just about anything for Ayana. But, when it came to her surgery and hospital stay, he wasn't sure he could handle it, and her nervousness before surgery was compounded by the fact that her father wasn't there. WE all breathed a sigh of relief when he walked through the doors, ready to support his baby girl. And, WE are so happy for Ayana, whose long-awaited surgery went well, and wish her a speedy recovery!
This may have been a drama-free week, but it's only the calm before the storm. Bow finally let JD and Brat listen to his new music and all WE know for now is that JD wasn't blown away. Find out how Bow takes that news on an all-new episode of Growing Up Hip Hop: Atlanta, next Thursday at 9|8c!