Irrational Bridezilla Dezjuan becomes irate when her bridal party struggles to meet her demands. Bratty Bridezilla Ariel proves grace and poise have no place in her world as she faces wedding adversity.
Here's our favorite top Freakout Moment of tonight's episode of Bridezillas: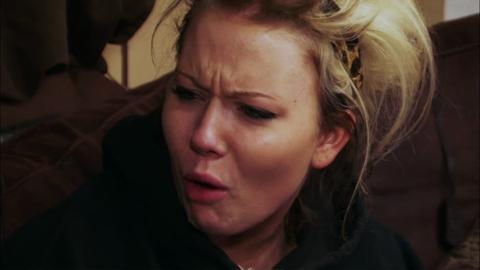 Tonight on Marriage Boot Camp: Bridezillas, the couples are yanked from their beds for early morning meetings with high powered divorce attorneys.  Two by two, the couples are put through the ringer as the lawyers expose the dirt on each spouse.  Infidelity, abuse, drinking, child custody, spousal support – nothing is off limits and the results are explosive. The Boot Camp Directors explain that while "divorce" is an easy word to throw around, the pain and suffering that happens is yet another reason to give everything they have to this program.  And if divorce wasn't enough, how about burying your husband or wife?  For the second exercise, each person is forced to attend a life-like funeral of their spouse and give their eulogy. This emotionally gripping exercise pushes one couple to their limits.
Here are our Top 5 Moments from tonight's episode:
Divorce Court: you really think you can air your husband's dirty laundry without yours coming out of the hamper as well?
The usage of "Brat" and "Meat Head":  How long are these nicknames going to continue?  WE want some variety!
Rob's eulogy:  The first thing Remy could think of that she "loved" about her husband was his body?  Maybe they will work on "Characteristics that Matter" in their next boot camp session
Melissa refuses to get in the coffin and despite the support from the other couples, the Directors are less convinced by Melissa and Chris' apologies
Kirsten cries… again!
On Pregnant & Dating,  Shana's best male friend sets her up on a blind date, while Melissa meets a match from her new on-line dating profile. Kiesha brings her mom and sister in from Atlanta to reveal her truth, and Megan meets a hot surfer at happy hour.
Get a crash course in tonight's episode by watching below: