Kendra On Top star, Jessica Hall has been documenting her second pregnancy on social media, and WE have been patiently waiting for her to welcome her newest bundle of joy. Well, Labor Day weekend took on a whole new meaning for Jessica, as she and her husband headed to the hospital for the birth of their baby boy!
Kendra took to Twitter to send her bestie some encouragement while she was in labor…
Good luck to my bff @iamjessicahall today with labor and delivery of her baby boy. Can't wait to meet him. 🙌🏻🙌🏻🙌🏻 #pushpushpush

— Kendra Wilkinson (@KendraWilkinson) September 2, 2017
…and her messages didn't go unanswered!
Why am I checking twitter during contractions 😂😂 love u my sister! https://t.co/KXa7yM7RnJ

— Jessica Hall (@iamjessicahall) September 2, 2017
Jessica and her family welcomed Jake Warren Carlson to the world on Sunday, September 3rd. According to Jessica, both she and baby Jake are doing well.
Jessica excitedly announced that Kendra would be in town for Jake's arrival, and WE can't wait to see the pics from their first meeting.
Jessica and family were able to head home with their new addition before the long weekend was over!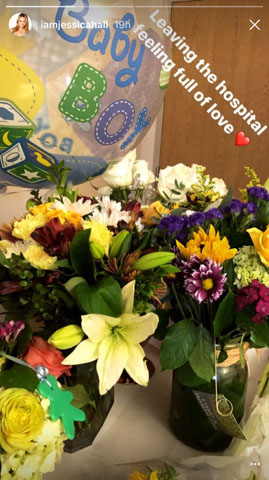 Congratulations to the entire Carlson family!