Tonight on David Tutera: Unveiled, David works with a bombshell Argentinean bride who wants a Broadway wedding, and takes a big risk with the fashion. David surprises his friends and announces he's becoming a dad!
Didn't watch the first episode of David Tutera? No worries, WE will catch you up on the top 5 moments!
1. Marcela and Steve are dreaming of a broadway musical wedding. Think "Lady Gaga of the Brides" and live entertainment. David proposes a challenge to test the couple's trust in each other: picking each other's wedding fashion….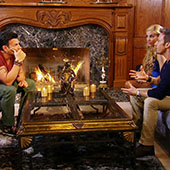 …Marcela ends up tracking Steve down using the GPS on his phone then finally agrees to be blindfolded to try on the dresses. She freaks out from not being able to see or feel the dress…#strugglecity.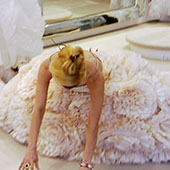 2. What is a wedding without guest entertainment?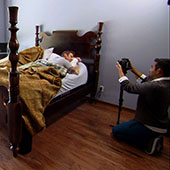 3. David shows off skin and tats while getting spray tanned and GRILLED by Marcela about the details of her wedding!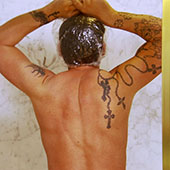 4. David's friends surprised him with drag queen bingo for his 30th birthday! It was the perfect time to share the amazing news – he's going to have a baby girl!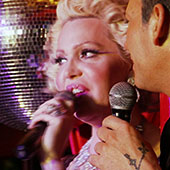 5. Broadway musical wedding? Check. David reached into Marcela's dreams and picked out her exact vision! The end result is beautiful: