Season 3, Episode 8
"Love Behind Bars"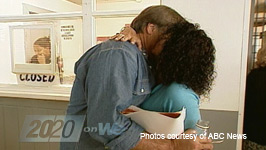 It is often said that there is someone for everyone. But what if that someone is a murderer – who's already been convicted? Across America, women are falling in love – and even marrying – men who face spending the rest of their lives in prison. Why do they choose someone they may never be able to share their life with?

Tamara Robinson always knows where her soon-to-be husband, Troy West is, because he is serving a life sentence for murder at Louisiana State Penitentiary. Their wedding will take place in the prison chapel in front of family with no bells and whistles, not even a honeymoon. Tamara doesn't think a prison marriage is ideal, but if a couple loves each other it's great. Troy also hopes that his marriage will show a lighter side to him and maybe help him with his appeals.

Zayd Rashid is serving a 20 years to life sentence for murder, and for the past 10 years has been married to Asha Bandele, who has written a book about their relationship. Asha met Rashid when she was reading poetry to inmates at a New York State penitentiary. Although they tried to lead as normal a life as possible - they even have a daughter, conceived on a conjugal visit - it is not easy. The couple has separated.

Sheila and Dave Chenevert have known each other since they were kids. Dave is serving a life sentence for killing two people. 16 years later, after two failed marriages, Sheila divorced her second husband to marry Dave. Despite the fact that they will not be able to consummate their marriage, Sheila says she is still a sucker for romance, and that the physical aspects of love are not everything.

Tammi Menendez reveals the reasons she married Erik Menendez, who along with his brother Lyle are serving life sentences for killing their parents.

Regina Granato desperately wanted a baby. The only problem was that her husband Kevin was in federal prison, where conjugal visits were not allowed. So how did Regina get pregnant with Kevin's child years after he started his prison sentence? And could having a baby mean Regina ends up in prison, too?