Season 3, Episode 1
"The Courage to Survive"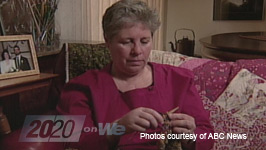 What makes a person survive a life-threatening event? Not just in the immediate aftermath, but in the months, and years, that follow? These three women may seem, on the outside, to be quite ordinary. But underneath, each has an astonishing strength.

Ellin Klor suffered a freak accident caused by a knitting needle that almost killed her. Little could she imagine it would also end up saving her life.

Heather Bland was run over by her own mother when she was just four years old, leaving her with a lifetime of serious medical complications and almost unbearable pain. Still, the accident that almost killed Heather did not taken away her courage to survive, or keep her from taking an incredible life-affirming chance.

Brittney Bergeron had a tough childhood, but nothing could prepare her for a vicious attack that almost took her life at just 10 years old. Still, Brittney not only survived, she thrived. And in the process, she learned a new definition of family, and a new understanding of just how much she was capable of.