Cast
Cake Alchemy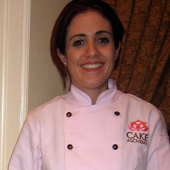 Lauri Ditunno – Owner/manager of Cake Alchemy. This season, Lauri continues to wow with her specialties: delicate, life-like sugar flowers, and blown sugar glass. This season, she also adds some interesting twists to her designs (including surprise "mechanical" elements). As always, Lauri likes to take a traditional design and make it more modern.

Her staff:
Stephanie – Cake tailor and Lauri's right hand. Stephanie has a heart of gold (not to mention a ton of patience.)

Liz – Part-time cake tailor. Liz cheerfully rolls up her sleeves and jumps in with any aspect of decorating. Tedious tasks can make her head spin, but she sure loves her molding chocolate.

Pam – Part-time cake tailor who fills in occasionally and meshes well with the Alchemy team.

---
Cake Trend:
Purple is the new hip color.

Fun Facts:
• Lauri has an identical twin.
• Lauri used to teach pastry class at the French Culinary Institute NYC.
• Lauri has to climb or descend 4 flights of stairs to deliver a cake.

How'd you get started in cakes?
Growing up I loved baking pastries for people, always brought smiles to their faces. Specializing in cakes happened after about 15 years in the field when I started my own business.

Did you have formal training in the field?
I graduated from Culinary Insititute of America and have taken several classes from Ewald Notter, Nicholas Lodge, Betty Van Norstrand.

Do you have advice for brides-to-be on how to choose a wedding cake?
The bride should make the cake their own from flavor to design, incorporating her personal style with the cake.

Do you have a great baking tip you can share with our viewers?
When baking only use the highest quality ingredients and make everything from scratch so you can control the flavor. Use recipes as a base to build on.

Baking Tip:
When baking a cake or making a frosting try and keep all of the ingredients room temperature (65 degrees F). It is easier to emulsify which gives you a delicious homogenous product.

For more information, visit the website: cakealchemy.com