Cast
Cakegirls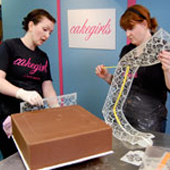 The Maher sisters have created the premier Chicago cake salon. Their reputation for making gravity-defying cakes has just increased in season three. This season's CakeGirls designs are cleaner, cooler, and more modern than ever before. But they also excel at taking the most unusual cake concepts and making them reality.

Mary Maher – The primary decorator and artistic force at Cakegirls. Mary comes up with the incredible designs, sketches them out, and then executes with razor sharp perfection. She's also a dry wit who doesn't always see eye-to-eye with her sister, but in the end, they manage to create amazing cakes AND keep their sisterly relationship intact.

Brenda Maher – Handles the business stuff for the shop, but now with Georgia running the front of the store, Brenda can be more involved in designing and creating the cakes. She's trying to grow this season as a decorator in her own right, and Mary gives her the opportunity to work on her skills (as well as the freedom to make mistakes and learn from them.)

Their staff:
Georgia – She's the front person. Her job is to meet with the clients for the initial consultation and come up with a preliminary design. Sometimes she pitches the clients with ideas that she's not sure Brenda and Mary can handle – but the Cakegirls love a challenge, so the answer is never no.

Ben – Ben is the guy amidst the Cakegirls. He bakes all the cakes and delivers them. He's also good with fondant, and super-precise about sculpting and stacking the layers. Which is why Brenda and Mary love him. He wants to work on his artistic side, and Mary and Brenda give him a chance to develop his decorating skills this season.

Nicole – Nicole is the princess of fondant, and makes a lot of the detailed cake elements. Her low-key demeanor allows her to roll with the punches during a typically chaotic day with the Cakegirls.

---
Cake Trends:
With the economy so bad, many bakeries are renting out their display cakes for a small fee and providing sheet cakes that are cut in the back of the kitchen. This way they have a great looking cake that is affordable. And because of the economy brides want smaller cakes.

Fun Facts:
• Ben plays the clarinet
• Mary's astrological sign is Capricorn
• Mary and Brenda grew up in Detroit, Michigan
• One of Brenda's front teeth glows in the dark
• Brenda speak Spanish fluently
• Ben's extra talent is… juggling

Tell us about the most unique or time-intensive wedding cake you've made.
Five tiered cake with hand piped basket weave (this takes hours to do) handmade flowers cascading down each tier (we did about 100). Top of cake had two true to life cat heads and their paws of the couple's cats as if they were peeking out of cake. Lots of work and a little strange.

Do you have advice for brides-to-be on how to choose a wedding cake?
Go into the ordering process with some flexibility. It's nice to bring in a picture of the type of cake you want, but listen to what the bakers suggest so that they can personalize it for you.

Baking Tip:
Always make sure you freeze your cake before you sculpt it to tighten the crumb structure of the cake.

For more information, visit the website: thecakegirls.com