Cast
Gateaux Inc.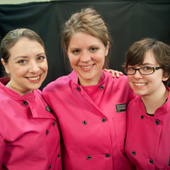 Robin comes to wedding cakes from a photography background, an occupation that she claims, "was not a good fit." While she enjoyed seeing beautiful photos, she didn't enjoy the process to get there. Robin noticed while working at a studio that specialized in wedding portraits, that couples had gone to great lengths to create original wedding motifs, yet in the center of it all stood an uninspired cake.
At the time Robin was a newlywed. Her husband, Brian, suggested that she quit her job. With little more than her husband's encouragement Robin did just that—she quit…and promptly announced that she was going to open a bakery that specialized in one of a kind wedding cakes. Then she waited. For others' doubts. A chorus of "don't you think you should stick to what you are trained for?" But no one said a word. At one point she turned to Brian and asked, "Don't you or anyone think I'm crazy for even thinking I could open a bakery?" With an affectionate smile he replied, "You're not crazy, you're type A. You'll always succeed." And so Robin was off and running with a passionate goal in which she could sink her teeth.
Her first stop was the bookstore where she purchased Collette Peter's, "Colette's Cakes" and Rose Levy Beranbaum's, "The Cake Bible" and devoured their words of wisdom. Next Robin started playing with fondant. Two months later, the newly inspired and very determined Robin created a line of "dummy" wedding cakes for a bridal show. The response was overwhelming people liked her designs but LOVED the taste of her cake samples. Robin left the show with 40 bookings for wedding cakes. Then the "a-ha" moment occurred—Robin had never made a real, layered, buttercreamed filled wedding cake. She had used styrofoam for the dummy cakes.
That was the moment that Gateaux Inc. was born. Robin baked, filled, fondanted and decorated all forty wedding cakes with an enthusiasm that was absent from her stint as a photographer.
Robin's obsessive personality is infused into every detail of every cake. No element is overlooked as the cake progresses through the different stages of its development. Robin has taken her cake obsessions to new heights with the tools, the ingredients and techniques she uses. This level of passionate fixation does come at a cost. Only three cakes are produced in any given week.
Gateaux Inc. is unique in the fact that all cakes are assembled at the reception site. According to Robin, "I will not take a risk when it comes to someone's wedding." Robin's unique neurosis and wonderful designs are a welcome addition to Amazing Wedding Cakes.
GATEAUX STAFF
Jenna: Cake Decorator
Julia: Cake Decorator
Brian: Robin's Husband (aka The Goo)
Magic Phil: Robin's Father-in-Law / Retired Engineer
Kyle: Jenna's Boyfriend / Cake Delivery Driver