Maria's Wedding Planning Tips
Here are 8 tips to live by.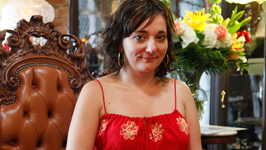 1) YOUR WEDDING DOESN'T HAVE TO BREAK THE BANK
Love doesn't have to get you into debt before you walk down the aisle (even though, you'll be paying for it the rest of your life, anyway). Start with a simple service at a moderately priced chapel. There are tons of high end thrift shops that have lovely bridal gowns. Fingers crossed, you'll only need to wear it once, so why spend a fortune?
2) HAVE PLENTY OF ALCOHOL AT YOUR RECEPTION
Listen, I know what you're going to say, "But, Maria, I don't drink." Well good for you! But you want your wedding to be a success, don't you? You want people to look back years later and say, "Remember [insert your name here]'s wedding? It was so much fun when we all stayed until 4 in the morning just laughing and dancing. That was the most memorable wedding ever!"
People don't use the words 'fun', 'laughing' and 'dancing' in the same sentence unless spirits are involved. Personally I always bring my own flask. But I've been doing this for awhile, and I'm a professional, so I know the drill. And if for whatever reason you yourself cannot provide the booze, encourage people to bring their own. Trust me, your guests will be much happier. Which brings me to my next tip...
3) KNOW YOUR GUESTS
Make sure you are taking their needs into consideration. I cannot tell you how important this one is. Let's say you're a couple of vampires looking to get married after an 800-year whirlwind courtship and half your guests are vampire slaves and the other half witch slaves. Make sure it's not all blood gravy and raw livers on the menu. I know you've been dead for some time but you MUST take the living into consideration, especially if you glamour them into coming to your wedding. We don't eat blood, we produce it. You have to have something for all your guests. (For more on meeting the needs of your guests, please reference tip above.)
4) DON'T INVITE HATERS TO YOUR CELEBRATION OF LOVE
What's that you say? Your beau used to date your ex-best friend and you're not sure if she ever got over him? Well, you should probably find out BEFORE you head to the chapel and make sure trouble doesn't follow you to the altar. Your parents don't approve of your significant other and you haven't told them you're getting hitched? As tempting as it may be, it's probably not the best idea to decide to break the news to them ON your wedding day; that's what the rehearsal dinner is for. This is your day, the one you've been dreaming about since you were a little girl, the last thing you need to worry about is your jealous ex-boyfriend getting out of jail and heading straight for your party.
5) THEME WEDDINGS MAKE FOR SOME OF THE BEST WEDDINGS
Whoever you are, whoever (or whatever) you fall in love with, you deserve to have a wedding that expresses your love as best as possible. What little girl hasn't dreamed of a fairy tale wedding her whole life? So, who's going to say you can't have one? Take a look at where you're having your wedding and then let a theme create itself. Have fun with it. Are you getting married in the back yard of your trailer park? Great! Throw out some lawn chairs, make your own cake out of ding dongs and Twinkies, have the guests each bring a trailer tray of goodies to snack on and presto! A great wedding! The proof is in the ambrosia salad.
6) DON'T BE UPSTAGED
A wedding is about the bride. All eyes should be on you. No one should look hotter than you, especially your bridesmaids. I recommend keeping this in mind when picking out dresses for the girls. I find the best method in dealing with pretty members of your party is to pinpoint the BEST looking girl, find out which color is the LEAST complimentary on her, and go from there. It's not bitchy, it's practical.
7) HIRE A WEDDING COORDINATOR
Let's face it, most brides don't know what the f**k they're doing when it comes to planning a wedding and there's no point in learning it for just this one day. You are going to have enough to worry about without having to worry about the flowers arriving, where the violinist will sit, or the bartender getting caught snorting a couple of rails off of an eight ball in one of the stalls of the guest bathroom. Wedding Planners are paid to clean up all the crap you shouldn't even know about. You should be out having a great time, showing off that ridiculously large rock on your finger, mingling with the guests, letting them tell you how pretty you look in white (even though a few of them raised their eyebrows and coughed when they said it). You shouldn't be spending your time trying to figure out why the caterers are serving you prime rib when you're a vegetarian or how your underage cousin got drunk and is now puking on the stage while the band is playing. This is beneath you. You're a Queen! (At least for today). Let us mere peasants deal with it. You'll be happy you did! It will save you time, an ulcer or two and, most importantly, a few wrinkles.
8) NO DESTINATION WEDDINGS
Thinking about a romantic wedding on an island in Greece a la Mamma Mia? Or a Buddhist ceremony in the Himalayas? Sure, that sounds picturesque to you, but not to your friends and family who have to take a second mortgage out on their house or trailer to get there. This is a recession after all. Unless, of course, you plan on paying for everyone to be at your special day (I'm talking airfare, hotel and food, which could get expensive with all the emotional eaters in your family). Stop being so selfish. You want people to drop $5,000 to get to your wedding plus a few more Benjamins on a wedding present, not to mention all the money they've spent on bachelorette parties, engagement parties (also known as "I'm better than you because I'm finally getting married and you'll probably die alone" parties), and all the other "this party is just an excuse to get more presents" parties in between. Then, if you start breeding, good lord! Recognize that the planet does not revolve around you just because you've decided to tie yourself down to one person for the rest of your life. As far as I can tell, that's no one else's problem but yours. Don't make us have to get 12 vaccination shots and fly halfway around the world just to witness it. Unless, of course, you're coming to the
French Quarter Wedding Chapel
in New Orleans and then your friends are just lame if they don't come.