If you believe the rumor mill, Evelyn Braxton may be getting married! A source close to the Braxton family told Sister 2 Sister magazine that Mama Braxton will tie the knot for the second time next month.
"She will be working out at the gym to be over-the-top fabulous," said the source, who described Evelyn as "excited."
Earlier this season, when Evelyn and Doc were on a break, Towanda sent her mom out on a blind date with a much younger man, which infuriated Evelyn. However, in last week's episode, Doc admitted that he'd like to take their relationship to the next level. Could he be the lucky guy?
There's one thing we know for sure: IF the wedding actually takes place, the Braxton ladies are going to look fabulous. Just take a look at this photo of Evelyn, Towanda, Trina and Traci at last weekend's Trumpet Awards — they clean up good!
We're so excited about this just-might-be-happening wedding that we're already planning the details — free of charge! Read on for our fantasy fashion forecast for each of the lovely ladies. (Evelyn, we're still waiting for our invitation!).
Evelyn
Evelyn is the bride-to-be, so obviously, she has to steal the show (as if she doesn't already!). Evelyn has enviable curves, beautiful skin and small, lovely shoulders. We'd love to see her in this jaw-dropping , one-shoulder Penelope gown from Amsale. Note the cute asymmetrical bow in the back: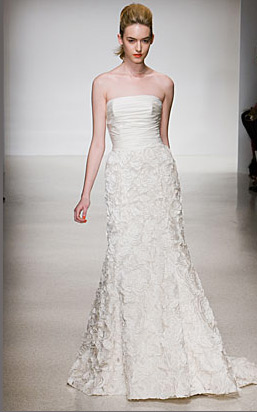 For hair, we'd like to see her with a natural, relaxed style — perhaps down, with a flower behind her ear.
Toni
The wedding will reportedly take place in February — perfect for a Valentine's Day theme! We'd love to see the sisters in gorgeous red gowns, each one cut for their individual body types.
Toni looks good in just about everything (there's a reason why Playboy wanted her!). We'd kill to see her in this sleek, one-shoulder chiffon dress (in rhubarb), with Keri on her arm (if they're still dating!). This gown is perfect for showcasing Toni's "boobies" — and we know she's proud of them!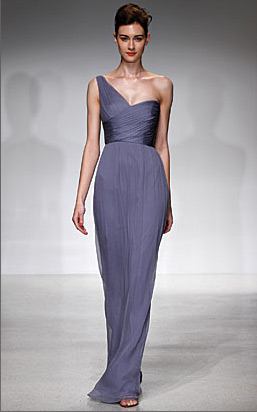 For hair, we're loving the way Toni's wearing her long, blonde waves lately. A partial updo would highlight her pretty face, and formalize her look for the occasion.
Tamar
Tamar is slim and petite, so this strapless chiffon gown (in rhubarb) would flaunt her small frame and emphasize her bust.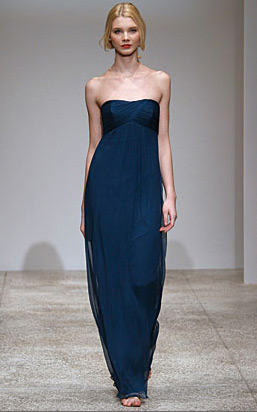 For hair, we'd love to see her in a more natural style — perhaps a darker color. She'll go with Vince, of course!
Towanda
You can't always tell based on what she's wearing, but Towanda has a hot body! This halter gown (in rhubarb) will call attention to her tiny waist and defined upper body.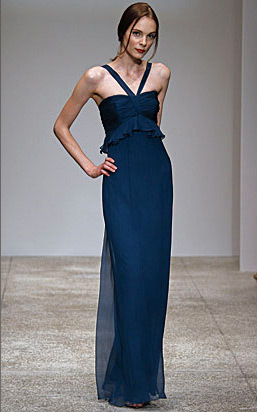 For hair, we love the pin-straight style Towanda's rocking here — but a retro side part would be glamorous for the wedding. Maybe she'll even impress her crush, "CSI" actor Hill Harper! (Or Andre, if he's still in the picture.)
Traci
Traci has sexy curves, and this flowing halter top (in rhubarb) would emphasize her full bosom: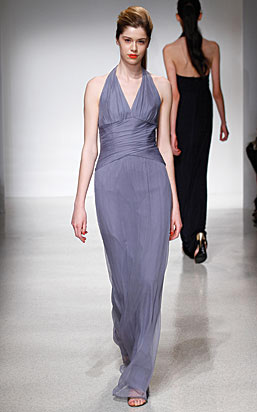 We all know she likes to experiment with her hair, but for mom's wedding, Traci should lose the highlights and stick to one shade.  Her husband will accompany her.
Trina
Like Towanda, Trina doesn't usually dress to show off her petite physique. This romantic off-the-shoulder gown (in rhubarb) would highlight her shoulders and maximize her smaller bust.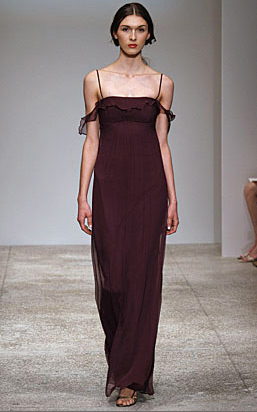 For hair, we'd love to see Trina in a pretty updo. The big question: Will Gabe go with her, now that she's confessed to an "oral transaction"?