Season 2, Episode 8
"NYC or Bust"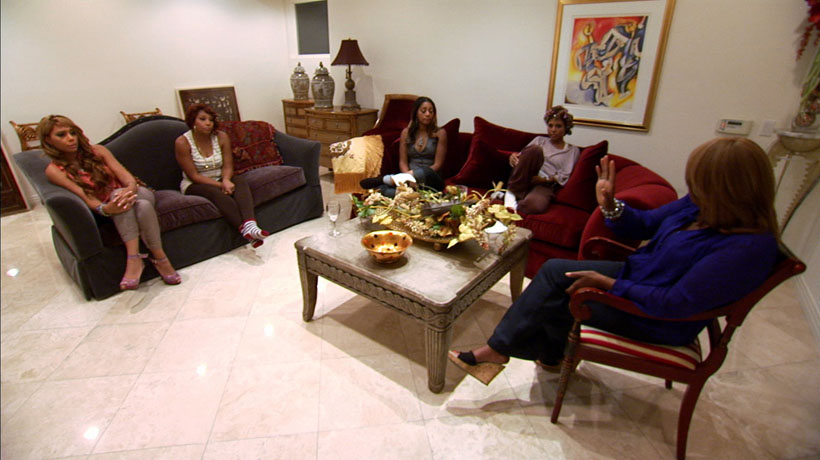 To prepare for a gig in New York, the sisters go through grueling vocal and choreography rehearsals. Towanda says she's leaving to see her son on his first day of school, which leads to a huge fight.
"Let the cat come out in this throat, boo! There ain't no cat in here!"

Tamar Braxton
"We pretty much suck right now."

Trina Braxton
"Take it down a hair!"

Towanda Braxton
"I'm all the way down; she's as down as she's gonna get!"

Tamar Braxton
"Every group you have ever been in has failed because of that attitude of yours-let's just keep it real!"

Towanda Braxton
"He's just a perfect gentleman and I think he's wearing me down a bit."

Evelyn Braxton
"I'm telling Tamar what to do? Payback is a b*tch!"

Traci Braxton
"We're about to look like a hot mess!"

Tamar Braxton
"We turned couture from H&M!"

Tamar Braxton
Notes from Braxton Family Values production team Magical Elves: Miss E is the most giving and genuinely good person in this world, but her sly sense of humor really pops when it comes to comments on her looks.  "Oh this old thing" is her go-to-response to any compliments on her clothes.  If you happen to tell her she looks beautiful one day she will simply say, "I know that's right!", then pause-and laugh with you.  Don't get me wrong, she is beautiful; I just love how she likes to have fun with it.