A Braxton Dish: Towanda's Lamb Chops
Get the family recipe that's stealing the spotlight away from the sisters.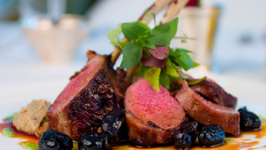 Ingredients:
2 Packs of rib lamb chops (in packs of four)
1 bottle of White cooking wine
2 teaspoons of garlic powder
1/4 cup rosemary
1/4 cup of salt
1/4 cup of pepper
1/4 cup grape seed oil
1 Can of buttered spray
1 bowl
1 extra large zip lock bag
1 griddle (to cook on top of stove)
Rinse lamb chops and soak in white wine in a large bowl for at least five minutes. Place lamb chops in plastic bag. Pour 2 tablespoons of oil in plastic bag. Shake bag so that each lamb chop is covered with oil. sprinkle salt, pepper, garlic powder and rosemary in bag. Shake bag until each lamb chop is covered with seasoning. Heat griddle on high heat. Place each lamb chop on griddle and cook on each side for 4 1/2 minutes. Serve while hot.
A Braxton Dish: Evelyn's Sweet Potatoes
Tired of the classic sweet potato with butter? Try this sweet and savory recipe — with marshmallows, pecans & cinnamon.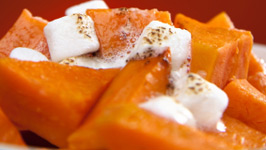 Ingredients:
4 pounds sweet potatoes, quartered
1 cup butter
1 cup brown sugar
¼ cup brown sugar
1 cup crushed pecans (optional)
3 cups miniature marshmallows, divided
ground cinnamon, to taste
ground nutmeg, to taste
Preheat oven to 400 degrees F (200 degrees C). Grease a 9x13 inch baking dish. Bring a large pot of water to a boil. Add potatoes and boil until slightly underdone, about 15 minutes. Drain, cool and peel. In a large saucepan over medium heat, combine margarine, brown sugar, 2 cups marshmallows, cinnamon and nutmeg. Cook, stirring occasionally, until marshmallows are melted. Stir potatoes into marshmallow sauce. While stirring mash about half of the potatoes, and break the others into bite-sized chunks. Transfer to prepared dish. Bake in preheated oven for 15 minutes. Mix pecans in separate bowl with remaining ¼ cup of brown sugar. Remove from oven and cover top evenly with remaining marshmallows and pecan mixture and bake until marshmallows are golden brown.