Mark your calendar, Bridezillas fans! An all-new season (our ninth) premieres this Sunday, June 10 at 10|9c. Since we can't wait one more second for the drama to begin, we tracked down three former Bridezillas to dish on their lives before, during and after the wedding … and what really went down behind the scenes.
Bridezilla No. 1: Erica Atkins
Erica, an administrative assistant for the Department of Corrections, is 26 now, and just celebrated her one-year wedding anniversary with family and friends.
And while the first year of marriage is commonly said to be the hardest, she says it's been "real good." Plus, the drama from the wedding has long since died down.
"It has, of course, because you know at that stressful time, when you have cameras rolling 24/7, tensions and stress are high. You put out all this money toward one day, you want everything to be right," she explains.
One year later, Erica says she "wouldn't change a thing" about the wedding — except she would have had a longer reception. "I didn't even eat — interviews with camera crews sucked up time!" she says.
Among her biggest "dramas": having to kick people out of the wedding party, which resulted in more groomsmen than bridesmaids.
"I had distinctly, when I invited people to be part of the wedding, set up a date for a meeting that everyone was to attend. I handed out bridal booklets to all my girls, explaining, 'This is what your dress will look like, this is your shoes… I made a calendar that said, 'Pay this on this date.' I had a million things going on, I didn't have time to find out if you paid this or that." When friends didn't act accordingly, Erica's attitude was, 'Just don't be in it!'"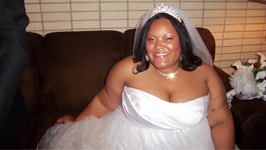 "My friends understand that it's my wedding and this is what I want," she says.
As for the groom, she says they didn't fight a lot, but her then-fiance always wanted to know what was going on.
"You don't want to help, but you want to know what's going on? I was like, 'Why don't you just let me do this and show up?" she says.
"Of course we bumped heads on certain things, like 'You're not helping,' 'I'm tired' … I don't care if you're tired! Every normal relationship [goes through a] time crunch before the wedding. It wasn't anything we didn't get over right after."
There were also (as usual) issues with the in-laws. "There was a lot of miscommunication as far as the wedding planning. They didn't really show up to help like I expected. But your wedding is not as important to everyone else as it is to you. We're good now … we sat down and laughed at the show at a viewing party at my mother-in-law's house."
There was also drama with Erica's "girls" not doing what they were supposed to do.
"My best friend and I weren't seeing eye to eye at the time, but she had her own issues. When you sit back and reflect, you realize that at the time, you're thinking, 'This is my day, why are you not helping me?' You don't think about what everyone else is going through."
But even now, Erica wouldn't say she was a Bridezilla.
"I think every woman leading up to the week of her wedding is a Bridezilla. You just want everything perfect. A wedding costs a lot of money, especially if you have a certain kind of taste. I wanted everything the way I wanted it. Call me a drill sergeant, Bridezilla, whatever, that's what I wanted, so that's the way it was gonna be."
Bridezilla No. 2: Dona Carlo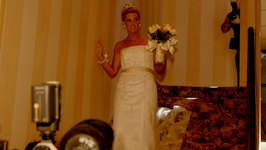 We first met Dona back in 2008. Now, she's 37, and just celebrated her four-year wedding anniversary!
"Time flew by since the wedding," she says.
Back in 2008, Dona was a financial specialist for Wachovia. Now, she's a stay-at-home mom to her two kids from her first marriage (who are 10 and 12) and her 2-year-old son, Chace, from her current marriage.
Dona had been dreaming of a beach wedding since she was a little girl. However, things didn't quite go according to plan, since it poured rain on her big day.
Another hitch to getting hitched: Dona says they went a bit over budget — "we added some extra stuff that we probably didn't need but wanted" — and their cake came without seashells on it (which she had requested).
"They had to fix that right away — otherwise it was a plain, blah cake," she says.
While Dona thinks her wedding went "pretty smoothly" overall, she says her mother-in-law didn't know what she was wearing till she got to New Jersey from Puerto Rico, five days before the big day. "It was stressful," Dona says.
Looking back, Dona admits that she was a Bridezilla (she previously admitted to being "Controlling, because if things are not done my way I will flip out and start crying or start a fight with someone; and neurotic, because I don't know how to relax and I always have to be involved.")
"Yes, in that aspect, I was absolutely a Bridezilla, and I'm still that person today," she confesses. "Everything has to be done a certain way with me — that way, I can ensure that it's done the right way."
For example, today, it still drives her nuts that her husband leaves things around the house and never puts his clothes away.
"Oh my God, it's absolutely terrible," she says. "His sneakers and his socks were left out this morning and the baby was playing with his socks!"
Bridezilla No. 3: Cari Sheriff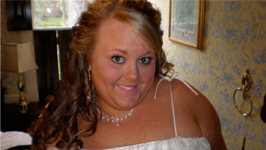 Cari is now 26, and like Dona, she just celebrated her four-year wedding anniversary.
"We both forgot about it!" she admits.
Cari and her husband now have one child — 7-month-old Olivia, whom they adopted.
Four years ago, Cari told us that her "dream wedding is one that I don't have to lift a finger for, in a beautiful garden with a gorgeous dress and everyone having a fit over me…then on to a reception with good music, drinks and food (where everyone is still having a fit over me)." So is that how it turned out, we asked?
"I don't think it ever turns out that way," she admits now. "There are always things that go wrong. But all in all it was everything I hoped it would be."
Cari had set her approximate wedding budget at $5,000, but they spent closer to $10,000. But that wasn't the most stressful aspect of the wedding.
"I would definitely say the most dramatic point was when one bridesmaid and one groomsman dropped out," she says (in fact, they failed to show up to the wedding altogether!). "They were husband and wife — I think it had to do with being on the show, actually. They were our best friends as far as couples go, we always did stuff with them every day. That kind of ruined our friendship — it was a big deal."
Back when she was planning her wedding, Cari wasn't happy about how her groom "complained about [helping] or used it as a bribe to get what he wants." But all that has changed in hindsight.
"Now that I'm seeing a lot of my friends getting married, I think he was much more helpful than what I gave him credit for!" she admits.
She was also annoyed at her sister for being a "spotlight stealer," but now, she just brushes it off to "middle child syndrome."
The biggest dilemma? The venue wanted her guests to use Porta-Johns! But Cari saved the day. "I asked the home owner if he would allow us to use the plantation home's restroom. He ended up agreeing to that."
Cari concedes that she could be kind of controlling when it came to wedding planning, and that she was kind of Bridezillaish at times. "I do think I was … I know I was nitpicky about a lot of things, but everybody understands that, because it is your day. There's no other time you have the right to be a little controlling and picky," she says.
And even though she did get a little "bossy" here and there, she thinks she has a good explanation.
"I think a lot of the instances where I really got worked up were at reasonable times, like when friends were dropping out or when the tuxes were incorrect. (Cari had problems with the tuxes all the way up to day of wedding.) I wasn't really nice to [the woman in charge] — I probably shouldn't have said some of the things that I said — but she wasn't friendly, so it worked me up."
Today, she wishes she would have "just taken a little more time to enjoy the moment."
"Even though we bickered a lot, we had great friends and family who helped with so many things. I wish I would have taken a little more time to sit back and enjoy it," she reflects.