Getting in wedding dress shape is no joke, conjuring up images of no-fun diets and complicated workout routines. If you want to shed those extra pounds, but don't know where to start, Donna Sexton is here to give you a simple plan that's sure to block out those painful images of salad starvation and weird workout equipment! Follow her 6-week plan that will have you feeling amazing by Labor Day!
TARGET GOAL
To lose between 15lbs – 20lbs in 6 weeks and get wedding fit!
KEY PRINCIPLES
(Don't be a d*ckhead, it's common sense!)
I work on a calorie deficit, all depending on the number of workouts each week – you'll need to stick to 1200-1400 calories a day.
If it grows on a tree or out of the ground, knock yourself out.
If it's in a box or wrapped in plastic, keep it well away from your mouth.
For these 6 weeks, you'll need to get your butt off the couch at least 5 times a week and follow the plan, or you'll look like the Dough Boy on your wedding day.
You've got to set a goal and time box it, so you know when you've hit your target. Labor Day weekend is a great time box to be working with during this time of year.
You'll need to keep hydrated – you're gonna get your sweat on, so you can get your dress on.
It's all about building blocks – you'll improve your fitness level and reduce your waistline each week.
THE DONNA WAY
I'm not everybody's cup of tea, but I get results.
I pull out the tape measure every couple of weeks and I expect to see inches dropping off, or there's hell to pay.
Initially, you'll feel like you're in purgatory, but it's not forever, it's just for now until you fit in your dress.
I love to see my clients get their groove back and feel good about themselves. I love what I do. I may be a pain in the butt from Down Under, but I do love to see my clients doing well.
I don't do whingers, so don't even go there!
As we say in Austraila, "Go hard or go home."
WORKOUT PLAN – Repeat Each Week!
Follow along with Donna by sticking to her 7-day plan and watching these helpful videos to learn more about "high-intensity cardio", "cardio & explosive cardio", and "bodyweight explosive cardio"!
DAY 1
High-Intensity Cardio Session
Duration: 40 minutes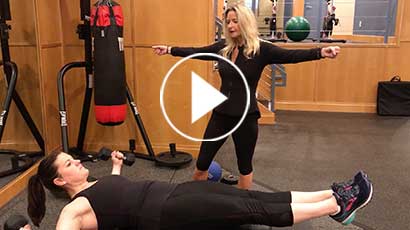 DAY 2
Cardio & Explosive Cardio Session
Duration: 60 mins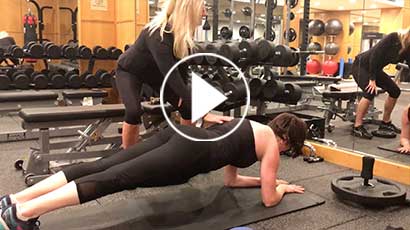 DAY 3
Have a Rest!
If you've been working as hard as you should be, you'll need it
DAY 4
Cardio & Explosive Cardio Session
Duration: 60 mins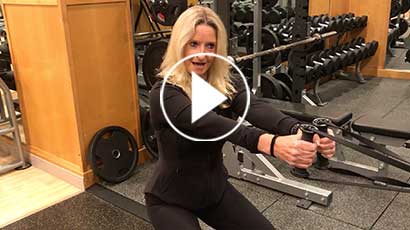 DAY 5
High-intensity cardio
Duration: 40 minutes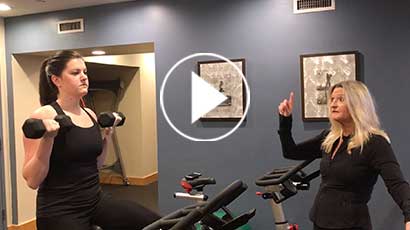 DAY 6
Bodyweight Explosive Cardio
Duration: 60 mins
LEARN MORE ABOUT A "BODYWEIGHT EXPLOSIVE CARDIO" SESSION BELOW!
DAY 7
Have a Rest
If you've been working as hard as you should be, you'll need it
Cardio & Explosive Cardio Sessions
The objective of high-intensity sessions is to hit multiple muscles groups at one time during the 60 minutes. Each session finishes with core strength and my own secret combo of "Bride Arm" exercises using free weights. Each week, these sessions increase in intensity. Depending on my client's abilities I always like to switch it up and keep it interesting. This way, my clients don't say "I'm bored" and they don't lose momentum.
High-Intensity Cardio – Your Homework Sessions
You need to do any combination of the following for 40 minutes…
Running is my "Go To", but really, you just need to keep moving! If you stick with this, it will give you more stamina on your honeymoon!
Go for a Bike Ride – getting your heart rate up and keeping it up for 40 minutes. More honeymoon practice!
Go swimming – continuously swimming for 40 minutes (no hanging onto the end of the pool). You can thank me after your honeymoon.
Finish up with 20 minutes of Explosive Cardio. Use your own body weight and basic equipment to start to build some lean muscle! For example: burpees, squats, push-ups, jumping rope, boxing and free weights (if available).
Watch Donna Sexton take on and transform 3 former Bridezillas when Bridezillas: Scared Fit premieres July 13 at 10|9c.