Cast
Callie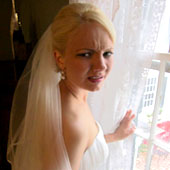 Bride's Name & Age: Callie, 28
Bride's Occupation: Singer, Dancer, Actor / Independent Contractor
Groom's Name & Age: Jeroen, 25
Groom's Occupation: Engineering Officer

How long have your been dreaming of your wedding day? Like every little girl I've always had an idea of the wedding of my dreams. What I thought it was going to be is the exact opposite of what is happening in reality. I always dreamed I would get married in my family's church in Wisconsin with hundreds of guests. I've always wanted an autumn wedding with the color palette to be the colors of the changing leaves. I wanted the guests to release butterflies as we exited the church. Yeah, none of this is happening. I'm getting married in the swamps of Louisiana in a garden surrounded by 65 of our nearest and dearest. I'm having an early spring wedding with a bright orange palette reigning supreme as the overall theme. And no butterflies :( It's not bad, just nothing like I had envisioned as a little girl. My dream wedding is a romantic, care-free setting with a southern belle, shabby chic charm.
What is the approx. wedding budget? $12,000

Who's paying for the wedding? We are.

What happens if you go over budget? Oh, boy! We're REALLY trying to not let that happen! However, we've discussed it as a possibility and have decided it's just going to have to go on the good ol' credit card! It wouldn't be the BEST situation, but we'll survive.

Did you hire a wedding planner? How are they doing? Hmmm… hire? Not exactly. My father's cousin, Pam, graciously volunteered to "help us out" with some things since she lives in Houma. She's pretty much taken over most of the ceremony and reception details. We really have no idea what she has planned. We've asked for lists, photos, descriptions, samples, but nothing. We asked her a week ago for all of these things as we were mailing her a $2,000 check and wanted to know what our money was going toward. We didn't think this was asking too much. She agreed to do so. Here we are A WEEK LATER with nothing to show for our efforts. A $2000.00 check cashed and we still have no idea of what is happening. We can't even proceed with our own "personal touches" because we don't know what the décor is! Telling us we have Waterford Crystal Vases with orange flowers as centerpieces isn't really telling us much. It's maddening! My Man of Honor, Devon, and I are pulling out our hair daily over this with dropped jaws. At this stage in the game, I wouldn't contact her just yet. As you can tell it's a very… touchy situation. No need toruffle those feathers without good reason!

How helpful has the groom been (or not) in the planning process? Ummmmmm… well, it's hard for us because he's out to sea right now. I was supposed to be on the ship right now sailing with him in Hawaii, but it actually registered that this probably was not the best time to disappear into Hawaii until mid-January, six weeks before the wedding. ;) I think he would be more involved if he were here with me. Sure, there are times when it's like pulling teeth to get some kind of opinion out of him! He's not really interested in the flowers and décor, stationary, etc… he could care less. That's just something I've learned to accept. On one hand, it's nice to have the freedom to dream up whatever I want, but, on the other hand, it would be nice to have someone to bounce ideas off of. I do appreciate when he takes initiative like he is with the rings. He always rises to the occasion. Last weekend he met up with my bridesmaid, Amanda, in San Diego and they went tux shopping and set everything up for pick-up in New Orleans. I was very proud of him! I can't really say a negative thing against this guy! He's just one of the good ones.

Tell us about your family. How have they been involved in the planning process? I live on the other side of the country. And I like it that way. My mother, Karen, was a total stage mother growing up and I am not really sure she ever truly let that role go. My father, Stephen, is a fun-loving guy, but he also likes to hit the drink… which is probably why he's a fun-loving guy. He can say some incredibly stupid things though. My brother, Patrick, is the golden child and the brains of this family. He's definitely the peace-keeper between all of us. My sister-in-law, Debbie, is a psychologist. I'd love to hear what she really thinks of our family dynamic! No one has really been involved with the planning process. Devon, Jeroen and I all went to Wisconsin in September for a week after being gone for 18 months. We all went out to lunch as a family to discuss wedding plans and I kept their attention for about 20 minutes before I lost their attention to spend the rest of the meal admiring my nephew. It's a sore spot. I'm going back again next weekend for an early Christmas and a weekend of wedding planning. We'll see how well that goes. It'll probably end up being me freezing my butt off in the frozen tundra of Wisconsin for 4 days no further than when I began. My mother can't stand Pam, so she really has not been involved at all. She says she wants to stay out of the whole thing and doesn't care what happens, but she's awfully quick to throw a snide remark about Pam out there or let me know exactly how ridiculous I'm being about wedding details. I've pretty much been alone in almost all of the wedding planning. There is very little support coming from my families end. That being said, my brother has really stepped up and been a great friend to vent to and ask questions. He told me if we were smart we would just elope. Bless.

What's the worst thing that could go wrong on your wedding day? I show up to a tacky church lady luncheon. I am so nervous about the décor for this wedding. I have no clue what it's going to look like. I keep hearing things are done and then I find out they aren't even ordered. But I'm not allowed to know what anything looks like because Pam and her posse of church ladies want it to be a complete surprise. I have told them I don't want it to be a surprise. I was told, "This is a destination wedding. You need to just accept that you aren't going to have control over every detail." I'm sorry. WHAT?! Who says that?! Who's paying for this?! Blows my mind the way people speak to me about my wedding sometimes. I have friends coming in from all over the world and their opinion is important to me. I want to thank them for traveling to our wedding by giving them the most amazing wedding experience we possibly can. It's not that I don't trust, Pam… actually, yes. That's exactly what it is.

What disagreements have come up about the wedding? No disagreements between Jeroen and I about the wedding. We've both been very objective with our opinions. But, as far as Pam goes: name the day, I'll give you the disagreement. It seems every idea I have is shot down and she tells me exactly why it can't and will not be happening. Our stationary theme is "A Bicycle Built for Two" as we are avid bicyclists when we're in Holland. So we thought it would be nice to have a bicycle with a woven basket at the entrance to the ceremony that held all the wedding programs. Nope. Can't have it. It is a completely ridiculous notion to have a bicycle in the swamp because the ground is too soft. Then here comes my mother telling me that I have to let Pam do what she wants and that I don't really have a say in what I get. WHAT?! Whose side is she on now?! She doesn't even like this woman! This was the latest screaming match last week. She apologized and said she doesn't want to fight, but doesn't understand why I just can't let plan her party and deal with it. Well, because this is an awfully expensive party we're funding for someone to plan for us and do nothing we want! We actually don't even know if we don't like what she's doing because we don't even know WHAT she is doing!

Has the engagement/wedding ever been called off, or in jeopardy? If so, what happened and how did it get resolved? Not at all. However, we've recently been discussing eloping. ;)

Define the type a bride you will be: Definitely emotional! Even thinking about seeing Jeroen for the first time as I enter the ceremony makes me cry! The thing is our love for each other is the most important thing that day. I never knew what true love was until I met Jeroen. He is absolutely my better half and I don't know what I would do without him. I think that is why it is so important to me to give him the perfect wedding. I never want to disappoint him. I bet I'm going to be demanding that week too. I can absolutely see myself getting uptight about people skipping out or missing outtings and activities throughout the week. Jeroen keeps me calm during these situations. I can feel him go rigid with my back turned from across the room. That's always my sign that he may think I'm being a bit ridiculous! I usually am. ;)