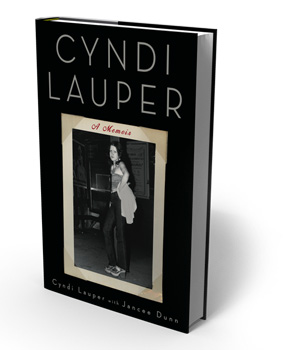 Cyndi Lauper: A Memoir
Legendary and iconic singer-songwriter Cyndi Lauper offers a poignant account of the journey that led her to become an international superstar—from her years growing up in Queens, New York, to the making of enduring hits like "Time After Time," "Girls Just Want to Have Fun," and "True Colors," to becoming an actress, a mother, an outspoken activist, and maintaining a music career that has lasted more than thirty years.
With her trademark warmth and humor, Cyndi fearlessly writes of a life she's lived only on her own terms.
Read an excerpt from her New York Times® bestseller here.
For more information, including where to purchase Cyndi Lauper: A Memoir, visit http://www.simonandschuster.com
Follow @WEtv for a chance to win a signed copy of Cyndi Lauper: A Memoir!

Kinky Boots: The Musical
Coming to Broadway March 2013, Kinky Boots is the funny, heartwarming new musical by Grammy® Award-winning pop icon Cyndi Lauper and four-time Tony Award® winner Harvey Fierstein. Featuring a sensational new score, knockout dancing and a spectacularly uplifting story, Kinky Boots is the must-see new musical that proves that sometimes, the best way to fit in is to stand out!
For more information on Kinky Boots and to purchase tickets, visit http://www.kinkybootsthemusical.com/