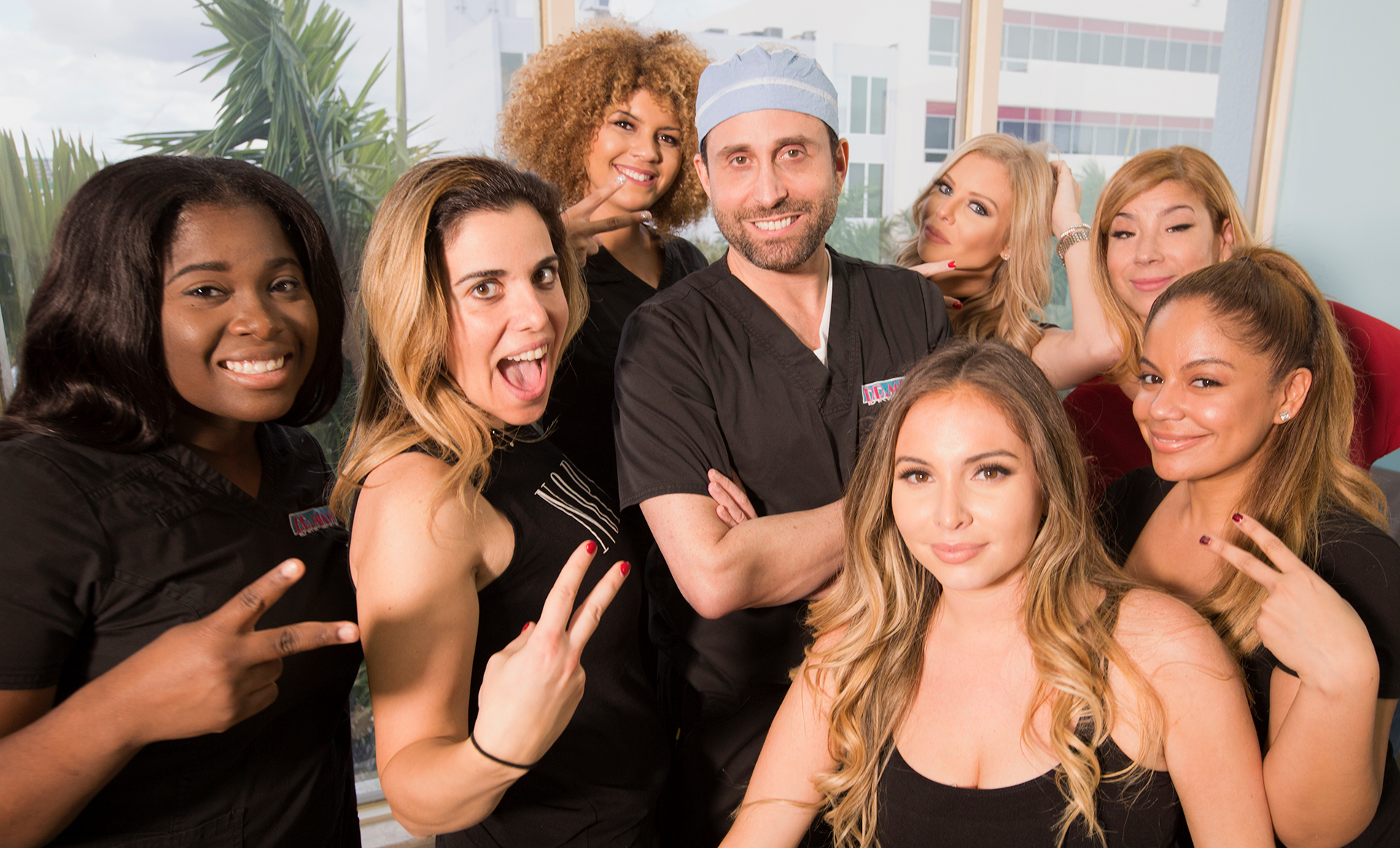 Dr. Michael Salzhauer, AKA Dr. Miami
In 2012, Miami New Times selected Michael "Dr. Miami" Salzhauer as the city's best plastic surgeon. His practice boomed and since 2014, he and his staff have taken pop culture by storm, sharing live surgeries and behind-the-scenes fun on social media, gaining him over 2 million followers across his platforms. With over 10,000 surgeries under his belt, Dr. Salzhauer has been recognized for his artistic approach to the practice of plastic surgery and out-of-the-box marketing. Patients from around the world travel to his Miami-based practice for a chance to obtain impeccable results - and his wait list is two years long.
Rosy, COO
Rosy is Dr. Miami's sister-in-law, and the voice of reason who runs the whole practice. She has had to learn to balance that with her side job of being the unofficial team therapist.
Brittany, Social Media Coordinator
Since becoming the face of Dr. Miami's Snapchat, she has grown into a social media celebrity in her own right. Her fans love that she is one of the only "natural" girls in the office, but she secretly wants a Brazilian butt life (and more!) from the doctor.
Ashley, Social Media Coordinator
It takes two to make social media magic and Ashley is one of the two social media superstars Dr. Miami hired to keep him on his insta-famous game!
Ari, Patient Coordinator
Ari earned her doctor's license in the Dominican Republic, but she helped Dr. Miami grow the business from the ground up instead of pursuing certification in the U.S. and has been on his staff for 11 years.
Tati, Medical Clearance Coordinator
DRM's office couldn't run without Tati, the wise-cracking coordinator that makes sure everyone is cleared for the OR.
Jovana, Patient Coordinator
Jovana is a true believer in plastic surgery and has worked with the doctor for 11 years. Known as "hawk-eye," she watches everything and everyone in the office. From patients to her fellow co-workers, she's got the scoop. And on top of that, she handles anything that arises, from paperwork to crazy superfans showing up unannounced!
Chelsea, OR Director and Recovery Nurse
Ex pediatric nurse in charge of risk and safety compliance for the office, but her main priority is to help with patient's recovery after surgery in a judge-free zone