Cast
Christoph Sanders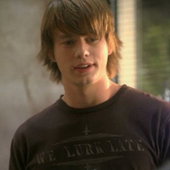 Christoph Sanders booked his first professional role at the age of eleven. He played Tiny Tim in the Flat Rock Playhouse's production of Dickens' A Christmas Carol in Flat Rock, NC. Born in neighboring Hendersonville, NC, Sanders went on to do 16 more shows with the Flat Rock Play House, as well as several other productions in his home state.

By the age of sixteen Sanders made his transition from the stage to the small screen when he booked his first commercial for General Mills. The following year he landed a small role in the Will Ferrell comedy Talladega Nights.

Sanders' was last seen opposite Dakota Fanning in Hound Dog, which was accepted into the 2007 Sundance Film Festival Dramatic Competition. He also stars on the hit CBS drama Ghost Whisperer which is currently in its fifth season.

He recently made the move to Los Angeles and looks forward to staying in California for as long as possible. When he isn't acting, he enjoys music, surfing and camping.