Cast
Jennifer Love Hewitt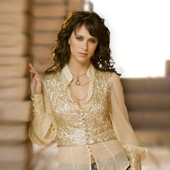 Jennifer Love Hewitt has appeared in many feature films, including "Heartbreakers," "I Know What You Did Last Summer," "I Still Know What You Did Last Summer," "Can't Hardly Wait," "Garfield" and "The Tuxedo." She recently completed production on two independent feature films, "The Truth About Love" and "If Only," which she also produced.

Hewitt became known to television audiences through her role in the award-winning series "Party of Five." She has also appeared in the television movie "The Audrey Hepburn Story."

Hewitt dedicates her time to many charitable causes including St. Jude Children's Hospital, APLA, Project Angel Food and the Susan G. Komen Foundation.

Originally from Texas, Hewitt lives in the Los Angeles area. Her birth date is Feb. 21.