Sister duo Erica and Tina Campbell make up the multi-Grammy award winning Gospel group Mary Mary. Being a Gospel artist is very difficult in this pop culture. One major reason being the fashion. To cater the sisters' style to both the fashion and gospel worlds is a risky business. We've asked Mary Mary's stylist and sister, Goo Goo-Thomasina Atkins, to weigh in on how she styles her sisters to be appropriate yet fashionable. Also, check out Goo's interview!
What is the most difficult thing to avoid when styling your sisters? What is one thing you always have to keep in mind when you are creating outfits for your sisters?
The absolute hardest thing to avoid when styling my sisters for a red carpet is a sleeveless formal dress that doesn't look like dresses for "mama nem" (mama and them, people our mom's age). Most formal dresses with sleeves look old and Tina IS NOT having a dress without sleeves or a "mama nem" dress. Oh the drama….I always have to keep young and hot, but non-offensive in mind when dressing the girls.
You know how to keep the sisters' look fresh and updated with fashion trends. Can you share some trends for 2012?
Color blocking is all the way in for 2012. In the words of NIKE® – "Just Do It". But don't go too crazy with it and look like a box of crayons, as that would be an epic fail.
How do you keep updated with fashion and gospel cultures?
There's a "nice girl" version of pretty much any trend. For example, if you're going to wear short shorts (not to be confused with super short), make sure it's not 50 degrees out and make sure theyre not short AND tight. ALSO, make sure you're not too big to be wearing them in the 1st place. A second example: if youre going to wear a sheer neon top, wear a tank underneath it. If you're for sale, don't wear anything under it. I'm kidding but keeping it "gospel" really just means keeping it conservative and tasteful out of respect to the message in your music and lifestyle.
Is there one article of clothing in particular that you feel helps keep the styling respectful to the Gospel World?
I have yet to see a "gospel" section in a store or a "gospel" look or item anywhere for that matter. The term actually is a turn off to me. So if I saw it I'd probably RUN.
In general, what becomes the most frustrating thing for you when styling?
Not having enough time or money….and fighting with an overly opinionated person with a bad fashion sense. I hate the purging process.
Do you think a Rihanna or Nicki Minaj look would work for your sisters?
I like Rhianna's style. Nicki's style changes like the wind direction and I don't remember ever really seeing her in anything I'd put the girls in. But I don't mimick ANYBODY's style. That's not my style.
What is more difficult to style for: photo shoots or music videos?
Music videos. Because the pieces have to not only be super hot but functional and able to also perform in. No pinning in the back etc like you can do for stills when you are styling for videos.
What do you love about styling Mary Mary?
I love styling Mary Mary because our body shapes are alike so I'm always envisioning myself in the stuff I put them in.
What is the best article of clothing that you can have fun with for Mary Mary?
I like to bring in items to add color or shape. Like corsets, belts, random pieces of fabric, broached – you name it.
Tell us about your wardrobe. Your closet. Your favorite accessory.
(Singing) "These are a few of my favorite things!"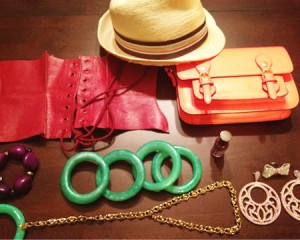 Photo Credit: Thomasina "Goo Goo" Atkins
Tell us about yourself. Your age. Dating? Hobbies. What it's like being on a WE tv show? And what do you really think of Mitch?
I'm a witty, chatty, creative chick. A genuine people lover who's over the age of 21. I have the most amazing boyfriend, Justin. I enjoy good conversations and books. I also enjoy shopping and cooking. I can throw down in the kitchen (cook really well). Being on a WE tv show is a great platform for me in so many ways. For one, I have the audience that Honey always said I was "putting on" for. But more importantly, I get to see what the world thinks of a big ole grounded African American family in the entertainment industry. As for Mitch, I wish he'd go on a super amazing vacation somewhere really far away and never return. 🙂
For more, visit GooGoo's website: www.LetGooDressYou.com