Season 1, Episode 3
"De-Tour"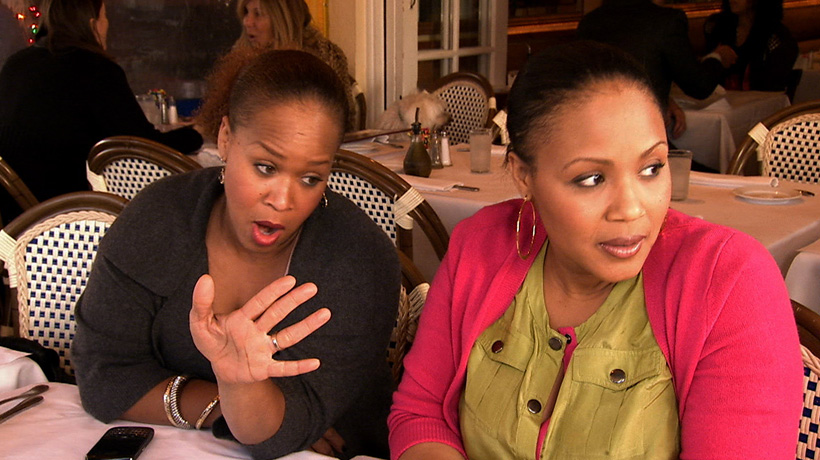 Mary Mary cancelling their highly anticipated tour creates serious personal and business consequences that need to be addressed swiftly, before irreparable harm is caused to the duo's reputation.
"We absolutely love our fans, so canceling is a really, really big deal. I feel horrible about it because it's all my fault."

Erica Campbell
"This better be the last pregnancy."

Mitchell Solarek
"I don't want more kids. I don't."

Teddy Campbell
"I have to disappoint a lot of promoters today. My job really sucks."

Mitchell Solarek
"I don't have any."

Mitchell Solarek
"God is good. This don't make or break our lives."

Tina Campbell
"Focus on the future. That's all we're gonna do."

Mitchell Solarek
"I'm sure God is pleased, but he will be more pleased if you take care of yourself."

Honey Atkins
"You can come from nothing and still have a whole lot."

Erica Campbell
"I am not taking no reduction. I work way too hard for them. Always over and beyond."

Goo Goo
"When you cut us, we all bleed Atkins. Tread lightly. I can rip my sister up, but you cannot."

Erica Campbell
"You ungrateful thing! What is wrong with you!?"

Erica Campbell
"Don't be giving someone no ultimatum, because you can step and we can find someone else. So don't go there."

Tina Campbell
"She would have to be in the newborn nursery for about 2 months."

Dr. Freedman
I do want to be in the group, but I do have to be in this marriage."

Tina Campbell
"I'm done. If you can't come up with a retainer, you're not going to have Goo."

Goo Goo
"God Bless you!"

Erica Campbell
"I don't care who you are. You better be Jesus the Christ if you're going to present me with an ultimatum cuz you ain't need it like that!"

Tina Campbell
"They're my sisters, and I want them to look great. I want them to shine."

Goo Goo
"Don't mess up your sister relationship or your paycheck!"

Tina Campbell
"If Mitchell and I are meant to get along, it is going to take a miracle only God can perform."

Goo Goo
"I don't think Goo and I will get passed this."

Mitchel Solarek
Notes from Mary Mary production team E One: Erica's contractions were getting so bad that even in her interviews production had to stop shooting so that she could breathe through them.  Our Co-Executive Producer, Tony, worried that he was going to have to deliver Zaya himself.