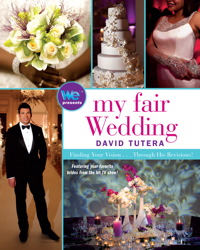 My Fair Wedding
Finding Your Vision . . . Through His Revisions!
By David Tutera
A fan of WE tv's
My Fair Wedding
? Love love love David Tutera? Always amazed at his miraculous celebrations? Ready to plan the wedding you want (and deserve!), but just need a little help? Then you're going to enjoy this book! David's 256-page wedding guide not only features the stories of the most memorable
My Fair Wedding
brides from three fabulous seasons but gives you the "Tutera touch" as well as expert tools for creating an affair that you, your groom, and your family and friends will cherish forever.
In this book you will find:
• insightful and indispensable "What Would David Do?" sidebars
• self-quizzes that help you zero in on your preferences and tastes for a truly personalized wedding
• real-life etiquette and time-tested manners that add class to every occasion
• advice and inspiration for choosing everything from gowns, shoes, hair, and makeup to invitations, photographers, music, lighting, centerpieces, favors, thank-you notes, and so much more
• helpful pointers for logistical planning— transportation, outdoor ceremonies, timelines, and other factors for keeping things stress free.
Read a FREE excerpt here
.
What left is there to say, but
BUY NOW >>