Season 4, Episode 14
"Asian Fusion Bride"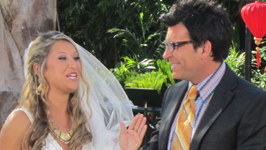 High school sweethearts Lauren and Justin want to combine Chinese and Indian traditions at their wedding. But they recently lost their beachfront venue, and anxiety is ruining everything. They need David Tutera, and fast!

Want a chance to see your posts and Tweets on TV? Comment now #MFW & watch the Social Edition airing next Sunday, March 11 at 8|7c. Log on to wetv.com/sync to join the conversation now.
Notes from My Fair Wedding production team Pilgrim Films: Just before the ceremony was about to begin, it was discovered that the custom-made wooden benches had their legs attached with incorrect nail length causing the nail heads to be human pin cushions for unsuspecting guests.  So the crew had to act fast with all hands on deck pounding in the nails to ensure everyone could seat comfortably and safely for a beautiful Bollywood style wedding.