Season 4, Episode 15
"Mad Men Bride"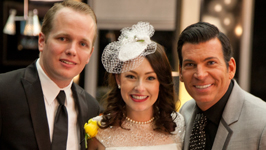 Bride Taylor and her fiancé Jason love the TV show "Mad Men," but they have no idea how to give their wedding that classic sixties style. David Tutera truly takes this wedding back in time!

Want a chance to see your posts and Tweets on TV? Comment now #MFW & watch the Social Edition airing next Sunday, March 18 at 8|7c. Log on to wetv.com/sync to join the conversation now.





Notes from My Fair Wedding production team Pilgrim Films: While filming our bridal party photo shoot at the location where they film Mad Men, there were numerous visitors who thought David was making a guest appearance on the series! Not only was he stopped, but once our bride and groom went through a wardrobe change, people thought they were extras!