Season 4, Episode 16
"Masquerade Bride"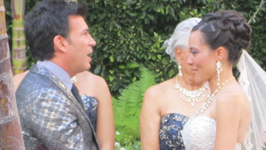 Bride Berda is getting married on Halloween. Her wedding décor features plastic pumpkins, spider webs, and skulls. David Tutera transforms her ticky-tacky theme into an elegant masquerade ball.

Want a chance to see your posts and Tweets on TV? Comment now #MFW & watch the Social Edition airing next Sunday, March 25 at 8|7c. Log on to wetv.com/sync to join the conversation now.

Notes from My Fair Wedding production team Pilgrim Films: Our initial meeting of the bride was halted as the wedding couple did not have keys to their front entrance so we had to wait until the apartment manager arrived with keys to open the front doors so David could enter. While walking up to the banquet hall to eventually try on wedding dresses – Berda not only popped out of one her shoes but both of her shoes, one after the other.  She managed to walk around on a boat dock and gondola but something about walking on a flat service was a tricky occasion.