WE already knew that Anthony Pazos is a master stylist and a fierce makeup artist, but now he can add celeb commentator to his repertoire. The L.A. Hair star appeared on TooFab to discuss the most fab and drab celeb looks of the week.
The first star up for critique was Rihanna, whose pink, 80s prom-style dress got a "Too Drab" from Anthony. Also on Anthony's drab list was Katy Perry, whose brassy locks sent him over the edge, and Nicky Hilton.
Who made Anthony's fab list? According to Anthony, Alessandra Ambrosio may be the only person who is able to pull off horizontal stripes and still look fab while Kendall Jenner and Khloe Kardashian were visions in black and white.
WE loved Anthony's commentary and have the video for you to check out below. See more of Anthony Pazos on L.A. Hair every Thursday at 10/9c!
From good ol' fashioned girls nights to extravagant galas, this week was – for the most part – all about the WE tv ladies. Check out some of our top insta-happenings of the week.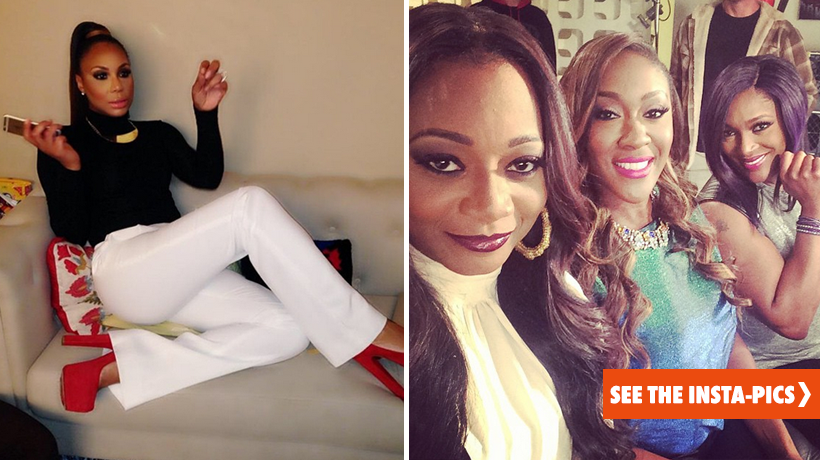 On May 31st, President Obama declared that this year's LGBT Pride Month should be celebrated as "a moment of great hope and progress," while recognizing that more needs to be done. In his proclamation, Obama states, "I call upon the people of the United States to eliminate prejudice everywhere it exists, and to celebrate the great diversity of the American people."
Many know that June has always been LGBT Pride month in the United States, but WE may not know why June is so significant. On June 28th, 1969, patrons of the Greenwich Village gay tavern, Stonewall Inn, fought the NYPD during a raid, resulting in the beginning of the gay liberation movement.
As LGBT Pride is celebrated throughout throughout the month, WE wanted to show that #WEHavePride too.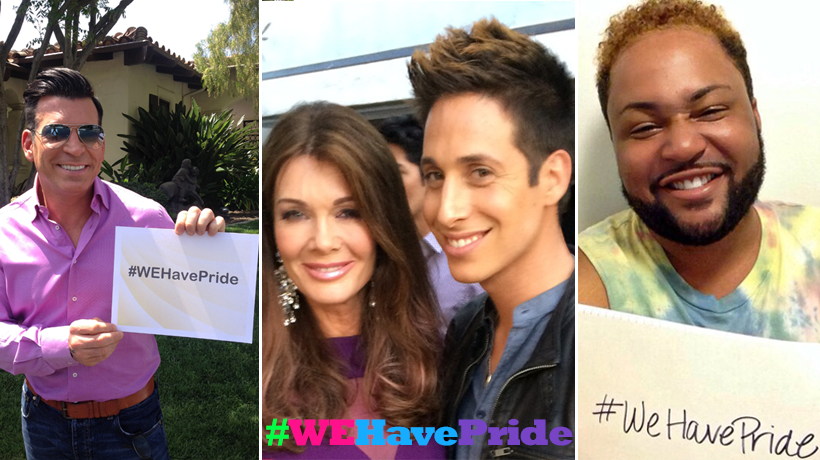 WE had a craving for L.A. Hair, and WE figured you did too!  Below are some fun facts about season 1 of L.A. Hair straight from the production company!
In almost every scene in a bar or restaurant the crew is in the background as extras
In the scenes that show a transformation from when clients came into and dramatically changed, although it is quick in the show, it can take up to 3 hours or more to actually do them
Because the mirrors in Kim's salon faced each other there was very few places for crew to hide during shooting and at the most there could only be 2 cameras inside and the audio people had to be outside the salon
In finding a second salon for Kim, we considered at least 5 different locations throughout Los Angeles before finally settling on the location in Silver Lake.
The stencil designs on the walls in the new salon were done by the art department especially for the couple weeks we were in there.
There were at least 3-4 scenes in every show that were cut out but can be seen on the website as deleted scenes
In many of the outdoor and sit down meal scenes you will see few people in the background because this is easier to control sound from the cast members talking
It took 5 days to shoot a full episode, sometimes 6 with interviews
Shooting took place in West Hollywood, Silver Lake, Sherman Oaks, Encino, Moorpark and Hollywood
All the furniture in the second salon was sold off online after shooting was completed as the owners were moving their salon and wanted a new look
When taping the interviews for the final show, Kim was watching the scenes and footage for the first time so all her reactions and thoughts were fresh.
After the show began airing many of the calls Kim's salon was getting was from people who wanted to come to LA to have their hair done at the salon. Some calls even were from fans who wanted to talk about the show with the receptionist (who wasn't actually on the show)
All the celebs that appeared were friends or clients of Kim.
I'm totally a fan for strong powerful women who know what they want, but in no way will I let anyone disrespect me.
First of all, Omarosa walked in like she owned the place and the truth is, I didn't recognize her when she first arrived. Then she started on my girl Charity who yes, is a space cadet, but then she started on me. Hello camel breathe, of course I know what tender head means, I wasn't born yesterday. Oh then it gets better – Terry decides to pull my hair, are you kidding me? It's never ever OK to touch anyone in a professional environment, let alone pull their hair. I was pissed! To top it off, Omarosa and Terry gave each other a big high five like it was totally OK to pull my hair. That's when I went off; Omarosa then proceeds to ask me if I'm sensitive which is when I let loose "No b****, don't confuse sensitivity for anger!" That's what I had to say. Yea, her hair looked nice afterward, but she's still terrible and now I know why she has the reputation. At least I can say I conquered Omarosa.
Furthermore, Kym Whitley is fun as hell and I love her, but she looks like a hot mess. One more thing, Angela had her poor client's bangs looking jank bahahah I had to lol at those hideous things.
Being one of the new stylists in the salon is hard. When Angela was sleeping at the bowl I knew that it was wrong and I felt bad that I was coxing Angela after the fact. Sometimes when you want to fit in you try and make friends even if what they do is wrong. I never ever want Kim to be mad at me or think that I don't have her back because the truth is I do.
Now when Dontay made that poor girl's hair that color even though I really like him personally I really wasn't a fan. I thought it was way too brassy and it didn't look like the client liked it either. Now when I was blow-drying Kim's client she was looking at me from around the corner as if I didn't know WHAT was going on. Let me clear something up, I'm an amazing stylist but her blow dryers suck and that's the truth.
I was beyond excited to be a part of the Kelly shoot, but, let's get real, I would never ever be late to a shoot for anyone because that is not professional. I love how Jasmine was looking over my back trying to make it harder for me instead of helping me look for that damn rat tail comb which I ended up finding anyway. I can't stand people that want to make me look like an idiot.
All in all I think the first episode portrayed everyone in an honest light. It's too bad that Angela and Kim can't get along.