My mother always told me to leave the house looking presentable (hair brushed & makeup on) because you never know who you'll be running into – especially on the streets of Hollywood! For some celebs it's "no makeup, no problem." But for others…WE wish they would have applied a little bit of concealer before leaving the house (for their sake)!
It's not always glitz and glam for these celebs – check out the good, the bad and the flawless!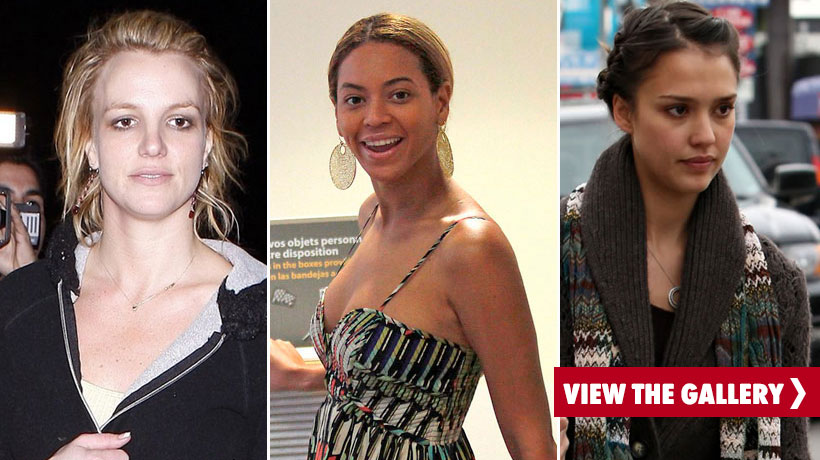 There are a gaggle of Hollywood stars gracing us with their presence this summer, which has lead us to give some serious thought to who our "celebrity hall pass" would be.  How can you pick just one when there are so many to choose from for all different types?
For those who swoon for the handsome type with muscles for days and killer dance moves (and stripper moves), you may want to consider Channing Tatum.  If you want a character straight out of "The Notebook" who will give a 3 minute monologue about how he is willing to fight for your love while revealing a well chiseled six-pack, Ryan Gosling is definitely a front runner.  And then there is the "kindergarten crush", Leonardo DiCaprio, who you have liked since he froze to death in the cold waters of the Atlantic and then went on to make a Boston accent sexy.  But who wouldn't want that tatt-ed up rocker who sings like he just wants someone to cuddle with, Adam Levine?
However, if we HAD to choose, Channing Tatum would be at the top of that wish list.  From the beginning, he made our jaws drop and hearts melt in "Step Up" and then continued to do evoke the same reaction in "Magic Mike" (YES, "Magic Mike").  Apparently we are not alone… 29% of women would choose him over the men listed above as well.
For more fun facts on celeb hall passes, celeb marriages, and more click here!
WE had a craving for L.A. Hair, and WE figured you did too!  Below are some fun facts about season 1 of L.A. Hair straight from the production company!
In almost every scene in a bar or restaurant the crew is in the background as extras
In the scenes that show a transformation from when clients came into and dramatically changed, although it is quick in the show, it can take up to 3 hours or more to actually do them
Because the mirrors in Kim's salon faced each other there was very few places for crew to hide during shooting and at the most there could only be 2 cameras inside and the audio people had to be outside the salon
In finding a second salon for Kim, we considered at least 5 different locations throughout Los Angeles before finally settling on the location in Silver Lake.
The stencil designs on the walls in the new salon were done by the art department especially for the couple weeks we were in there.
There were at least 3-4 scenes in every show that were cut out but can be seen on the website as deleted scenes
In many of the outdoor and sit down meal scenes you will see few people in the background because this is easier to control sound from the cast members talking
It took 5 days to shoot a full episode, sometimes 6 with interviews
Shooting took place in West Hollywood, Silver Lake, Sherman Oaks, Encino, Moorpark and Hollywood
All the furniture in the second salon was sold off online after shooting was completed as the owners were moving their salon and wanted a new look
When taping the interviews for the final show, Kim was watching the scenes and footage for the first time so all her reactions and thoughts were fresh.
After the show began airing many of the calls Kim's salon was getting was from people who wanted to come to LA to have their hair done at the salon. Some calls even were from fans who wanted to talk about the show with the receptionist (who wasn't actually on the show)
All the celebs that appeared were friends or clients of Kim.
Operation Beautiful is a "random act of kindness crusade" created by Caitlin, who also blogs at Healthy Tipping Point. Its mission is to post anonymous positive messages in public places for other women to find.
On her site, Caitlin explains why she started Operation Beautiful:
"One of my biggest personal crusades is ending Fat Talk. If my little blog only does one productive thing, I hope it helps readers realize how truly toxic fat talk is — it hurts you emotionally, spiritually, and physically. I want to reach as many people as possible with my End the Fat Talk message."
Inspired by the site, Gives Me Hope, she started Operation Beautiful.
To participate in Operation Beautiful, just write an encouraging note and leave it in a public place for a woman to find it. You can write www.operationbeautiful.com on it too, if you want them to check out the website.
If you'd like your note to be posted on the Operation Beautiful blog, send a photo of it to seebriderun@gmail.com. (Note: any photos you send will become property of OperationBeautiful.com and may be used on the site or in other media).
For ideas of places to post notes and things to write, watch the Operation Beautiful Video on YouTube, or below:
Operation Beautiful Post-It photo used with permission from Operation Beautiful.
I love reading entertainment news magazines.  Imagine my delight to discover that I can fulfill my love of celebrity news and do-gooding stories by reading the three blogs below:
1. Ecorazzi focuses on "green gossip," with posts like:
2. Look to the Stars: The World of Celebrity Giving covers a larger range of do-goodness with posts like:
3. The Good blog on The Hallmark Channel's Celebrity Good Life has a range of do-good stories that are similar in topic to the ones on Look to the Stars like:
You can also follow all three blogs on Twitter:
Happy reading! I won't tell anyone, if you don't (:
The week of October 19-25 some of your favorite television programs will include storylines about service and volunteering as part of the Entertainment Industry Foundation's iParticipate initiative.
According to the iParticipate blog, during that week, "the major broadcast networks and others will spotlight service through scripted programming, segments and PSAs with inspirational messages and storylines about volunteerism. More than 60 shows have signed up to participate."
Your "service hero" might even be profiled on TV that week! Service Nation is working with EIF to collect stories about outstanding community volunteers.  For more information about how to submit your service hero story, check out the Service Nation blog post, Calling All Service Heroes: Are You Ready for Primetime?
Finally, according to VolunteerMatch's Engaging Volunteers blog, the iParticipate initiative is about more than the week of service-themed shows. It also includes:
A new Web site to search for volunteer opportunities at iParticipate.org in the cause areas the foundation cares about.
A series of celebrity-driven public service announcements from celebs like Blythe Danner, Gwyneth Paltrow, and Matthew McConaughey, among others.
Grants to "key volunteers organizations to help build capacity to accept, train and deploy volunteers."
Check out the iParticipate PSA with celebs like Simon Baker (CBS The Mentalist), Emily Deschanel (FOXs Bones), Eva Longoria Parker (ABCs Desperate Housewives), Julia Louis-Dreyfus (CBS The New Adventures of Old Christine), Masi Oka (NBCs Heroes), Michael Strahan (FOXs Brothers), Kate Walsh (ABCs Private Practice), and Rainn Wilson (NBCs The Office) below, or on the iParticipate YouTube Channel.
iParticipate also has a Facebook page, MySpace page and Twitter feed.