Because our fans are absolutely incredible, WE are bringing you some extra content for last week's episode of "Braxtons Family Values." Towanda takes Trina and Traci to lunch to share the exciting news about "Who Wants to Be a Millionaire," but before the girls even get their drinks TrinaQuote: "I really gotta go kee-kee. Don't talk about me while I'm gone." Traci Quote: "Don't worry, we will." The girls kept their promise! Towanda tells Traci all about when Trina peed in her pants during Mardi Gras in New Orleans. TowandaQuote: "Just close your eyes and imagine someone pouring water on the carpet." TMI Towanda! Towanda Quote: "Girl… I called everybody and told everybody she's pissing on herself."
Get a behind the scenes look at the lives of the Lylas from our crew's perspective with these exclusive details from our producer's notebook. In these notes written during Aloha, L.A., our crew spent time with the Lylas in the recording studio, their house in Hawaii and during their move to L.A.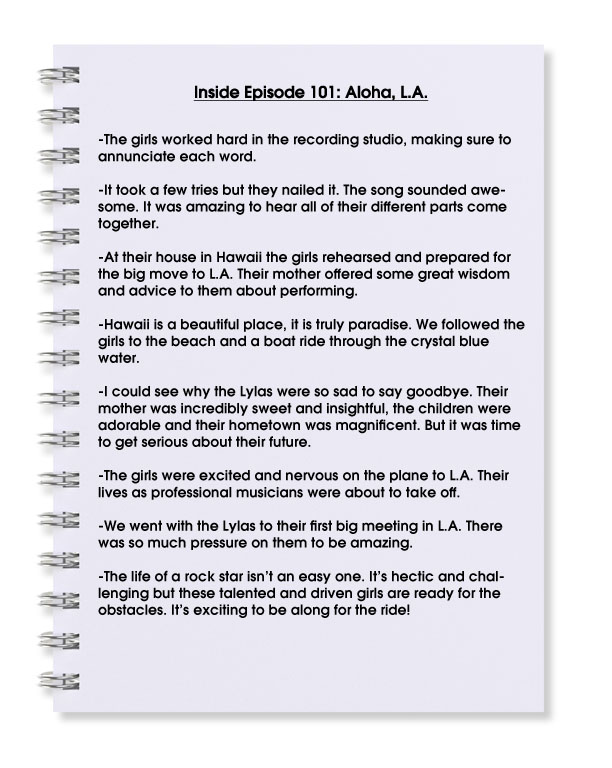 Want more from the premiere episode of The Lylas? Click here to check out a gallery!
It's no secret that The LYLAS have a very famous brother. It's also no secret that they can sing, have a great sense of style and exude confidence. However, there are a few things that you don't know about them…until now, that is! The girls are sharing some little-known facts, desires and secrets!
Check out some of the most interesting things about The LYLAS and don't miss the premiere on Friday, November 8th at 9|8c on WE tv.
Jaime's very first job was working at Baskin Robbins.
Tiara is afraid of the dark. Terrified, actually.
Presley is a reality TV junkie.
Tahiti was a chubby tomboy growing up.
Tiara can skateboard and surf.
Presley hates Halloween. (Although you wouldn't know it! Check out these Halloween photos!)
Jaime has what she calls "a potato chip addiction."
After growing up chubby, Tahiti is now a self-proclaimed "health fanatic."
A right of passage for many, Presley has never been to a high school dance or prom.
An all-natural water birth set the scene for Jaime's first son, Marley, to enter the world. However, her second boy, Jaimo, was born six weeks pre-mature.
Although she loves singing, Tiara had a totally different career path: She was once a pre-school teacher.
Believe it or not, Tahiti claims that she wants to be a mermaid.
What are the names of SWV's talented women?
Answer: Coko, Taj and Lelee
What was the name of SWV's debut album that went double platinum in its first year?
Answer: It's About Time
What SWV number 1 hit used samples from Michael Jackson's Human Nature?
Answer: Right Here
What hit song in 1993 established this trio as a force in the R&B world?
Answer: I Am So Into You
What year was SWV nominated for "Best New Artist" at the Grammys?
Answer: 1994
Watch this throwback video of one our favorite SWV songs and be sure to catch Sisters With Voices on WEtv in a new series coming in 2014.
Last Saturday on David Tutera: Unveiled: David plans an anniversary party for reality TV star Shayne Lamas & husband Nik Richie, but concerns around his daughter's birth may cause him to miss the party. A private plane brings David's baby Cielo home.
Check out David's candid recap:
Jaime, Tiara, Tahiti and Presley uprooted themselves and pushed their relationships to the test in the new series, The LYLAS. The WE tv cameras were there to capture all of the drama – from fights over practice time to tears over an unexpected death – but there are a few things that you wouldn't know unless you were there. Go behind the scenes with exclusive producer's notes to find out some of the most interesting facts about the girls and don't forget to tune in for the premiere on Friday, November 8 at 9|8c.
Tahiti insisted on driving all the time. In fact, you will see Tahiti drive in most scenes on the show. But her sisters couldn't stand her driving and often complained about it.
While living in their new LA home, Presley was so afraid of the broken lights flickering outside the house at night, production had to permanently shade the windows for the rest of the shoot.
The family plays croquette as if they'd been playing their whole lives. But in fact, the only reason they play is Bernie found a croquette set in the garbage. And the family plays so much they've now adopted the past time as a way to solve disputes with each other.
Growing up, Bernie taught the girls cursing was wrong. But if the girls cursed and they truly meant it, it was allowed.
While on set, Presley's love of animals was very apparent when she talked about wanting to open a dog shelter and a homeless shelter in one location. The homeless people would have to take care of the dogs to pay for their room and board.
During production, the sisters were having a water balloon fight and Tahiti was very upset about this fun playtime because she insisted the water in the balloons was making her sick.
The girls hated walking up the front stairs to the house so much so, they would use production stairs at the back of the house since there were less steps.
At Jessica's photo shoot, she was a little bit nervous and a little bit shy. I've done SO many shoots that I knew she needed some guidance, so I took control and told her what I thought would look best on her (and off of her), and I felt empowered again, with maybe a twist of controlling, lol.
Ever since my car accident and a couple other things happening in my life, I've been in need of some therapy. But I'm not really the type of person to admit it. But when it was said, I knew it was the right time to go. I truly want to get over the fear of driving and know some answers to some questions I have in my life. In my first therapy session, the therapist inspired me to take control back in my life, and she had some wise words for me. I took her advice and took some control and grabbed the world by the balls in a couple of ways. It felt good to have that energy back again, which I lost for a while.
Hank and a couple of his friends were about to head out of town for a guys camping trip for a week. He left at a time when I was PMSing and EXTREMELY hormonal, so I got kinda mad that he was leaving, and I didn't know why I couldn't go! Haha. I feel like one of the guys, lol. Why can't girls go on a guys' trip?! So he left on the trip, and I was mad and needed a therapy session. When Hank first told me he was going, I was all for it. Then he left and I was like, 'WTF!'. So I needed another therapy session.
I decided to take out my IUD because I was feeling so good in my life and where it was. I was gaining control back in all the other parts of my life. This was another place. I've had my IUD since little Hank was born because we wanted to make sure it was the right time to have another baby. This was just that time. Did I tell Hank this was the exact time we were doing it? No, lol, but who cares! I went to the doctor with Jessica and all of a sudden it was just done. No more IUD. Just like that! When I told my therapist I was planning on taking it out without him, she looked at me like, 'uh oh!' So finally Hank came home from the camping trip, and I told him what I had done… and then… we went right at it lol!! HE was so happy and ready to go. So it was a win-win for everyone! Stay tuned….
My experience with David as my party planner was an absolute dream come true! I have always been a fan of David's work and feel privileged to have had his magical mind plan my party! Nik and I wanted to give our family and friends something we never got to give them, as we eloped in Las Vegas. This is not just a party, it's our family finally uniting as one. I wanted every detail of our party to be glamorous and have an unforgettable ambience. The moment I met David, I knew this was like winning the party planning lotto. Every woman should have David on party speed dial. I not only took home an amazing time with family and friends, I took home a new friend in David, as when he works with his clients, he is personal with YOU, and that's what makes a wonderful planner in life! I owe him a lifetime of sparkles because he made our night shine like a fairy Godmother!
My daughter Jazz is turning 17 and I wanted her to have an amazing party because she has never actually had a birthday party. She tried to sell me on a quinceanera and a sweet 16, but financially, I wasn't prepared to give her the party I felt she would enjoy. Now that she is turning 17, I am ready to do it big! I decided to seek David Tutera's help since he is the man when it comes to major events and creating memorable moments.
Here's the problem…I had no idea that David was so darn stubborn, opinionated and a total control freak. He's basically the male version of ME! Naturally we would butt heads when he would not allow me to be involved in any way and wanted me to relinquish full control of my daughter's special moment. I wanted to help and be involved to ensure that my daughter's party was everything she imagined and David wasn't having it. I am super protective of my daughters, so when we disagreed on everything from wardrobe to theme, I really didn't know how this party was going to come out.
On party night, I was a little worried because we had no involvement in the planning of Jazz's Super 16+1, but I must say that David pulled it all together. The venue was very reminiscent of the theme we suggested. Jazz was able to perform and he even brought an old school hip-hop performer to be a part of Jazz's special night. I wanted Jazz to have this moment be remembered forever and I believe that David achieved that for us.
WE couldn't wait to share the first sneak peek of the new WE tv series, SWV. This will NOT disappoint. Keep following us on Twitter and Facebook to be the first to know everything about the new series coming in 2014!