Because our fans are absolutely incredible, WE are bringing you some extra content for last week's episode of "Braxtons Family Values." Towanda takes Trina and Traci to lunch to share the exciting news about "Who Wants to Be a Millionaire," but before the girls even get their drinks TrinaQuote: "I really gotta go kee-kee. Don't talk about me while I'm gone." Traci Quote: "Don't worry, we will." The girls kept their promise! Towanda tells Traci all about when Trina peed in her pants during Mardi Gras in New Orleans. TowandaQuote: "Just close your eyes and imagine someone pouring water on the carpet." TMI Towanda! Towanda Quote: "Girl… I called everybody and told everybody she's pissing on herself."
Get a behind the scenes look at the lives of the Lylas from our crew's perspective with these exclusive details from our producer's notebook. In these notes written during Aloha, L.A., our crew spent time with the Lylas in the recording studio, their house in Hawaii and during their move to L.A.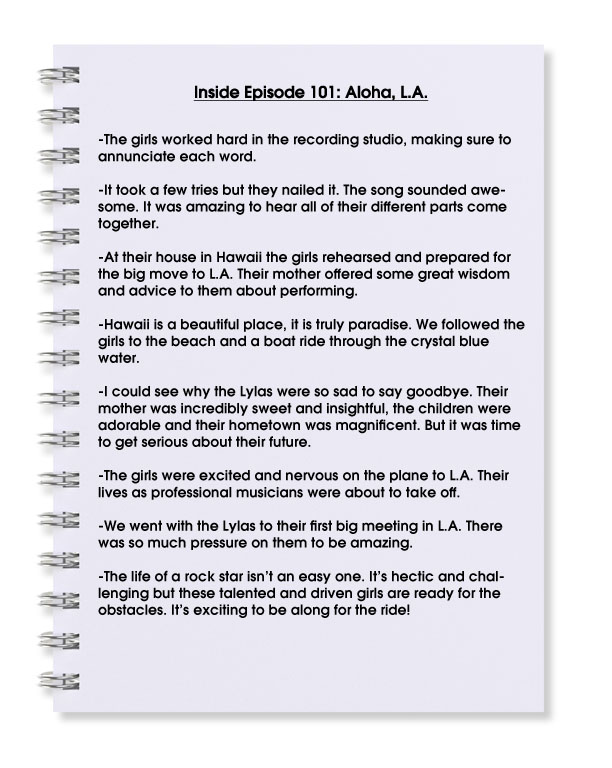 Want more from the premiere episode of The Lylas? Click here to check out a gallery!
It's no secret that The LYLAS have a very famous brother. It's also no secret that they can sing, have a great sense of style and exude confidence. However, there are a few things that you don't know about them…until now, that is! The girls are sharing some little-known facts, desires and secrets!
Check out some of the most interesting things about The LYLAS and don't miss the premiere on Friday, November 8th at 9|8c on WE tv.
Jaime's very first job was working at Baskin Robbins.
Tiara is afraid of the dark. Terrified, actually.
Presley is a reality TV junkie.
Tahiti was a chubby tomboy growing up.
Tiara can skateboard and surf.
Presley hates Halloween. (Although you wouldn't know it! Check out these Halloween photos!)
Jaime has what she calls "a potato chip addiction."
After growing up chubby, Tahiti is now a self-proclaimed "health fanatic."
A right of passage for many, Presley has never been to a high school dance or prom.
An all-natural water birth set the scene for Jaime's first son, Marley, to enter the world. However, her second boy, Jaimo, was born six weeks pre-mature.
Although she loves singing, Tiara had a totally different career path: She was once a pre-school teacher.
Believe it or not, Tahiti claims that she wants to be a mermaid.
Get a glimpse into Tamar and Vince's lives from our crew's perspective with these exclusive details from our producer's notebook. In these notes jotted during Momma Works Hard For Her Coin, our producer spends time on the crazy set of Tamar's reality show "The Real".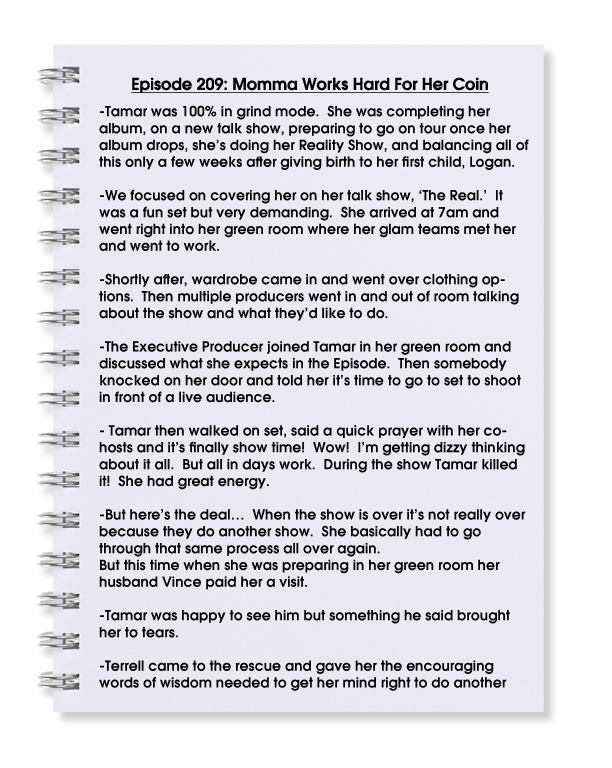 Here at WE tv, WE are obsessed with the new members of our family, and Logan is NO exception.
Tamar
posted the adorable photo of Logan…
And our #Tamartian friends just couldn't help themselves from making equally adorable (and hysterical!) memes of the little cutie.
Jaime, Tiara, Tahiti and Presley uprooted themselves and pushed their relationships to the test in the new series, The LYLAS. The WE tv cameras were there to capture all of the drama – from fights over practice time to tears over an unexpected death – but there are a few things that you wouldn't know unless you were there. Go behind the scenes with exclusive producer's notes to find out some of the most interesting facts about the girls and don't forget to tune in for the premiere on Friday, November 8 at 9|8c.
Tahiti insisted on driving all the time. In fact, you will see Tahiti drive in most scenes on the show. But her sisters couldn't stand her driving and often complained about it.
While living in their new LA home, Presley was so afraid of the broken lights flickering outside the house at night, production had to permanently shade the windows for the rest of the shoot.
The family plays croquette as if they'd been playing their whole lives. But in fact, the only reason they play is Bernie found a croquette set in the garbage. And the family plays so much they've now adopted the past time as a way to solve disputes with each other.
Growing up, Bernie taught the girls cursing was wrong. But if the girls cursed and they truly meant it, it was allowed.
While on set, Presley's love of animals was very apparent when she talked about wanting to open a dog shelter and a homeless shelter in one location. The homeless people would have to take care of the dogs to pay for their room and board.
During production, the sisters were having a water balloon fight and Tahiti was very upset about this fun playtime because she insisted the water in the balloons was making her sick.
The girls hated walking up the front stairs to the house so much so, they would use production stairs at the back of the house since there were less steps.
At the end of last week, #TamarandVince were getting into an argument around an innocent comment that could be taken out of context during a stressful time. This week, WE pick up right where we left off!
It seems like Tamar was just trying to stress that she loves both of them and would never let anything harm them in anyway. TVQuote: "My feelings are my feelings." But then Vince goes and leaves Tamar in the car with all the bags? #HeTriedIt
Thankfully, this couple hits the town with Terrell for some cocktails, so WE expect the moods of these new parents to change very shortly. TVQuote: "She's gonna be white girl drunk tonight." This adult conversation quickly turns into who's getting an "oink oink" tonight and they haven't even started drinking yet! #CoverYourEars
Mama E has come back to L.A. with the new and improved Herberts so she can make sure she is there to see Logan grow up. But, don't get it twisted… this Braxton still has a lot of life left in her. TVQuote: "You're trying to lift up your skirt and fly, baby."
It is back to business as usual for Tay Tay as she meets up with Ashley for the wardrobe fitting for her album cover. TVQuote: "He doesn't know I'm thick-ums, for real." TVQuote: "If I was a rapper that would be my name. MC Fat." Ashley is willing to go back and pull some more ideas in larger sized, but Tamar does not think larger sizes mean she's gotten her snatch back. TVQuote: "Tomorrow I'm not going to be a size 4 and that's a problem." But you know SHE brings it once the cameras are on for her album shoot. Like Tamar said, TVQuote: "I have an album that I worked very hard on, and I don't want to push it back."
A few weeks later, it is time for the "Mommy and Me" Us Weekly photo shoot where Logan is beat to high heaven in some Versace and Dior. TVQuotes: "He's a prince." The pictures are purely precious and the prince is on his best behavior while Vince "works them to the bone." TVQuote: Are you Ike Jr.?"
Get a glimpse into Tamar and Vince's lives from our crew's perspective with these exclusive details from our producer's notebook. In these notes jotted during Jet Set Baby, our producer takes a ride in a private jet with our favorite couple and their newest addition to the family.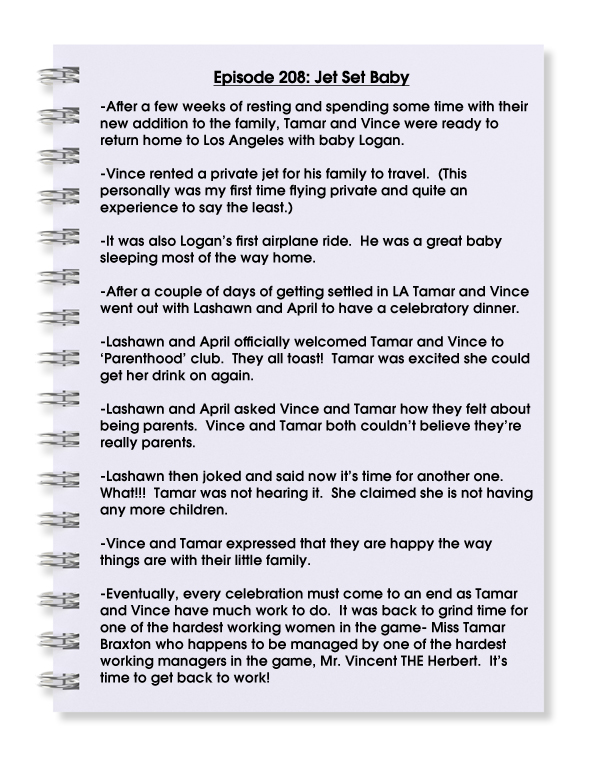 The music industry is no stranger to sensational girl groups taking over. Although their music styles and personalities may vary, they all share one thing in common; their sisterly (sometimes literally) bond. Take a musical trip through time with all your favorite throwbacks here. But first, look into the history of popular and often legendary female music groups:
1. The Supremes, 1960
The first all-girl group to achieve worldwide commercial success and one of the most well known groups in history.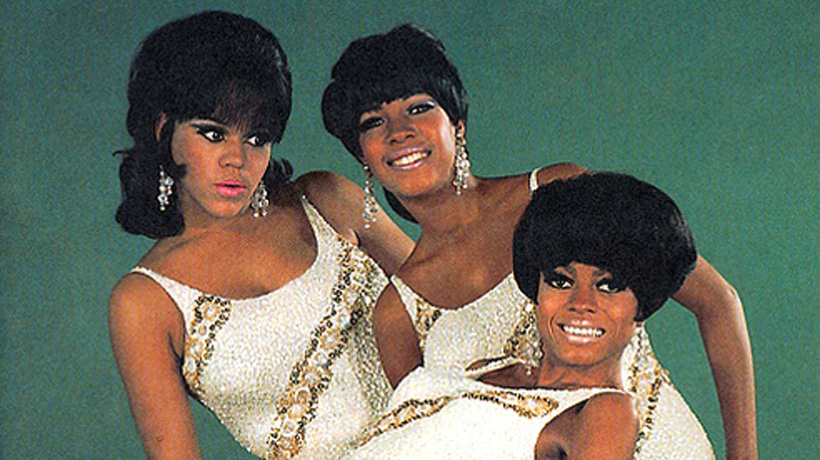 2. Salt N Pepa, 1985
One of the first all-female rap groups who gave women a voice in hip-hop and brought controversial issues into the popular conversation.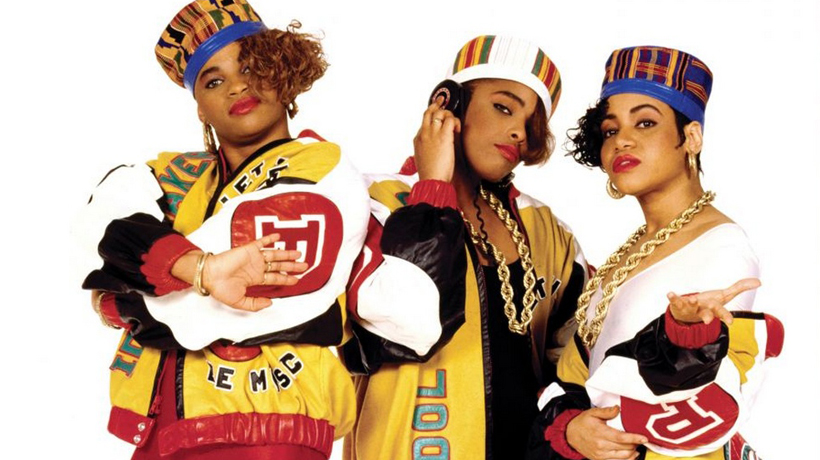 3. SWV, 1990
Also known as Sisters With Voices, this group was one of the most successful gospel/R&B groups of the 90s. You can watch SWV on WE tv in 2014.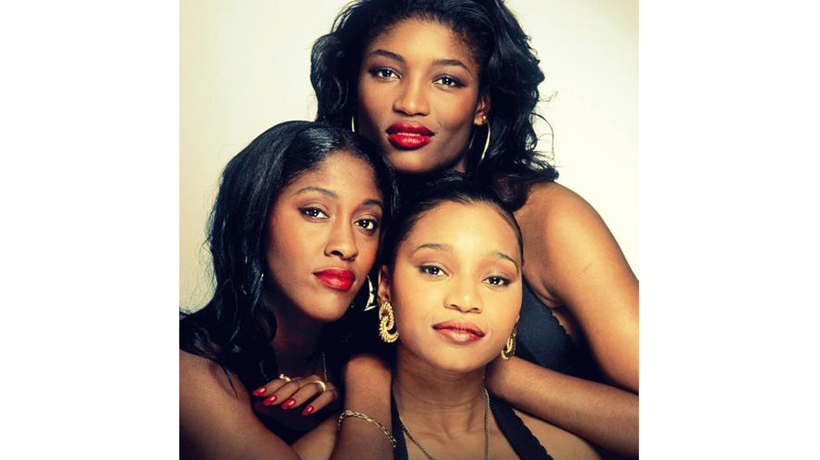 4. TLC, 1991
The biggest selling R&B girl group of all time, TLC achieved unprecedented success in the '90s.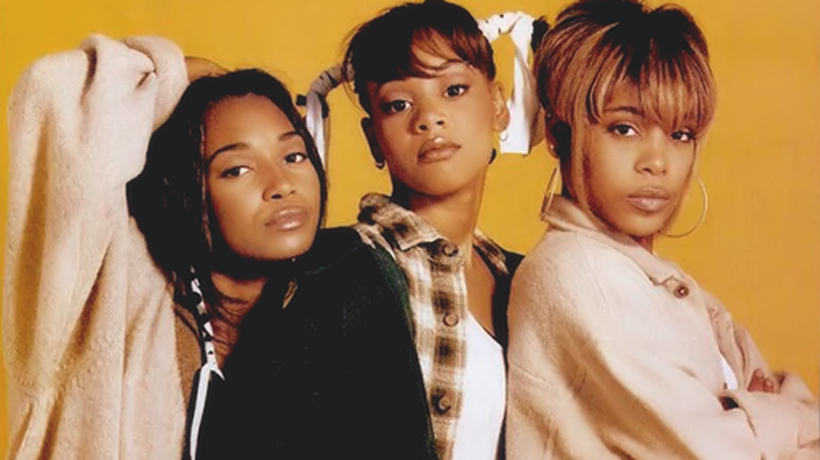 5. The Spice Girls, 1994
This British sensation revolutionized pop music and became the biggest selling all-female group of all time.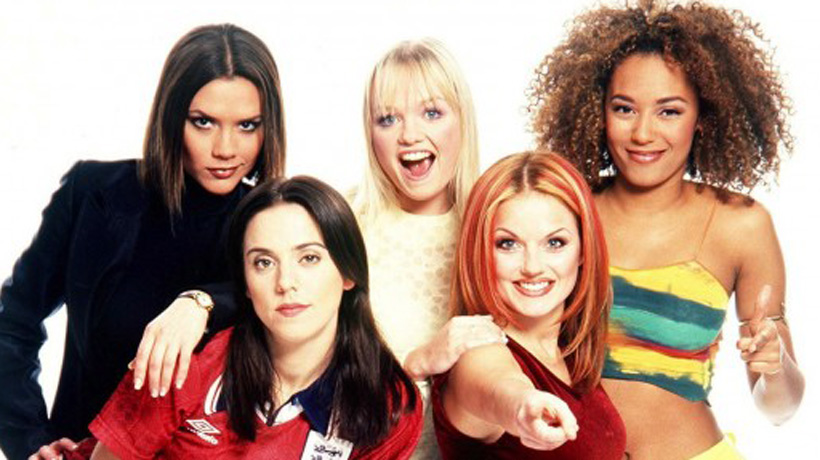 6. The Braxtons, 1996
The Braxton sisters made a splash on R&B scene in the '90s. Their cover of Diana Ross' song, "The Boss," was No. 1 on the USA Dance charts. You can watch the Braxtons on WE tv.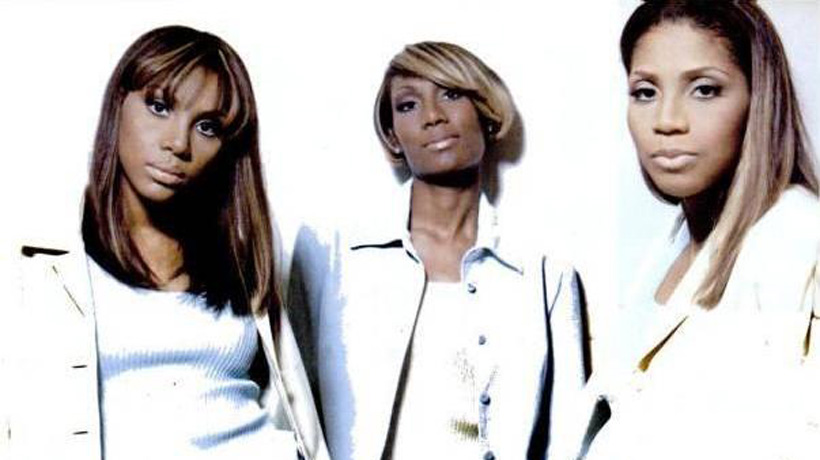 7. Destiny's Child, 1997
This insanely popular girl group rivaled TLC for the biggest selling R&B girl group and gave rise to superstar Beyonce.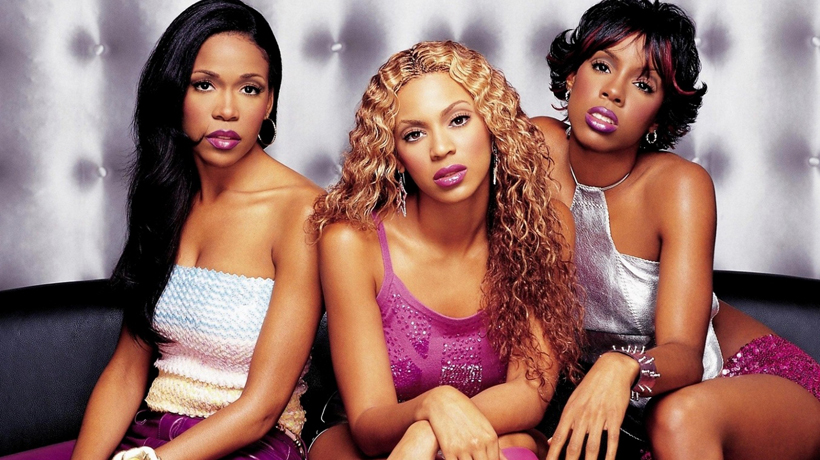 8. Mary Mary, 2000
These two sisters are a multi-Grammy winning gospel duo. You can catch Mary Mary on WE tv.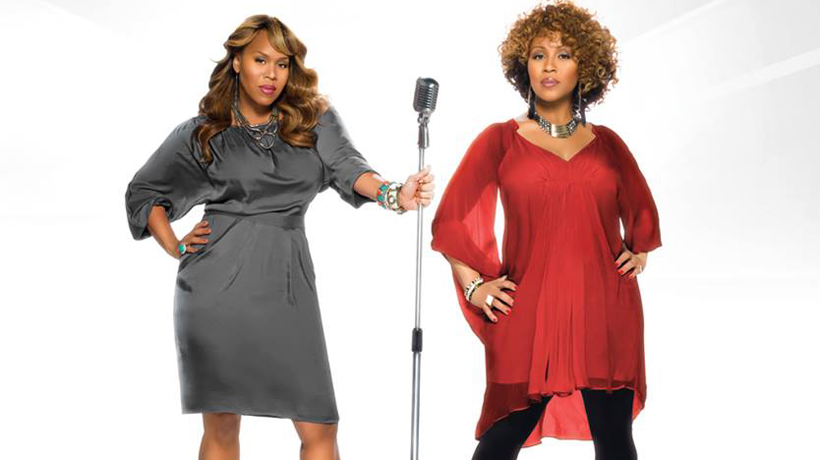 9. The Pussycat Dolls, 2003
This pop and dance girl group have had best selling albums, several No. 1 hits and achieved worldwide fame.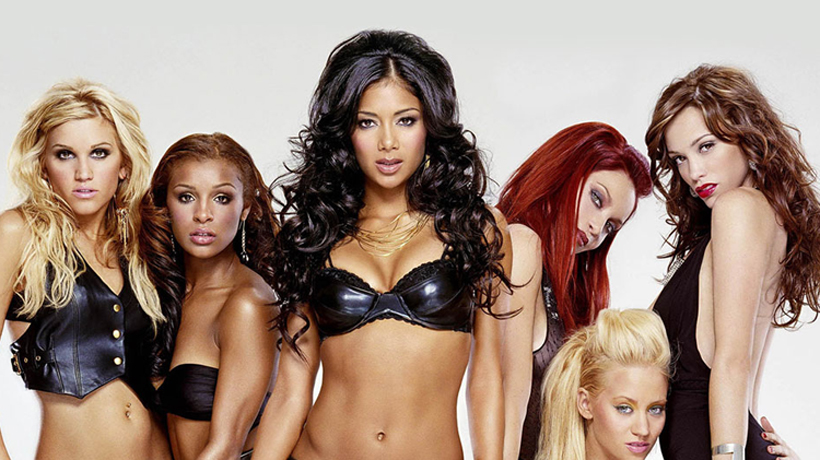 10. Danity Kane, 2005
Formed on P.Diddy's "Making the Band 3," this group became the first girl group to debut their first two albums at the top of the charts. They broke up in 2009 but WE were all excited to hear the announcement of their reunion at the 2013 MTV Video Music Awards.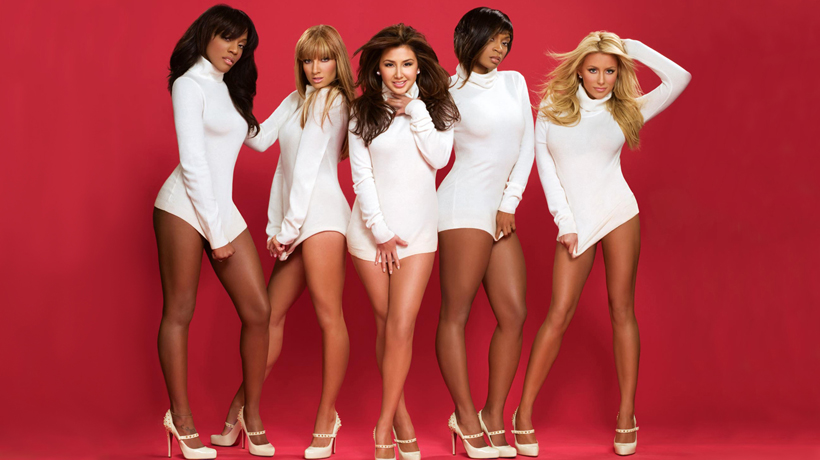 11. The Lylas, 2013
And last but not least, these adorable sisters come from a talented family of singers including pop sensation Bruno Mars. They hope to step out of their brother's shadow and make their mark on the music world. Follow their rise to success on WE tv this fall!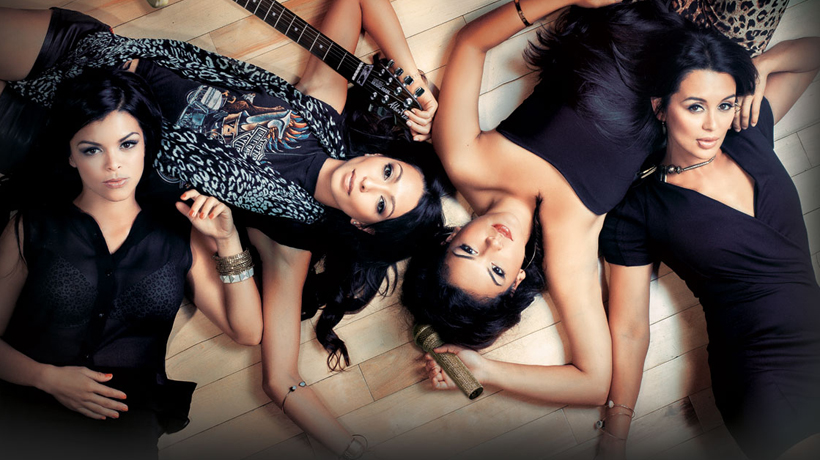 Reminiscing about your favorite girl band songs? Click here to hear some in our Sisterly Girl Band Timeline video gallery.
We are still IMPATIENTLY waiting for the arrival of baby Logan, but at least Tamar is four centimeters dilated. The whole family is here; even Michael Braxton came down in his Corvette). TVQuote: "I was at the birth of a couple of the grandchildren, but after a while that got old to me. So, since I wasn't there on the takeoff, wasn't no sense in me being there on the landing."
As everyone waits around for something (anything!) to happen, Tamar just goes through the motions and contractions after contractions. TVQuote: "A contraction feel like a dinosaur kick you in the back while you're having a period cramp." WE admire Tamar for dealing with all this for over 26 hours, but even she reaches her breaking point when a false alarm sounds. TVQuote: "I didn't come this far to not go home with no baby now." TVQuote: "Tamar is making a permanent decision in a temporary state of mind."
After a temporary breakdown, Tamar is back to normal self and doing an impromptu photo shoot with Traci. In true #TamarandVince having sex! Y'all need to watch that moment again…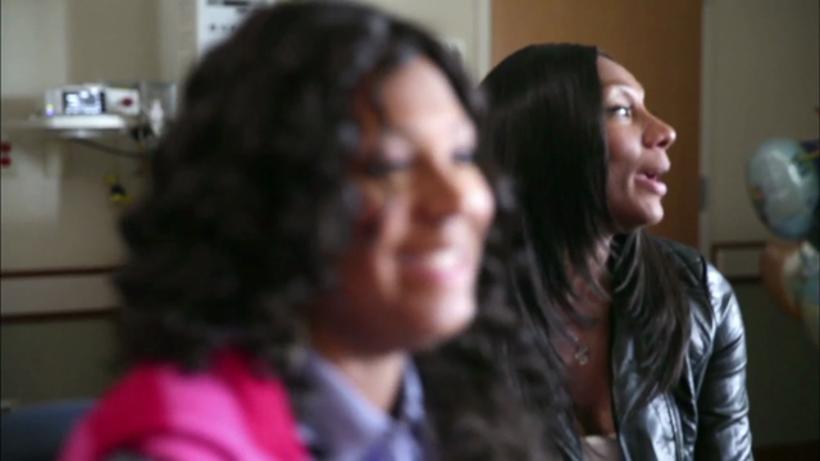 Then Toni starts krumpin! TVQuote: "Ton-Quisha in the house!" WE have never been too excited for the whole labor and delivery process, but if WE can make sure the Braxton sisters are present then WE'll think about it.
After 28 hours, Logan is finally ready to meet everyone! Logically, Traci is manning the camera during the delivery because TVQuote: "Traci's real ride or die." WE can tell Vince is a bit nervous, but he is being super strong for Tamar. TVQuote: "He came right on out looking like a king!" All the aunties are so excited to see Logan, and bffs Tiny and Toya are there to greet the new Herbert! TVQuote: "I done fell in love on a two way street." Logan is 6+ lbs of perfect, and Tamar is BEYOND proud! Now if only she can make some milk for the little guy.
It is time for the Herberts to go home and Logan is all dressed up in his Fendi duds. Vince is a very protective daddy and is taking every precaution possible. On the ride home, Tamar is taking very good care of Logan, but Vince is still in Papa Bear mode which starts a huge argument. WE hope this doesn't run such a beautiful moment.