What are the names of SWV's talented women?
Answer: Coko, Taj and Lelee
What was the name of SWV's debut album that went double platinum in its first year?
Answer: It's About Time
What SWV number 1 hit used samples from Michael Jackson's Human Nature?
Answer: Right Here
What hit song in 1993 established this trio as a force in the R&B world?
Answer: I Am So Into You
What year was SWV nominated for "Best New Artist" at the Grammys?
Answer: 1994
Watch this throwback video of one our favorite SWV songs and be sure to catch Sisters With Voices on WEtv in a new series coming in 2014.
WE couldn't wait to share the first sneak peek of the new WE tv series, SWV. This will NOT disappoint. Keep following us on Twitter and Facebook to be the first to know everything about the new series coming in 2014!
WE tv RENEWS "L.A. HAIR" FOR A THIRD SEASON FOLLOWING A
STRONG SECOND SEASON THIS SUMMER
NEW YORK, NY – September 9, 2013 – WE tv has renewed its hit original series L.A. Hair for a third season following the strong performance of the recently concluded second season this summer. WE tv has ordered 12 one-hour episodes to debut next year, adding to the network's growing 2014 slate which also includes the return of Marriage Boot Camp: Bridezillas and WE tv's entry into scripted programming with The Divide.
Over its debut season, the show's sophomore average grew an impressive +66% among W25-54, +40% among W18-49 and +57% among both total viewers and total women . And, throughout the season, L.A. Hair was the fourth most popular reality cable show in primetime, according to Bluefin.
"L.A. Hair is a breakout success for WE tv and we're excited to bring the show back for a third season," said Lauren Gellert, senior vice president, original production & development. "The strong growth of this season helped drive WE tv to deliver its most successful summer ever among total viewers and total women, with substantial gains among the key female demos."
L.A. Hair chronicles the fast-paced, celebrity-studded hair salon owned by stylist Kim Kimble. In addition to dealing with demanding, high-end clientele, Kim oversees a staff of diva stylists, including her mother and older sister, the shop's newest manager. Kim's sought after client roster includes Michelle Williams, Faith Evans, Vivica Fox, Fantasia and Debbie Allen among many others.
L.A. Hair is produced for WE tv by Eyeworks USA, and executive produced by JD Roth, Todd A. Nelson and DJ Nurre. Lauren Gellert, senior vice president of original production and development, and Suzanne Murch are the executive producers for WE tv.
About WE tv
WE tv (www.wetv.com) is the women's network that showcases and celebrates modern women who are bold, independent and taking control of their lives. Whether they are celebrities like Joan Rivers or Toni Braxton, or everyday women, their stories are as relatable as they are entertaining. WE tv's popular slate of fresh and modern unscripted original series includes the hit shows Braxton Family Values, Joan & Melissa: Joan Knows Best? and Mary Mary, among others. WE tv will debut its first scripted series, The Divide, in 2014. Audiences connect to WE tv online, on demand and via social media. WE tv is owned and operated by AMC Networks Inc. and is available in over 84 million homes on every major cable, satellite and telco provider.
Tonight on Sanya's Glam and Gold, Sanya has her final toe surgery, she can train but she still has pain. Ross is unexpectedly cut from the Jaguars. Yollie returns to Austin, she and Sanya discuss their future. Tyrell tells Shari that he's made a decision.
When Nike calls…you answer. Check out Sanya picking out designs for her Nike shoe.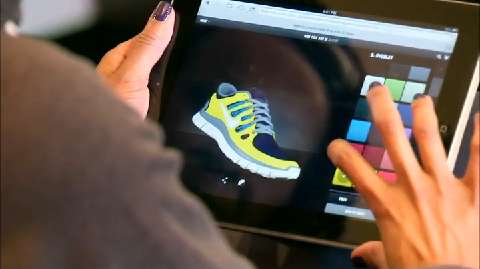 To say that WE tv has vocal fans is an understatement to say the least. You let us know when you love something and when you hate something… especially WHO you hate. WE have received a lot of tweets that explain just how you feel about Tyrell and his relationship with Shari. Needless to say, WE wish we had the protection of these lovely ladies below when we encounter our many dating disasters.
Here are a few highlighted tweets that seem to echo the #fanchatter of our WE tv fans when it comes to last week's episode of #GlamandGold
The worst thing a guy can ever do is disrespect his girlfriend's parents..That's just not cute #glamandgold

— Erie (@exclusivelyEri) August 23, 2013
Shari need to keep it moving. Someone give that girl a copy of #ThinkLikeaMan. He's not good enough for her. #GlamandGold — ♥Crystal Elizabeth ☀ (@CrysEliz) August 26, 2013

Catching up on sonya's glam and gold and why is her sister w/ this man who won't claim her. Like I'm confused and sad about this pairing

— a. chigozie (@shegottawriteit) August 24, 2013
I feel for shari. Been there done that w/dogs like tyrell. U just gotta go through it sometimes #glamandgold — Rewind N Come Again (@RACAblog) August 24, 2013

I do not like Tyrell! #GlamandGold

— Ms Maggie Neauxlya (@NeauxLAPeach) August 23, 2013
Shari's boyfriend pisses me off #GlamAndGold — Carlos Danger (@givethemMo) August 23, 2013

On tonight's episode of Glam & Gold, Ross feels neglected as Sanya puts her work first and their relationship second. Tyrell finally makes it official with Shari but then denies it days later, causing the whole family to get involved.
Sanya, Sharon and Yollie get candid about Sanya's trip to NYC in this clip: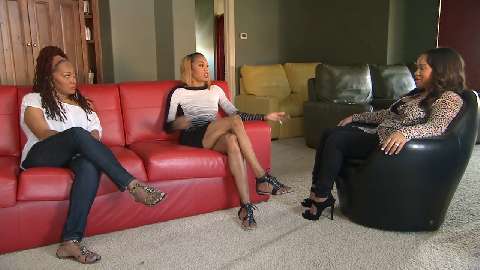 Tonight on L.A. Hair, Kim pulls back the curtain on Season 2, highlighting its ups and downs. She reveals never before seen footage and what happened after Angela got fired. Kim also reveals her styling secrets to having red carpet-worthy hair.
Check out this video of China's fierce makeover: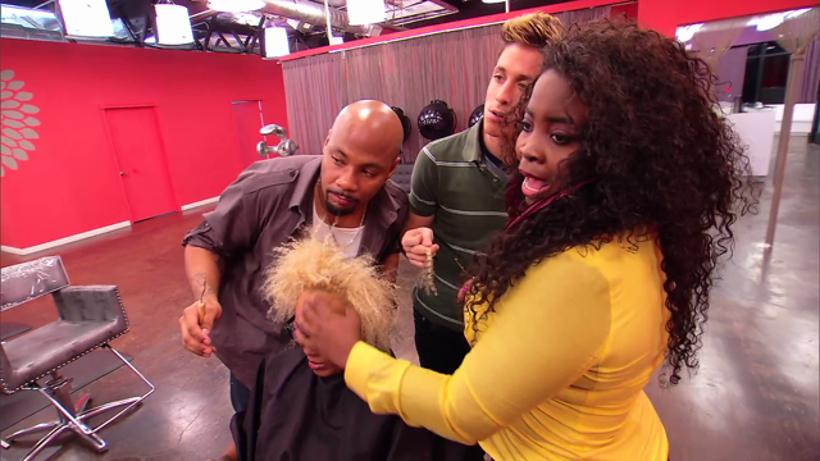 Sometimes the best thing you can do is to admit that things are not working and move on. Angela and I push each other's buttons. We have a history of conflict and it finally came to the point where I just realized that trying to force a working relationship was not doing either of us any good. I never wanted Angela to feel as though I was holding her back. Again, I would have never said that Angela couldn't go to Thailand – that was a wonderful opportunity – all I needed was sufficient notice as her employer to make arrangements for her absence. I realized, however, that the real issue here was that she felt that I was not happy for her to have this opportunity. Having this fundamental misunderstanding of intentions between us showed me that our relationship was simply not healthy and was hurting both of us. This led me to the decision that we should part ways professionally. I do not mean this as a punishment for Angela. I see it as an opportunity for a fresh start and as a way to give her the freedom she needs to grow in this industry. Angela is a talented hairstylist and I know she has many great opportunities coming her way to build her career.
It's never an easy decision to let someone go, but sometimes it's the best decision. I know that Kim really wanted to make things work with Angela but, look, she had to make the decision that would be the best for both of them. It's not as if they didn't give this relationship a shot. After the drama last season, they decided to try working together again but sometimes you just have to throw in the towel. Kim's priority is the salon while Angela's is not. And I don't mean that as a dig against Angela. She has certain goals for her career and working at the salon may not have been the best way to accomplish those goals. Now she is free to do what she wants and I think both she and Kim will have less stress now. I'm very proud of Kim for the way she handled this situation. I know she was very unhappy about losing her temper with Angela earlier and I'm glad she was able to find it within herself to apologize and move forward calmly. The decision to let Angela go was a tough one but I think everyone will benefit.
Kim Kimble was lucky to show the ultimate momager and queen bee of the Kardashian clan, Kris Jenner, and her cohost, Morris Chestnut, how to have perfect hair every day. Click the photo below to check out our gallery for more BTS photos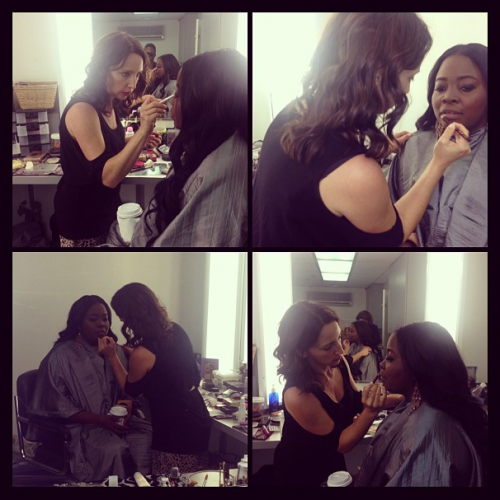 It really was so much easier when they were little. I could just tell them to cut it out and what mama says goes. Now it's a much more delicate operation. This time they both got heated but were able to give each other a little space to cool off and bring it back together to get the photo shoot done. I'm proud of them for getting things back on track. Ultimately, we're all family and whatever we do is to try and help the salon. I know Leah was just trying to be constructive to help Kim improve her products, but she may have pushed too hard and Kim was a little too sensitive. It's hard to hear criticism from your family. Leah's support and/or criticism probably means ten times more to Kim than anyone else's, so even though that makes the support all the more satisfying, it also makes the criticism that much harder to take. They managed to turn it around, however, and the photo shoot turned out great!