Sister Act 2 will be airing on WE tv tonight and guess who makes a guest appearance in the movie? Our very own Erica from Mary Mary.  WE asked Erica about her time while filming and she reminisced about arriving on set for the first time, meeting Whoopi Goldberg and talking to Lauryn Hill:
When Erica got the call about the movie she was so excited to get to show off her singing talent on the big screen.
"Sister Act 2 was my very first time being in a movie! A wonderful lady named Iris Graves-Howse somehow found me and asked if I would be a part of an extra choir they needed for the competition scene in the movie. Who would say no to that? Not me!  I had been singing in my church choir and my college choir and couldn't wait for a real chance to be on the big screen," Erica said.
Erica was so overwhelmed by the opportunity it brought tears to her eyes.
"I had a trailer with my name on it, and cried when I got in the dressing room, I was so happy and overwhelmed! Being able to watch Lauryn Hill and Whoopi Goldberg and all the amazing people in the film was so exciting for me," Erica explained.
The most memorable part of the experience for her was getting the chance to meet so many talented people.
"All the kids in the movie were so cool; I remember meeting Jennifer Love Hewitt and Kathy Najimy. I even got a chance to sit and talk to Lauryn Hill between takes while they changed camera angles. She told me about her new group and that their first CD was coming out and how excited she was," Erica laughed about this. " That group was the The Fugees."
Erica looked back on the experience fondly. She sang her heart out and owned her role.
"…Good Memories. You couldn't tell me nothing! I was big time," she said with a smile.
Make sure you catch Erica in Sister Act 2 tonight at 8/7c and again at 10:30/9:30c.
Mary Mary announces some tour dates for the rest of 2013!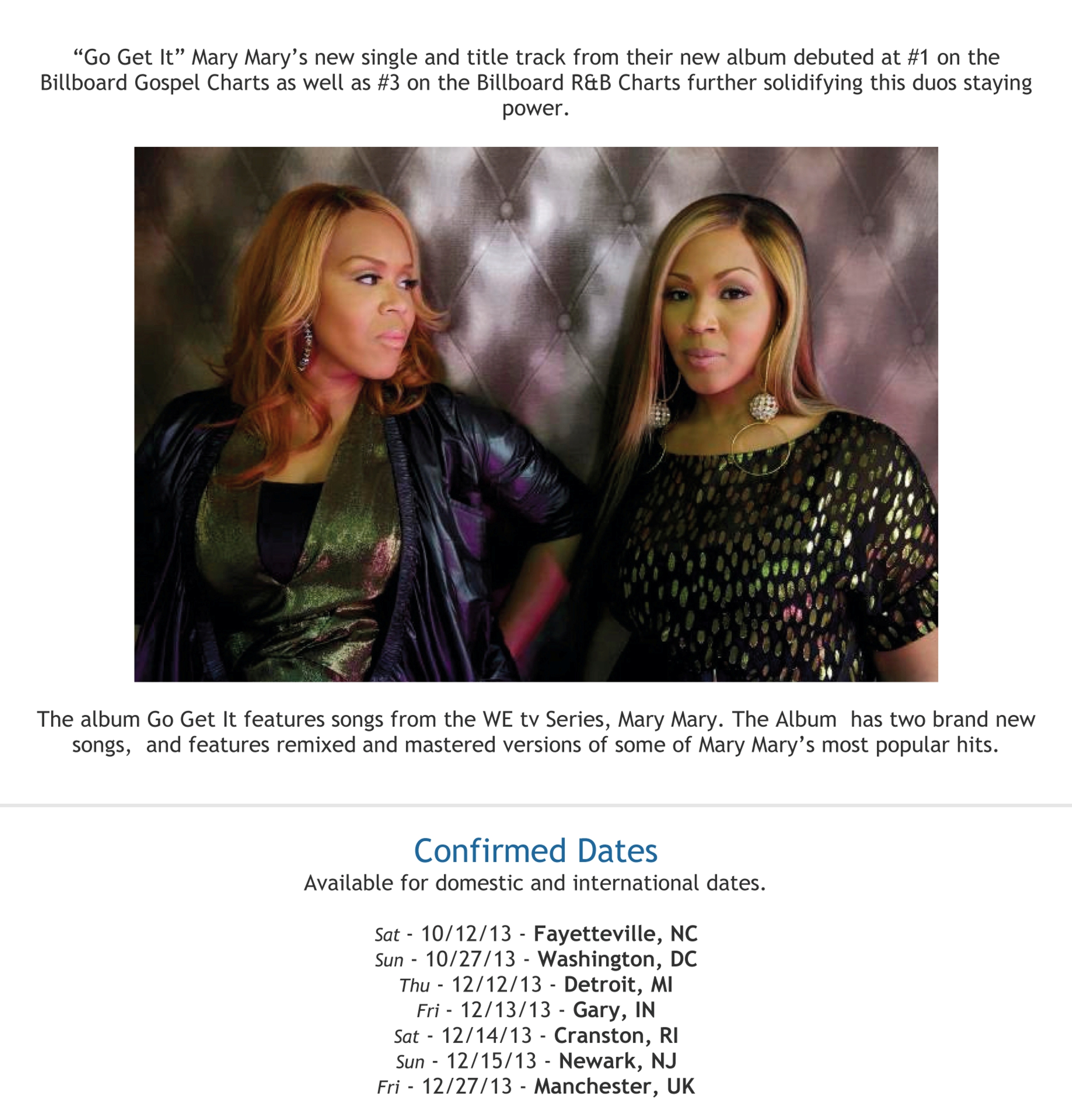 The winner of the Mary Mary Singing Spotlight contest, Vanessa Brantley, had her dreams come true during her prize trip to L.A.  She arrived at her hotel overlooking the famous "Hollywood" sign, was taken to a recording studio to record her own music and got to play her music for leading record producer Warryn Campbell and Mary Mary's very own manager. She even got to meet Tina and Erica! Sounds like an amazing experience and with a killer voice like hers, she deserved every minute of it.
See more photos from Vanessa's trip here.
Watch Vanessa's winning submission

Santana is finally here!  Mommy and Daddy are definitely proud parents, but this looks like the end of Tina's employment at the baby making factory.  MMQuote: "We got three babies in car seats.  Who does that?"  The whole family is there to greet the new member of the family, but Tina is not safe from Honey's lecturing about doing too much too quick.
While Tina is resting up and taking some time off, Erica is taking some time off as well… to explore solo opportunities.  MMQuote: "Now it is time for me to do How Sweet the Sound by myself."  Not only will Erica be without Tina, but Warryn cannot accompany her on the tour either.  Warryn is a bit nervous about Erica's song choice, and how she will do singing without Tina.  It has been 12 years since Erica has performed solo.  MMQuote: "I'm nervous she might not connect the way her and Tina connect on stage."  Erica needs to do her homework to make sure she is going into this 100% ready.
As Erica arrives at Tina's house, she received a phonecall from Mitchell explaining that the December offer they had received has now grown significantly.  However, Tina is supposed to be in Hawaii with Teddy and the kids.  MMQuote: "I wish I could do it by myself, but that's not the scenario."  Mitchell wants Erica to convince Tina to do the gig since he is banned from talking "Mary Mary" during her maternity leave.  Although, if we were to start a conversation with Tina about doing something she wouldn't want to do, we probably would not have begun by mentioning we were taking her only babysitters on the road with us.  As expected, Tina is not budging even with a 6 figure offer AND a private jet.  MMQuote: "You're trying to say one more thing and give me 20 more minutes of Mary Mary.  I'm not doing it."  Teddy only has one week of vacation, so Tina intends on spending that week together as a family.  MMQuote: "The answer is going to be no when I'm finished thinking about it."
It is family night with the Atkins ladies, and we finally get to meet Tina and Erica's other sisters and their niece.  However, you know the Atkins ladies always get straight to the point, and this dinner is no different.  Looks like Eddie never showed up at the hospital to see his new grandson, and he went off and got married without telling his children on the same day Santana was born!  MMQuote: "Why would you tell me you're coming, and you're going to get married? And why don't I know you're getting married?"  To top it all off, his excuse for not telling anyone he was getting married was because it was just close friends and family.  Excuse me?  What are your daughters?  Between his lack of effort around Santana's birth and other circumstances that happened around Alana's wedding, the girls have reached their limit.  MMQuote: "Sometimes you need your sisters to kind of make peace with what your reality is."  It is hard for each of the Atkins women to wipe the slate clean when you have someone who is moving on without you.  One thing WE have to say about Honey is she is a loyal woman.  Regardless of what Eddie may do, he is still their father and he still loves them.
Erica is being shot by the legendary Derek Blanks for Uptown Magazine, and she is really feeling the solo gig.  She doesn't need to keep anyone on schedule but herself; she can just relax, get her hair and makeup done, and then do her thing.  Goo definitely accomplished making Erica look like the ultimate "solo act".  Way to go, Goo Goo!
Mitchell has joined Erica in Atlanta for How Sweet the Sound, and the two are meeting up for lunch to make sure everyone is settled and calm before the big performance.  MMQuote: "I'm excited and I'm glad, but I feel like Tina is quitting on me."  It is really difficult for Erica to be without Tina, but with Mary Mary being so close to achieving the career they always wanted it's hard for Erica to not feel like Tina is quitting.  MMQuote: "The only way I see Mary Mary continuing is if you have something you can go do when she wants to take time off."  Erica truly does want to achieve success as a solo artist, and she needed Mitch to tell her it's ok.
When Erica arrives at the venue, she seeks advice from another gospel singer, CeCe Winans, that knows a thing or two about splitting away from a sibling duo.  CeCe assures Erica she will be just fine, but it still does not calm her nerves.  To make matters worse, her nerves are now causing her to question the clothes Goo Goo picked out for the performance.  MMQuote: "This is real hatchy tatchy.  You know I still sing about Jesus."  Luckily, Warryn surprises Erica and instantly changes her mood before all hell breaks loose.  Big up to Warryn for being "Husband of the Year."  MMQuote: "I feel like the man.  There's nothing better than watching her face light up when I walk in the room.  It's worth the 3,000 mile trip."  Warryn is there to support his wife, but also support his artist so he gives Erica the tough love she needs for motivation.
With Erica, Goo and Honey on the road, Alana is helping Tina adjust to life with five children.  Tina does appreciate the help, even if Alana thinks she has an odd way of showing it.  While Santana naps, Tina and Alana revisit their previous conversation about the current relationship with Eddie.  Alana hasn't spoken to her father, and it seems like his lack of effort to talk in the past is a huge deterrent for her to reach out again.  MMQuote: "If you take that kind of attitude toward Daddy, I'm telling you that is going to affect how you love your husband."  Tina speaks from experience because it was her own issues with Eddie that affected the way she was able to love Teddy.
When Goo goes to retrieve her backstages passes, she is told that Justin is not permitted to be backstage per Mitchell's direction.  MMQuote: "Justin is my boyfriend and Justin is coming here.  If Mitch don't like it, he can find somewhere else to go."  Goo confronts Mitchell about this issue, but between Goo's feisty attitude and Mitch's insistent tone WE have a feeling we will not see any resolve.  MMQuote: "This is my job now. I'm working and I don't want him back here when I'm working."  With no regard for Mitchell's feelings regardless of whether they are 100% justified, Goo gives Justin someone else's backstage pass and sneaks him into the green room.  Even Erica doesn't want this dude around right now.  At least we have a voice of reason like Honey to talk Mitch into at least hearing Justin out (although WE get why Mitch would not want to give Justin a chance… "fool me once…").  MMQuote: "That's right! Get 'em, Mommy!"  WE have to hand it to Justin; he is really giving Mitchell an honest and sincere apology.  WE honestly didn't think he had it in him.  At last, the beef is squashed… for now!
MMQuote: "It's time to face the music, and it's time for me to sing by myself."  Erica takes the stage for her first solo performance in 12 years, and sadly for Erica the crowd is not connecting with her performance at all.  As Erica exits the stage, she knows she didn't have the best performance because of her song choice.  MMQuote: "I know what I got to do.  I got to sing a Mary Mary song."  Only problem is that Mitchell doesn't know if How Sweet the Sound will allow her to change her song.  MMQuote: "Tomorrow night, I need to sing 'Yesterday'."  Erica needs to kill it in New Jersey with the new song she picked, or else she will really have a problem.
Will Erica nail her second solo performance?  Will Tina be able to get back into the swing of Mary Mary or will her desires for perfection cause her to say "goodbye?"  WE want to hear from you!
With Essence on the horizon, the family gathers to celebrate a truly important event… Tina's baby shower!  MMQuote: "I'm glad to be having my baby shower since my baby is due in two weeks!"  With all the touring and the press around "Go Get It", Tina has almost completely forgotten about her upcoming due date and the celebration that goes along with it.
Skinny mini Erica has been working like a dog to get into a healthy zone, and she looks amazing!  As usual, Erica is on time for Mary Mary's rehearsal with the fabulous Laurieann Gibson and apparently Tina is still at home and nowhere near the studio.  MMQuote: "I can't do nothing with one half of a unit that I need to get there."  WE also find out that Erica has taken the offer to host How Sweet the Sound and perform solo.  MMQuote; "I'm hoping and praying that she takes it well."  Tina arrives and it is down to business.  The ladies choreography is a huge change from their normal two step across the stage, and it works.  Laurieann must go to another rehearsal, but that doesn't mean that the rehearsing will stop due to a tardy (but determined) Tina.
Oh, look! It's Justin and he's giving Goo a hard time about her busy schedule and her phone activity.  So obviously that's the perfect time to show him a listing on your phone about Atlanta apartments.  Is that all you need to do in order to get your boyfriend to stop being annoying?  WE are writing that down!  MMQuote: "I do love Atlanta and I definitely love him, so I'm thinking about it."  And apparently the best way to get your girlfriend to actually commit to one of those Atlanta listings is to show her a picture of a diamond ring alluding to a proposal.  WE are learning so much! But, for real… WE hope Goo gets everything that will make her happy.
Tina and Teddy go to visit Dr. Freedman for a checkup, but when Tina tells him she still has one more performance before giving birth it looks like Dr. Freedman is going to be the one needing a doctor.  MMQuote: "You can't say a bunch of stuff to make him nervous, Dr. Freedman."  No, but I think he can give his medical opinion.  Dr. Freedman also urges the couple to have a backup plan should Tina go into labor at Essence.  This is serious, Tina!
Erica and Tina meet up with Goo to go over Essence wardrobe, and having been to Essence before WE know how important it is to look good at the festival.  It is also important to dress in breathable thin fabrics because it is HOT HOT HOT in NOLA, and being a wet, sweaty mess is not cute.  MMQuote: "I'm still on operation get thin, so I am cut in the face but still thick in the waste."  The options Goo has pulled don't seem to be pleasing the duo.  Tina needs sleeves to cover up some areas she is insecure about, and Tina is feeling a bit more urban and funky than the options in front of her.  MMQuote: "We don't have time for another fitting.  I have other clients and Justin is in town… visiting."  Tina and Erica have noticed a decline in Goo Goo's professionalism since she started dating Justin, and need her to get back on track.  MMQuote: "We're working.  You get a check to do this.  It ain't right."  The family card has been ripped up, and Mary Mary is speaking now… this is not an Atkins issue.  At least Erica agrees to meet with Justin and hear him out.
To continue the confrontations and beef that seem to follow Mary Mary, Warryn meets with Mitch… again.  It's at this moment Mitch realizes he is not just being paranoid about being out of the loop.  He didn't even know Tina wasn't going to an awards ceremony tonight.  MMQuote: "Once again, Mitchell on the bench."  Mitch doesn't want to be the last one to know, which is pretty understandable since he does manage Mary Mary.  At the end of the day, no one's calendars are jiving regardless of who works for who.  And people need to check their cocky attitudes at the door.  MMQuote: "That's the difference between me and you.  You can't say that.  I can."  Mitchell is attempting to tread lightly, but this is just a mess.
Goo, Erica and Justin meet up to clear the air, and Erica comes out guns blazing.  Justin explains that he got emotional when talking to Mitchell, and he was out of line with the way he acted.  MMQuote: "I can't help but raise a brow and go, 'What is this?'"  Erica's worries are valid.  At least Justin is apologetic, but it still will take time for Erica to be 100% Team Justin.  MMQuote: "Tina is one person.  One out of nine."
Erica is attending the awards ceremony solo, and it's a bit weird getting ready for such an event without Tina.  Everyone is dressed to the nines, but Warryn has made his own dress code of head to toe denim and sneakers.  That's the music business for you!  Erica, Tina and Warryn are called on stage to be honored, however Mary Mary is a Mary short.  MMQuote: "I guess I need to start getting used to doing stuff without Tina."  Erica must tell Tina about her solo opportunity before it gets too late.
Erica has invited Tina over to discuss How Sweet the Sound, and this seems like it will not be a civil conversation.  MMQuote: "I will be judging and singing by myself."  At first, Tina's main concern is if it will conflict with any plans Mary Mary currently has on the books, until she finds out (like Mitchell) she is the last to know.  MMQuote: "You went and sealed the deal, took the meat, and sealed the deal without telling me nothing.  Why I got to find out on the back end?  That ain't right!"  Clearly, when Tina meant "it's ok to do your own thing" she only meant while she was out of commission.  This conversation quickly escalates into an argument, and the Marys start throwing around threats of both going solo.  MMQuote: "We are talking about one gig that's coming, and we are talking about it now."  I think these sisters need to take step back and attempt to hear what each other is really saying, because no one is listening.
Mary Mary finally makes it to New Orleans, but the tension is still palpable from the "solo" conversation they had earlier in the week.  But, it's time to get down to business.  A very pregnant Tina is really starting to feel the effects of her pregnancy.  MMQuote: "It's annoying because I don't like feeling like I'm incapable of doing anything that I want to do to the intensity that I want to do it."  The convention center is BANANAS right now for the Mary Mary meet and greet.  MMQuote: "Nobody will be able to tell I'm pregnant because I'm going for blood when I get on that stage."  I officially nickname her Tina the Tiger because her tenacity is insane.  Now it's on to the charity event to perform, and then back to the convention center for the "Sisterhood Panel" with the Braxtons.  In true Mary Mary fashion, this is going to be a rush and an extremely tight turnaround.  Unfortunately, Mary Mary needs to walk out of their performance in order to make sure they make the "Sisterhood Panel" at Essence.  MMQuote: "I don't like being in this type of situation.  It's frustrating."  Mary Mary and Co. don't even know if they will make it even with their police escort.
Can the sisters get through one performance without getting into an argument?  Will the tardiness cost them their full performance at Essence Music Festival?  WE want to hear from you!
It's Meelah's fifth birthday party, and things are pretty hamtastic.  Tina has one hour to make sure everything is perfect, and her pregnant behind is hopping up on chairs and tying balloons to trellises.  MMQuote: "I hear her breathing like she's about to go into labor right there."  Erica is finally able to convince Tina to take a sip of water, but Tina is back on the go when she realizes she forgot candles for the cake.  MMQuote: "Did I forget candles for the birthday party? Who does that?"  Tina is extremely overwhelmed, and everything is starting to catch up with her. Guilt is playing a big part in Tina's stress, and it is obviously the main reason why she is refusing outside help.  MMQuote: "When we have our special moments, they have to be more special than regular special because I'm not there a lot."  At least the party comes together, and Meelah is having a blast.
Meanwhile, Mitchell is attempting to handle a very annoyed CJ in Dallas.  The Marys decided to stay in L.A. for the birthday party instead of flying to Dallas early to do a sound check for their upcoming performance on the Tom Joyner Morning Show.  With a six o'clock call time tomorrow morning, the sisters really needed to have the sound check over and done with.  MMQuote: "CJ is what makes all radio happen.  I don't need a war with her right now."  The only other option is a 4 a.m. sound check prior to their 6 a.m. performance.  CJ would love to be sympathetic, but there is a lot on the line.  One snub could lead to being black listed from a large syndicated show for a very long time.  The Mary's just can't afford to take that risk.
As the sisters prepare for their trip to Dallas, Goo brings over some wardrobe options for Erica as she frantically packs (while one nanny short).  MMQuote: "I can't be your nanny.  Part time nanny is not one of my jobs."  As a trade off for changing Zaya's diaper, Goo starts to question Erica and Tina's intentions when they cornered Justin at Alana's wedding.  MMQuote: "Why is he getting such a hard time?  That's what I don't understand."  The fact is that Justin is just not around the family enough for them to truly know him and his intentions.  MMQuote: "It's not his fault he can't dance around Mary Mary's schedule."
MMQuote: "I now have to tell Erica and Tina they have to have a 4 a.m. sound check.  I'd rather have every fingernail pulled out one by one."  WE definitely would not want Mitch's job.  No matter how he spins this, these sisters are not buying it.  The sisters were originally invited to sing in Dallas for another event, and Tom Joyner's radio show is a bonus appearance.  MMQuote: "We will not jeopardize singing for Bishop Jakes."  Tina is dominating this conversation, and Erica will not get on the phone.  This looks like moot point, Mitchell.  You may want to move on.
It's now 3:30 a.m. and the Mary's have arrived (exhausted!) for sound check.  MMQuote: "I cannot make a good voice come when rest is the only thing that will bring that."  The ladies aren't sounding too great, but when you consider they are running on fumes and it is still the early hours of the morning, there isn't much you can do.  MMQuote: "It's like a hurricane and it's blowing in.  And I can feel it all over me."  Judging by how this is going, WE think Hurricane Mary Mary is about to hit shore any second.  Mitchell really doesn't think it is the right time to discuss their issues, but that does not stop the conversation from happening.  Mitchell is upset about Erica not getting on the phone to discuss the call time.  MMQuote: "Erica dismisses me like I'm some messenger delivering a package that she doesn't want to deal with right now."   The girls are trying to explain that all the pushing and driving are taking a toll on them mentally and physically, however Mitch gets extremely defensive.  MMQuote: "Dude… back down!"  There are too many feelings being thrown around this conference room, and WE don't see any resolve happening.  MMQuote: "Ain't nobody gonna tell me what I'm gonna do and when I'm gonna do it except Jesus the Christ."  After this whole mess, the girls have to go and deliver a performance… however, in the middle of the song Tina's headphones short out.  MMQuote: "This is real bad."  Thankfully, Tina pulls it together and is able to continue to give a great performance.  That still doesn't mean Tina wants to hear praise from Mitchell, though.
MMQuote: "We want to make sure we are shining not only for Mary Mary but really tributing him well because he deserves it."  It's really, truly important the sisters nail this sound check and this performance, but it may be a bumpy road ahead.  MMQuote: "Say a prayer for the Marys."
Back in L.A., Goo takes advantage of her downtime to chat with Justin and fill him in on the recent favors Erica has called in.  MMQuote: "You have to be able to say no, even to family, baby."  WE can't tell if Justin is leading this revolt or just echoing some of the thoughts Goo has already been battling with.  Either way, this is not going to win Justin some extra brownie points with the Atkins crew.
Honoring Bishop Jakes is just one of the many huge things happening for Mary Mary, but they are extremely honored to be included.  And must WE say, the Marys are looking amazing on that red carpet!  MMQuote: "This performance is important for a lot of reasons because I want to redeem myself but with Bishop Jakes, Oprah Winfrey and Tyler Perry in the audience this is really important."  Erica and Tina take the stage and the sisters are set to blow the roof of this place.  People start to rise up out of their seats and singing along.  MMQuote: "I turn around and the entire audience is on their feet, and they are giving Mary Mary a standing ovation and they haven't even finished the song yet!"  Even Oprah is out of her seat!
Back in L.A., Goo is ready to address the nanny situation with Erica.  MMQuote: "I feel like I'm the 'everything' person and it's just too much."  Erica is having a difficult time understanding what broke the camel's back, especially when it involves helping a sister out.  Goo wants to create boundaries, but Erica seems to lose her mind when she hears Justin is at the epicenter of this conversation.  MMQuote: "We're talking about Justin with work? With family stuff? With sister stuff?"  If Justin is supporting how Goo feels, Erica is fine with that… but something is telling Erica he has a lot more to do with this conversation than moral support.
Now that Mary Mary is back in L.A., it's time for everyone to sit down and discuss the issues that have followed them home from Dallas.  MMQuote: "It was bad enough the first time.  I don't want to relive it again."  Mitchell is still upset and hurt from the conversation in Dallas, but Tina feels like everyone should be able to speak their peace and move on.  The difference between Mitchell and the Marys is that Mitchell holds on to what is said and the Marys are able to have comments roll off their back.  In order for them to move on from this argument, these two sides need to understand the other's feelings.
Will the next beef be between Warryn and Mitchell?  Who else is excited to see Laurieann Gibson coach the Marys?  Is Tina about to make the same mistakes Erica did when she was pregnant with Zaya?  WE want to hear from you!
The countdown has become!  There are three days until Alana's nuptials and still so much to be done, including quitting her job as nanny to Erica's children.  MMQuote: "I'm not really seeing how it's going to be possible for me to continue to work and be a good wife."  Erica is not letting this happen.  There is too much going on between Tina's pregnancy, Goo vs. Mitch, Justin vs. Mitch, Mary Mary, etc to be short a nanny.  MMQuote: "Now you're gonna dump me like a bad habit!"
Justin arrives in L.A. to Goo's excitement, however this will be the first time he sees Tina and Erica since his MMQuote: "little run in with Mitch."  WE don't know if we would call it little, Goo (insert side eye here)!  MMQuote: "I need my family to see that there are so many sweet sides to him."  As usual, Goo is always working and this visit isn't any different.  Erica's healthy lifestyle change has started to pay off, and she would like to wear something at the Cinderella Ball to show off her hard work.  Here's hoping Justin is still down for his chick's career even when that takes away from the time spent with him…
Erica needs to break the news to Krista that Aunt Alana will be gone for a little bit once she gets married.  Poor Krista does not take the news well at all!  MMQuote: "Krista is very emotional, and I think in her mind she feels like I'm just leaving from her life and she is not going to see me anymore."  Erica's heart breaks not only for Krista, but for Wosie as well.  It has been three years since Alana started watching the kids, and it will be a huge adjustment and loss.
Now, before we get into Justin and Goo's argument… He has an issue with Goo being on her phone, but he's wearing sunglasses inside at the table?  Is he really one to lecture on what is proper?  Justin was so quick to defend how hard Goo works to Mitch, but when he finally sees how hard she does work and it distracts from him, he makes threats.  MMQuote: "I mean we can be friends.  I'm serious."  If WE were Goo, WE would fix that smirk on his face real quick.  Goo is right.  What kind of person throws out a threat like that just because one person is making moves?  MMQuote: "Whatever he thinks he's doing, right now he's losing."  Goo is on the phone with a designer, and Justin is yelling something about Goo being on a date with her "ex boyfriend" in the background.  Tina was right… Goo must have met him at the playground with the way his immature butt is behaving!  Goo finally reaches her breaking point (because WE reached ours last week!) and walks out.  What happened to your smirk, Justin?  At least he has the sense to follow (after having a snack), and the sense to apologize.  Looks like Justin's mouth almost got him in deep with another Atkins woman.
The sisters are in D.C. for the Cinderella ball that benefits children affected by many diseases.  MMQuote: "When it comes to events like the Cinderella Ball, it really is a reality check and reminds us all of why we do this.  Music changes lives."  This event truly is important to the Marys, and when you see them interact with the children, you understand why they push themselves to make sure they make every appearance.  MMQuote: "I know this is our second year, but can we come back again?"  Once again, the sisters are running late for their flight and the status of their punctuality will be TBD.
Goo continues to juggle Mary Mary stylist and wedding coordinator duties, and Justin's accident will not be lightening Goo's load at all.  MMQuote: "With all that's going on, I do not need Justin Moore to call me and to tell me that he just crashed the frickin car."  There is one hour til the wedding rehearsal, and the only silver lining to this is that the car is still drivable.  Justin's attitude probably doesn't help matters, but that's neither here nor there.
Alana and Treiva arrive at the wedding rehearsal location, and Treiva must let Alana know that no one is there.  MMQuote: "I'm just getting more and more irritated and frustrated, so whatever."  Alana resorts to calling all rehearsal attendees who most likely are sending her straight to voicemail for fear of her Bridezilla wrath.  10 minutes go by, 20 minutes… Alana finally reaches Goo who is trying to make her way through traffic.  Luckily, Tina and Erica arrive safe and sound, and to a relieved Alana along with Goo, Des and his whole family.  But, there is no time for rejoicing.  MMQuote: "She is gonna lose it.  Bridezilla is gonna explode."
Warryn and Teddy have taken Des out, so it's just Erica, Goo and Alana.  MMQuote: "Alana and GooGoo think they know what it takes to be a wife? Please, they have no idea!"  As for Des' bachelor party, the boys are poppin' bottles and having a great time.  Warryn and Teddy can give Des advice on how to make a marriage work when both of you are working on your careers.  Justin will not be in attendance at the bachelor party because he is not "comfortable", but the Atkins women think he may be a bit "too busy" to attend.  MMQuote: "It would be nice to feel like he wants to be a part of this family, and he wants us to get to know him."  Goo is very sure Justin is the one; it's just a matter of time.  When Alana attempts to dig a bit deeper about the moving situation, Goo does not even hesitate admitting she will be moving to Atlanta.  At this point, it does not even seem like L.A. and her family is an option for her.  MMQuote: "Don't you know we don't move.  They move to us."  WE think Goo may be a little too quick to compromise her life for someone that doesn't seem to want to fit himself into hers.  The main problem with Justin is that he hasn't allowed the family to get to know him beyond his altercation with Mitchell.  It also doesn't help that he ducks phonecalls and invites by the men of the family.
It is finally Alana's wedding day, and Tina thinks she should probably be spending more time thinking about getting some tonight than the details of her wedding.  What Alana should worry about are people bringing up anything that have to do with Justin's antics.  MMQuote: "I don't care if I have to say my peace to everyone in the room because you are trying to get me outnumbered.  I'm moving to Atlanta."  Regardless of what anyone feels, keep this business to yourselves until after the wedding.  Luckily, Alana's dad never picked up his tux so the attention is quickly averted to something else.  Erica needs to head to the store now to buy her father a suit.  All the bridesmaids are reassuring Alana her wedding will still start on time, but this will definitely be crunch time.  Luckily, Eddie shows up dressed and ready to walk Alana down the aisle.  MMQuote: "My baby is doing this.  She's actually getting married."  There is not a dry eye in the house, and Des and Alana are finally husband and wife (after a fresh application of chapstick).
At least we get to bask in the love for just a moment before the sh*z hits the fan.  It is time for Erica and Tina to have a few words with Justin regarding his words with Mitchell.  MMQuote: "Let me holla at you real quick, Justin."  Tina is definitely not going to hold back.  MMQuote: "He seems startled and alarmed, and I don't really know what to make of this facial expression."  The sisters are completely confused at Justin's presumably serious intentions when he hasn't even made an effort to get to know the family.  I mean, did you see that room full of people, Justin?  You better start shaking hands!  MMQuote: "Slow down, low down.  Ya'll just got together."  Justin needs to understand when you marry one, you essentially marry them all.  He needs to start making more of an effort if he really wants Tina and Erica to start giving him a chance.  Of course Goo comes in to interject, but that takes this conversation to a level WE honestly don't think it was at yet.  MMQuote: "Let this be the last of your conferences with my man without you consulting me."  Is it about to be Mary Mary vs. Goo and Justin?
Will Tina push herself too far?  Will Goo's relationship with Justin start to affect her relationship with her sisters personally and professionally?  Will Mitch and Mary Mary be the next couple to feud?  WE want to hear from you!
Erica and Goo are attempting to accomplish more wedding errands Alana has given them as the maid and matron of honor.  Erica will be juggling the bridal shower, an anniversary trip with Warryn, the wedding, and more Mary Mary appearances in the next coming weeks so something's gotta give!  Erica has made the decision to not attend Alana's bridal shower so she can go on a trip with Warryn.  Now, we get that you need to do certain things to make your man happy and your marriage work, but missing your sister's bridal shower is a bit much!  As they meet up with Alana at the reception space, Alana's stress is transforming her into a baby Bridezilla. To make it all worse, Erica is choosing now to tell Alana she will not be at her bridal shower.  MMQuote: "What the crap."  This conversation takes a turn to the nasty as Goo tells Erica she has not been involved in the wedding planning.  Now, didn't Goo and Erica already talk about Erica's RSVP of "no" in the car?  Why is she stirring the pot now in front of Alana?  MMQuote: "I can't neglect him just because I'm the matron of honor."
Tina and Erica are in North Carolina for JoyFest, and Meelah has tagged along for some mother/daughter time at the amusement park.  This is also a time for Goo to meet up with Justin, which is all fine and good until it starts to distract her from her responsibilities.  MMQuote: "Justin is 23.  GooGoo went to a playground and picked up a boyfriend."  All Tina and Erica are asking is for the couple to take their time in this relationship and not rush into anything.  At the hotel, Meelah is getting some pent up energy out, and Tina and Erica talk about Alana's bridal shower and Goo's comments about Erica's lack of help.  MMQuote: "It's my anniversary and I'm working.  What the heck is that?  11 years and I'm in a hotel."  Tina can sympathize with Erica because she sacrifices just as much.  The last few years have been crazy, but each of the sisters have different plans for Mary Mary after Tina gives birth.  With five children, Tina isn't willing to sacrifice her time at home to tour.  MMQuote: "Where does that leave me, Tina?  You're forcing me to do stuff on my own."
As Tina and Meelah head to the amusement park, Goo and Justin hang out in the lobby of the hotel.  Justin chooses this as a great time to talk about Goo moving to Atlanta.  MMQuote: "I'm not thrilled with having to move to Atlanta, but if that's what needs to happen then that's what I'll do."  The only thing is it looks like Justin isn't willing to budge and possibly move to L.A. even if a big opportunity comes up.  Aren't relationships give and take?  On top of that, Justin is meeting Mitchell for the first time today and it looks like he's coming out guns blazin'.  There is some concern about how Justin will handle this conversation, but it sounds like Justin may let out his "crazy side".  WE can't wait to find out what exactly that means.
It is 5 hours until the concert and Tina and Meelah are still at the amusement park.  Tina is a committed mommy for sure, and she will do anything to make her little girl's day great… including that helicopter ride!  MMQuote: "I'm in the game already and I can't quit."  Tina is exhausted after all those rides, and she needs to get back to the hotel and rest up before this concert.  But since Meelah wants to go on one more ride, Tina pushes it to the max.  After the ride starts, Tina realizes it was a big mistake and makes the conductor stop the ride.  MMQuote: "This is over.  The end."
Back at the hotel, Mitchell is attempting to have some alone time and in walks Justin looking like he's about to get things started.  Mitchell seems to be carrying on what he thinks is just some civil, P.C. conversation until Justin brings up Mitchell's relationship with Goo.  You can tell by the smirk on his face he is not asking just to be friendly!  MMQuote: "I'm asking you.  Are you disrespecting my woman?"  Mitchell looks a bit blindsided, and thinks he truly doesn't owe Justin an explanation.  His relationship with Goo is business, and since Justin isn't employed by Mary Mary we think he should stay out of this drama.  MMQuote: "Why are you coming and asking me about family business when you're not family?"  Point 1 for Mitchell.  However, this escalates quickly between Justin's comments and him patting Mitchell on the pack.  WE all know that wasn't a pat on the back for a job well done, Justin.  And you keep doing it!  Come on, Justin.  Respect the man enough to stop instigating this argument, and just say what you wanted to say.  MMQuote: "I respect your desire to protect your girlfriend, but honestly my friend, this ain't high school."  WE have to agree with Mitchell.  The way Justin is handling this issue is very unprofessional and quite antagonizing.  WE can't see this helping the situation at all.  MMQuote: "If there was a respect issue, this just took it to a while 'nother level."  Mitchell is showing a lot of restraint during this conversation, but enough is enough when Justin continues to touch him and get up in his face.  MMQuote: "Excuse me.  Can you call security?  I'm being harassed."  This is just a bad situation, and someone needs to have the sense to end this conversation.  Luckily, Justin agrees he should leave, but not before he puts his hand on Mitchell's back (for the 100th time).  Enjoy that beer, Mitchell!
Goo and Justin meet up to head to the concert, but Justin fills Goo in on how he scared and intimidated Mitchell.  No, Goo… this was not grown up talk.  MMQuote: "I love my dear, sweet Justin, but he just made things a bit more complicated."  You can say that again, Goo.  Although, you probably should have not had Justin talk to Mitchell in the first place in order to avoid this mess.
Mitchell and Mary Mary are on their way to JoyFest to perform, and Tina fills Mitchell in on her busy afternoon.  MMQuote: "Sometimes in Tina's quest to be 'Mother of the Year' it's at a detriment to what can happen professionally for Tina Campbell and Mary Mary."  Mitch is right.  Something's gotta give before Tina breaks.  Mitchell is also right about something else; he refuses to involve Tina and Erica in this Justin/Goo/Mitchell triangle of drama.  However, it doesn't help that now Mitchell has to see Justin at the concert.  It also doesn't help that Tina and Erica don't want Justin involving himself in Mary Mary business affairs at all.  Now, back to exhausted Tina.  She sits down during the performance because of the busy day she had with Meelah.  She is burning the candle at both ends!  MMQuote: "This was not a good decision to be out in 98 degree weather doing rollercoasters at seven months pregnant."
Goo seeks out Mitchell to try and clear the air after the Justin debacle.  WE commend Goo for making the effort to make things right, especially when it was because of her man getting involved where he probably shouldn't have.  However, it looks like Mitchell is looking for an apology straight from the horse's mouth.  Sorry Mitchell, WE don't think that is going to happen.  MMQuote: "I'm disappointed he took it to that level."  Respect is the ultimate goal for both Mitchell and Goo, and WE think they both need to work on that in order to get along.  MMQuote: "Me and my man are going to stand together, and the rest of them can fall as far as I'm concerned."  WE hope everyone can settle this ASAP for the sake of the business, or else this will start affecting everyone including Tina and Erica.
Will Alana check her Bridezilla attitude at the door?  Will Goo and Mitchell resolve their issues despite the drama Justin caused?  Will Goo be able to handle it all?  WE want to hear from you!
The Marys are back and another one is more pregnant than ever!  On top of Tina's pregnancy and Erica's recovery from pregnancy, Mitchell has (as always) arranged a very aggressive touring schedule.  I think after Mitchell is done running through the schedule for "Promo Week", they will run out of fingers to count on.  Even WE are exhausted listening to this schedule.  MMQuote: "We know it's going to be hectic and we know it's going to be exhausting, and who better than Mr. Mitchell Solarek to remind us of that."  Erica will be bringing Zaya on the road with her, however there is no way Mitchell will let that baby's schedule interfere with the promotion of Mary Mary's new album.   Luckily, Honey will be there to help out where she can.  Unfortunately, Tina will be away from Teddy and the kids for 8 days… this will be tough.  MMQuote: "If you're in the fox hole and you're a soldier, there are no breaks."
Regrettably, the relationship between Mitchell and Goo is still extremely strained, but it looks like feelings may be set aside at least during business hours (WE hope).  MMQuote: "Styling Erica and Tina is challenging because they're real women… I have the responsibility of making sure they look as great as before the pounds were put on."  It's important for the sisters to look like "contenders in the business" but between pregnancy and baby weight, WE definitely think it can be challenging.  MMQuote: "Pregnant or not, I still brings it!"  On top of styling the sisters, Goo has maid of honor duties to tend to for Alana's wedding.  She definitely has a lot of responsibilities on her plate, so it's imperative this fitting goes well so she can check that off her list.
Hello, Big Apple… Mary Mary has arrived and hit the ground running!  Promo Week is in full swing, but that does not stop Tina from micromanaging the family.  MMQuote: "I have to make sure my presence is felt in my home.  I'd be an idiot not to."  It is nonstop for these sisters, but they are promotion machines.  WE applaud your hustle, ladies!  However, things can't always run smoothly and these Marys are having issues with their wardrobe.  MMQuote: "And once again, I'm looking around going 'Where's Goo?'"  Erica's coral colored pants with tan blazer seals her fate of looking like a math teacher, and is definitely not a good look for Trinity Broadcasting Network and their core gospel fans.  MMQuote: "The visual doesn't match up with the music."  The crew has one hour to find Erica a new shirt, and Goo is not happy about her phonecall from Mitchell.  But things need to get done, so Erica and Mitchell head to a store to work with a personal shopper.  Luckily the out comes together, and the sisters make it to TBN in time.  Regardless of pregnancy, exhaustion, and the like Mary Mary pulls off an awesome performance and looks great doing it! However, the still have a ways to go.  MMQuote: "Three more cities in three more days?  What did I get myself in to."
Next stop, Kansas City, MO!  Since things didn't go as smoothly as expected in NYC, Goo has met up with the sisters to make sure their outfits are on point.  On a positive note, Erica and Goo can talk about Alana's wedding and her bachelorette party while they work.  MMQuote: "Tina is still on this conservative, mother hen thing where everything is 'Oh my gosh!'"  Tina does have a great point though… you start off your marriage with all these "extras" and you won't be able to keep it up.  MMQuote: "At the end of the day, all your man wants is you in a thong, a wifebeater and heels."  #Preach!  Soon the conversation turns from sex toys to six packs, and ends with Erica telling Tina, MMQuote: "Tina, you're married.  Will you stop and relax."
Mary Mary is experiencing tons of technical issues, exhaustion has set in, and it is not the best way to kick off the night.  Add a Krafts service table to die for, and you are writing a recipe for disaster.  MMQuote: "Tina, we are going to continue to look like two tons of fun."  But, this is proving to be the best time to broach the subject of weight with Tina and Erica, especially while Tina is enjoying herself a cinnamon bun.  MMQuote: "Yeah I know I'm pregnant, and yeah, I know we aren't size six chicks."
After that whole conversation, Mitchell decides he wants to address the mistakes made in NYC with Goo.  MMQuotes: "He says he wants my check and I'm like, 'Oh, he's a crazy diva.'"  This quickly turns into a screaming match of "he says, she says" and it is one hot ass mess.  MMQuote: "Yeah, thank you me!"  Looks like the problem may be Tina and Erica showing up on time for fittings, but Mitch thinks it reflects badly on her regardless.  MMQuote: "I need to hear from you that you are committed to helping me make sure that it is all finished from start to finish."  Is this a resolution?  WE can only hope!
Is Zaya not one of the most adorable babies you have ever seen?  Erica is lucky to have Honey on the road with her so she can still get some sleep.  But, poor Tina is definitely missing Teddy and the kids.  MMQuote: "I wish he wasn't so wonderful to take the kids to the zoo while their mommy is out of town.  Come on, Teddy!  Who does that?"  The homesickness is certainly catching up with Tina, plus with her "hormonal imbalance" it is an emotional time for sure.  To combat Tina's hormons, Erica has a crazy headache that won't go away.  Mary Mary is definitely worn down, and with no sound check they have even more to worry about.  MMQuote: "We're not getting on stage with no sound track."
Unfortunately, the show must go on with or without sound check.  MMQuote: "I think we just have to take yourself back to the Evangelistic when you were in the choir and just rely on your gut and your natural ability."  Regardless of a sound check, Mary Mary needs to bring it without excuses.  This audience is up on their feet, enjoying themselves some Mary Mary.  MMQuote: "It's like you're going in, going for blood.  I give it all I got."  When Tina gets off stage, all the exhaustion, aches and pains from pregnancy become real again, and her anti-socialness comes out.
Goo receives a call from Alana demanding her stylish butt come back to L.A..  MMQuote: "I've dealt with enough brides to know that anything can tick them off."  But Alana isn't playin', and even threatens to demote Goo from maid of honor.  Goo is about to break between styling the girls, helping Alana with the wedding, planning the bachelorette party, and trying to work with Mitchell.  At least Honey is the voice of reason, and is able to talk some sense into her daughters.  She realizes Goo is overwhelmed and has taken on way too much.  MMQuote: "It'll come through.  And you're gonna be alright."
Tina realizes she has taken off more than she can chew while being seven months pregnant, so she sits sound check out and lets Erica handle it on her own.  However, regardless of how Tina feels she must perform or else Mary Mary would be in breach of contract.  WE really hope Tina's discomfort subsides in time!
Will Tina rally and perform?  Will Goo get Mary Mary's wardrobe together?  How in the world will Goo and Erica help Alana plan her wedding with their schedules?  WE want to hear from you!
I really appreciate the relationship that we have with our label and the team there that supports and goes hard for the Mary's. I reflect back and am very aware that so many groups/acts that started with us aren't on the scene today. Realizing that doesn't make me feel like we're better, but it makes me mindful that we are blessed; and responsible for this space we occupy. As an artist and creative person I like to keep my creative options open – not only musically but in every area; so going a different route for the Grammy's isn't a bad thing. It's about exploring creatively with our style. Now it's a lil tricky and sensitive because Goo is my baby sis; but like she says and we say, we are professionals and ultimately we have to respect each other in that manner.