Last Friday on Kendra On Top: Kendra goes car shopping and she has an anxiety attack during the test drive. Her therapist says she fears things she can't control. While Hank is away on a guys' only camping trip, Jessica accompanies Kendra to the doctor to have her IUD removed, whether Hank is on board or not!
At the doctor's, Kendra makes us second guess the thought of having kids. There is no coming back from the clip you are about to see – you have been warned.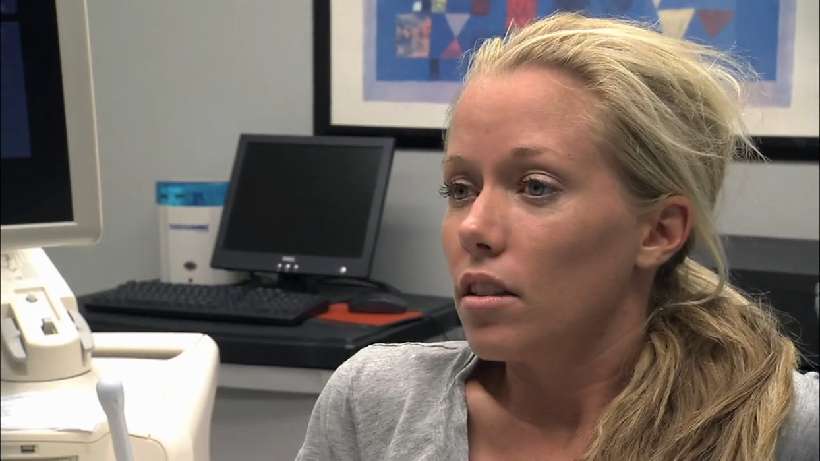 At Jessica's photo shoot, she was a little bit nervous and a little bit shy. I've done SO many shoots that I knew she needed some guidance, so I took control and told her what I thought would look best on her (and off of her), and I felt empowered again, with maybe a twist of controlling, lol.
Ever since my car accident and a couple other things happening in my life, I've been in need of some therapy. But I'm not really the type of person to admit it. But when it was said, I knew it was the right time to go. I truly want to get over the fear of driving and know some answers to some questions I have in my life. In my first therapy session, the therapist inspired me to take control back in my life, and she had some wise words for me. I took her advice and took some control and grabbed the world by the balls in a couple of ways. It felt good to have that energy back again, which I lost for a while.
Hank and a couple of his friends were about to head out of town for a guys camping trip for a week. He left at a time when I was PMSing and EXTREMELY hormonal, so I got kinda mad that he was leaving, and I didn't know why I couldn't go! Haha. I feel like one of the guys, lol. Why can't girls go on a guys' trip?! So he left on the trip, and I was mad and needed a therapy session. When Hank first told me he was going, I was all for it. Then he left and I was like, 'WTF!'. So I needed another therapy session.
I decided to take out my IUD because I was feeling so good in my life and where it was. I was gaining control back in all the other parts of my life. This was another place. I've had my IUD since little Hank was born because we wanted to make sure it was the right time to have another baby. This was just that time. Did I tell Hank this was the exact time we were doing it? No, lol, but who cares! I went to the doctor with Jessica and all of a sudden it was just done. No more IUD. Just like that! When I told my therapist I was planning on taking it out without him, she looked at me like, 'uh oh!' So finally Hank came home from the camping trip, and I told him what I had done… and then… we went right at it lol!! HE was so happy and ready to go. So it was a win-win for everyone! Stay tuned….
Our friend, Pat McAfee, we have known since Hank played for Colts. Pat surprised us with a trip to Big Bear, CA for our 4-year anniversary. We were so excited because it was perfect timing for a lake trip. Time to get out, let loose and just be free for a while. Adult playtime! So, we headed up and stayed in the most amazing cabin on Big Bear Lake. It was so perfect and the perfect way to spend our anniversary. It was a beautiful location, surrounded by our friends and having so much fun. We did all kinds of water activities like jet packing and just living it up! Jet packing was so much fun, but in order to get to where it was, we had to go through some of the nastiest and coldest water EVER. It was so worth it!
After a fun filled day we started having some drinks and something happened that we didn't expect… DRAMA. I'm a person who lives my life in the moment. I'm a free spirit and when I'm around people that I'm comfortable with I get a little crazier than usual. When I tried to get Pat's girlfriend to let loose with me, things turned sour. She thought I was trying to force her to go crazy, but it was just a comment I made that was taken way too far. Pat went to stick up for her and started a little bit of heat between us. It really sucked, because I always thought of Pat as the fun, crazy guy I would want to go on a lake trip with, but after he started saying things I began to feel differently. I got a little sad and was like… "Where did my buddy Pat go?" The trip started out fun and carefree, but ended up being anything but. Drama- free, yeah right! I get that some people are not like me, but I do believe people should speak up for themselves. Also, if people are going to be around me, they need to know it's going to be a FUN time. I'm never pressuring anyone to do anything, I'm just encouraging fun.
What would you guys do?
Last Friday on Kendra On Top: Pat McAfee gifts Kendra and Hank a weekend in Big Bear for their four year anniversary. Pat's girlfriend, Alison, Kyle, Jessica, Travelle and his girlfriend join in the fun. During the party, Hank overhears Kendra telling Alison she should sow her wild oats. Hank leaves the party upset. After a wild night of partying in Big Bear, the gang discovers Hank asleep outside on the dock. He's worried Kendra isn't happy being married, but she assures him that he's the only one for her. Kendra and Hank are disappointed that Pat isn't as fun as he used to be now that he's with Allison – but they're glad that they complement each other as a couple.
After finding out that Pat's girlfriend, Alison, is a bit conservative, what better way to make her a part of Kendra's group than to test the waters….Literally. WE call this one, "The Initiation". (Peep Pat's worried face: hilarious.)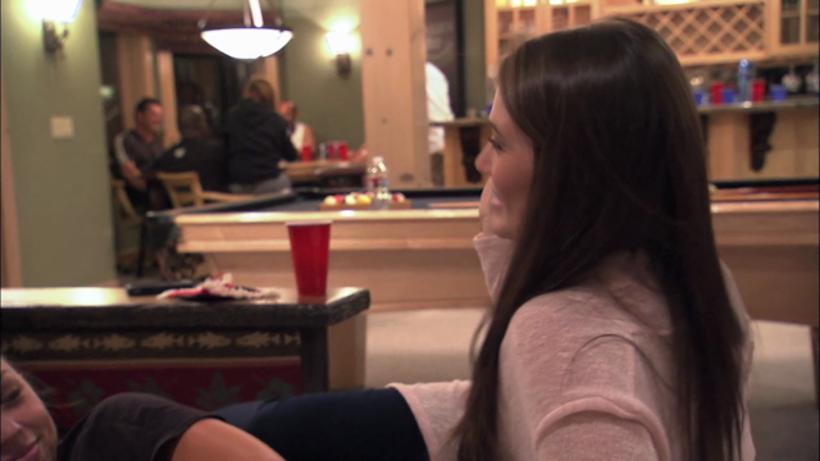 So… Hank and I got in a big fight over the cancelled trip to Turks and Caicos, which led to some awkward silence around the house and some days of awkwardness. It was one of those "who's going to apologize first" hold out situations. I went to do Playboy radio and Pat showed up late so it ended up being a stressful and crazy couple of days.
I had a really good talk with Jessica about the fight and realized I had forgotten about the anniversary. She asked me if I was doing something, but at that point I was like, hell no we aren't even talking. Jessica helped me realize the right thing to do is move on and apologize; as well as surprise the hell out of him that I remembered our anniversary. It would be the perfect time to make things better. I surprised Hank by dressing up, looking real good and making reservations at one of our favorite restaurants. Of course, Hank was amazing and surprised me that he remembered our anniversary by getting me a picture book of Little Hank. Which, of course led to make-up sex. LOL
What I took from this was that no matter how big the fight and awkward the silence… all you need is some talking to your friends, a little romance and some make up sex to fix it!
Last Friday on Kendra On Top: Kendra wakes up to find that Hank slept on the couch. She meets with the GM of Playboy Radio and they decide she'll do a radio show tryout with her and Hank's friend, Pat McAfee. Kendra does her radio show tryout, but later confesses to Jessica that she feels the two girls would make a better team. Jessica urges Kendra to make amends with Hank; after all, it's their anniversary. Meanwhile, Hank has a movie role that involves putting on a clown wig and acting opposite Bruce Jenner. When he comes home, he finds that Kendra's dolled up and ready to go out for their anniversary. Turns out, he has a gift for her too.
WE're relieved that Kendra and Hank made up in time for their anniversary. But check out Pat aka Dr. Phil giving Hank advice on communication. Pat would make a GREAT sleepover attendee. Just sayin'.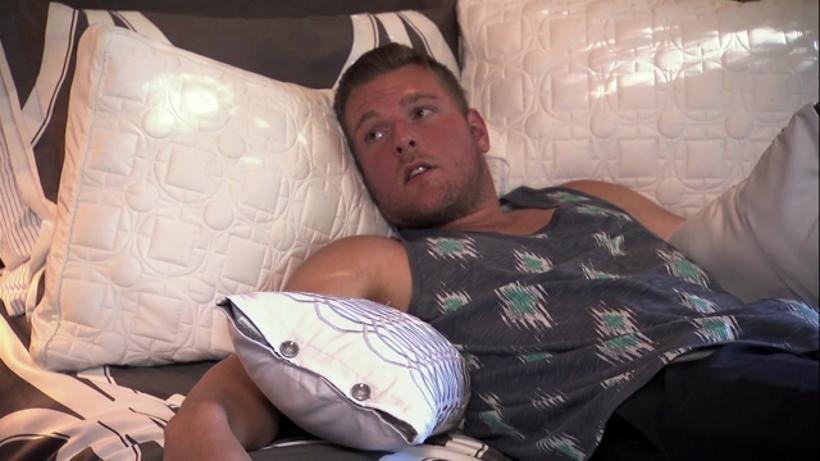 I seriously really needed some girl time and Hank really KNEW how much I needed it. I needed some time with my friends in one of my favorite places in the world, Miami. I absolutely love Miami for the hot weather, sexy people, crazy clubs and a feeling of freedom. So, rounding up my girls for this trip was everything. It was also my 28th birthday so we were going to party all night! Now it was time to heat things up at the club.
The next morning… I felt so sick the next morning when Hank called me to sing Happy Birthday… I hung up on him. HAHA! I still love him.
We did what we came to do in Miami… party it up & lay on the beach! Of course there was a little bit of drama mixed in there with Jessica. I had found out that Jessica went on her anniversary trip with some of her other friends and it didn't sit well with me. I thought she was all alone. It really hurt my feelings, because I felt like she lied to me and I wasn't invited. So… of course I confronted her and let her know I thought she was lying to me. She said she was going solo. Apparently her friends that were there surprised her in Hawaii and just showed up for it to be a surprise and she had nothing to do with it. I really felt bad because I thought she lied to me, but we moved past it and we found a really awesome hookah place that was chill and mellow.
When I came back home, Hank picked me up from the airport and told me that the business trip that he had been working on fell through. That plus my hangover was NOT sitting well with me. My point all along has been not to mix business and pleasure, but I could see that he was trying to make something work and really tried to though it ended up not working out. He made the right decision to pull the plug on the trip. It was coming up too fast and it would have been worse if everything went wrong there.
In the end, it wouldn't have been my birthday without a little bit of drama but a WHOLE lot of fun.
Last Friday on Kendra On Top: It's Kendra's 28th birthday and Hank sets up a trip to Miami for her and her girlfriends. Back in LA, Hank realizes the bootcamp he set up in Turks & Caicos isn't going to happen which causes a huge rift between he and Travelle. When Kendra returns to LA, Hank breaks the news to her that he canceled Turks and Caicos which leads to a huge fight.
The tension between Kendra and Hank is thicker than a sumo wrestler's neck! And it continues to thicken in Friday's episode. Check out this sneak peek: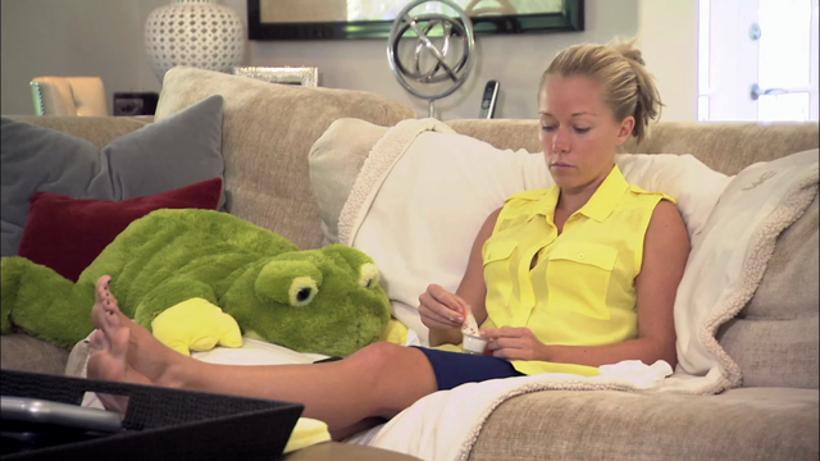 Guys, I think there are a few things that we have to set the record on, first Hank Baskett is my best friend and I have been his biggest supporter from the day we met. He is one of the nicest guys in the world and will do anything for his family and friends. Next, Kendra is also one of my best friends in the world and one of the most hardest working people that I know. She is a great wife and a great mother and she has made a great living for herself through hard work and being herself.
When you are friends and in business together sometimes things don't work out, I think that as we started to get going in the first year of Athletic Gaines myself and Hank both noticed that running a business is very difficult and it takes countless hours to make it run smoothly. Hank's number one priority is his family which is something that I admire, my number one priority is work so there were times when Hank had family commitments he had to attend to. Again, this is something that we both knew going in, so I was never angry or mad at Hank. I just did not want to cause a divide in our friendship as myself and Hank will be friends forever but I will not have Athletic Gaines forever. Hank is also very talented so he is pulled in several different directions and is constantly being asked to speak at events, help with charities or give his advice on business. As his friend I did not want to tie him down to one thing so I thought it would be best for Hank to still be a part of Athletic Gaines but also take advantage of the countless opportunities he gets.
Tonight's episodes are gonna be a wild. From a crazy night out to girl talk and a serious conversation about trust, you're in for a treat. This is the second time in Miami with Kendra but the first with all the girls. We had a fantastic time and I think issues were talked about and in the end it comes to an understanding and trusting and learning not to jump to conclusions. Excited for you all to see and possibly be able to relate or gives you that itch to have a wild girls night out. You only live once.