Joan Rivers was able to bring laughter to every situation, always punctuating the moment perfectly with a joke. From her days with Johnny Carson to her moments with the Joan Rangers, she exuded a fearlessness many admired. Joan was never afraid to push the envelope and she was clearly never worried about rubbing anyone the wrong way. She said, "I succeeded by saying what everyone else was thinking." This coupled with her ability to find comedy in every situation was Joan's revered craft. The comedic genius once said, "Humor doesn't come out of the good times, it comes out of the anger, pain and sorrow. Always the anger."
As WE join countless friends, family and fans who continue to cope with this incredible loss, we find comfort in reminiscing about our favorite moments; the times Joan made us laugh so hard we started to cry and found it difficult to catch our breath. In a statement yesterday afternoon, Melissa said, "My mother's greatest joy in life was to make people laugh. Although that is difficult to do right now, I know her final wish would be that we return to laughing soon."
To honor this wish and to pay tribute to the iconic Joan Rivers, WE wanted to share with you the top Joan Knows Best moments that will continue to have us in stitches for years to come.
Joan Gets Randy with Ray J
Always looking for the next big laugh, Joan decides to take a page from the Kardashians' guide to success and record a "sex tape" with the same willing costar. See the full monty here.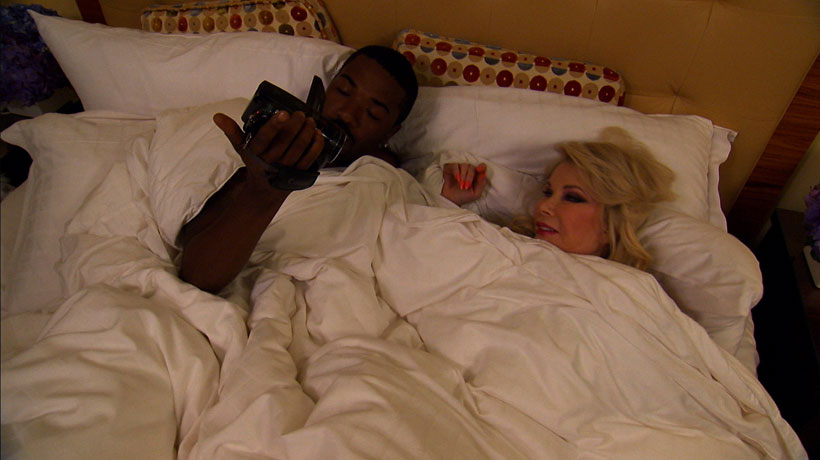 Costco's Criminal
No one bans Joan's best seller and gets away with it because when Joan gets mad she gets organized! See the revolt here.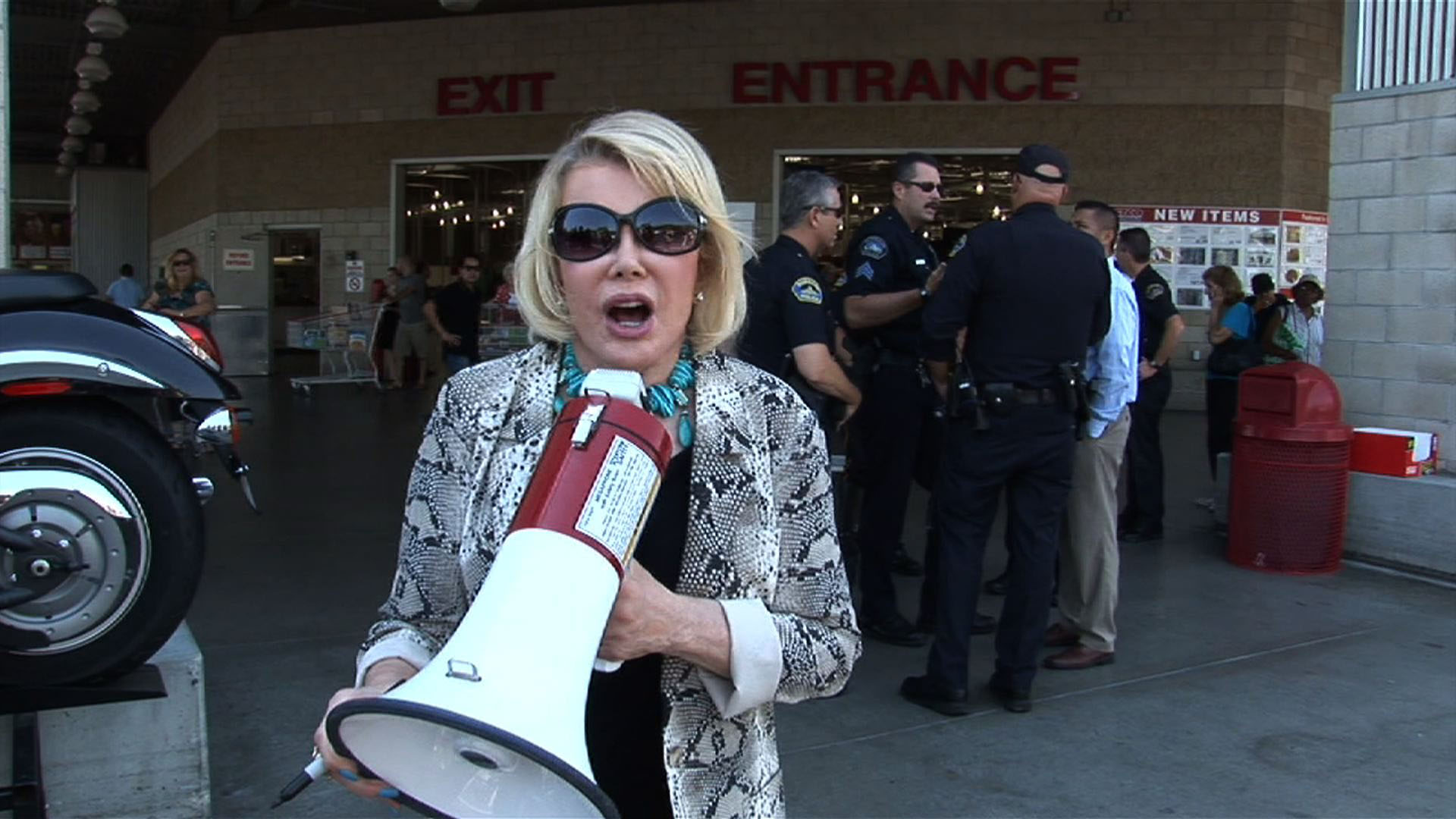 Joan, Les-Be-Honest
Joan follows Katy Perry's lead and decided to see what it's like to "kiss a girl". See the smooch here.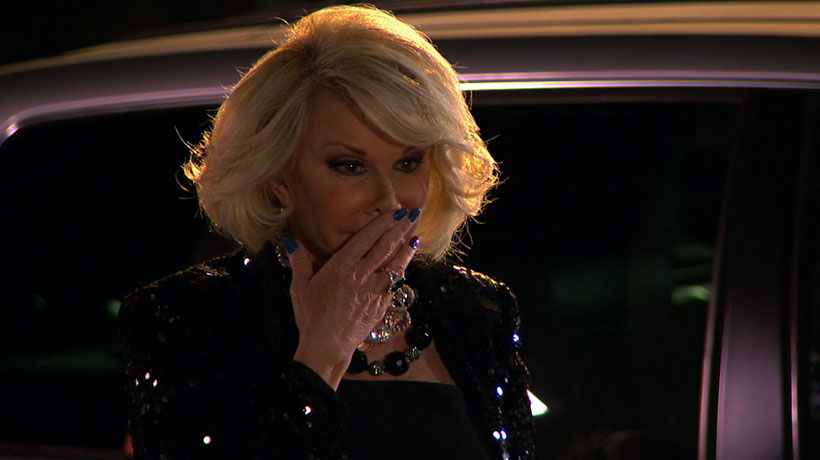 But I Have A Doctor's Note
After being coerced by Lynn, Joan visits the local weed shop to sample some herbal remedies for her stressful lifestyle. See Joan go up in smoke here.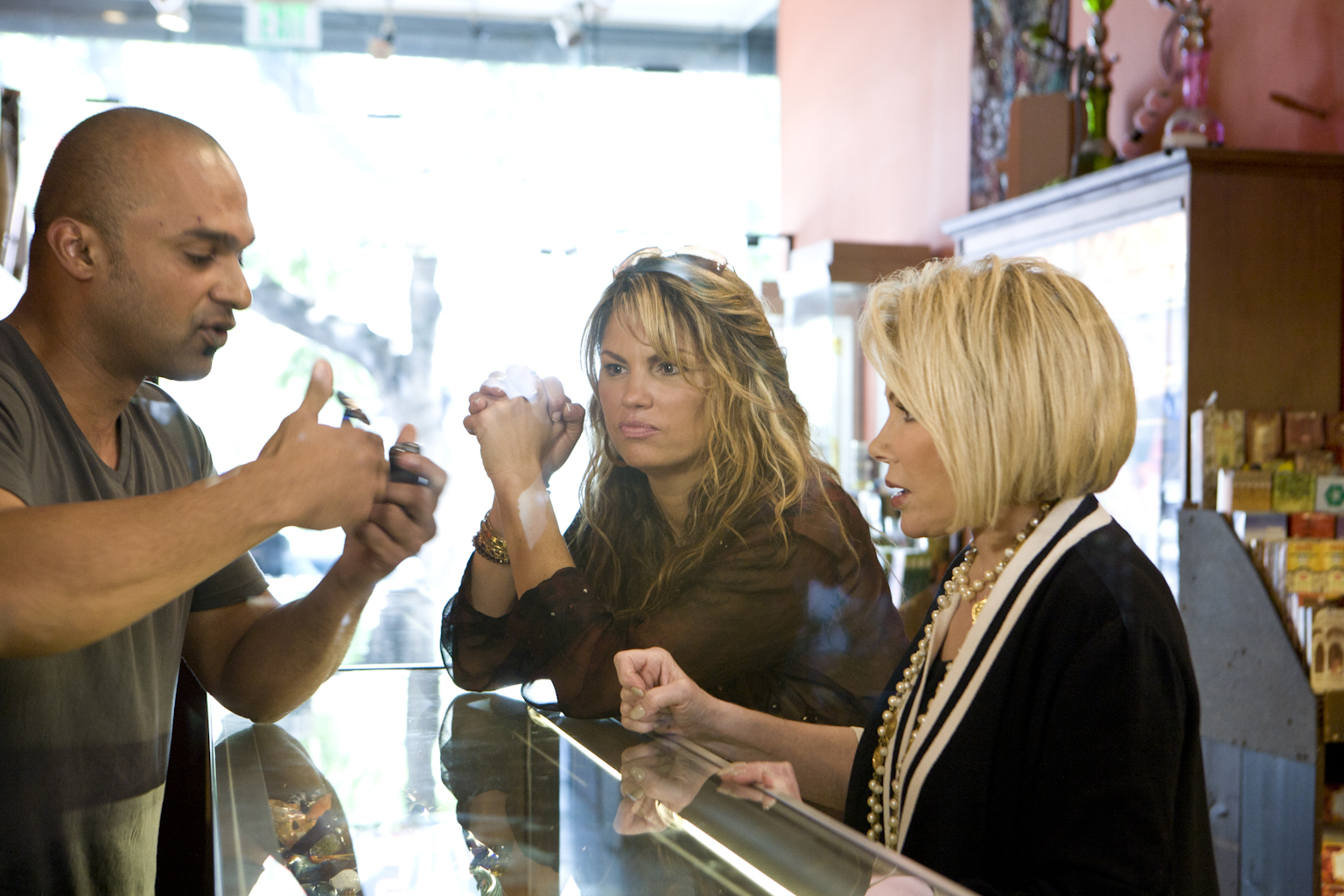 Watch our favorite episodes of Joan & Melissa: Joan Knows Best? this Sunday starting at 10a. Click here for the full schedule.
WE assume everyone has seen Joan Rivers' sex tape spoof with home movie aficionado, Ray J, which hit TMZ early Friday morning. But what you didn't get to see was the extended version. So rather than deprive you of some more "LOL" moments from this hilarious gag, WE wanted to share with you the stuff you didn't see.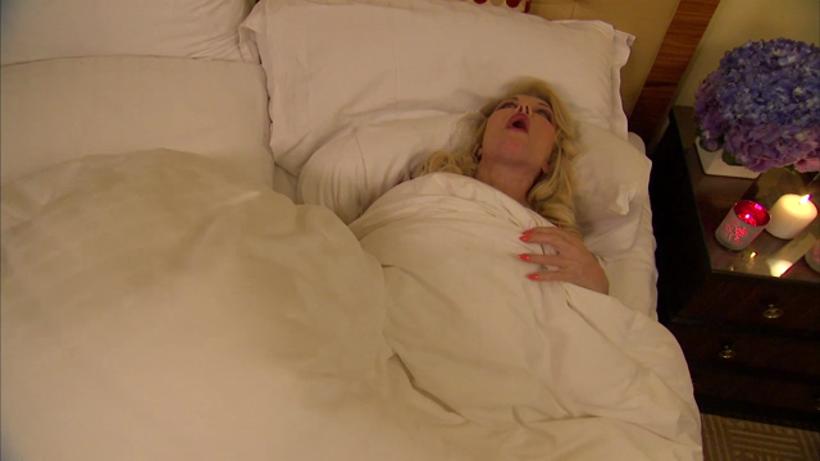 It's amazing how rich everyone is out here in L.A. Case in point, they don't use trucks – they use garbage limos. So, my day began just like any other in Malibu when I asked Sabrina and Melody to help me plan a yacht party for our employees. The moonlight, the sea air, an open bar to fuel Tony and Lynne's anger toward each other…what could possibly go wrong? 
I also taped an amazing episode of In Bed with Joan with Sarah Silverman as my guest, which was a complete delight except for when Sarah said my show was a joke and we screamed obscenities at each other. I thought, maybe Sarah is right. Maybe my show needs a bit of a make-over, starting with my bedroom set. I'm already breaking the bank on our boat party, so off we went to IKEA, where I figured we could save on some new furniture. (By the way, if you think IKEA is fussy about people sitting on their furniture in the showroom, you should try taping a TV show from one of their beds.)
The other big news concerns Melissa's relationship with Duncan. Yes, I can call it a relationship. I don't want to go into detail about what I saw going on between them behind closed doors…at 2:00 in the afternoon…in Melissa's bed. All I can say is that she clearly paid attention to my talk about the birds and the bees!
I know that we keep discussing that Joan is 78, but I am tempted to insist that she show me her birth certificate. When we were shooting the episode in Las Vegas, we shot with her all day. Our cameras followed her as she planned out Sabrina's bachelorette party. Then we taped her live comedy show at the Venetian. During the concert, I had our crew go to the party bus that Joan and Melissa had rented for Sabrina's party. We knew the bus would be dark, so we set up some extra lights inside it before the ladies got there. While they were adding battery-operated lights on the bus, I stayed at the theater and watched as Joan greeted a long line of the audience members who waited after her stand-up show to take her picture, get autographs, etc. Joan was really impressive to watch. Mind you, it was 11:00 at night when her show ended. Joan greeted each person — listened to each story, answered each question and patiently stood smiling as each person attempted to take a picture with her. (You'd be amazed how many people are clueless how to operate their own cameras, especially the ones on their phones). Joan was sincerely thrilled by their delight in her performance. I sometimes think that the audience adulation is the extra energy source that keeps Joan going. Like Audience Viagra, or Comic Ginseng.
It was nearly midnight when Joan finally climbed on the party bus. And you could have sworn she had just woken up from an eight hour sleep by her energy level. She was drinking and dancing on the bus – putting all the younger ladies to shame. All except Melissa, who was surprisingly adept at dancing on the pole on the bus. Where she learned it, I can't imagine. Joan's energy continued right into the dance club. Joan loved dancing to the Black Eyed Peas and got a second wind surrounded by 1500 gay men dancing with their arms above their heads. We did not stop shooting until 2:30 in the morning. And Joan was up for more dancing long after our cameraman gave me the eye that he was beat tired. Granted, he does have a 30 pound camera on his shoulder the entire time. It was a fun night for us all – and I had to smile as I watched Joan still dancing as we left the club.
It's my birthday this week. Or, as I've been calling it ever since menopause, "that time of the year." My birthday wish would be for it to pass without anyone knowing or caring – the same way my Edgar used to treat our anniversary. I'm even jealous of people who are born on the big holidays, like Christmas Day or when Victoria's Secret has their semi-annual Bra Event, because holidays make people forget. I wish I'd been born on December 7, 1941, but I was already out of college by then. Everything reminds me of how old I am today; from being bumped by a younger comic, to plans for a "retrospective" of my career, which just means a filmed obituary. And when Life Alert asked me to star in their new TV ad, I said, "I'm crestfallen, and I can't get up." Anyway, I'm tired of this birthday funk, so I'm going to New York to see if Margie can cheer me up. She even said something about the two of us getting some "ink", but I don't need to see my name in the paper. They'll be printing my obituary soon enough. Cheers!
Joan does not like the B-word: "Birthday." We found that out in a rather obvious way. When we were reviewing her calendar to plan out our shoot schedule, we asked what she was planning to do to on her birthday to celebrate. I naturally figured that the party would be a fun thing to include on the show. Joan quickly shot back, "absolutely nothing." And she insisted on no cards, cakes, flowers and certainly no gifts from the crew. Oookay. We got it. Do not bring up the birthday. But the devious producer in me realized that there was a much better story brewing around this birthday than a mere party scene. I figured that there was no way that the staff and crew, not to mention the friends and family who love Joan, would want to let the occasion go by unnoticed. And you should also know that Joan never lets another person's special occasion go uncelebrated. When I was nominated for an Emmy during our shoot, Joan and Melissa surprised me with cupcakes. It was a lovely gift that I will not soon forget. And that's just one of many thoughtful things they did for crew members this season. They are both so generous and thoughtful. Anyway, you can imagine that the people around Joan were eager to celebrate her despite her protests.
But Joan does not like the idea of growing older. Melissa says that her mom doesn't feel any older, so the advancing numbers are about as welcome as a donut at a Weight Watchers meeting. Watching everyone walking on eggshells that birthday week, and poor Melissa having to cancel plans and hide gifts became the jumping point for our episode. Little did we know it would take us to New York where her friend, Margie, went to great lengths to get her friend out of her funk. This led us to tattoo parlor in New York City where Margie convinced Joan to get a tattoo. And where did Joan want one? On her butt. So there I was with two camera crews, zeroing in – carefully – on Joan's posterior with the tattoo artist placing a picture of a bumble bee on her rump. These are moments that they don't prepare you for in film school. Ah, the glamour of reality TV. I love it!
Things haven't been the same around here since sexual harassment reared its ugly head. (Perhaps "head" is a poor choice of words…) It all started when one of my employees accused me of sexual harassment, which is ridiculous. She's not even my type. Everybody knows I like my women the way I like my petroleum: light, sweet, and crude. OK…just kidding! But because of this we all had to take a sexual harassment awareness course where I learned I can be sued if one of my employees harasses someone! Tony-who's opening for me this week-is an example. (And when I say "opening"…see how quickly it happens?) If Tony does anything overtly sexual as my opening act—like, for example, his act– I could be in big trouble. Meanwhile, our newfound awareness of sexual harassment has made us all so uptight we're afraid to even hug each other or make friendly, innocent comments like, "Nice caboose, sex machine. How much?" Here's the point: I know sexual harassment is a very serious issue, but how much more aware of it can I be before I stop being Joan Rivers?
"My Fat Pet" is a show idea that Joan and Peter came up with together after discussing how fat Peter's dog had become. Joan loves dogs, and loves any fun idea that she thinks will sell. So it was no real surprise that she wanted to pitch this dog as an idea for real. Melissa was mortified – imagining her mother slogging around town with an obese canine trying to sell this idea. Joan already has two successful shows on the air, a line of clothing and jewelry, not to mention a nationwide touring schedule with her comedy act. It's not like she has extra time to be pitching to various cable channels. But pitch she did. (And knowing Joan, she fully understood how funny the visual it would be for us to follow her as she pitched this lunatic idea). Even as I write the word "lunatic" I realize that I'm probably wrong. With shows like Hoarders and My Dog Ate What? and Cup Cake Wars, is there any idea that is too crazy to believe would make it? Not to mention one that features pets. People love that stuff.
The various executives agreed to be tapes if we did not show their names or their networks. The dog that Peter brought was a total pain in the neck. Not only did he refuse to walk with Peter, but he pooped after every pitch. Luckily outside. Joan was not deterred by the fact that most of the responses varied from tepid to shocked. She knows a good idea – and like a chubby dog with a bone – she will not let up on the idea. She still brings it up with our production company hoping that we will shoot a tape to help sell it. It's very funny the way she describes the tape – like the opposite of that Humane Society spot where Sarah McLaughlin sings. "Won't you help them get thin?" I have to say that I have a sneaky suspicion that somehow Joan will sell this show. I imagine that my next blog will be written from a dog park, where 8 competing pooches will be chasing after the same ball – slowly – as their eager owners counting down calories with each step their puppies take. Perhaps I should start overfeeding my Bernese Mountain Dog Harlow now, in hopes that one day, she and I can compete for a trip to Vegas and a trunk of chew toys.
I'm back in New York and I'm happier than Winona Ryder in a department store with no security cameras because Melissa and Cooper are coming for a visit! That means I get to show them around New York, have them stay at my place, take them to my favorite restaurants, and show them off to my friends. As far as I'm concerned this visit is all about Melissa and Cooper. Melissa's here on business, which means Cooper and I will have lots of "Grandma Time" or, as I call it, "fine-tuning the will". I can't wait to take Cooper to my favorite boutiques, introduce him to my old actor friends, and take him to a Broadway show– you know, the things every 10-year-old boy dreams of. I even promised Cooper we'd go "rock climbing", whatever the heck that is. (Ah, these kids and their music!) Having Cooper here has given me an idea: The boy's obviously a natural for the stage. So as long as he's here, why not try to get him started in The Business? Well, other than the fact that if Melissa finds out she would probably kill me?
When Theater 80, an Off-Broadway Theater, called Joan's office and asked if she'd be willing to have herself immortalized by putting her hands in cement in front of their theater, Joan was more than happy to agree. Joan loves the theater – she's been on Broadway three times and been nominated for a Tony Award for best actress. And it was a great excuse to have her family come into New York – which she always loves. Joan called me and asked whether I thought we could shoot an episode in New York that featured the handprint ceremony. Show budgets being somewhat limited, we weren't sure we could make it work – but thank goodness we found the money. Shooting in New York always gives you amazing surprises you don't expect. There were several great examples of that in this episode.
For starters, when Joan decided to take Cooper and Melissa to one of her favorite lunch spots, Serendipity, we had no idea that her friend, fellow actress Sharon Gless would be there at the very same time. We were shooting over the Labor Day weekend – when most New Yorkers clear out of town for the long weekend. Not only was Sharon there, but she was in full make-up, having just come from a photo shoot with Tyne Daly (her former partner on the show Cagney and Lacy ). The make-up part is no small coincidence, since most actresses without make-up, especially ones over 20, will hide from cameras faster than roaches will run from sunlight. So to have her sitting at a table, happy to see Joan, and willing to be on camera – was nothing short of a New York miracle. Sharon could not have been sweeter. I get a thrill as a producer, and as a fan, when I see that people you admire on screen are great to work with. And she did not disappoint.
Another small, but fantastic New York surprise was that Theater 80 decided to have a kilt-wearing fan play the bag pipes outside the theater to play for Joan as she came past the press into the theater for the ceremony. Now on our shows, we have to clear all the music that plays in the background. So when he told us that he planned to play "Give My Regards to Broadway" I was delighted. Not only is the song loud and fun, it's public domain (meaning: free). Oh, and it's absolutely hilarious. I was afraid he would be playing an unknown Scottish dirge. I knew that Joan would find it funny too. When you get a comic gift like that on a reality show – it's just sign that you're making the show that you were meant to shoot. And where else but New York would you find a bag piper that plays show tunes?