Joan Rivers was able to bring laughter to every situation, always punctuating the moment perfectly with a joke. From her days with Johnny Carson to her moments with the Joan Rangers, she exuded a fearlessness many admired. Joan was never afraid to push the envelope and she was clearly never worried about rubbing anyone the wrong way. She said, "I succeeded by saying what everyone else was thinking." This coupled with her ability to find comedy in every situation was Joan's revered craft. The comedic genius once said, "Humor doesn't come out of the good times, it comes out of the anger, pain and sorrow. Always the anger."
As WE join countless friends, family and fans who continue to cope with this incredible loss, we find comfort in reminiscing about our favorite moments; the times Joan made us laugh so hard we started to cry and found it difficult to catch our breath. In a statement yesterday afternoon, Melissa said, "My mother's greatest joy in life was to make people laugh. Although that is difficult to do right now, I know her final wish would be that we return to laughing soon."
To honor this wish and to pay tribute to the iconic Joan Rivers, WE wanted to share with you the top Joan Knows Best moments that will continue to have us in stitches for years to come.
Joan Gets Randy with Ray J
Always looking for the next big laugh, Joan decides to take a page from the Kardashians' guide to success and record a "sex tape" with the same willing costar. See the full monty here.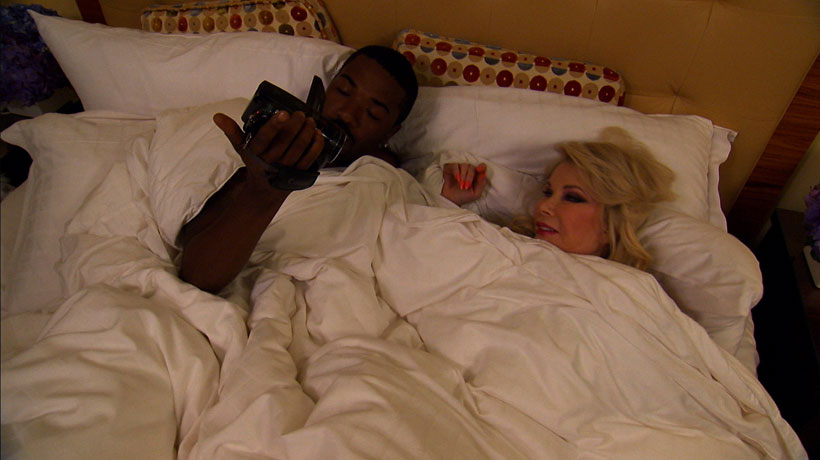 Costco's Criminal
No one bans Joan's best seller and gets away with it because when Joan gets mad she gets organized! See the revolt here.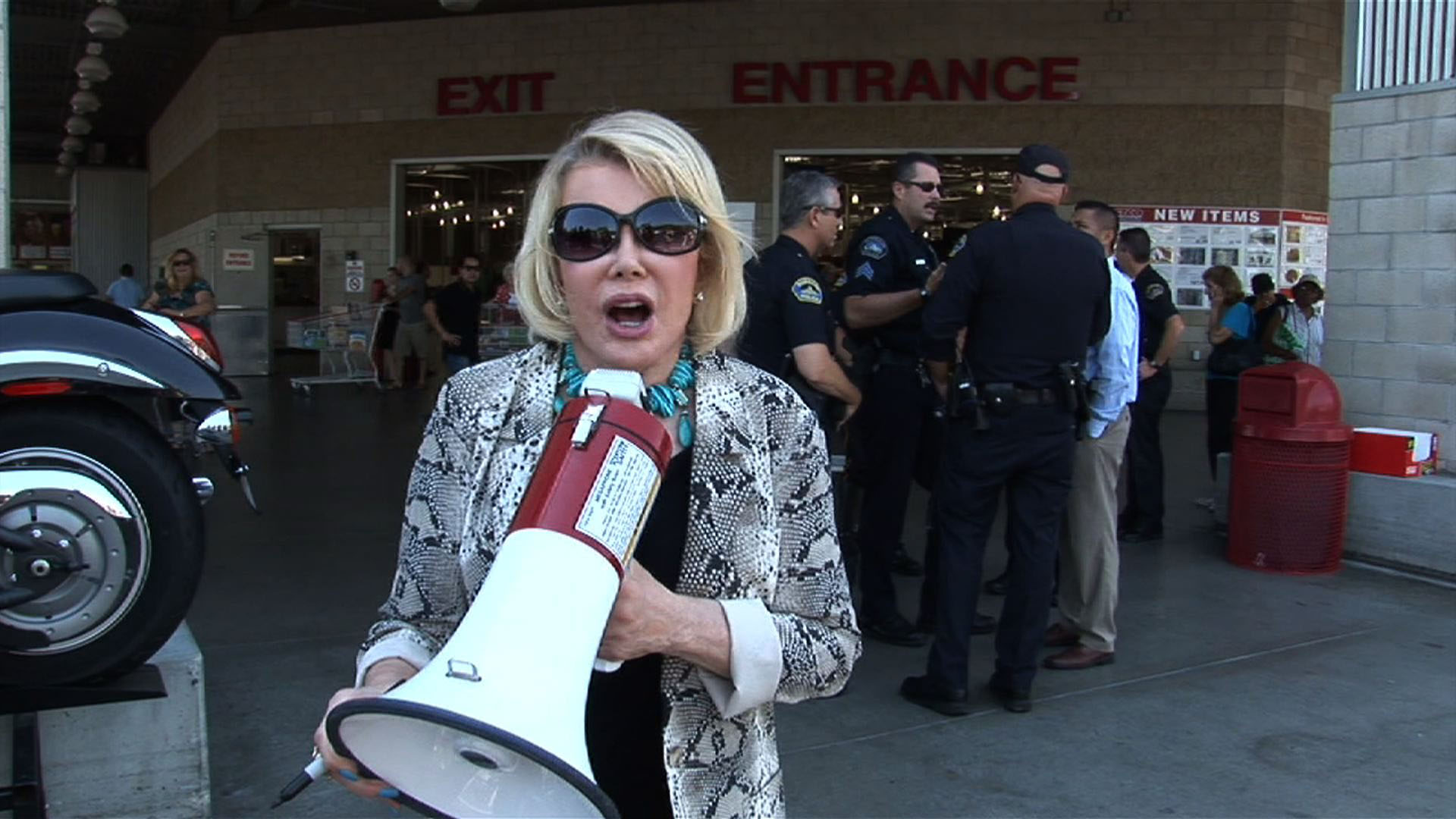 Joan, Les-Be-Honest
Joan follows Katy Perry's lead and decided to see what it's like to "kiss a girl". See the smooch here.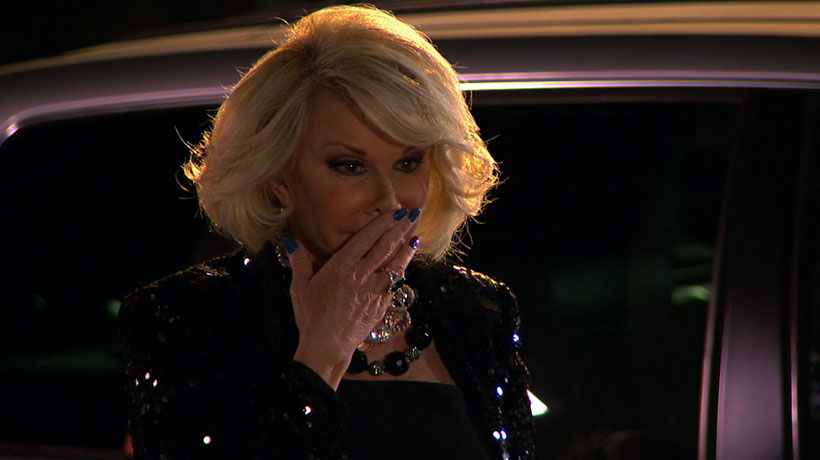 But I Have A Doctor's Note
After being coerced by Lynn, Joan visits the local weed shop to sample some herbal remedies for her stressful lifestyle. See Joan go up in smoke here.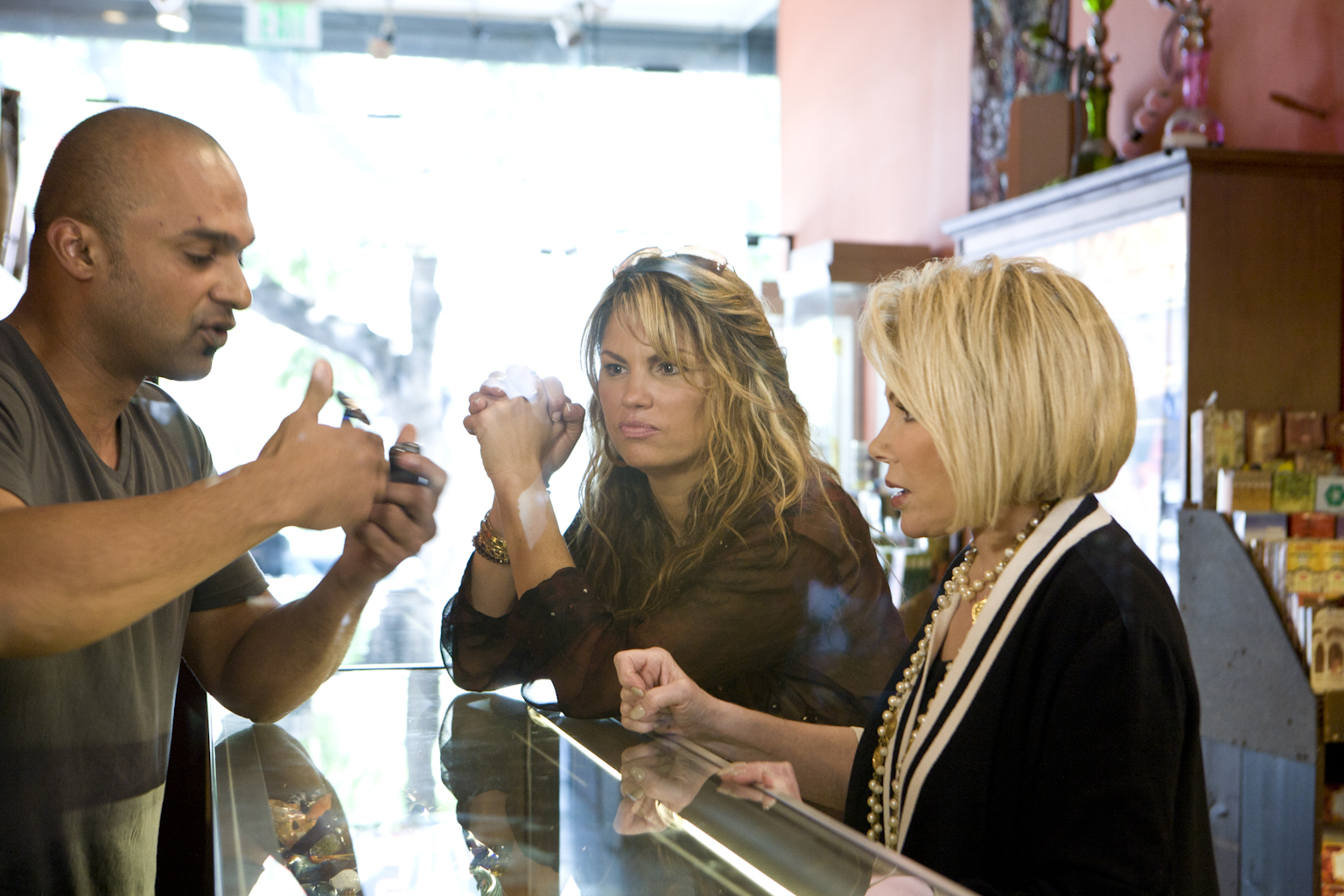 Watch our favorite episodes of Joan & Melissa: Joan Knows Best? this Sunday starting at 10a. Click here for the full schedule.
I hurt my daughter this week, and I feel awful about it. I'm still a couple of years away from sponge baths and soft foods, but I feel that Melissa is sacrificing parts of her life because she feels the need to take care of me. I want her to meet a man. I want her to hear the pitter-patter of little feet, which means she either has to have more children, or we all have to play hide and seek with Peter Dinklage.
In any case, it's time for me to get out from under her roof.

If I moved out on my own, Melissa would be crushed so I devised a plan to be so terrible and difficult that she'd have no choice but to throw me out! At first my scheme wasn't working because nothing I did seemed to bother her. It was sort of like making faces at Stevie Wonder.
I devised a foolproof plan to enrage her – an extensive "zombie photo shoot" in her home. I got Melissa so angry, upset and stressed that I thought she was going to lose her mind. Aren't I such a good mother?
Of course, like any other mother/daughter team, we can't stay mad at each other forever, and I'm glad that's the case.
Alfred Lord Tennyson famously said, "'tis better to have loved and lost than never to have loved at all."
I famously say, "Alfred Lord Tennyson 'tis an idiot."

There's nothing noble about falling in love and getting dumped by a jerk, which is what happened this week to my assistant, Melody. I'm not going to give out the name of said jerk, but it rhymes almost exactly with Al. B. Sure. After what he's put Melody through, I hope he's the one who gets dumped on… at least by a flock of pigeons after a hearty meal at Taco Bell.
Meanwhile, Melissa and I thought it would be a great idea to sell matzo ball soup out of a food truck – we're marketing it as lunch for the "Jew-on-the-Go." I found my grandmother's old recipe for cabbage matzo balls, and for some reason they turned out blue, but they still tasted great. We loved them. Marc Canter from Canter's Famous Deli in Los Angeles loved them. Everybody loved them… except our customers. Our matzo balls were sort of like Tom Cruise's wives: They looked great and they smelled amazing but they just sat there, untouched. I wonder what Tennyson would say about that.
For a change of pace, Melissa, Lynne, Cooper and I spent a day at the Hollywood Park horse track. Melissa knows a lot about the sport of riding horses from her equestrian days, and Lynne knows about betting on them from the low-life, degenerate guys she dates. Cooper is a 13-year-old boy, so his room often smells like a stable. It's not an understatement for me to say: I was instantly hooked on the races!
I had so much fun betting on the ponies, but I didn't want Melissa to know I was spending my time and money at the track. I decided to pawn some of my jewelry for cash and snuck back the next day with Lynne. (I tried to keep my secret money stashed in my bra, but ten-dollar bills kept falling out from the cuffs of my pants.)
People constantly asked me, "Joan, what do you know about gambling?" Once, after a wild night, my designated driver Helen Keller drove me home – THAT was a gamble. At first, my streak was on fire, but then I bet the kitty on a trifecta and lost it all.
Luckily, Melissa and her philanthropic efforts were there to brighten my mood. "Our House," an organization that helps families affected by suicide, held a major gala dinner to honor her for her hard work. Melissa delivered a wonderful, moving speech and Cooper and I were so proud of her. I even forgot to steal some of the silverware to hock down at the pawn shop.
My first real job in show business was as the assistant to the famous magician, Kuda Bux, AKA "The Man with the X-Ray Eyes." He must've been able to see through my clothes as he fired me after a week. But it was my roots in mysticism and illusion that made me say, "YES!" to Penn & Teller's request for me to help them out with their charity at the Magic Castle in Hollywood. I was nervous, however, since other than getting Edgar to marry me, I haven't performed magic in years.
I knew I'd need help with the event so I called on a wonderful actress, Marissa Jaret Winokur, to be my assistant. She agreed, but I guess it was the prospect of being sawed in half by an 80-year-old woman who's had nine eye-lifts and cares more about ruining her manicure than for the safety of her volunteer that scared her off. She quit, so enter Melissa who is still angry with me about the birds I got for Cooper…

Cooper wanted pet birds and Melissa said that parakeets would be fine. I think parakeets are boring, so I upgraded him to pair of toucans – squawking, flying, pooping toucans. They never shut up. Those birds are needier than Taylor Swift on a first date.
The toucans lasted in Melissa's house as long as I did on stage as a magician. In the span five days I aggravated my daughter, upset a bird handler and alienated a major Broadway star.
Right about now, I'm the one whom they'd all like to saw in half.
I've had a lot of losses lately. I lost my sister, Barbara. I lost my dog, Max. I sold my house in Connecticut. And I also lost my priceless Queen Victoria chair (more on that later). Let's face it – I've had more losses than Amy Adams during any given awards season.
I loved my house in Connecticut, but it didn't make sense to keep it anymore. I was never there. It became an unnecessary expense, sort of like Melissa McCarthy's gym membership or Steve Buscemi's toothbrush. Going through the house and trying to decide what to keep and what to sell was VERY stressful! So, I did what any self-respecting celebrity would do – I took drugs.
Melissa gave me a sleeping pill to help me get some rest, and that's when the fun began. Under the influence I bought things I didn't need and gave away things I wanted – like my priceless Queen Victoria chair. What am I going to replace that with, a Johnny Weir barstool?
I've learned my lesson. Next time I need a little help getting to sleep, I'll take an Ambien. The worst that can happen to me is I'll wake up in the middle of the night eating a meatloaf on Melissa's front lawn.
This week was rough! EVERYONE in the house had drama. I went from one mess to another to another – I started to feel like Betty White's caregiver.
Melissa had more on her plate than Melissa McCarthy at The Olive Garden. First, she finds Lynne in bed with a half-naked Duncan coming out of the shower. Then she walks in on me, Tony and Lynne, all in the kitchen. Melissa blew a gasket! If Lynne doesn't get out of Melissa's house soon, I guarantee next week there's going to be a female comedian lying in a shallow grave. (And for the first time, I'm thrilled because it's not going to be me!)
I also found out this week that Whitney Cummings is starring in a new series on HBO, and there was part in it for a dowdy grandmother. Dowdy is my middle name. Okay, my middle name is Alexandra, but that's Hebrew for "dowdy." In order to get the part, I did everything I could to go from Glam-ma to Grandma. I went without makeup, didn't put on my lashes, and all of my clothes were made from synthetic fabrics. I also got a scooter and rolled around Beverly Hills! According to my agent, I nearly rolled my career over a cliff.
I think Cooper's the only one in the house with a calm and stable brain in his head. He must have been adopted.
When it comes to bank accounts, mansions and sex, size matters…
I appeared on Kris Jenner's talk show and I was amazed by the size of everything – her studio, her staff and her whole Kardashian Empire! There hasn't been an empire like this since the Ottomans, and they didn't start theirs with a sex tape. (At least I don't think they did. I was out of town that week.)
I started thinking: Why not a Rivers Empire? And to get the ball rolling, we'd need a sex- tape. Great idea, right? Wrong. Melissa refused to make one, saying something about morals and values… blah blah blah. This left it up to me to do a sex tape. I figured I'd get Morgan Freeman to be my co-star and we'd call it, Pile-Driving Miss Daisy.
In retrospect, it was the right choice for Melissa to forgo the sex tape. She had a very tough week. First, she had a major disagreement with Duncan about the future of their relationship. Then, she caught her BFF (Lynne) with her BF (Duncan).
As for my sex tape, I don't want to tell you what happened, but (spoiler alert!) let's just say that I've been offered a new series on BET.
WE assume everyone has seen Joan Rivers' sex tape spoof with home movie aficionado, Ray J, which hit TMZ early Friday morning. But what you didn't get to see was the extended version. So rather than deprive you of some more "LOL" moments from this hilarious gag, WE wanted to share with you the stuff you didn't see.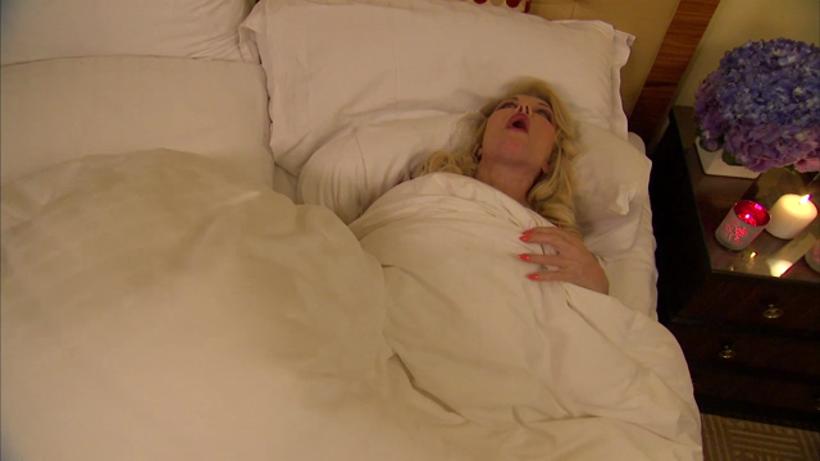 Even though Joan Rivers bares it all on our series, Joan & Melissa, WE wanted to dig a little deeper into what makes this comedy icon tick.  With the new season starting Saturday, March 29th at 10p, there was no better time!  When trying to figure out the best questions to ask, we took to Twitter and Facebook to ask her die-hard fans. After sorting through the hundreds of questions we received, Joan chose her top pick and answered them the only way she knows how- with comedy, sincerity, and no filter.
Janet
@Joan_Rivers Do you EVER get offended when people talk about your use of plastic surgery? #AskJoan
It's a little upsetting when poeple ask me about my plastic surgery and they look into my eyes, because that's where my ears used to be. Actually, no, my plastic surgeries are a huge asset. My nose has moved so often that when I fart I can pass it off as sneezing. Seriously, I hope that people will see there's nothing to be afraid of, and that having something done can make you look and feel better.
Alexandra Grace
@Joan_Rivers #AskJoan – Have you always been so outspoken? Any funny memories about being the way u r?
I believe a person should say what's on his mind, unless the person is Ryan Lochte.  In that case, it's going to be very quiet. We live in a politically correct age- it's wnderful when people speak their minds! Nowadays they call me outspoken. In the old days they just called me a mouthy bitch. It was a simpler time.
Andrea Abbate
@Joan_Rivers what advice would you give to your 35 year old self? #AskJoan
Never, never, never give up. You never know when something is going to turn around. Also, don't buy retail unless you have a coupon.
Linnea Edlund
What is your best accomplishment in life?
My daughter, Melissa, and my grandson, Cooper (I'm saying that because they're sitting next to me). Otherwise, having my own late night talk show. I was the first woman to be in everyone's bedroom and not need Penicillin in the morning.
David Anderson
Is stand-up comedy becoming a dying art form? Where are the new "Joans?"
There are "Joan's" everywhere, but they're mostly gay drag queens. It's a dying art form because I keep having the other, younger "Joan's" killed off. Notice how Kathy Griffin walks with a limp? I'm very competitive.
Scotty Woez
How did you feel when you first got on stage?
I felt like I belonged, just like OJ Simpson in a prison. The truth is, I was terrified. For the first three years of my standup career I was afraid to touch the microphone- I thought I might be electrocuted.
Monique Perretano
If you hadn't gotten into show business what other career would you have chosen?
I studied Anthropology in college, so I guess that's what I would have done. Or I'd have been a veterinarian/taxidermist. I could guarantee you'd get your pet back one way or another.
Alexander Rhys James
You have 5 possessions to take to a deserted island. What are they?
My four fur coats and my cellphone- so I could call Tom Cruise and have the Scientology spaceship come and get me off the island.
Joy Farrow
What was the most embarrassing thing that happen to you on stage or TV?
I'm very lucky that nothing truly embarrassing has ever really happened to me on stage or on tv.  One time, however, when I was performing in Vegas on New Year's, my watch was a little fast. I had to count down to the New Year and I started about 20 minutes early. The audience started screaming at me to stop and fix my watch.
Randy Trussell
How did it feel to finally be back at NBC after all these years??? I was so proud to see you back on there!
It meant a great deal to me. In fact, on that very day, February 17, 1965, I made my first guest appearance on "The Tonight Show" with Johnny Carson and it changed my life. To be back nearly 50 years later was a milestone. Jimmy Fallon is just so talented and wonderful- I gave him a big kiss to wish him luck as I walked by. I even took care of Jay Leno- I slipped him five bucks when he brought my car around.