No star-studded affair would be complete without a Kim Kimble creation on the red carpet. For the 2015 Emmy Awards, Empire's Taraji P. Henson was the lucky A-lister who snagged a coveted appointment with Hair Majesty. The actress, who was nominated for Outstanding Actress in a Drama Series, stunned in a black Alexander Wang gown. She kept her accessories simple and elegant, and Kim followed suit by giving Taraji a sleek bob.
WE think Taraji looked fierce and can't wait to see more of Kim's creations on this season of L.A. Hair. Catch Kim and her stylists on Thursdays at 10/9c!
Nicki Minaj had several show stopping moments at last night's MTV Video Music Awards that included calling out one of her haters and getting rid of any bad blood between herself and Taylor Swift. Our favorite part of Nicki's VMA appearance, however, was her look.
Nicki's hair was on point thanks to L.A. Hair's Kim Kimble. WE think that this style was the perfect complement to Nicki's embroidered Labourjoisie gown.
Her long, smooth locks looked just as fierce underneath the elaborate red headdress that Nicki wore during her opening performance.
WE love Kim's work. To see more of your favorite stars getting Kimbleized, watch L.A. Hair on Thursdays at 10/9c!
L.A. Hair is into its fourth season and there is a LOT happening! But as busy as Kim Kimble has been with reigning in her stylists and a potential partnership with Jonathan Antin, she is still helping her A-list clients slay the red carpets and magazine covers. WE are seriously impressed with Hair Majesty's hustle and have put together some of some of our favorite looks. Check them out and let us know which is your favorite!
WE got to watch Kim in action during episode 402 when she gave Tia Mowry this fierce bob for the Focus premiere.
WE also got to see Kim work her magic during an episode of Braxton Family Values, when she styled Tamar Braxton-Herbert's long blonde locks for her Tamar Collection shoot.
No Kim Kimble style list would be complete without Beyonce – and Kim did not disappoint with this sultry September Vogue cover!
And of course, WE couldn't leave out Kim's longtime client Mary J. Blige whose hair Kim styled in the season 4 premiere. Kim admits that short hair is harder to style, but WE think she does a flawless job on Mary's signature locks.
Kim made sure that Taraji P. Henson was sexy and elegant at this year's Teen Choice Awards with cascading curls.
And she gave us serious hair goals with Zendaya's long, wavy Met Gala hair.
WE also love the smooth waves that Kim gave Erica Campbell for her "More Love" music video.
Vivica A. Fox slayed her photo shoot with a long, sleek do.
WE love all of these styles and can't wait to see more of Kim's work on this season of L.A. Hair. Watch Thursdays at 10/9c to see Hair Majesty in action!
Hair Majesty Kim Kimble stopped by KTLA's Morning News Monday to talk tresses, transformations, and of course L.A. Hair.
Kim Kimble revealed the 4th season of L.A. Hair is going to have more celebs from Mary J. Blige to Tia Mowry and WE get to see Kim work on the celeb tresses. She explained that as a celebrity hair stylist, some of her "secrets" to making the stars look flawless includes clip-ins, wigs, and weaves. These help protect their hair from being damaged and also gives Kim the ability to transform their look. The L.A. Hair star also showed off some big hair transformations by giving models drastic new celeb looks. The styles were inspired by celebrities Khloe Kardashian, K. Michelle, Kylie Jenner, and Joseline. Here's a behind the scenes look at prepping for the segment.
The finished product – WE think the ladies look fierce!
Kim's advice? Don't be scared, try new looks! Watch the full interview here:
WE can't wait to see more of 'Her Majesty's' stylish looks on L.A. Hair every Thursday at 10/9c.
There's nothing like walking out of a salon with your hair on fleek and leaving nothing but slayage in your wake. Until… hours later when you realize you have no idea how to maintain that fleek-worthy 'do until your next appointment. L.A. Hair's Kim Kimble spoke with Refinery 29 about one important must to keep your hair flawless and healthy looking – keep it trimmed. Kimble shared, "cut your hair every two to three months. It's simple: stick to your routine." WE had no idea it was this easy!
Kimble goes on to say if you skip her advice and let your tresses go, "not only will you start to develop split ends, but your cut will lose its shape." WE definitely don't want that to happen! Kimble says no matter what your hair length or texture, trimming is necessary. So ultimately scissors aren't scary and you should be trimming those tresses regularly!
WE can't wait until L.A. Hair premieres July 30 at 10/9c so we can see more haute hair and the stylists that keep them coiffed.
WE can all agree that the Queen of the Bey Hive is 'Flawless' and one WE tv star gets to work on Beyonce's talented head of hair. L.A. Hair star Kim Kimble told her story to E! about how she got her started working for Beyonce.
Kimble has somewhat of a Cinderella story, hailing from her humble beginnings watching her mother in her beauty salon to carving out her own path to the stars WE all love. Kimble has spent the last 20 years honing her craft and becoming a hair pro. Kimble told E! that initially a lot of her clientele from the barber shop where she was working went to West Angeles Church and found out about a play being directed by Robert Townsend. She volunteered to do the hair for the production and any other future projects that came up. Kimble said she eventually opened her own salon and Townsend brought Halle Berry there to see if she could come up with hairstyles for the movie B*A*P*S. That connection led to with Townsend again on the television movie Carmen: A Hip Hopera starring none other than Beyonce. Kimble says she got her chance to work on Queen Bey's hair when Tina Knowles asked her to handle the hair for the production. As fate would have it, Kimble worked with Beyonce again on Austin Powers: Goldmember. Queen Bey then asked Kim Kimble to do her hair for the "Crazy in Love" music video.
From the cover of Vogue Magazine..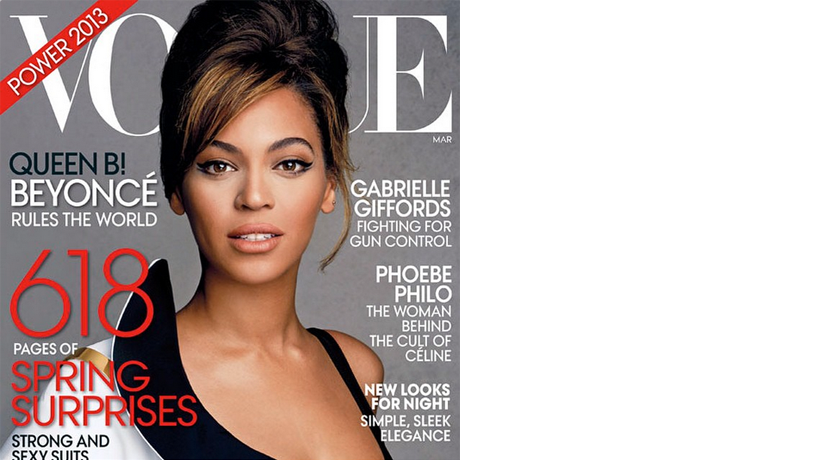 To the 2013 Super Bowl Halftime show…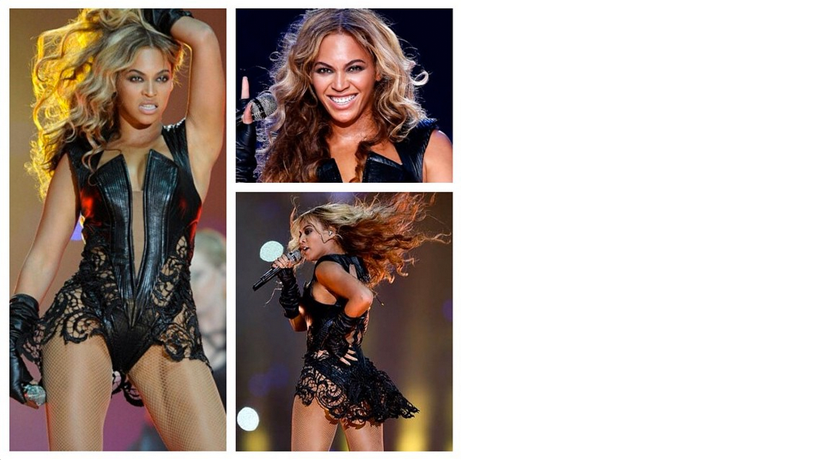 To making sure Bey's hair was slayed for the Grammy's – from the red carpet to the performance.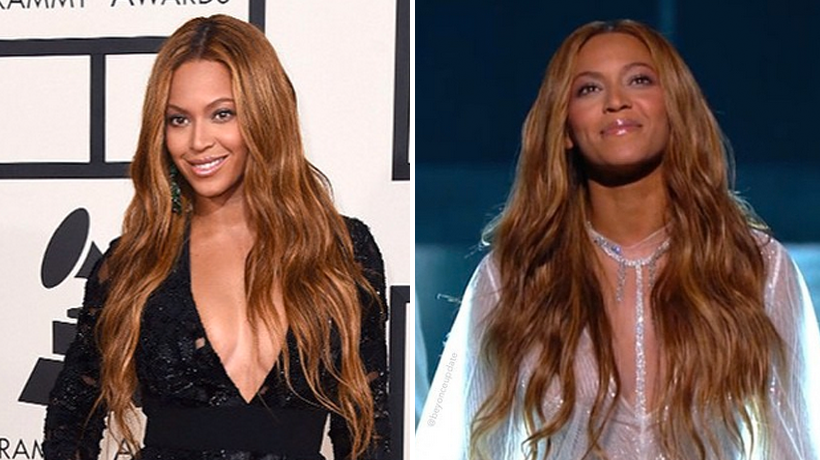 The rest is Kimbleized 'Flawless' history and WE love it!
This week was a diva showdown in Beverly Hills for Kim Kimble when she was asked to make a wig for Gretchen Rossi. Back in the Kimble Salon, there was another showdown – this time between Naja and Lisa. Check out what the Kimbles had to say about this episode.
Lisa is a tough cookie and I respect that, but she's been working on her own for a while, and I think she's forgotten what it means to be in a salon setting with other stylists. Everybody needs to be working for the good of the salon and that means letting a client have access to every service that we provide. Now, we know that Naja can push people's buttons – just ask Leah – but we all need to move past that. I know it's hard to be the new kid in town, and Lisa may be striking back because she feels picked on and unsure of her place in the salon, but girl, they're more afraid of you than you are of them. Let's just all cool it and get on with business.

Look how great things can be when everyone works together! Kudos to China and Dontay for sorting out that poor woman's hair. Maybe with a little less snark next time, but that's the general idea: putting the client first and giving them a transformation. That's the Kimble experience. As Kim always says, "great hair equals confidence," and that's what that woman walked out of the salon with. That's why we're in this business and I can't tell you how much it warmed even my cold heart to see the client so pleased with her hair and to see the stylists coming together for a good cause. Oh and ladies, stay off YouTube so poor Terry doesn't have a heart attack. The man can only take so much!

We got off to a rocky start, but Jonathan Antin did have the good sense to call me when he needed a wig, so he is CLEARLY a man of taste. Now, creating a great wig is all about starting with quality hair and then making adjustments to fit the client. That's why I insisted on seeing the whole process through. I may have been a little over-protective, but what can I say, I'm a perfectionist and I think Jonathan is too. When you've got two perfectionists together, sparks can fly, but I want to make it clear that I respect Jonathan as a hairstylist very much. He's one of the best and I was very excited to work with him. And I think we made the fabulous Gretchen Rossi look even more fabulous, honey. Werk that red hair!
From Lisa's sunglass-worthy nails to singing sensation Macy Gray's fiery 'do (and all the neon lips and saturated shadows), this week's episode of L.A. Hair served as proof that the easiest way to make a serious splash (besides attempting to snatch someone's drink at a salon opening) is with a bold hue.
To make it easier for you to color-yourself-sassy, WE've rounded up some punchy products for achieving these looks and more (just remember: all ya need is a little dab, or swipe!).
1. Maybelline New York Color Sensational Vivids Lipcolor in Electric Orange, $5.50
Have five seconds? Take a casual look from drab to fab (a la China) with this citrusy shade from Maybelline. It's as moisturizing as it is mesmerizing.
2. Butter London Nail Lacquer in Pimms, $15
When Lisa was talking things over with Anthony, things started to look up (or at least when it came to her cheery nails). Get the look with this sunny coat from Butter London, which can be worn solo or amped up with some nail art.
3. L'Oreal Paris Feria Multi-Faceted Shimmering Colour in Deep Copper, $8.97
Take Kim Kimble's "go big, or go home" approach to styling and add new life to dull or faded locks with a warm copper. This pick from L'Oreal boasts highlights for added brilliance and dimension.
4. CoverGirl Eye Enhancers Eyeshadow in Purple Pop, $4.46
Adrianne Curry knew what she was doing when she opted for that purple shadow, which is great for enhancing green eyes. Get the look with this easy, yet efficient, eyeshadow from CoverGirl.
5. Sephora Double Contouring Cream Blush in Bright Azalea Pink, $32.50
The ladies of Kimble Hair Studio are no strangers to the power of presentation. If you're in need of a little pick-me-up (and quick!), look to this blush from Sephora. It's a cream so you won't have to worry about making a mess, and the pretty pink shade will leave you looking as fresh as an azalea.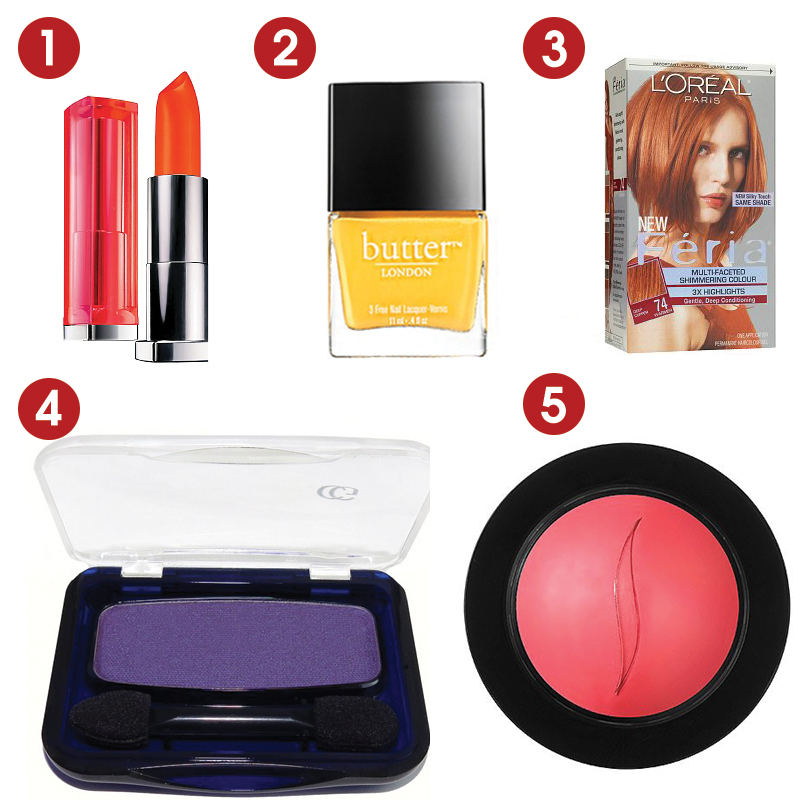 Is it hot in here, or is it just Janice Dickinson? As if temperatures weren't already rising over at Kimble Hair Studio, the supermodel added some serious fuel to the fire when she requested a date night look to be desired.
Complete with her very own thigh massage (thanks to Jose's handy work), it's safe to say she got what she came for – and fast. See below for some quick tips on replicating Janice's steamy hair (Kim Kimble's specialty) and nail (Naja knows her reds) styles for your next date or a night out with the girls.
To get Janice's "bedroom sex hair":
1. Start by misting a protective (yet lightweight) heat protector like Moroccan oil Heat Styling Protection Spray, $23.18 over hair, with emphasis on the ends.
2. Separating hair into 1-1/2 inch sections (either with fingers or clips), hold a curling iron (such as Hot Tools Professional Curling Iron with Multi-Heat Control, $28.75) vertically near your temple, rotating the barrel outward and releasing after approximately 5 seconds.
3. Once curls are complete, lock in your style (while adding volume) with a lightweight hairspray (such as L'Oreal Advanced Hairstyle Boost It High Lift Creation Spray, $13.95).
Bonus Tip: If you're looking to really make waves, take things to new lengths (and widths) with clip-in hair extensions (such as Maysu Long Curly Full Head Clip in Hair Extensions, $12).
To get Janice's red-hot digits:
1. Clean and shape nails before applying a gel lacquer in a bright shade of red (we like O.P.I Gelcolor Collection Nail Gel Lacquer in Big Apple Red, $17.99).
2. Once dry, layer on a regular polish in a deeper shade from the same color family (such as Orly Nail Lacquer in Ever Burgundy, $8.50).
3. Add shine – and protection – with a glossy top coat (like CND Vinylux Weekly Top Coat, $5.41).
Bonus Tip: Choose a bright red lipstick a la Janice (we suggest M.A.C's beloved Russian Red, $15.50) to complete your supermodel bombshell look.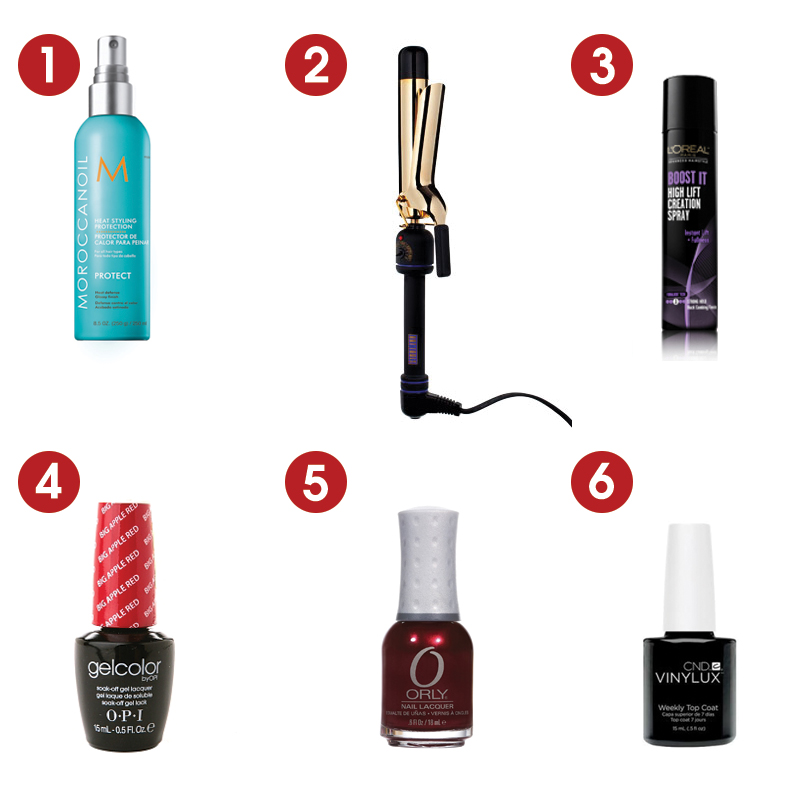 It's no secret that "selfie" beat out one of the most used (or should we say overused) words,  "twerk," to be crowned the 2013 Word of the Year by the Oxford University Press. No matter where you go — Facebook, Twitter, Instagram, even the news — all you see are selfies! Beyonce revealed her jaw dropping new do (which our celeb stylist, Kim Kimble quickly fixed), Kim Kardashian revealed her post baby bod and a whole lotta side boob, a reporter nearly got knocked out by a baseball while getting the perfect angle, and President Obama was just recently in the news for one of his own. Our own stars are even guilty of a selfie or two (or 10). Tamar documented her European tour a la a pit stop in Germany via a selfie, Traci supported the Foundation for Women's Cancer, and Kendra even announced her pregnancy with one! So since this year is coming to a close and the word "selfie" will only be big until the next trend comes along, we decided to give you the best WE tv selfies of 2013.