Last night's Soul Train Awards were filled with fabulous performances, lots of honors, a throwback to the 90's, and an out-pour of emotion and humbleness from Tamar upon winning the award for "Best Female R&B/Soul Artist". There was not a dry eye in the Braxton family as Toni, Trina, Traci, Towanda, and Ms. E stood in the audience, and there wasn't a dry eye as we watched from the comfort of our couch. Having struggled to make it in the music industry, this award is a true testament of how hard work and perseverance pays off. "I'm 36 years old and I'm proud of it. And I don't give a damn if I was 56. She was NOT gonna stop."
Watch the tearful acceptance speech and see what Tamar's friends, family, and colleagues had to say about this huge accomplishment.
I just caught myself on #SoulTrainAwards. I was able to present my girl @TamarBraxtonHer an award. Congrats again hun!!!!!

— Kandi Burruss (@Kandi) December 2, 2013
We don't care what anyone says, we live for @TamarBraxtonHer's voice! #SoulTrainAwards

— Hello Beautiful (@HelloBeautiful) December 2, 2013
Congratulations! @TamarBraxtonHer for your win on the #SoulTrainAwards! You deserve it!!!!!!#lifewithlatoya

— La Toya Jackson (@latoyajackson) December 2, 2013
Who is #superproud of her baby sister???? ME!!!!!!

— Trina Braxton (@TrinaBraxton) December 2, 2013
CONGRATULATIONS to @TamarBraxtonHer on winning the BEST FEMALE ARTIST at this year's #SoulTrainAwards!!!

— Erica Mena (@erica_mena) December 2, 2013
Tamar has been on the road touring with John Legend for the past few months, but it wasn't until yesterday that she shared the stage with someone BIGGER (in our minds, anyway)! Queen Boom Boom, Trina, joined Tamar during the #MadeToLove Tour as it made a stop in Detroit. The two performed a duet of "The Chipmunk Song" which is on Tamar's new Christmas album "Winter Loversland". WE urge you all to check it out (and buy the album) on iTunes.
Since most of us (your #WEtvInsider included!) were unable to catch the show and the special guest star last night, check out some videos Tamar posted on Instagram of the performance.
Tamar has found out she has two broken vessels on her vocal chords as well as a nodule which is the last thing she needs with her album release coming up.  Luckily, she has things like shopping with Terrell to keep her busy and occupied.   Tamar is looking for something simple and slenderizing to "suck in the curves"… or "suckerage" as only SHE can call it.  TVQuote: "My issue today is my curves runnith over my body and my stomach is on my lap and it cannot be contained."  But regardless of how Tamar feels about her body, she definitely still has that same humor WE all love which is showcased in her amazing impersonation of Tina Turner.   With two failed attempts at an outfit, Tamar focuses on her jouge and buys herself some thigh high leather boots.
#TamarandVince hit up NYC for a small party to commemorate the release of Tamar's album.  Vince gushes over his wife's success, and even L.A. Reid is in the crowd showing his support.  TVQuote: "Don't get mad, but I have a thing for Braxtons."  Tamar is extremely grateful for L.A. who didn't need to take a chance on another Braxton.  TVQuote: "You didn't have to do a Braxton remix."  On the way back from the album release, Tamar is looking for a little foot affection, but Vince is preoccupied with that damn phone again.  A few comments are exchanged and this turns ugly real quick with Tamar getting all up in Vince's face.  TVQuote: "Now I'm in the #1 Club… why you mad?"
Vince takes Tamar out on a nice date night so they can both have a break from the craziness of the past few days.  Tamar starts talking to Vince about the pressures of balancing everything while being successful, and it seems to be stemming from a place of insecurity caused by all the bullying she went through at school and in past relationships.  TVQuote: "You're denying God's blessing for you when you let that part of your life surface."
The album showcase is finally here, but Tamar's injured vocal chords are still an issue.  SHE is glammed up and ready to go, but LaShawn's nervousness is SUPER contagious.  TVQuote: "I can't have anyone else's energy but mine."  Even Terrell to comfort her is nervous!  However, WE don't know what all the fuss is about because as always, Tamar slays it despite earpiece issues.  TVQuote: "SHE wins again.  Don't be mad."
Get a glimpse into Tamar and Vince's lives from our crew's perspective with these exclusive details from our producer's notebook. In these notes jotted during Momma Works Hard For Her Coin, our producer spends time on the crazy set of Tamar's reality show "The Real".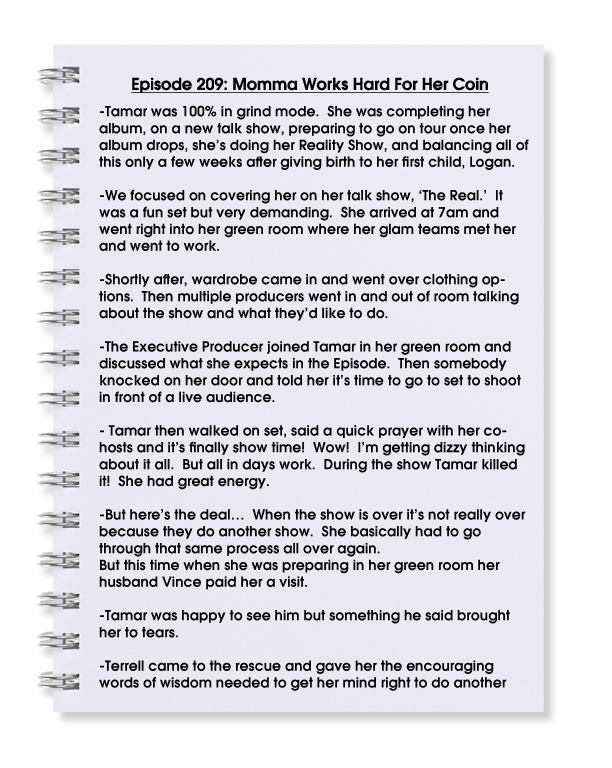 Here at WE tv, WE are obsessed with the new members of our family, and Logan is NO exception.
Tamar
posted the adorable photo of Logan…
And our #Tamartian friends just couldn't help themselves from making equally adorable (and hysterical!) memes of the little cutie.
At the end of last week, #TamarandVince were getting into an argument around an innocent comment that could be taken out of context during a stressful time. This week, WE pick up right where we left off!
It seems like Tamar was just trying to stress that she loves both of them and would never let anything harm them in anyway. TVQuote: "My feelings are my feelings." But then Vince goes and leaves Tamar in the car with all the bags? #HeTriedIt
Thankfully, this couple hits the town with Terrell for some cocktails, so WE expect the moods of these new parents to change very shortly. TVQuote: "She's gonna be white girl drunk tonight." This adult conversation quickly turns into who's getting an "oink oink" tonight and they haven't even started drinking yet! #CoverYourEars
Mama E has come back to L.A. with the new and improved Herberts so she can make sure she is there to see Logan grow up. But, don't get it twisted… this Braxton still has a lot of life left in her. TVQuote: "You're trying to lift up your skirt and fly, baby."
It is back to business as usual for Tay Tay as she meets up with Ashley for the wardrobe fitting for her album cover. TVQuote: "He doesn't know I'm thick-ums, for real." TVQuote: "If I was a rapper that would be my name. MC Fat." Ashley is willing to go back and pull some more ideas in larger sized, but Tamar does not think larger sizes mean she's gotten her snatch back. TVQuote: "Tomorrow I'm not going to be a size 4 and that's a problem." But you know SHE brings it once the cameras are on for her album shoot. Like Tamar said, TVQuote: "I have an album that I worked very hard on, and I don't want to push it back."
A few weeks later, it is time for the "Mommy and Me" Us Weekly photo shoot where Logan is beat to high heaven in some Versace and Dior. TVQuotes: "He's a prince." The pictures are purely precious and the prince is on his best behavior while Vince "works them to the bone." TVQuote: Are you Ike Jr.?"
Get a glimpse into Tamar and Vince's lives from our crew's perspective with these exclusive details from our producer's notebook. In these notes jotted during Jet Set Baby, our producer takes a ride in a private jet with our favorite couple and their newest addition to the family.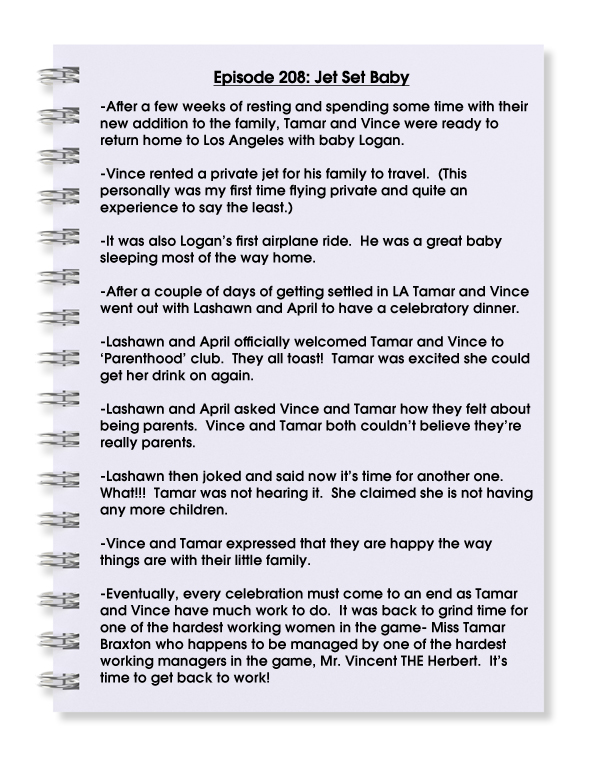 We are still IMPATIENTLY waiting for the arrival of baby Logan, but at least Tamar is four centimeters dilated. The whole family is here; even Michael Braxton came down in his Corvette). TVQuote: "I was at the birth of a couple of the grandchildren, but after a while that got old to me. So, since I wasn't there on the takeoff, wasn't no sense in me being there on the landing."
As everyone waits around for something (anything!) to happen, Tamar just goes through the motions and contractions after contractions. TVQuote: "A contraction feel like a dinosaur kick you in the back while you're having a period cramp." WE admire Tamar for dealing with all this for over 26 hours, but even she reaches her breaking point when a false alarm sounds. TVQuote: "I didn't come this far to not go home with no baby now." TVQuote: "Tamar is making a permanent decision in a temporary state of mind."
After a temporary breakdown, Tamar is back to normal self and doing an impromptu photo shoot with Traci. In true #TamarandVince having sex! Y'all need to watch that moment again…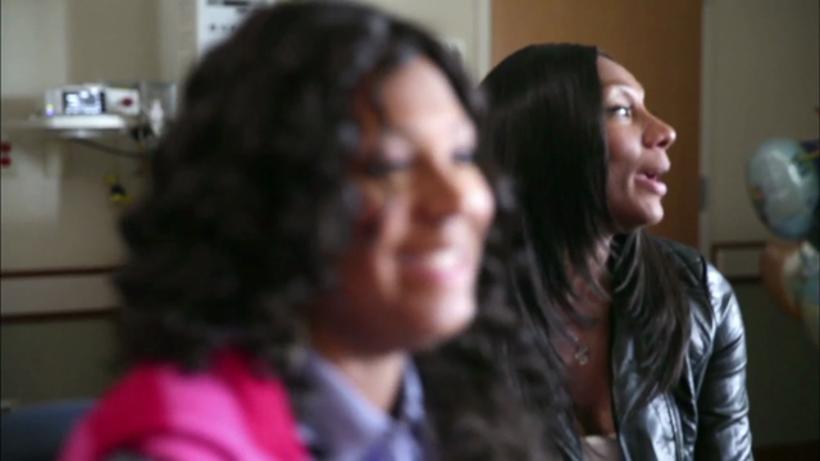 Then Toni starts krumpin! TVQuote: "Ton-Quisha in the house!" WE have never been too excited for the whole labor and delivery process, but if WE can make sure the Braxton sisters are present then WE'll think about it.
After 28 hours, Logan is finally ready to meet everyone! Logically, Traci is manning the camera during the delivery because TVQuote: "Traci's real ride or die." WE can tell Vince is a bit nervous, but he is being super strong for Tamar. TVQuote: "He came right on out looking like a king!" All the aunties are so excited to see Logan, and bffs Tiny and Toya are there to greet the new Herbert! TVQuote: "I done fell in love on a two way street." Logan is 6+ lbs of perfect, and Tamar is BEYOND proud! Now if only she can make some milk for the little guy.
It is time for the Herberts to go home and Logan is all dressed up in his Fendi duds. Vince is a very protective daddy and is taking every precaution possible. On the ride home, Tamar is taking very good care of Logan, but Vince is still in Papa Bear mode which starts a huge argument. WE hope this doesn't run such a beautiful moment.
Get a glimpse into Tamar and Vince's lives from our crew's perspective with these exclusive details from our producer's notebook. In these notes jotted during episode 207, Baby Herbert Arrives!, our producer talks about what it was like to be there for the birth of Tamar and Vince's baby.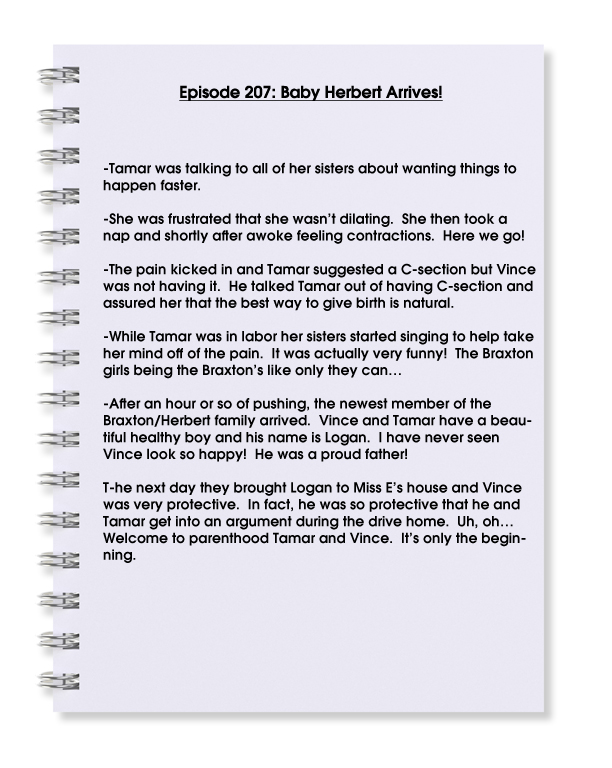 10 Reasons to Watch Tamar and Vince Tonight
1. You think it's hilarious hearing Tamar complain about being hungry, thirsty and in labor
2. You want to see all of your favorite Braxtons in one room
3. You can't get enough of the Braxton sisters' always appropriate sing-a-longs
4. You can't wait to see how many names Tamar can come up with for her lady parts
5. You want to see Vince's face when he realizes he's a father
6. You're curious to see if Tamar is about the natural birth or C-section life when the pain kicks in
7. You love babies, especially baby Braxton/Herberts
8. You want to hear how Tamar and Vince chose a "luxurious" baby name
9. You have bets on whether or not Tamar and Vince can refrain from arguing during this joyous occasion.
10. You want to be part of an amazing moment in Braxton/Herbert history
Click here to see exclusive photos from tonight's episode.