Bridezillas has been part of our lives for TEN years, so it was hard to wrap our heads around a Bridezillas-free world. How were we going to stay in the loop on all the cake smashing, veil ripping, screaming, yelling, fighting, cussing, etc? Will these brides just go off into the sunset never to be seen again? WE doubt it…
But, the fact is that Bridezillas has come to an end. So, WE gave it the sendoff WE thought it deserved. One last hurrah so to speak. WE through a bachelorette bash worthy of Bridezillas with glowing bling rings, tiaras, mustache glasses, boas, sashes, and A LOT of beads. Since WE have shared ten years of Bridezillas with you, WE thought WE shouldn't stop now. Check out some of the photos from our Bridezillas Bachelorette Bash
Tonight on Bridezillas, free-spirited Bridezilla Ariane enjoys dirty dancing with her bridesmaids then banishes her guests because of their attire.  Hillbilly Bridezilla Ashley hosts a wedding filled with moonshine and animals, but not guests; survivor alum Roxy nearly come to blows with an innocent bystander.
On their wedding day, normal brides look forward to sharing a life with their hubby. Bridezillas look forward to drinking and kicking their grandmas out of wedding ceremonies; no one is responsible for their actions in this freakout moment: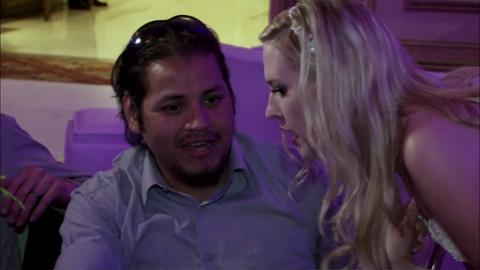 Getting married is something that I have dreamt about my entire life and I started planning my wedding the moment that I busted out of the womb! Some people believe that they were put on this earth to "change the world". I, on the other hand, believe that I was put on this planet to be a wife and mother.
I've always wanted to have a huge wedding but once the planning really started, I regretted that decision and wanted to have a destination wedding. For every girl who wants to get married, do a destination wedding! Even though people say that it's your day, they will still give you their opinions, what they would do, blah blah blah. Seriously, destination is the way to go because you don't have to deal with any planning!!!
I am super organized and I am a crazy control freak! I need things to be perfect and if they're not, all hell breaks loose! I start crying and I pout until I get my way. Ladies, you will learn that when your fiancé sees those tears rolling, he will back down and you will get what you want!! It's your day! Don't let anyone take that from you because you will never be able to do it over again (unless you get divorced but then if you think you will get divorced then you shouldn't marry the person in the first place).
My family is amazing and they really did help with the wedding. My parents aren't together and I'm the only child so I know that it was really important for my mom to be there and take part in the planning. I really was able to depend on my mom during this time!
My favorite part of the wedding day was walking into the church with my parents and seeing Shaun for the first time. I couldn't believe that it was finally here and that I was going to be his wife!! The party was also amazing and everyone was dancing, having an amazing time!!
Now that the wedding is over, it's time to start making babies!!!!!! Hint, hint Shaun!!!!
During tonight's Bridezillas, controlling Bridezilla Sofia proves size doesn't matter while belittling her bodybuilding beau. Over-dramatic Bridezilla Aleshia ignores all signs that her wedding is not meant to be.
Watch Sofia's freakout below. Let's just say…not even producers are safe from the wrath of bridezillas.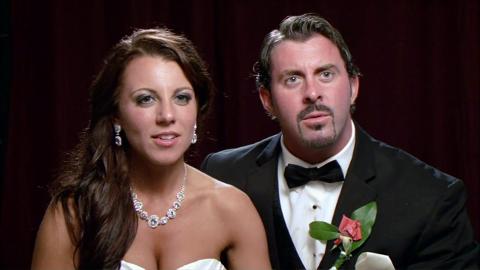 On tonight's epsiode of Obsessed With The Dress, Beau's management style causes a divide in the store. Michele and Hannah travel to San Antonio for the ANTSO pageant with two top contenders but the evening turns sour when Hannah and Michele have a tearful confrontation.
Tonight on Bridezillas, spoiled Bridezilla Yovanna drains her fiancé's funds and hosts a party with a jaw-dropping price tag; unbalanced Bridezilla Evelina ditches a bridesmaid and crashes her fiancé's bachelor party; and Maniacal Bridezilla Aleshia forces her fiancé to sing her a ballad while she loses her cool about a text.
Yovanna's sister responds to being maid-of-honor #2 in this Bridezillas Freakout: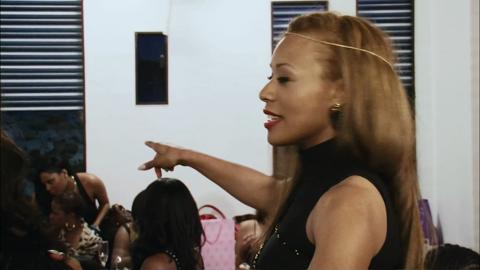 During tonight's Obsessed With The Dress, the divide in the Winning Crown grows when Beau replaces Tiffany as store manager. An expensive dress is ruined in the store while Michele dresses a top contender for Miss Nebraska Outstanding Teen.
Who do you think ruined the dress? Watch and decide for yourself: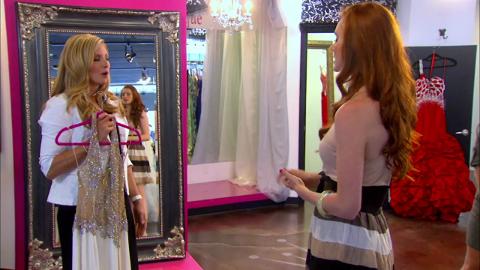 The last time you saw Remy and Rob Maaddi, they were preparing for the arrival of their twins. Now, the proud parents have announced that the babies are here!
Identical twin girls named Alexia Bella and Melina Livia, the babies were born via C-section. Alexia weighed in at 4 pounds, 14 ounces, while Melina was born at 4 pounds, 9 ounces.



Still can't get enough Remy & Rob? Click here for photo galleries, throwback Remy & Rob videos and more!
A person that can't fulfill their promises or talks [one way] and does something different at the end makes me a Bridezilla. I just don't like that. Wedding planning is very stressful and people that didn't go through that yet just don't understand it.
I didn't find it difficult to select my bridesmaids, however, I just wish I were wiser when selecting them. One of them, Erica, was clearly a huge mistake as that little self-claimed 'beauty' wanted to be at all the times in the circle of attention.
My favorite part of my wedding day was getting married to my soul mate and best friend Levi. He is the guy of my dreams and that made me the happiest girl in the world.
My relationship with my family as well in-laws is awesome! Couldn't be happier with my family and am very blessed to have them in my life!
During tonight's episode of Bridezillas, polish model and Bridezilla Evelina melts down when her high fashion wedding shoot gets hosed. Explosive Bridezilla Krystal loses it with her bridal party and has to be restrained.
Watch Krystal's reaction when her bridesmaid presents her with a salad: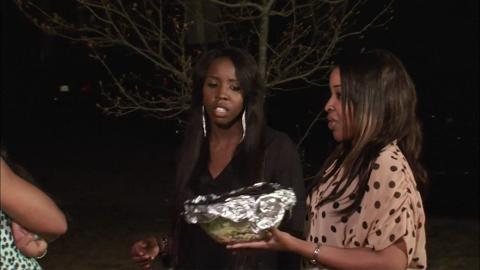 Does it take more than salad to push you over the edge or will you go off your rocker if your cucumbers are not quite right? Take our quiz to find out.
Tonight on Obsessed with the Dress, during a trunk show at the store, tensions mount and The Winning Crown staff comes to blows leaving Michele with a big decision to make.
Check out this clip of the group waiting to hear about major changes at the store: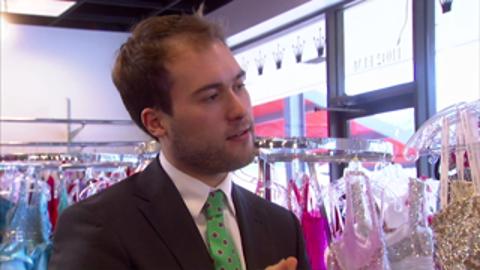 Filming Bridezillas was a blast! I'm an over-the-top kind of person so all the drama of filming and the extra work made my wedding experience even more surreal. Having five people follow you around does slow you down a lot, especially the week before your wedding when you're trying to get so many last things done. There was always a camera directly in your face, catching you doing something stupid. But the crew was polite, fun and friendly and made the taping delightful. I think just as many wonderful things happened behind the scenes of taping the show as did in front of the camera! Overall, filming Bridezillas was a wonderful experience I will never forget and if I could, I would do it all over again!
It's been about six months since the wedding and, so far, it has not been what I expected. We have not had a chance to relax since the wedding. Life didn't stop because we got married. We've been going nonstop with home renovations, surgeries, moving in together and trying to coexist. It's been overwhelming to say the least. We're hoping that things will slow down soon and we can live a normal life…whatever that is.
Thomas and I did not go on a honeymoon yet. We are going to Punta Cana in the summer of 2013. Our wedding was very expensive and we had less than seven months to pay for everything, so to release some of the financial strain, we decided to go on the honeymoon after the wedding.
The one thing I would change about my wedding would be that I would have spent the money to order a chocolate fountain and a photo booth. Also, I would have liked to been able to spend more time with my guests during the reception.
"MARRIAGE BOOT CAMP: BRIDEZILLAS" RENEWED FOR A SECOND SEASON AFTER HELPING TO MAKE WE tv THE #1 WOMEN'S NETWORK FOR YOUNG WOMEN ON FRIDAY NIGHTS THIS SUMMER
NEW YORK, NY – August 1, 2013 – Just days after the completion of a successful first season, WE tv has given a second season greenlight to its hit summer series Marriage Boot Camp: Bridezillas. Produced by Thinkfactory Media, in cooperation with September Films, Marriage Boot Camp: Bridezillas pairs five previous Bridezillas and their husbands together in a single house to undergo intense couples counseling to try to save their marriages. WE tv has ordered 10 episodes to premiere in early 2014. Production begins in the fall.
"This has been a strong summer for WE tv, with solid ratings growth largely driven by Marriage Boot Camp: Bridezillas, which has really resonated with viewers," said Kim Martin, president and general manager of WE tv. "We are excited to build on this momentum with an order for a second season of this popular show, which helped make WE tv the number one women's network for young women on Friday nights this summer."
The Marriage Boot Camp: Bridezillas season one finale last Friday night delivered 837,000 total viewers, 395,000 women 18-49 and 340,000 women 25-54. The show demonstrated steady growth across its first season, with finale ratings up an impressive +46% from the 572,000 total viewers of the premiere. The full season reached nearly 6.4 million total viewers.
The success of the new series helped make WE tv the #1 women's network on Friday nights among W18-49 and W18-34, and helped lead the network to deliver its best-ever second quarter in primetime, growing +28% among W25-54 and +27% among W18-49 over second quarter 2012. The show also generated strong social media activity throughout the season, ranking #1 on Bluefin for new episodes in primetime reality cable on Friday nights. On average the show ranked #5 on Trendrr throughout the entire season.
Throughout Marriage Boot Camp: Bridezillas, couples whose marriages are on a path to destruction undergo a two-week boot camp run by husband and wife counseling team, Jim and Elizabeth Carroll. During this intensive program, the counselors go head to head with the bridezillas and their mates, putting them through a progressive series of strategic exercises and drills designed to get at the root of what's destroying their marriages and whether they can find peace and happiness together.
The executive producers for Thinkfactory Media are Adam Freeman, Adam Reed, Moriah Muse and Leslie Greif. Suzanne Murch is the executive producer for WE tv. Senior Vice President of Original Production and Development, Lauren Gellert, is the executive in charge of production for WE tv.