Last Saturday on David Tutera: Unveiled: David plans an anniversary party for reality TV star Shayne Lamas & husband Nik Richie, but concerns around his daughter's birth may cause him to miss the party. A private plane brings David's baby Cielo home.
Check out David's candid recap:
My experience with David as my party planner was an absolute dream come true! I have always been a fan of David's work and feel privileged to have had his magical mind plan my party! Nik and I wanted to give our family and friends something we never got to give them, as we eloped in Las Vegas. This is not just a party, it's our family finally uniting as one. I wanted every detail of our party to be glamorous and have an unforgettable ambience. The moment I met David, I knew this was like winning the party planning lotto. Every woman should have David on party speed dial. I not only took home an amazing time with family and friends, I took home a new friend in David, as when he works with his clients, he is personal with YOU, and that's what makes a wonderful planner in life! I owe him a lifetime of sparkles because he made our night shine like a fairy Godmother!
My daughter Jazz is turning 17 and I wanted her to have an amazing party because she has never actually had a birthday party. She tried to sell me on a quinceanera and a sweet 16, but financially, I wasn't prepared to give her the party I felt she would enjoy. Now that she is turning 17, I am ready to do it big! I decided to seek David Tutera's help since he is the man when it comes to major events and creating memorable moments.
Here's the problem…I had no idea that David was so darn stubborn, opinionated and a total control freak. He's basically the male version of ME! Naturally we would butt heads when he would not allow me to be involved in any way and wanted me to relinquish full control of my daughter's special moment. I wanted to help and be involved to ensure that my daughter's party was everything she imagined and David wasn't having it. I am super protective of my daughters, so when we disagreed on everything from wardrobe to theme, I really didn't know how this party was going to come out.
On party night, I was a little worried because we had no involvement in the planning of Jazz's Super 16+1, but I must say that David pulled it all together. The venue was very reminiscent of the theme we suggested. Jazz was able to perform and he even brought an old school hip-hop performer to be a part of Jazz's special night. I wanted Jazz to have this moment be remembered forever and I believe that David achieved that for us.
Last Saturday on
David Tutera: Unveiled
: David plans a Super 17 bash for Basketball Wive's
Tami Roman's
daughter,
Jazz
while planning his baby shower. Tami thinks David can't pull off a hip hop party, but David has a big surprise: rap artist DaBrat.
Check out David's recap:
When our lives crossed paths, it was undeniable serendipity. The circumstances, under which our two souls in particular, happened to meet, 3,000 miles away from each other could be nothing less than FATE at its finest. Destiny is real only if it is believed and known it to be the only truth. Miracles are realized only if pure unwavering faith in them is present; and when two souls fully embrace both as their personal truths, the universe takes notice… and in an instant, begins to release the most perfect chain of events. Events that can only lead them to their innermost desires and wishes held deep within their hearts.
And that is exactly what took place when Pasi came across the profile of a girl named Lisette on a dating website. He read my entire profile, which captured him even more than my photos, and these words stirred something within him that he had never felt before. And he knew exactly what it was and as there was not a doubt in his mind, Pasi took immediate action. He meant every single word in his first attempt to connect with me, and it said, "My search on this sight is over. I read your profile and I now know, that you are the One for me."
A life-altering little book (and film) called "The Secret" that teaches the Law of Attraction is actually the reason why we are together today. I refused to accept any further communication from him until he read the book; I was dead serious and this would determine our fate. My actual words were, "Go read "The Secret" and then watch the movie, and after you've done both, get back to me." Fully expecting to scare him off and send him on his way, I received this very unlikely response from such a bold man, "Of course I've read "The Secret", I have the movie too, and I listen to it constantly on my phone in the gym." In fact The Law of Attraction was becoming his way of Life, too. And that's when I gasped for air, fell off my chair, read the message over and over, and knew in my heart instantly that he was the One. "The Secret", The Law of Attraction CHANGED my life in so many mind-blowing ways; I knew I could only be with someone who believed in it as much as I did. Pasi and I finally found each other. Fairytale?? Absolutely. Best of all, it really did happen. Just. Like. That. It happened to Pasi and Lisette.
Hundreds of hours of video-chatting later, I flew to L.A. to meet this man I had already fallen deeply in love, with. Against the will of every one who loved me, of course, but when I feel something, no one can tell me I don't. No one ever could. So off I went… and a few months later I went back again for a second time. Now it was crystal clear to both of us, it was time for me to make the move across country, to leave everything I knew and everyone I loved behind, to be with the man I had been waiting for my entire life, Pasi. Less than three weeks later on September 28, 2011 Lisette and Pasi began their life together in Los Angeles, CA.
Two years later, David Tutera came into our lives, and made our promises to each other official in the most spectacular way. Pasi Schalin and Lisette Perez became Mr. and Mrs. Schalin, surrounded by our closest family and friends from near and far. David touched their hearts and souls and gave us the best day of their lives, and the most magical day I could ever imagine. He read my heart; he could feel my soul's yearnings and even those of the little girl still very much inside my dreams. David was a miracle. David Tutera truly did FEEL for himself, the love that we felt for each other and he was emotionally moved by it, as was every guest in attendance. And in the end,that was the most important thing; for every single guest and person present, including David, to leave the event that night feeling somehow changed and truly touched by love. A magical event was requested, and an enchanted, magical, dream come true was experienced. It was perfect. A certain kind of perfect that only David Tutera is capable of.
With all our Love & Gratitude,
We Thank you David,
For honoring us with your precious gifts,
For Sharing with Us Your Impeccable Presence,
And For being fully Present with Us,
On a Day we Shall Never Ever Forget.
Love, Light & Miracles,
Lisette & Pasi Schalin
Tiffany is a fun-loving, young lady from Beverly Hills, CA who celebrated her 13th birthday with a London-themed Bat Mitzvah celebration on David Tutera Unveiled. Tiffany's fascination with London comes out of her love for the British boy-band, One Direction. A budding artist, Tiffany's own artwork reflects her attraction to all things British. In fact, David chose to have one of her pieces, a chalk sketch of the British flag, made into two large banners that hung high above her celebration space for all guests to see at the Bat Mitzvah. Tiffany is the middle child in her family, with one older brother and one younger.
Tiffany's mom, Debora, is originally from Iran, but her entire family fled the country when she was 10, escaping to America. Debora's hard working parents rebuilt their fortune with wise business investments, and they raised her and her three siblings in Beverly Hills.  Debora is a Persian Jew who lives with her husband, a successful doctor, and their three wonderful children.
Yesterday David Tutera spent some time with his fans at Redbook Magazine's Studio Red 2013 event in Grand Central Station. A line of dedicated viewers and admirers waited anxiously for David's arrival. One fan called out of work and secured her spot at 8:00 in the morning, and another drove all the way up from Washington D.C. just to talk to her favorite party planner. David shook hands, exchanged cheek kisses, took photos, signed objects (and even an arm!), and held little baby David Tutera fans. David joyfully handed out wedding planning and dress advice to anyone who asked. Each fan walked away with a huge smile on their face and some couldn't hold back tears. It was great afternoon spent with Redbook magazine and the always friendly, bright and talented David Tutera.
Click here to see more photos from the event!
During tonight's Kendra On Top, Kendra discovers "Splash" is more brutal than she imagined; she decides to quit the show on national TV. Kendra and Hank joke about an open marriage but when Kendra spots her ex-boyfriend, Shawne Meriman, training at Hank's gym, she can't decide whether or not to tell Hank (who finds out on his own).
Check out this close up! There's nothing hotter than neon green speedos against milky white skin…WE think Pat's got it going on!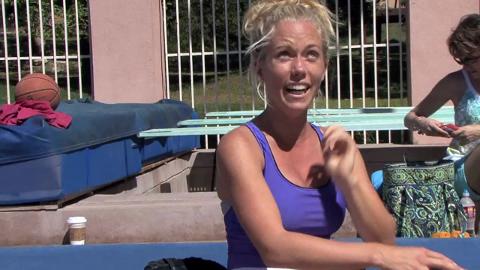 On tonight's David Tutera: Unveiled, caught between a fashionista bride and a conservative mom, David relies on a former centerfold model to get the bridal party in shape, then he plans the nursery for his baby daughter's arrival.
Here's a special recap from David!
Don't forget to subscribe to David's YouTube page… and don't forget to subscribe to WE tv's!
I met Eveni in 2003 when he walked into my house with my brother, Josh, with a guitar in hand and long hair. We stayed friends from 2003 until we both went to school in Phoenix, Ariz. where we finished our first year of school as friends and then began dating in the summer of 2006. We dated for nearly six years until we were engaged!
Eveni and I are polar opposites and trying to plan the wedding was harder than I thought considering I thought Eveni would just let me do whatever I wanted. We had to work on trying to make a fashion show wedding theme meet a musician's dream of a concert themed wedding, and none other than DAVID TUTERA could've made this all possible. We had the most amazing wedding where dreams became reality and where both our visions came to life and went perfectly. We have zero regrets from that day because it was such a blessing and one of the best days of our lives. Our friends and families were so excited to hear about the show because they felt like we needed professional help with all the ideas I had in mind. The wedding day was pure bliss and I couldn't have asked for anything more. We are so blessed and thankful!!
It's Monday, and all of us are probably working at a snail's pace. There is party planner that has cracked the code on how to get rid of that "tired" feeling! Watch David's video to learn how he takes his coffee and how he can't seem to drive by a Starbucks without stopping for a jolt almost 4 times a day!
Don't forget to also subscribe to David's YouTube page… and don't forget to subscribe to WE tv's!