This situation with Mitchell is getting out of hand. We aren't seeing eye to eye. I get that people really only wanna hear when they are doing a good job, but that isn't reality.  When things aren't working or flowing, they needs to be addressed so that collectively a solution and/or plan of action can be put in place to get back on track or decide how to end the journey all together.  Something's gotta give with us and Mitchell or this isn't going to work.
My Krista is such a smart, beautiful and gifted girl. She makes me proud.  Krista loves to sing and she really loves singing on stage. So I've decided to bring her along to Atlanta and have her join me and Tina on stage.  She's so excited.
TINA! Why?!!! Are you sure this what you want to do and how you want to do it? I mean infidelity is a blow to your entire state of being on an alone and behind closed-door level, but going public takes it to a whole other dimension. I get and respect her decision to do it; I even understand her attempt to gain some type of control over this situation that is all consuming but I'm still worried.
Now on top of the realization that Tina has decided to share her story with Ebony i.e. the "world"… we are almost at a place of no return with Mitchell Solarek. A lot has been going on and a lot has NOT been happening with my management and it is time to deal with it before things get worse. This is not going to be fun – sweet brother Solarek doesn't handle criticism too well. But it's time… we've been silent and passive for months now. Necessary conversations aren't always easy.
I know Erica doesn't completely get my decision to share the truth of me & Teddy's marriage, she at least respects my right to do so.   Even though it never needed to be said, I'm glad she did tell that she has my back and is here for me.  And on top of dealing with all the drama in my marriage; we got issues with management.  Erica & I have to let Mitch know ASAP that we are NOT satisfied and that some things need to change for the better quick or the end of Mary Mary and Mitch is gonna be over real soon.
Sister Act 2 will be airing on WE tv tonight and guess who makes a guest appearance in the movie? Our very own Erica from Mary Mary.  WE asked Erica about her time while filming and she reminisced about arriving on set for the first time, meeting Whoopi Goldberg and talking to Lauryn Hill:
When Erica got the call about the movie she was so excited to get to show off her singing talent on the big screen.
"Sister Act 2 was my very first time being in a movie! A wonderful lady named Iris Graves-Howse somehow found me and asked if I would be a part of an extra choir they needed for the competition scene in the movie. Who would say no to that? Not me!  I had been singing in my church choir and my college choir and couldn't wait for a real chance to be on the big screen," Erica said.
Erica was so overwhelmed by the opportunity it brought tears to her eyes.
"I had a trailer with my name on it, and cried when I got in the dressing room, I was so happy and overwhelmed! Being able to watch Lauryn Hill and Whoopi Goldberg and all the amazing people in the film was so exciting for me," Erica explained.
The most memorable part of the experience for her was getting the chance to meet so many talented people.
"All the kids in the movie were so cool; I remember meeting Jennifer Love Hewitt and Kathy Najimy. I even got a chance to sit and talk to Lauryn Hill between takes while they changed camera angles. She told me about her new group and that their first CD was coming out and how excited she was," Erica laughed about this. " That group was the The Fugees."
Erica looked back on the experience fondly. She sang her heart out and owned her role.
"…Good Memories. You couldn't tell me nothing! I was big time," she said with a smile.
Make sure you catch Erica in Sister Act 2 tonight at 8/7c and again at 10:30/9:30c.
Mary Mary announces some tour dates for the rest of 2013!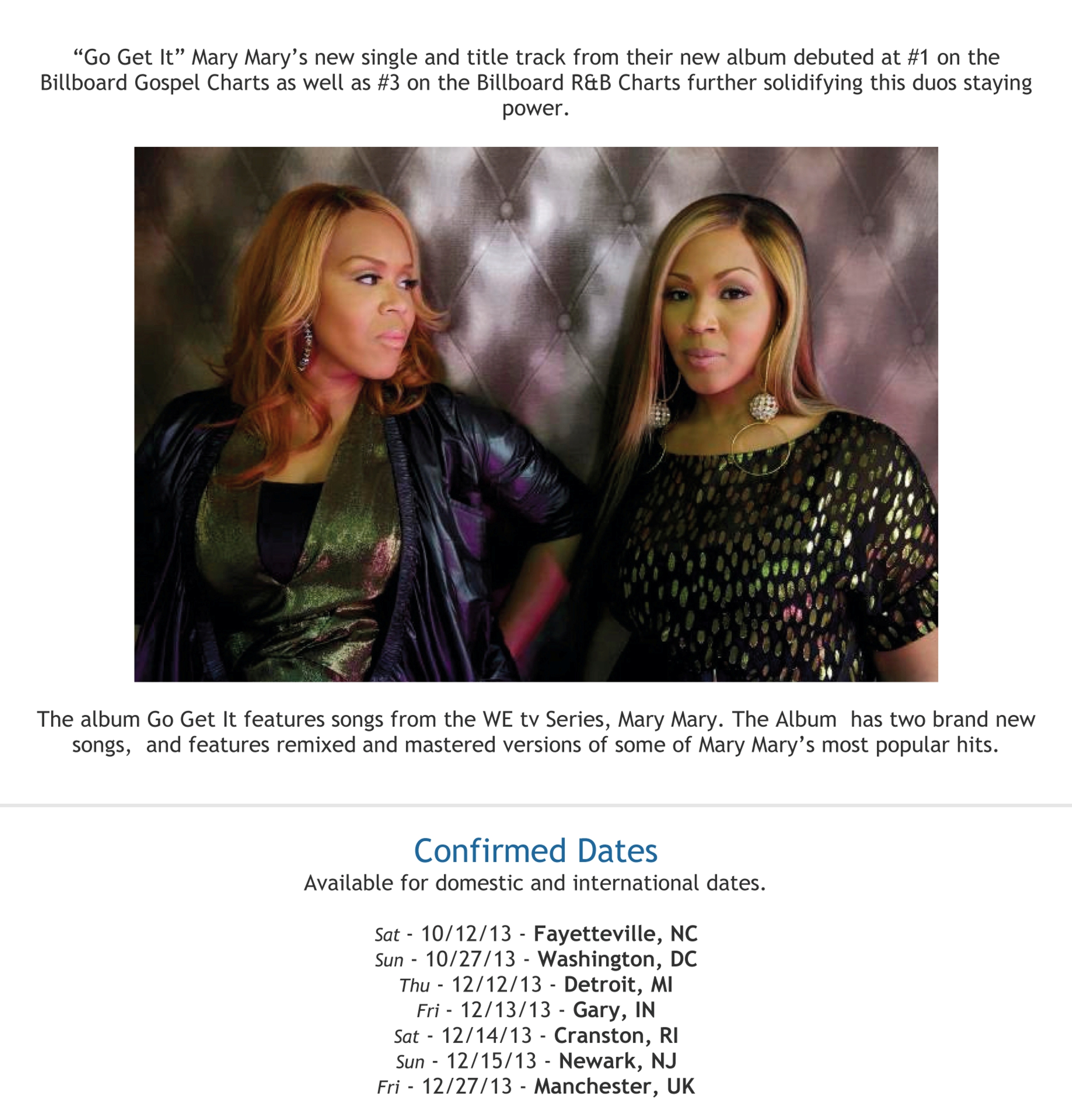 The winner of the Mary Mary Singing Spotlight contest, Vanessa Brantley, had her dreams come true during her prize trip to L.A.  She arrived at her hotel overlooking the famous "Hollywood" sign, was taken to a recording studio to record her own music and got to play her music for leading record producer Warryn Campbell and Mary Mary's very own manager. She even got to meet Tina and Erica! Sounds like an amazing experience and with a killer voice like hers, she deserved every minute of it.
See more photos from Vanessa's trip here.
Watch Vanessa's winning submission

Mary Mary arrived to sound check to prepare for their tour.  MMQuote: "We're going on the line and fronting the money so that we can have everything the way we wanted."  And to no surprise, Tina has some issue with the way the set looks based on changes Mitchell has implemented.  MMQuote: "Do I work for you? Or do you work for me?"  With that, Tina storms off and leaves Erica to chase after her and try to settle the issues.  WE don't know what the set was supposed to look like according to Tina's vision, but we don't understand why Tina's going at a 10 right now.  Sorry Tina, but WE have to agree with Mitchell.  This is really not that big of a deal, and you fuming and causing a ruckus while you should be doing sound check is not helping matters.  Poor Mitchell just sounds beaten down at the end of this season, and WE truly feel bad for him.  MMQuote: "I walk into the building and I'm nervous because Tina annihilated me on the phone."  Luckily, these two settle things quickly with a hug and an apology before Tina and Erica are surprised with a personalized video from their husband and kids.
Back in L.A., Goo is packing up her entire life to move to Atlanta to be with Justin.  MMQuote: "I'm wondering if I'm moving too fast or if this is really what I want to do."  Goo seems really uncertainty about making this huge decision, so she calls Justin for advice.  Justin thinks that a new environment could be good for Goo, and could cause her to experience something new.  Even though she says she is moving, WE still have our doubts.
It is the first night of the tour in Jacksonville.  MMQuote: "It seems like I just had my baby last week and here it goes.  Mary Mary is in full swing again."  Tina is feeding off the energy, and it's a great feeling to be back performing for the fans.  However, this high couldn't last forever as the lighting crew puts the spotlight on the wrong Mary during Erica's solo portion of "Yesterday".  MMQuote: "We are having some serious technical difficulties on this stage."  However, it does not seem like the crowd minded at all, but Tina and Erica are perfectionists and will be making some serious changes to fix these issues.  MMQuote: "Not acceptable.  Mitch, get it right."  Mitchell will plan another walk through in Atlanta to make sure all these kinks are worked out before the Marys hit the stage tomorrow night.
Because of the lightening and technical issues, Tina and Erica need to pull another rehearsal to make sure Atlanta is perfect.  The crew needs to tear down the stage, the band needs to pack up, and everyone needs to break for lunch, but Micromanager Tina's list of fixes is taking up a lot of time.  MMQuote: "I think everybody deserves respect.  I don't care what their title is.  They don't feel like they're underlings."  With Tina running things and Erica getting annoyed at the constant demands, WE're not sure if this rehearsal is ever going to end.
To defuse some tension, Mitchell takes Tina and Erica to lunch.  MMQuote: "I can feel it coming.  I've seen it a million times.  We're gonna have a big argument.  We left the rehearsal and I'm still annoyed and so is she."  With Erica feeling disrespected, Tina is in no mood to talk about the past or anything but the issues with the tour.  MMQuote: "I'm never going to adjust my life and the way I roll to the way that makes sense for you."  It is clear that Tina and Erica have two different styles of communication, but each should be able to come to a common agreement.  And poor Mitchell is just stuck in the middle, switching his head from left to right like he's watching a match at the U.S. Open.  MMQuote: "Let's go our separate ways because this ain't workin'."  Mitchell tries to mediate the argument, but Tina is not listening to a word he says and leaves the restaurant.  MMQuote: "We're singing about God for Christ's sake.  Who in the world would argue that much to sing about God?"  While Mitchell is calming Erica down inside, Tina is outside with Treiva waiting for a cab.  WE give Mitchell the manager of the year award.  He is doing an awesome job making Erica realize that she needs to work at this relationship before officially calling it quits.  At the advice of Mitch, Erica calls Ms. Honey for some guidance.  MMQuote: "Work. It. Out."  When Mitch tries to talk the same sense into Tina, she says that 3 letter word and hangs up.
MMQuote: "Erica and Tina have been fighting like this since the beginning of time."  This feels like the end for Erica, and with Tina being a no show at the venue with only two and a half hours left til show time, this may really be the end of Mary Mary.  MMQuote: "I feel like I'm gonna throw up.  I can't do a show with one Mary!  Where is she?"  Tina is not picking up her phone either.  Luckily, Tina shows up 45 minutes before the show, and to capitalize on this happiness Goo let's Tina and Erica know she will not be moving to Atlanta.
As soon as the concert ends, Goo decides to break the news to Justin.  MMQuote: "I don't feel like now is the right time."  With Justin and Goo's relationship not being serious in terms of an actual engagement, she just can't bring herself to move away from her family.  MMQuote: "I'm gonna stay my behind right here."  Let's face it, Justin.  Without that ring, a girl can't haul her cookies cross country for just a promise.  MMQuote: "You won't know until you get on one knee and ask me to marry you."  Justin is not happy, but he needs to understand how Goo feels.  This is a big decision, but if he can't support her decision then Goo will say her "goodbye."
On the tour bus, the sisters talk out their issues.  The main issue is communication, and these two must compromise a little bit in order to work things out.  MMQuote: "I think we absolutely need to take a break from Mary Mary because I'm not cut out for it anymore, Erica."  The sisters agree to go their separate ways and assess what each of them wants.  As the sisters talk over their decision with Mitch, he knows this is the official break up of Mary Mary.  MMQuote: "We need a break and we need to get off the merry-go-round for a while."
Well, that's it for season 2… See you in season 3!
Santana is finally here!  Mommy and Daddy are definitely proud parents, but this looks like the end of Tina's employment at the baby making factory.  MMQuote: "We got three babies in car seats.  Who does that?"  The whole family is there to greet the new member of the family, but Tina is not safe from Honey's lecturing about doing too much too quick.
While Tina is resting up and taking some time off, Erica is taking some time off as well… to explore solo opportunities.  MMQuote: "Now it is time for me to do How Sweet the Sound by myself."  Not only will Erica be without Tina, but Warryn cannot accompany her on the tour either.  Warryn is a bit nervous about Erica's song choice, and how she will do singing without Tina.  It has been 12 years since Erica has performed solo.  MMQuote: "I'm nervous she might not connect the way her and Tina connect on stage."  Erica needs to do her homework to make sure she is going into this 100% ready.
As Erica arrives at Tina's house, she received a phonecall from Mitchell explaining that the December offer they had received has now grown significantly.  However, Tina is supposed to be in Hawaii with Teddy and the kids.  MMQuote: "I wish I could do it by myself, but that's not the scenario."  Mitchell wants Erica to convince Tina to do the gig since he is banned from talking "Mary Mary" during her maternity leave.  Although, if we were to start a conversation with Tina about doing something she wouldn't want to do, we probably would not have begun by mentioning we were taking her only babysitters on the road with us.  As expected, Tina is not budging even with a 6 figure offer AND a private jet.  MMQuote: "You're trying to say one more thing and give me 20 more minutes of Mary Mary.  I'm not doing it."  Teddy only has one week of vacation, so Tina intends on spending that week together as a family.  MMQuote: "The answer is going to be no when I'm finished thinking about it."
It is family night with the Atkins ladies, and we finally get to meet Tina and Erica's other sisters and their niece.  However, you know the Atkins ladies always get straight to the point, and this dinner is no different.  Looks like Eddie never showed up at the hospital to see his new grandson, and he went off and got married without telling his children on the same day Santana was born!  MMQuote: "Why would you tell me you're coming, and you're going to get married? And why don't I know you're getting married?"  To top it all off, his excuse for not telling anyone he was getting married was because it was just close friends and family.  Excuse me?  What are your daughters?  Between his lack of effort around Santana's birth and other circumstances that happened around Alana's wedding, the girls have reached their limit.  MMQuote: "Sometimes you need your sisters to kind of make peace with what your reality is."  It is hard for each of the Atkins women to wipe the slate clean when you have someone who is moving on without you.  One thing WE have to say about Honey is she is a loyal woman.  Regardless of what Eddie may do, he is still their father and he still loves them.
Erica is being shot by the legendary Derek Blanks for Uptown Magazine, and she is really feeling the solo gig.  She doesn't need to keep anyone on schedule but herself; she can just relax, get her hair and makeup done, and then do her thing.  Goo definitely accomplished making Erica look like the ultimate "solo act".  Way to go, Goo Goo!
Mitchell has joined Erica in Atlanta for How Sweet the Sound, and the two are meeting up for lunch to make sure everyone is settled and calm before the big performance.  MMQuote: "I'm excited and I'm glad, but I feel like Tina is quitting on me."  It is really difficult for Erica to be without Tina, but with Mary Mary being so close to achieving the career they always wanted it's hard for Erica to not feel like Tina is quitting.  MMQuote: "The only way I see Mary Mary continuing is if you have something you can go do when she wants to take time off."  Erica truly does want to achieve success as a solo artist, and she needed Mitch to tell her it's ok.
When Erica arrives at the venue, she seeks advice from another gospel singer, CeCe Winans, that knows a thing or two about splitting away from a sibling duo.  CeCe assures Erica she will be just fine, but it still does not calm her nerves.  To make matters worse, her nerves are now causing her to question the clothes Goo Goo picked out for the performance.  MMQuote: "This is real hatchy tatchy.  You know I still sing about Jesus."  Luckily, Warryn surprises Erica and instantly changes her mood before all hell breaks loose.  Big up to Warryn for being "Husband of the Year."  MMQuote: "I feel like the man.  There's nothing better than watching her face light up when I walk in the room.  It's worth the 3,000 mile trip."  Warryn is there to support his wife, but also support his artist so he gives Erica the tough love she needs for motivation.
With Erica, Goo and Honey on the road, Alana is helping Tina adjust to life with five children.  Tina does appreciate the help, even if Alana thinks she has an odd way of showing it.  While Santana naps, Tina and Alana revisit their previous conversation about the current relationship with Eddie.  Alana hasn't spoken to her father, and it seems like his lack of effort to talk in the past is a huge deterrent for her to reach out again.  MMQuote: "If you take that kind of attitude toward Daddy, I'm telling you that is going to affect how you love your husband."  Tina speaks from experience because it was her own issues with Eddie that affected the way she was able to love Teddy.
When Goo goes to retrieve her backstages passes, she is told that Justin is not permitted to be backstage per Mitchell's direction.  MMQuote: "Justin is my boyfriend and Justin is coming here.  If Mitch don't like it, he can find somewhere else to go."  Goo confronts Mitchell about this issue, but between Goo's feisty attitude and Mitch's insistent tone WE have a feeling we will not see any resolve.  MMQuote: "This is my job now. I'm working and I don't want him back here when I'm working."  With no regard for Mitchell's feelings regardless of whether they are 100% justified, Goo gives Justin someone else's backstage pass and sneaks him into the green room.  Even Erica doesn't want this dude around right now.  At least we have a voice of reason like Honey to talk Mitch into at least hearing Justin out (although WE get why Mitch would not want to give Justin a chance… "fool me once…").  MMQuote: "That's right! Get 'em, Mommy!"  WE have to hand it to Justin; he is really giving Mitchell an honest and sincere apology.  WE honestly didn't think he had it in him.  At last, the beef is squashed… for now!
MMQuote: "It's time to face the music, and it's time for me to sing by myself."  Erica takes the stage for her first solo performance in 12 years, and sadly for Erica the crowd is not connecting with her performance at all.  As Erica exits the stage, she knows she didn't have the best performance because of her song choice.  MMQuote: "I know what I got to do.  I got to sing a Mary Mary song."  Only problem is that Mitchell doesn't know if How Sweet the Sound will allow her to change her song.  MMQuote: "Tomorrow night, I need to sing 'Yesterday'."  Erica needs to kill it in New Jersey with the new song she picked, or else she will really have a problem.
Will Erica nail her second solo performance?  Will Tina be able to get back into the swing of Mary Mary or will her desires for perfection cause her to say "goodbye?"  WE want to hear from you!
The sisters fight traffic with a police escort to get back to the convention center for the sisterhood panel at Essence.  MMQuote: "So we've been on this roller coaster ride, I get them on stage, and now we can breathe."  The panel is hosted by the fabulous Michelle Williams (who is also our favorite hairstylist, Kim Kimble's client), and the sisters jump right in by sharing their sister beef!  MMQuote: "We go hard, but we apologize big."  The sisters have a great time on the panel, but compared to the crowd of 90,000 they will be performing for on Sunday this ain't no thing!  MMQuote: "Ain't that alright?"
MMQuote: "You never pull an artist from a performance while they're in the building."  Warryn feels like he needs to have a serious discussion with Mitchell about him pulling the girls from their charity performance.  Is it just us, or is Warryn more visibly involved this season?  WE can't get used to it!
Tina and Erica head to rehearsal to get everything right for their huge Essence performance.  MMQuote: "Performing on the main stage after trying to get here for so many years, we gotta be good.  Better than good.  We gotta be leaving our souls on the stage."  But, when Tina starts to sit down in rehearsal everyone starts to get a little concerned.  Then Micromanager Tina comes out, and starts drilling the background singers hard.  MMQuote: "Me? I want to focus on me because even if they mess up, I want to make sure that I don't."  Erica looks like she is about to lose her patience, and she can't help but explain that frustration to Tina.  MMQuote: "The last thing we need right now is an argument."  The sisters take the conversation to a private place so they can talk about it further, but neither sister understands each other's point.  MMQuote: "We have wasted enough time."
After that exhausting rehearsal, the Marys are glammed up and ready to receive their Lifetime Achievement Award from Essence.  MMQuote: "I am too excited!"  Many well known gospel stars have come together to honor Mary Mary, and it is truly an amazing event.  However, Tina gets off stage to deal with an inconsolable son back home in L.A..  MMQuote: "I know Tina is a mom first, but to leave during a tribute to take a phone call that was about death or someone falling in the pool?  Who does that?  Who does that?  Tina does that, obviously."  The sisters are speechless and so grateful for this honor, and having such well respected members of the gospel music community honor them is far beyond anything they could have imagined.  MMQuote: "You took everything I was and made me what I am."  It is truly a humbling experience for Tina and Erica, and they do not forget to thank those who have gotten them to this point.
The day of the biggest performance of Mary Mary's career is finally here!  MMQuote: "God, this is a huge facility."  The sisters only have 30 minutes for their sound check, but the sisters are faced with some issues as soon as they start practicing their opening.  With the time it is taking the sisters to work out their entrance, they are left with little time to have a proper sound check.  MMQuote: "I'm pregnant, I'm hormonal, I'm not 100% myself, and I'm not getting over the fact that this is not going the way I would like to as quick as Erica is so she's frustrated."  The sisters are kicked off after 45 minutes, and unfortunately did not have enough time to practice each one of the songs being performed.  MMQuote: "If we're not incredible on this stage tonight, they won't invite another gospel music act back."  To make matters worse, Warryn is looking for "clarity" on yesterday's charity performance mishap now. Warryn, could you have waited until you got back to the hotel or at least until you were in the car service back to the hotel?  At this point, WE can't tell who is overstepping the line and who has a right to call what shots.  WE are confused!  MMQuote: "Keep writing hits and I'll show you the money."
Backstage at the Super Dome, the sisters are trying to get ready and work through their nerves.  Of course Tina's nerves are causing her to nitpick at the smallest details, like the way GooGoo sewed the zippers on to Tina's leggings.  The sisters are also taking this time to watch their rehearsal videos and run through their choreographed steps.  WE're worried!  MMQuote: "This is Essence.  This is the Super Dome.  It's gotta be bigger than life."  Erica and Mitchell are trying to keep Tina on schedule, but first Tina must fit in a prayer.  However, Tina still needs to put on her shoes and provide a sound bite for a TV ONE interview.  It is time to hustle!  MMQuote: "We have to deliver."
Mary Mary takes the stage to 90,000 urban music loving fans ready to get up out of their seats and dance to some of Mary Mary's best known songs.  The crowd is on their feet loving themselves some Mary Mary!  MMQuote: "These fans came ready.  It's like this is what they've been waiting for the entire year."  However, a pair of slippery pants seems to be ruining Tina's performance and flow.  MMQuote: "The great thing about Tina is she has the ability to turn a moment like that into comedy because she is very funny."  And with that, Mary Mary continues to give a performance of a lifetime.  Once they get off stage, the sisters are ecstatic, exhausted and overcome with emotion.  MMQuote: "I was so proud of them.  They looked like this is what we do, we belong here.  You gave us 30 minutes, we deserve an hour and this performance is going to show you that."  Mary Mary truly has the love and support from the Essence crowd and especially from their family.
Is this the end for Mary Mary?  Will Erica record her own solo album?  Where do the sisters go from here?  WE want to hear from you!
With Essence on the horizon, the family gathers to celebrate a truly important event… Tina's baby shower!  MMQuote: "I'm glad to be having my baby shower since my baby is due in two weeks!"  With all the touring and the press around "Go Get It", Tina has almost completely forgotten about her upcoming due date and the celebration that goes along with it.
Skinny mini Erica has been working like a dog to get into a healthy zone, and she looks amazing!  As usual, Erica is on time for Mary Mary's rehearsal with the fabulous Laurieann Gibson and apparently Tina is still at home and nowhere near the studio.  MMQuote: "I can't do nothing with one half of a unit that I need to get there."  WE also find out that Erica has taken the offer to host How Sweet the Sound and perform solo.  MMQuote; "I'm hoping and praying that she takes it well."  Tina arrives and it is down to business.  The ladies choreography is a huge change from their normal two step across the stage, and it works.  Laurieann must go to another rehearsal, but that doesn't mean that the rehearsing will stop due to a tardy (but determined) Tina.
Oh, look! It's Justin and he's giving Goo a hard time about her busy schedule and her phone activity.  So obviously that's the perfect time to show him a listing on your phone about Atlanta apartments.  Is that all you need to do in order to get your boyfriend to stop being annoying?  WE are writing that down!  MMQuote: "I do love Atlanta and I definitely love him, so I'm thinking about it."  And apparently the best way to get your girlfriend to actually commit to one of those Atlanta listings is to show her a picture of a diamond ring alluding to a proposal.  WE are learning so much! But, for real… WE hope Goo gets everything that will make her happy.
Tina and Teddy go to visit Dr. Freedman for a checkup, but when Tina tells him she still has one more performance before giving birth it looks like Dr. Freedman is going to be the one needing a doctor.  MMQuote: "You can't say a bunch of stuff to make him nervous, Dr. Freedman."  No, but I think he can give his medical opinion.  Dr. Freedman also urges the couple to have a backup plan should Tina go into labor at Essence.  This is serious, Tina!
Erica and Tina meet up with Goo to go over Essence wardrobe, and having been to Essence before WE know how important it is to look good at the festival.  It is also important to dress in breathable thin fabrics because it is HOT HOT HOT in NOLA, and being a wet, sweaty mess is not cute.  MMQuote: "I'm still on operation get thin, so I am cut in the face but still thick in the waste."  The options Goo has pulled don't seem to be pleasing the duo.  Tina needs sleeves to cover up some areas she is insecure about, and Tina is feeling a bit more urban and funky than the options in front of her.  MMQuote: "We don't have time for another fitting.  I have other clients and Justin is in town… visiting."  Tina and Erica have noticed a decline in Goo Goo's professionalism since she started dating Justin, and need her to get back on track.  MMQuote: "We're working.  You get a check to do this.  It ain't right."  The family card has been ripped up, and Mary Mary is speaking now… this is not an Atkins issue.  At least Erica agrees to meet with Justin and hear him out.
To continue the confrontations and beef that seem to follow Mary Mary, Warryn meets with Mitch… again.  It's at this moment Mitch realizes he is not just being paranoid about being out of the loop.  He didn't even know Tina wasn't going to an awards ceremony tonight.  MMQuote: "Once again, Mitchell on the bench."  Mitch doesn't want to be the last one to know, which is pretty understandable since he does manage Mary Mary.  At the end of the day, no one's calendars are jiving regardless of who works for who.  And people need to check their cocky attitudes at the door.  MMQuote: "That's the difference between me and you.  You can't say that.  I can."  Mitchell is attempting to tread lightly, but this is just a mess.
Goo, Erica and Justin meet up to clear the air, and Erica comes out guns blazing.  Justin explains that he got emotional when talking to Mitchell, and he was out of line with the way he acted.  MMQuote: "I can't help but raise a brow and go, 'What is this?'"  Erica's worries are valid.  At least Justin is apologetic, but it still will take time for Erica to be 100% Team Justin.  MMQuote: "Tina is one person.  One out of nine."
Erica is attending the awards ceremony solo, and it's a bit weird getting ready for such an event without Tina.  Everyone is dressed to the nines, but Warryn has made his own dress code of head to toe denim and sneakers.  That's the music business for you!  Erica, Tina and Warryn are called on stage to be honored, however Mary Mary is a Mary short.  MMQuote: "I guess I need to start getting used to doing stuff without Tina."  Erica must tell Tina about her solo opportunity before it gets too late.
Erica has invited Tina over to discuss How Sweet the Sound, and this seems like it will not be a civil conversation.  MMQuote: "I will be judging and singing by myself."  At first, Tina's main concern is if it will conflict with any plans Mary Mary currently has on the books, until she finds out (like Mitchell) she is the last to know.  MMQuote: "You went and sealed the deal, took the meat, and sealed the deal without telling me nothing.  Why I got to find out on the back end?  That ain't right!"  Clearly, when Tina meant "it's ok to do your own thing" she only meant while she was out of commission.  This conversation quickly escalates into an argument, and the Marys start throwing around threats of both going solo.  MMQuote: "We are talking about one gig that's coming, and we are talking about it now."  I think these sisters need to take step back and attempt to hear what each other is really saying, because no one is listening.
Mary Mary finally makes it to New Orleans, but the tension is still palpable from the "solo" conversation they had earlier in the week.  But, it's time to get down to business.  A very pregnant Tina is really starting to feel the effects of her pregnancy.  MMQuote: "It's annoying because I don't like feeling like I'm incapable of doing anything that I want to do to the intensity that I want to do it."  The convention center is BANANAS right now for the Mary Mary meet and greet.  MMQuote: "Nobody will be able to tell I'm pregnant because I'm going for blood when I get on that stage."  I officially nickname her Tina the Tiger because her tenacity is insane.  Now it's on to the charity event to perform, and then back to the convention center for the "Sisterhood Panel" with the Braxtons.  In true Mary Mary fashion, this is going to be a rush and an extremely tight turnaround.  Unfortunately, Mary Mary needs to walk out of their performance in order to make sure they make the "Sisterhood Panel" at Essence.  MMQuote: "I don't like being in this type of situation.  It's frustrating."  Mary Mary and Co. don't even know if they will make it even with their police escort.
Can the sisters get through one performance without getting into an argument?  Will the tardiness cost them their full performance at Essence Music Festival?  WE want to hear from you!