Last Friday on Kendra On Top: Kendra goes car shopping and she has an anxiety attack during the test drive. Her therapist says she fears things she can't control. While Hank is away on a guys' only camping trip, Jessica accompanies Kendra to the doctor to have her IUD removed, whether Hank is on board or not!
At the doctor's, Kendra makes us second guess the thought of having kids. There is no coming back from the clip you are about to see – you have been warned.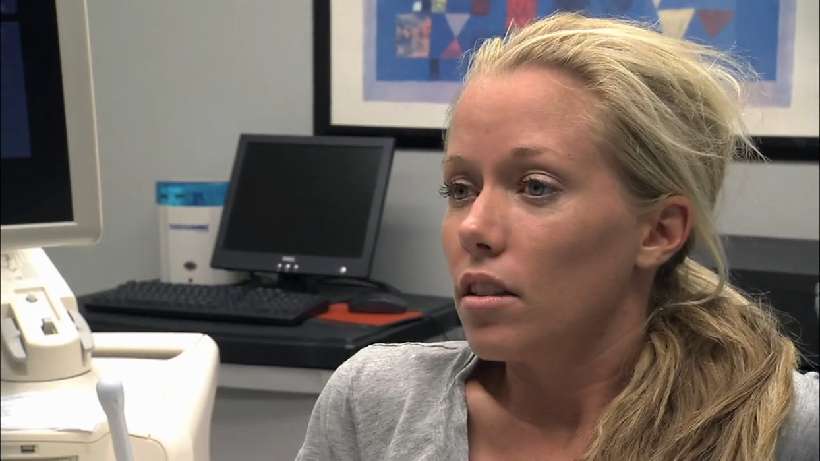 Last Friday on Kendra On Top: Pat McAfee gifts Kendra and Hank a weekend in Big Bear for their four year anniversary. Pat's girlfriend, Alison, Kyle, Jessica, Travelle and his girlfriend join in the fun. During the party, Hank overhears Kendra telling Alison she should sow her wild oats. Hank leaves the party upset. After a wild night of partying in Big Bear, the gang discovers Hank asleep outside on the dock. He's worried Kendra isn't happy being married, but she assures him that he's the only one for her. Kendra and Hank are disappointed that Pat isn't as fun as he used to be now that he's with Allison – but they're glad that they complement each other as a couple.
After finding out that Pat's girlfriend, Alison, is a bit conservative, what better way to make her a part of Kendra's group than to test the waters….Literally. WE call this one, "The Initiation". (Peep Pat's worried face: hilarious.)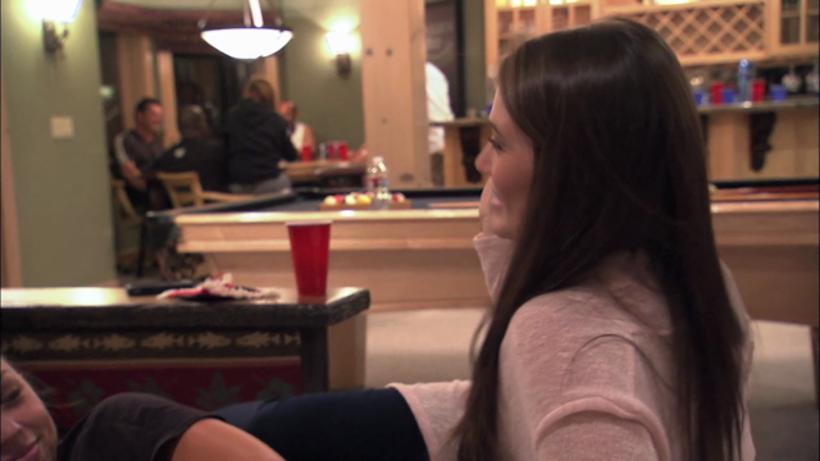 WE have all seen Tami Roman go off on Dave Edwards on Real World Los Angeles for the infamous "it wasn't not funny" blanket incident, and more recently lay into every basketball wife to grace the TV screen. However, it seems like David Tutera hasn't! He must have been in for quite a surprise when he went toe to toe with the likes of this well known reality star. Lucky for you, the #WEtvInsider caught up with David to get some intel on what you can expect from this Saturday's "Super Sweet 17" episode with Tami and her daughter, Jazz. You won't want to miss it, especially since Tami and Jazz will be chatting LIVE on Twitter Saturday night at 9p.
On Last Saturday's David Tutera: Unveiled, David's bride has bizarre requests, from a black bridal gown to a life-sized T-Rex. David makes a bet with the bride when he hears her brother wants to be a bridesmaid & wants to wear a dress to the wedding.
Watch David's recap here:
Bridezillas has been part of our lives for TEN years, so it was hard to wrap our heads around a Bridezillas-free world. How were we going to stay in the loop on all the cake smashing, veil ripping, screaming, yelling, fighting, cussing, etc? Will these brides just go off into the sunset never to be seen again? WE doubt it…
But, the fact is that Bridezillas has come to an end. So, WE gave it the sendoff WE thought it deserved. One last hurrah so to speak. WE through a bachelorette bash worthy of Bridezillas with glowing bling rings, tiaras, mustache glasses, boas, sashes, and A LOT of beads. Since WE have shared ten years of Bridezillas with you, WE thought WE shouldn't stop now. Check out some of the photos from our Bridezillas Bachelorette Bash
Zack and I met when we were both RAs at Florida State. We ended up hanging out in the same group of friends in college, but never dated until senior year. We actually found each other rather annoying for the majority of those first years, but time has a weird way of changing things.
We came to David with a million scattered ideas for creating our wonderland. In the end, David thought our ideas were insane, but was still able to understand the vision and add his personal touch to it. There were some requests that were too off the wall, so I had to strike a deal with David: my brother Greg had to wear a bridesmaid dress in order to have the T-Rex prop I was dying to have.  David went beyond the call of duty by sorting out all of the bizarre requests and making the whole thing beautiful and cohesive. Zack and I had some major disagreements about fashion choices, but of course, the wedding wizard, formally known as David, found a great balance that truly made our wonderland a dream come true. The only regrets we have are not making all of the men wear dresses, and not riding the T-Rex.
The wedding shocked a lot of our friends and family, in the best and worst way possible. There was not a middle ground for people's reactions. People were either extremely excited or nervous about it. Rest assured, we knew that once the wedding day came, everyone would see how amazing it was.
At one point, all of the groomsmen made a huge dance circle around my Nana. Nana had five gentlemen's numbers by the end of the night.  The cake was so beautiful that no one wanted to eat it at first! Like most brides and grooms, we barely had time to eat, we were so busy. If it were up to us, time would have really stopped that night, and everyone would live in that wonderland forever celebrating.
Last Saturday on David Tutera: Unveiled, Bride Lisette acts like a little girl and wishes her mom were here to make her wedding dress. David is distracted by his daughter's upcoming birth and blames it on pregnancy brain.
Check out David's recap:

When our lives crossed paths, it was undeniable serendipity. The circumstances, under which our two souls in particular, happened to meet, 3,000 miles away from each other could be nothing less than FATE at its finest. Destiny is real only if it is believed and known it to be the only truth. Miracles are realized only if pure unwavering faith in them is present; and when two souls fully embrace both as their personal truths, the universe takes notice… and in an instant, begins to release the most perfect chain of events. Events that can only lead them to their innermost desires and wishes held deep within their hearts.
And that is exactly what took place when Pasi came across the profile of a girl named Lisette on a dating website. He read my entire profile, which captured him even more than my photos, and these words stirred something within him that he had never felt before. And he knew exactly what it was and as there was not a doubt in his mind, Pasi took immediate action. He meant every single word in his first attempt to connect with me, and it said, "My search on this sight is over. I read your profile and I now know, that you are the One for me."
A life-altering little book (and film) called "The Secret" that teaches the Law of Attraction is actually the reason why we are together today. I refused to accept any further communication from him until he read the book; I was dead serious and this would determine our fate. My actual words were, "Go read "The Secret" and then watch the movie, and after you've done both, get back to me." Fully expecting to scare him off and send him on his way, I received this very unlikely response from such a bold man, "Of course I've read "The Secret", I have the movie too, and I listen to it constantly on my phone in the gym." In fact The Law of Attraction was becoming his way of Life, too. And that's when I gasped for air, fell off my chair, read the message over and over, and knew in my heart instantly that he was the One. "The Secret", The Law of Attraction CHANGED my life in so many mind-blowing ways; I knew I could only be with someone who believed in it as much as I did. Pasi and I finally found each other. Fairytale?? Absolutely. Best of all, it really did happen. Just. Like. That. It happened to Pasi and Lisette.
Hundreds of hours of video-chatting later, I flew to L.A. to meet this man I had already fallen deeply in love, with. Against the will of every one who loved me, of course, but when I feel something, no one can tell me I don't. No one ever could. So off I went… and a few months later I went back again for a second time. Now it was crystal clear to both of us, it was time for me to make the move across country, to leave everything I knew and everyone I loved behind, to be with the man I had been waiting for my entire life, Pasi. Less than three weeks later on September 28, 2011 Lisette and Pasi began their life together in Los Angeles, CA.
Two years later, David Tutera came into our lives, and made our promises to each other official in the most spectacular way. Pasi Schalin and Lisette Perez became Mr. and Mrs. Schalin, surrounded by our closest family and friends from near and far. David touched their hearts and souls and gave us the best day of their lives, and the most magical day I could ever imagine. He read my heart; he could feel my soul's yearnings and even those of the little girl still very much inside my dreams. David was a miracle. David Tutera truly did FEEL for himself, the love that we felt for each other and he was emotionally moved by it, as was every guest in attendance. And in the end,that was the most important thing; for every single guest and person present, including David, to leave the event that night feeling somehow changed and truly touched by love. A magical event was requested, and an enchanted, magical, dream come true was experienced. It was perfect. A certain kind of perfect that only David Tutera is capable of.
With all our Love & Gratitude,
We Thank you David,
For honoring us with your precious gifts,
For Sharing with Us Your Impeccable Presence,
And For being fully Present with Us,
On a Day we Shall Never Ever Forget.
Love, Light & Miracles,
Lisette & Pasi Schalin
Tiffany is a fun-loving, young lady from Beverly Hills, CA who celebrated her 13th birthday with a London-themed Bat Mitzvah celebration on David Tutera Unveiled. Tiffany's fascination with London comes out of her love for the British boy-band, One Direction. A budding artist, Tiffany's own artwork reflects her attraction to all things British. In fact, David chose to have one of her pieces, a chalk sketch of the British flag, made into two large banners that hung high above her celebration space for all guests to see at the Bat Mitzvah. Tiffany is the middle child in her family, with one older brother and one younger.
Tiffany's mom, Debora, is originally from Iran, but her entire family fled the country when she was 10, escaping to America. Debora's hard working parents rebuilt their fortune with wise business investments, and they raised her and her three siblings in Beverly Hills.  Debora is a Persian Jew who lives with her husband, a successful doctor, and their three wonderful children.
Yesterday David Tutera spent some time with his fans at Redbook Magazine's Studio Red 2013 event in Grand Central Station. A line of dedicated viewers and admirers waited anxiously for David's arrival. One fan called out of work and secured her spot at 8:00 in the morning, and another drove all the way up from Washington D.C. just to talk to her favorite party planner. David shook hands, exchanged cheek kisses, took photos, signed objects (and even an arm!), and held little baby David Tutera fans. David joyfully handed out wedding planning and dress advice to anyone who asked. Each fan walked away with a huge smile on their face and some couldn't hold back tears. It was great afternoon spent with Redbook magazine and the always friendly, bright and talented David Tutera.