Actress Melissa Joan Hart created a clothing line for boys that was featured on yesterday's episode of The Real, and WE got our life when 2 1/2 year-old Logan Herbert made his modeling debut. Logan came out sporting khakis and a graphic tee under a plaid button down shirt. And while Logan's outfit was on point, the adorably shy tot had other ideas when it came to strutting his stuff on the runway.
Tamar shared this shot of herself and Logan before the episode aired, and Logan is clearly no stranger to the cameras.
But when it was Logan's turn to show off his style on stage, he just wasn't feeling it. Logan's antics had us rolling and WE think he'll definitely be giving Tamar and Vince a run for their money! Check out the video below:
WE can't believe how quickly Logan is growing up! Is this the beginning and the end of his modeling career? With a face like that, WE hope not!
Tamar Braxton-Herbert is killing it on Dancing With the Stars, but Monday's performance was particularly emotional. The theme of the night was "Most Memorable Year", and Tamar took it home. Tamar and her partner, Val Chmerkovskly, blew the judges away with their rumba which earned them a near perfect score from all of the judges.
After putting her heart and soul into Monday's performance, Tamar opened up to her co- hosts on Wednesday's episode of The Real about the driving force behind it: Vince's nearly fatal blood condition that put him in a 40-day, medically induced coma back in 2012.
According to Tamar, Vince is doing "amazing" now, but she hasn't forgotten the fear she felt during what she now calls "the most horrible time" in her life. When talking with her co-hosts, Tamar took the opportunity to urge everyone to have their blood checked regardless of whether or not they have Vince's condition.
She revealed that Vince "…had seven blood clots and what I do want to say is that you've got to be really careful. You've got to get checked to make sure that your blood is not too thick" and advised everyone to never just "sit for hours."
She went on to further state that "If you don't have a condition, you can still get blood clots and it goes straight to your heart and it kills you."
The grammy nominated singer recalled that she knew something was wrong when she found Vince "gasping for breath". And while Vince's condition could have ended his life, Tamar recounted his strength throughout the ordeal. She said, "I just remember that he was so strong, you know, and although it was the most horrible time in my life, he was still my hero. He was very heroic. He didn't let me know he was in pain." Vince's ordeal was also the inspiration for the song "King"
After her performance, Tamar told PEOPLE that she "wanted to do a great job so Vince could have this memory for the rest of his life." Vince got up close and personal during the performance as he was featured on the piano playing Tamar's song "King".
Watch Tamar on The Real here.
Tamar Braxton has been promoting her highly anticipated album "Calling All Lovers" ahead of the release this fall. She stopped by the Essence Live studios to discuss what inspired her new album.
Tamar revealed that while her previous album "Love and War" was about her and hubby Vince's relationship, this album is a bit different. "It's about all of the things I went thru before finding true love," explains Tamar. The singer said it's not the typical love story album. She said the title of the album, "Calling All Lovers", reflects the idea of loving yourself and finding that special one to love.
WE can't wait to hear the new album! It's expected to be released on September 11.
WE have all been anxiously waiting for Braxton Family Values star, Tamar Braxton-Herbert to release some new music and now it's here – well kind of.
Tamar took to her Instagram account last week during the premiere of Braxton Family Values and teased fans by promising a surprise. She then later posting a snippet of a video with her slaying some vocals with this caption: "@songwritertc gave away my #Tamartiansuprise . . . Well not REALLY!!"
WE think it's sounding like She and Her DID THAT!
Earlier this year the singer revealed she would release a new album in the Spring, much to the delight and glee of her 'Tamartians.' Then on Sunday, the singer dropped another hint that something major is about to happen, and WE are ready!
While WE aren't positive about what this is hinting at, WE sure hope this means a new album is right around the corner along with a single to tide us over until it's released!
In honor of Mother's Day, The Real put on a week-long segment during which each co-host had the opportunity to thank their mom. When it was Tamar's turn to honor her mom – Braxton family matriarch, Evelyn Braxton – she couldn't keep from getting teary-eyed.
Evelyn could also be seen wiping tears from her eyes as she listened to her daughter's heartfelt tribute in which she told her "…how amazing of a mother you are. You practically taught your daughters, one by one, to be very strong women; to never give up on our dreams, because you didn't." Tamar then went on to tell Evelyn "…you were an example. You went back to school after you had me, you became an ethnic specialist, you had your own salon, AND you taught us all how to sing."
Tamar continued to talk about the lessons she's learned from Evelyn over the years. Her favorite has been how she taught her sisters to be strong women who, with a little bit of powder and lip gloss, can pick their faces up from the floor and get your life.
She finished by thanking her mom for "…the strength to be able to have my own child, and to teach him all of the things you taught me. If I'm half the mother that you are, I am successful."
While Tamar had posted a sweet throwback picture of herself and her son, Logan on Mother's Day, she also added this shot of Evelyn and Logan.
WE are glad that Tamar and her family had such a special Mother's Day! Watch Tamar's tearful tribute below.
WE love getting surprises and it looks like Tamar Braxton loves giving them! The Tamar & Vince star gave friend and former Love & Hip Hop Atlanta cast member Althea Heart a surprise birthday dinner this week. She had a little help from her hubby Vince Herbert and Heart's fiancé Benzino to pull it off.
It looks like Heart enjoyed herself and WE must say Tamar, She, and Her did that! Althea posted this pic on Instagram to thank Tamar for throwing the shindig.
To top off the evening, Benzino gave his lady a necklace from Avianne & Co. WE see Benzino has good taste!
WE think this bash looked like a blast. Happy Birthday Althea!
Whether it's straight or curly, long or short, Tamar Braxton's tresses stay on fleek! From wigs to weaves, WE are sure we aren't the only ones that loves the versatility of Tamar's hairstyles! The Real took a walk down memory lane and looked back at the styles Tamar WErked on the talk show. So natually,WE wanted to pick some of our favorite looks too!
Serious and sassy!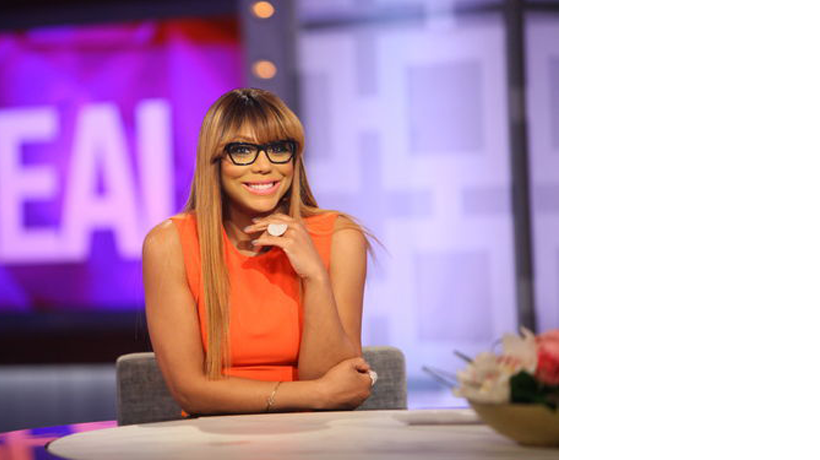 A braid that slays!

Bombshell bangs!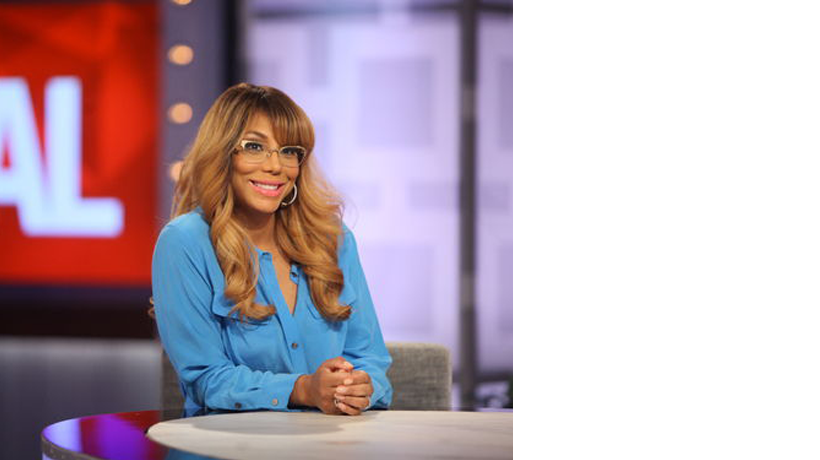 Short and sexy!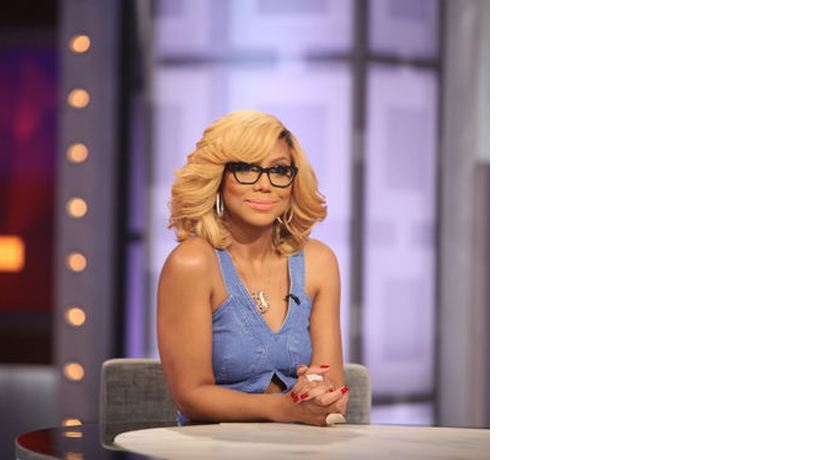 Cascade of curls!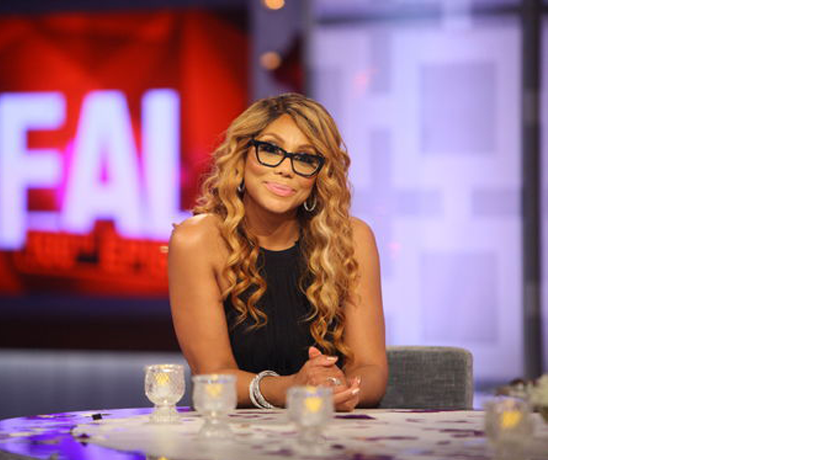 Dark hair don't care!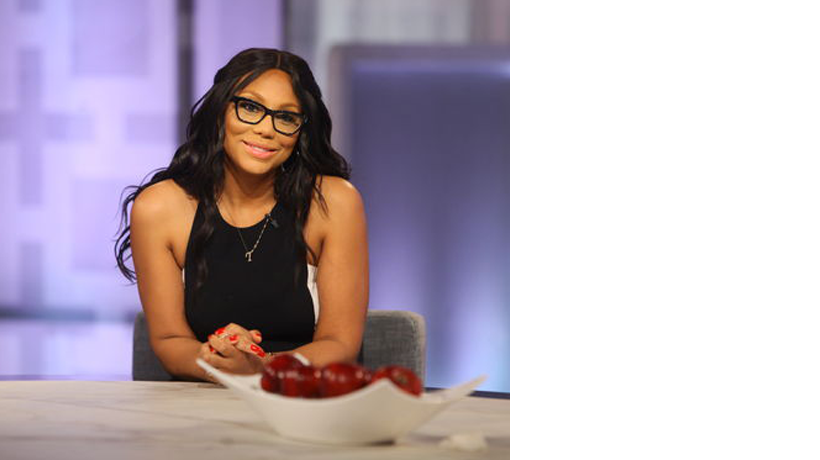 A sassy side ponytail!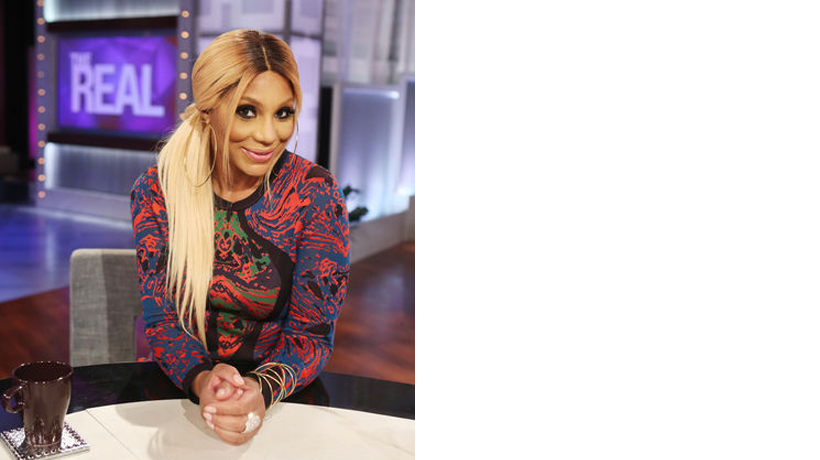 Straight to the point!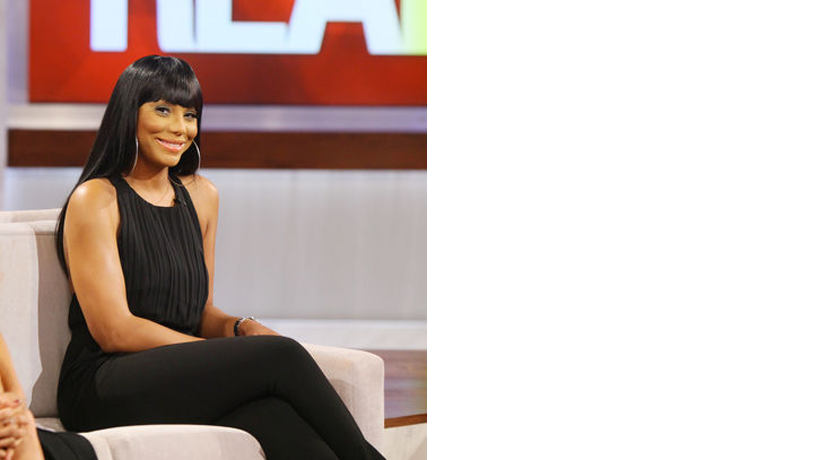 A different hue!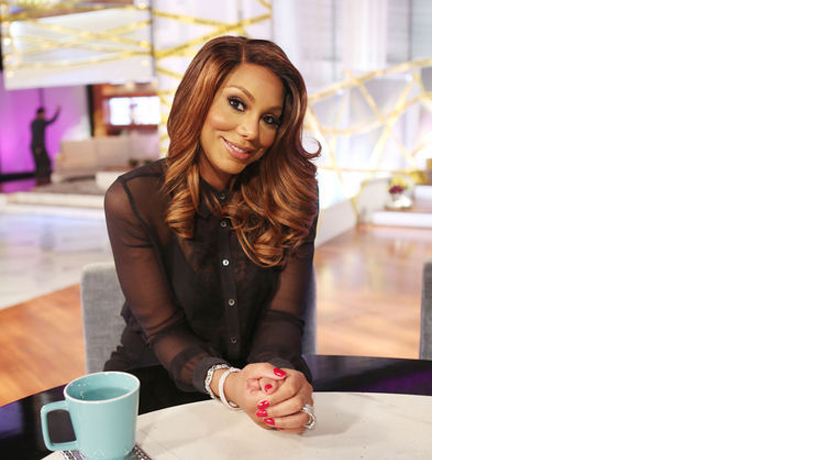 Sleek and chic!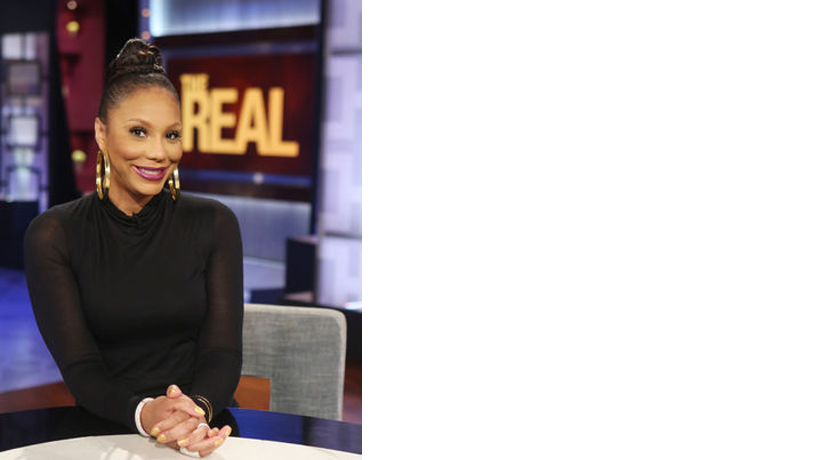 WE love that Tamar keeps us guessing with what hairstyle she will be rocking and slaying!
A dog is a man's best friend, except when the dog's name is Miracle. On The Real last week, Tamar and husband Vince Herbert dialed up 'Doggie 411' and chatted with a veterinarian on how to make Miracle the perfect companion. WE just wonder what Miracle thinks of all this!
As you've seen on Tamar & Vince, Miracle pretty much runs the house and Tamar, She and Her are not there for it. The vet suggested taking the word 'jealousy' out of the equation. He said, dogs only think about structure and perhaps Tamar should let Miracle know that good things happen (like hugs and treats) when she walks through the door. However, Tamar isn't feeling the idea of carrying around treats or getting her fingers licked by Miracle.
The vet also told the couple that they have to play with Miracle and not throw shade. "I only throw shade when shade is given," Tamar declared. Miracle's form of shade is relieving himself in Tamar's beloved closet, or as she says "trying her entire life."
They also discussed bridging the gap between Logan and Miracle. Vince interjected with, "you have to love on him!" Sounds like Vince has been taking notes! WE aren't sure if Tamar and Miracle will form a loving relationship, but WE can't wait to find out!
While most of us spend our weekend watching tv or catching up on errands, the stars of WE tv live a bit more glamorously. Thankfully WE get to live vicariously through them on Instagram. Here's what they were up to this weekend:
SWV Reunited's Taj George attended the YWCA's Wine, Women & Shoes event in Nashville. The event supports the Y's domestic violence services including a 24-hour hotline, emergency shelters, comprehensive case management and transitional housing. Way to go, Taj!
Love Thy Sister's Ruby, Ellen and Ione Rucker also took some time out of their busy schedules to attend an event this weekend. The sisters looked fabulous while promoting their haircare line at the Elle of the Ball event in Charlotte, North Carolina. Elle of the Ball is an event series that celebrates women who want to get glammed up for no one other than themselves.
WE star Tamar Braxton finally got some down time and used it to play with one of her Christmas presents. Santa sure was good to Tamar this past Christmas!
Match Made In Heaven's Shawn Bullard took time out to pose with some lucky fans! Why were WE not invited to this party?
SWV Reunited's Coko kept it classy as she headed out to church on Sunday. WE can only pray we look half as good when we leave the house!
It's Miracle!
Now Tamar will have two babies on her hands, Logan and Miracle, now that the pampered pooch has returned from "boarding school." Logan seems hyped that he'll have someone to play with! WE hope Miracle gets to stick around for a while!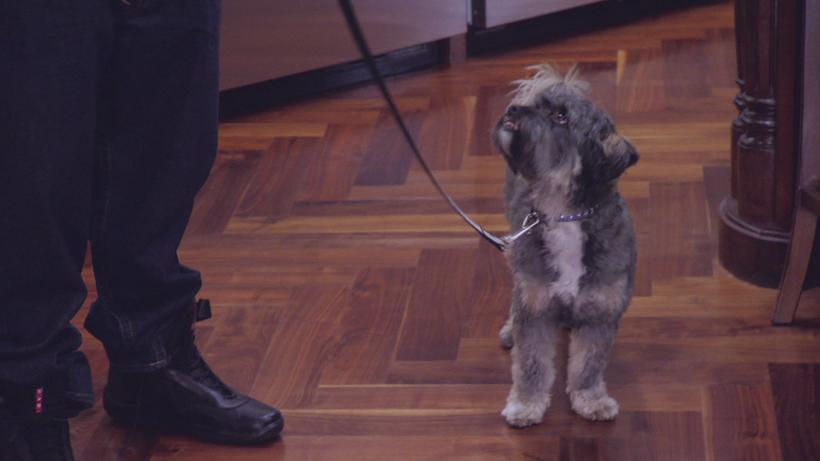 Watch the season finale of
Tamar & Vince
on Thursday at 10|9c.