It's the most soulful time of year! The Soul Train rolled through Las Vegas last night for the 28th Annual Soul Train Awards, which aired on Centric and BET. Hosted by our very own Tamar and Vince star, Ms. Tamar Braxton, the red carpet pre-show kicked things off in style. The women went for glamorous, sexy looks while the men kept things edgy and cool.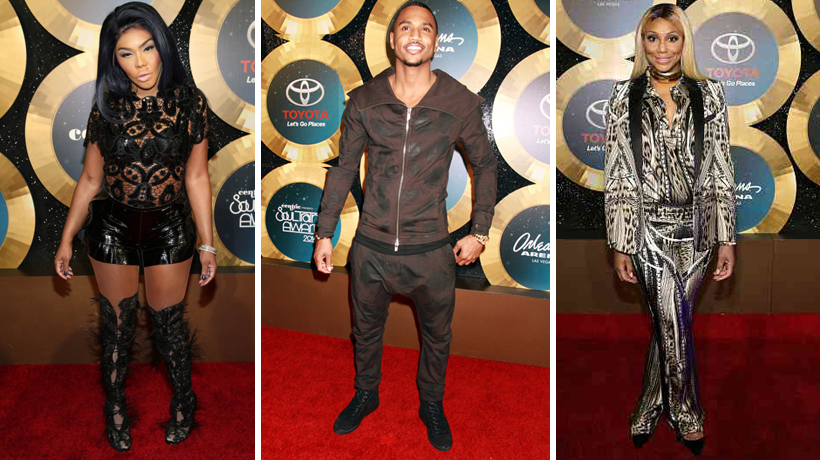 The riveting show opened with a performance by Chris Brown, who danced on top of a video screen displaying his Soul Train Awards performances through the years.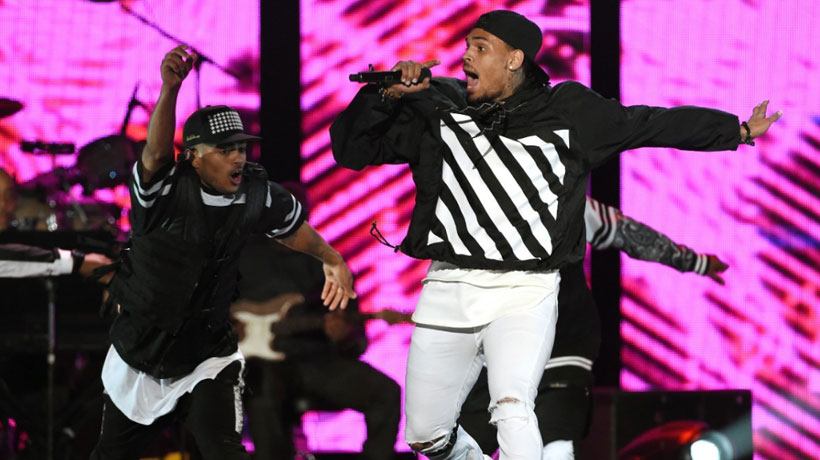 The hostess with the mostess, Wendy Williams, followed by performing a surprising mix of "Phantom Of The Opera" and T.I. and Young Thug's "About The Money." The phantom? None other than Hollywood heartthrob Boris Kodjoe.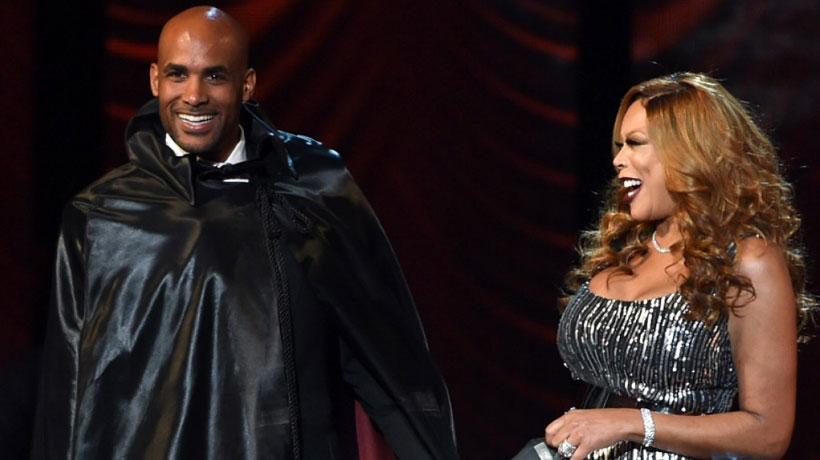 After their dance, Wendy made sure to greet Lil Kim in the audience, and congratulate the David Tutera's CELEBrations star on the birth of her daughter, Royal Reign.
This year's Soul Train Awards show was at its best when it looked back at the '90s golden era of R&B and rap. Jodeci resurfaced for a medley of hits like "Forever My Lady" and "Come and Talk To Me," and their new song, "Nobody Wins" featuring B.o.B.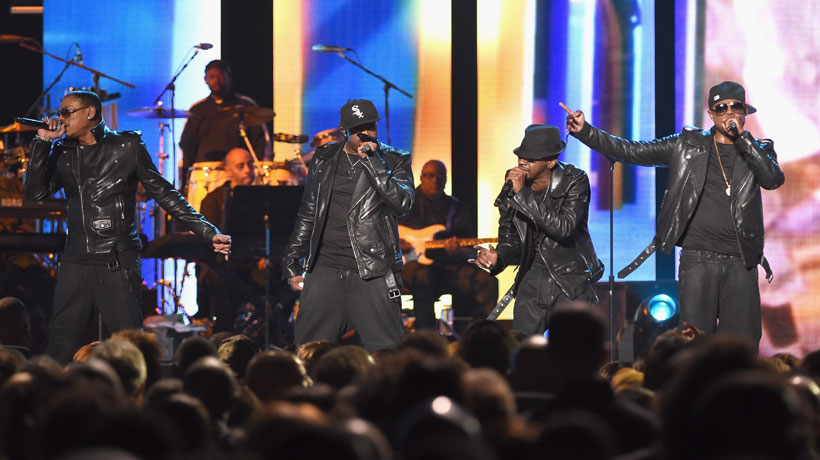 The trip down memory lane continued with a tribute to Jersey City's own Kool & The Gang. Braxton Family Values star Tay Tay teamed up with R&B singer Joe for a sultry rendition of "Too Hot."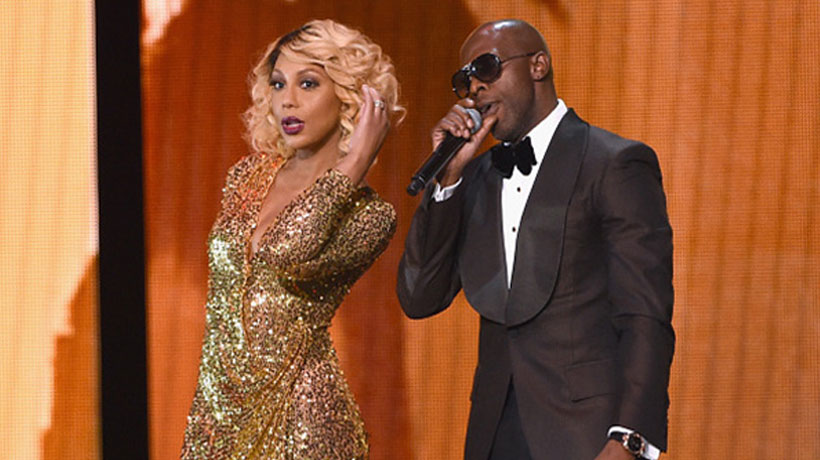 And the tribute capped off with the most memorable performance of the evening: "Ladies Night" featuring Lil Kim, Missy, Da Brat, Total and more. The ladies reunited to perform the hit song for the first time in 16 years, and they didn't disappoint.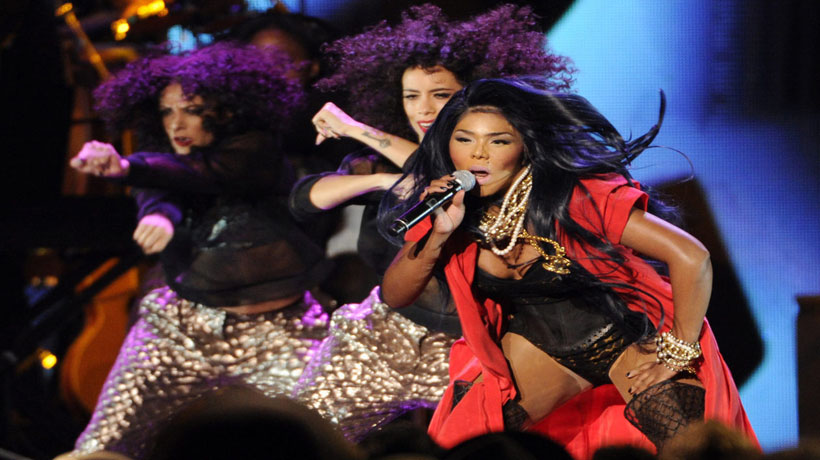 The entire crowd stood on their feet for "Ladies Night" and the obligatory "Soul Train" line after. It was the perfect way to end a star-studded night of love, peace and soul!
The claws are out on social media following yesterday's episode of The Real featuring our very own Tamar Braxton. The star of Tamar & Vince chatted briefly with her castmates Adrienne Bailon and Jeannie Mai about inter-friend-tions and fidelity, and the topic of Chris Brown and Karrueche's relationship came up. Though she actually defended Chris Brown saying he's not a "bad guy," he was not too happy with the discussion and blasted both Tamar and Adrienne as soon as he heard about it.
The "Loyal" singer posted and deleted a video bashing both ladies, alongside this angry rant:
"'BRING THAT ASS HERE BOY' ADRIENNE BAILON…. You ole trout mouth a** b***h. U tried it. Won't u the same b***h that was f***ing wit married men? U also was keeping up with the Kardashians! U can't talk about relationship goals when u don't even have life goals. Ain't you a cheetah girl? Last time u was important n****s was riding spinners and wearing 6x talk Ts. You the same b***h having threesomes like the rest of these hoes. U tried it too Tamara Braxton. U take the role of the ugly sister. It's always the people wit no career that talk all the s**t. Dat plastic surgery f***ed yo face up. B***h look like she always saying 'huh'? Muppet face ass! #basicb***hproblems #thotiannas I don't even need a photo for Tamar, that b***h is beat in every photo! #icanmakeabrokeb***hrichbutidontf***witbrokeb***hes."
Ouch. Of course, Mrs. Braxton-Herbert didn't take the attack sitting down. The "Love and War" songstress followed up with a post of her own on Instagram, apologizing if she offended Chris but also calling him out for being disrespectful:
"#whenyourgirlhasatalkshowinsteadofcryingaboutyouwhileONone… you are asked to talk about certain things such as A.relationships B.family C.fashion D. Things that has to do with HER in life!@chrisbrownofficial @karrueche no one came at either of you but was simply using your relationship as an example of things us ladies go through in a relationship!! I do not know nor do I give a hot damn about your relationship personally…. honestly and respectfully I'm VERY sorry if you BOTH were offended about our girl chat…. however you WILL NOT think its ok to come at GROWN women and talk to either myself or @adrienne_bailon as if u have EVER has us each in your bed at ANY point in our lives! (Maybe your mind is clouded) NOTE TO SELF: u are NOT my MAN or my DADDY so you got me completely FUCKED up!…(like your reputation) I'm not 20 nothing years old and I am fine with all 3 #1 tv shows and making my dreams come true with Love&War and now #letmeknow…which is on iTunes you are only a few years older than my son and I will not tolerate your disrespect when no one was coming for you!!! so this RICH/BLESSED muppet who WAS always VERY nice to you and your girl will continue to work my ass of and make amazing records and positive television while YOU…In this very queenish mood you are experiencing…….Instead of coming on ig…and acting like a B.A.N!!…should have and could have picked up the phone!! …or watched the show for yourself!!! At least that's what REAL men do! #thereal on fox and@bet #backtoworkigo #liveinyourtruth #wewouldbetheBESTJudiesEVER #letmeknowifkarruchiehasamouthsheshoulduseitnotYOU #dontfuckwithmefellasthisisnotherfirsttimeattherodeo #grown #still<3yalltho #wenotbeefing"
The Braxton Family Values star even posted video of the conversation, which proved that she had nothing but nice things to say about Chris Brown and was in fact defending him. One of Tamar's hashtags, which read "let me know if Karruchie [sic] has a mouth, she should use it not you," elicited a response from Karrueche. Chris Brown's reportedly pregnant girlfriend wrote that she doesn't care about outside opinions of her on-again, off-again relationship, which she once compared to John Lennon and Yoko Ono's epic love story. Though Karrueche has since removed the caption, it read:
"Unlike most of you… I could care less about the opinions of others.. Drama doesn't amuse me – so yes @tamarbraxton I do have a voice, just not like yours.. However my bf I can't speak for.. We all know he has no chill. Just like everyone else out there – he has an opinion. Have you ever thought to yourself how it may feel being judged for everything you do and half the time people have no clue what is going on? You people invest so much of your time in other peoples lives and business and get mad when they have something to say back?! If you can dish it.. You gotta be able to take it.. A lot of you mistaken my quietness for stupidity, and thats fine because I don't care what you think. Anyways- I'm not here for the drama ✌️What do you gain from the names you call me?"
Probably the most peculiar part of this social media beef is Rob Kardashian's role. Adrienne Bailon's former ex-boyfriend not only liked Chris Brown's initial rant against her, he followed him shortly after. Petty much?
This back-and-forth drama proves that conflict is best handled, as Tamar said, over the phone instead of on social media, where it plays out for the world to see. WE are hoping all parties can put this issue aside or perhaps, settle the obvious misunderstanding over a one-on-one conversation. In the meantime, WE have to ask: where was all Chris Brown's anger when Beyonce's fans blasted Karrueche for hours for making fun of Blue Ivy's hair? WE think she could have used his help a bit more then.
What do you make of this internet drama between "The Real" stars, Chris Brown and Karrueche? Do you agree it should have been handled differently?
Get your life dot com! Tamar THE Braxton is back and bolder than ever for the third season of Tamar and Vince. While WE wait anxiously for the premiere tonight at 10|9c, the "Let Me Know" singer has been hitting the press circuit in the most flawless fashion looks. Whether she's hosting her talk show, "The Real," or telling it like it is on Watch What Happens Live, SHE is beat (translation: her hair, makeup and outfit all look fabulous!). Ahead of tonight's show, WE highlight Tamar's recent fashion moments. She did that!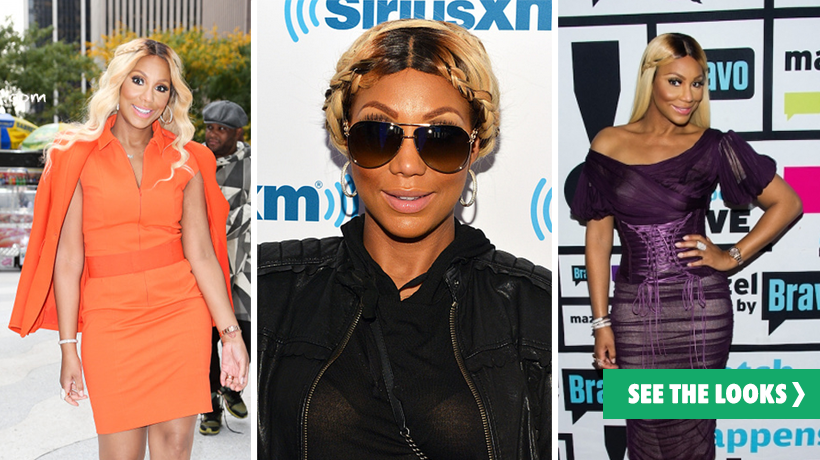 Tamar Braxton-Herbert is as famous for her legendary singing talent as she is for her larger-than-life personality. The Braxton Family Values star is known for referring to herself in the third person ("She, Me, Her") and always telling it like it is. From "Hot mess dot com" to "Girl, get your life," Tamar's catchphrases, or "Tamarisms" as WE like to call it, have made her one of the most entertaining people to ever hit our TV screens.
And just in case you need to tell someone you know to "Get Your Life," WE created the Tamar Talks meme generator for you to share your favorite Tamarisms on social. Won't He Do It!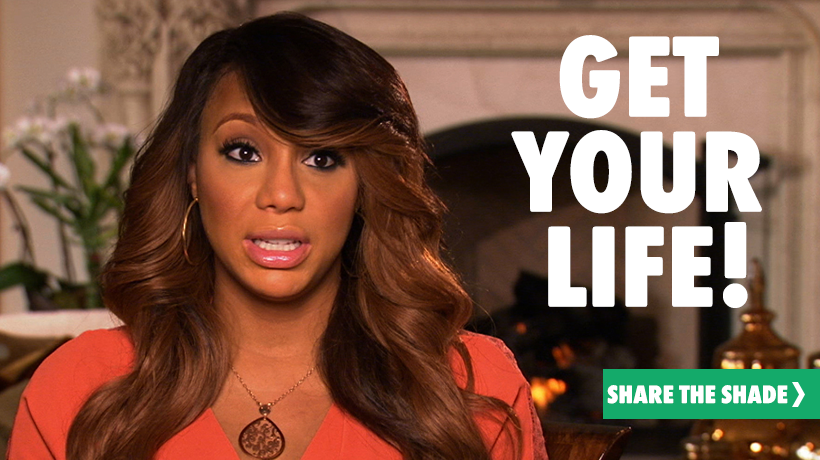 The new season of Tamar and Vince premieres Thursday at 10|9c.
Another day, another person coming for Tamar Braxton! The Tamar & Vince star stopped by Bravo's "Watch What Happens Live" to chat with Andy and when the topic of the Real Housewives of Atlanta cast, came up, Tamar didn't bite her tongue. Andy asked for Tamar's thoughts on Kenya Moore's song, "Gone With The Wind Fabulous," and trying to stay as shade-free as possible, the Grammy Award-nominated singer responded:
"She sings? No shade! No shade! 'Twirl, twirl! That's the record?' Yeah, I heard that in the club one time. I didn't know that was a serious record. No shade! I can't lie, she's not my favorite. My favorite is Nene. She's a great girl and we had drinks like a week and a half ago."
Tamar continued on about Kenya: "Something about the thirst of it all, you know? She's a pretty girl, but I don't know, the pageant thing kind of reeks."
Ms. Moore didn't take the jabs sitting down. She responded on Twitter right away, posting: "At least I have edges," and "Night night team twirl going to wash my ORIGINAL face and go to bed. #dontcomeformeunlessisendforu." Yikes!
The drama has been brewing between these two for quite some time. During an appearance on the Russ Parr Morning Show in March, Tamar criticized Kenya's interactions with Phaedra Parks' now estranged husband, Apollo Nida:
"I do think there were several ratchet moments, but the one that sticks out to me the most was Ms. Kenya. I'm not talking about Kenya per se, but just any woman who feels like it's OK to have somebody's husband and have a conversation with them one-on-one. And try to be friends with him and not the wife. I'm sorry. I feel like I have to read all the Kenyas of the world who just be trying it and then come to the face of the wife and be like, 'You need to ask him. I think he needs to speak for himself.' No! I'ma speak for you — me and him! That's my man. I don't like that stuff. You know, I'm real protective of my Teddy Ruxpin. And I wish somebody would try me like that! I just feel like she tried Phaedra like that because she felt like she could. Now she wouldn't try Nene like that."
Ouch!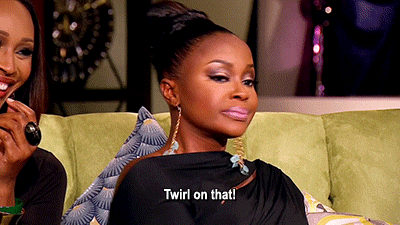 Tamar has yet to respond to the latest round of insults, but the battle between her Tamartians and Team Twirl is raging on social media. Can't WE all just get along?
Sunday night's Grammys was a star studded affair filled with glitz, glam, and couture. Katy Perry wore Valentino, Taylor Swift went old school with a shimmery, more conservative gown, and Beyonce stunned everyone by performing in a what can only be described as a thong. But WE tv was represented on the red carpet by two of our favorite ladies, Tamar Braxton and Erica Campbell. While WE would have DIED to be on the red carpet with these lovelies, WE turned to Instagram to get the play by play on what they wore.
Tamar has officially announced the name of the Herbert's little boy!  Meet Logan Vincent Herbert!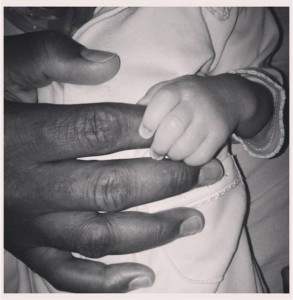 This picture was posted by Tamar on Instagram to wish the new daddy, Vince a "Happy Father's Day".  WE can't wait to see official pics of this little cutie.
After the failed "sister bonding" which turned into "sister drama", Tamar has returned to her press tour by co-hosting Anderson Cooper Live.  However, all this comes at a price since Tamar won't be able to make it to Toni's big show in honor of Barry Manilow.  BFVQuote: "Everybody wants me to grow up, huh?  This is growing up.  Take your pick."  It's not like the sisters are making an effort to support Tamar while she is in NYC either, but after that blow up in Canada no one would expect them to haul their cookies anywhere near Tamar.
Back in the ATL, Towanda and Trina sit down to have a chat after not seeing each other for a few days.  BFVQuote: "I have almost lost all of my patience with Tamar."  Towanda recaps the incident with Tamar for Trina since no one else has spilled the tea.  BFVQuote: "That's the behavior of an ambitious diva."  Beyond the "Tamar & Vince" secret, the sisters are also a bit fed up with Tamar's criticism about their marriages and relationships.  It seems like the sisters all need to get together in one space and hash out their issues with Dr. Sherry before this gets beyond their control.
Trina, Ms. E., and Traci attend the Barry Manilow event to support Toni and Trina is getting all sorts of attention with those Erykah Badu inspired braids.  However, despite that short little number no one is paying her any mind once Toni steps foot on stage.  She is the epitome of a true fan as she goes through the story of how her love for Barry Manilow has grown from the first time she heard, "Mandy" on the radio.  BFVQuote: "Wow she's still got it.  She is sexy.  I mean if I was into women I would kiss her in the mouth."
It's another long day in NYC for Tamar.  BFVQuote: "It's like running a marathon except she is running in Louboutins."  It seems like it is a lot of interviews about "Love and War" naturally, but also a lot of questions about Tamar's success and its relationship to Toni's success.  BFVQuote: "That's ok.  We have the same DNA."  It must be hard for Tamar to constantly field questions that make it seem like her success is directly based on her sister's success and reputation in the industry.
BFVQuote: "Why we always got to eat when we depressed or happy?"  WE agree, Traci!  But don't the happiest family memories revolve around food? #fatkidproblems.  The sisters are in L.A. for their Dr. Sherry session, although Tamar has a video shoot for "Love and War" scheduled.  Let's all remain positive!  BFVQuote: "Whatever happens after that, then so be it."  At least this lunch isn't going to complete shit, since the conversation has now been focused on whether or not Gabe gave Trina an imposter wedding ring!  Juicy!  BFVQuote: "Fraud. Bitchass!"  And Towanda and Andre are having sex!  BFVQuote: "Ooo he stirred it like coffee!"
Tamar and Vince are on the set of "Love and War", and it is going to be a marathon day for sure so Tamar can make time for the Dr. Sherry session with the sisters.  Tamar is a huge perfectionist and it is super apparent during the filming of this video (in case you didn't catch it during the recording of her album on Tamar & Vince).  The precision is bananas.  Tamar will be filming in a bath tub, but before the Tamartians get their VS panties in a bunch Tamar will be filming in front of a stained glass window in the bathroom… not sitting in some stranger's tube getting all soapy.  Get your minds out of the gutters, people!  BFVQuote: "She don't do that!"  It does look pretty shasty.  Production could have at least cleaned their footprints out of the bottom before Tamar stepped in!
While Tamar wraps up her video shoot, the sisters and Evelyn start the therapy session with Dr. Sherry without the main source of discussion.  Toni volunteers to catch Dr. Sherry up on the sister issues with Tamar, and Towanda fills Dr. Sherry in on their recent conversation.  Kudos to Toni though for making sure Tamar's feelings are still being heard despite her absence!  She is definitely all for making sure everyone's voice is heard, and things are resolved.  Things quickly get a bit heated, and Trina gets extremely frustrated when Evelyn refuses to give a yes or no answer to whether or not Tamar neglected to involve the family in the filming of "Tamar & Vince".  BFVQuote: "I don't think I'm anymore protective over Tamar than I am over anyone else."  With it being the best thing for everyone, Mama E decides to leave the session so the sisters can all talk freely.
Tamar arrives at the therapy session with the sisters, and WE are just hoping all five ladies can be open to each other's feelings without being too defensive.  BFVQuote: "I'm a listening ear tonight."  Tamar feels like she is at a dead end with her sisters, and she isn't sure what has created the divide between herself and her sisters.  Towanda recaps her feelings to Tamar regarding how the news of the "Tamar and Vince" show was presented, but Traci adamantly denies that being the cause of all the problems.  Tamar gets increasingly loud and agitated when Vince's name is brought up, and despite Toni's best efforts to explain the sisters' feelings on the matter, Tamar's aggravation becomes too much and she walks out.  BFVQuote: "I should have never come here.  I should have listened to my gut."  Toni is right.  Tamar needs to learn how to communicate better with her sisters.  This is not the forum to just say "F*ck you" to everyone and then walk away.  Unfortunately, this therapy session has turned into something even Dr. Sherry can't control and poor Traci has just about had enough.  BFVQuote: "Don't test me.  I am not the one. Don't 'Big Bad Wolf' today."  Dr. Sherry urges the sisters to let Tamar speak the "untruths", but Toni can't take it anymore when Tamar thinks all of this is over sister jealousy.  BFVQuote: "How they feel, how they feel about me I can't resolve."
Will Papa Braxton be able to resolve these sister issues? WE want to know what you think of all this sisterly nonsense!
WE feel like kids on Christmas morning!  The Braxtons are back ya'll!
We left off with the sisters having some major beef in season two, and it looks like not much has changed.  BFVQuote: "Since that time, we haven't talked a whole lot."
Toni has invited Tamar over to talk about a special sister trip she is planning since everyone has been too busy to get together lately.  Unfortunately, it looks like Tamar attending this sister trip is not an option with three and a half weeks of press and studio time already planned.  BFVQuote: "But don't talk about me like a dog because I can't go."  Kudos to Toni for keeping it real though and admitting the sisters will definitely be talking about Tamar a little bit.  Let's face it… someone is always talking about someone, but WE understand that at this point the sisters are at a very sensitive place so anything can be hurtful.  On top of not being able to actually attend the sister trip, Tamar doesn't even know if her presence is wanted since she hasn't seen or spoken to her other sisters in a long time.
The sisters (sans Tamar) arrive in Italy and as Toni goes out to buy Towanda's birthday cake, Trina and Traci distract her with some sightseeing.  BFVQuote: "Everything looks like a penis to me.  Like even that big tree looks like a penis to me.  That looks like a long, uncircumcised penis."  The girls take a carriage ride down the 5th Avenue of Rome near the Spanish Steps, and as they ogle the fine designer names the subject turns to Tamar.  As Traci tries to explain Tamar's side of the story, Trina is having a difficult time believing it.  BFVQuote: "I'm gonna get her a shirt that says velcro."
Toni attempts to buy Towanda's birthday cake while working on her Italian.  Luckily, the person helping her in the store speaks perfect English, but this doesn't stop Toni from whipping out her Spanish (mixed with English) and passing it off as Italian.
While the sisters are in "Rome with love", Tamar is hitting the pavement in New York for "Love and War" press.  BFVQuote: "I hate that I'm missing the Italy trip with the girls, but she could never turn down Wendy."  While back stage, Tamar and Vince get their flirt on with each other and it is completely adorbs!  BFVQuote: "I don't come second to no heffer."  After some cute conversation, Tamar thinks how nice it would have been to vacation in Italy with the sisters, but then realizes it is super important for her to do whatever it takes to continue the success of "Love and War."  Performing live on "Wendy Williams" is a huge deal, and Tamar rocks it.
Back in Rome, Towanda's distraction is coming to an end so she can enjoy a great birthday lunch with her sisters.  However, a day in the life of a Braxton is not complete without some drama.  An Italian stud can't help but get himself a taste of Traci.  BFVQuote: "Ohh, you pinched-a my ass-a!"  And of course, Trina is extremely jealous Traci got all the attention.  BFVQuote: "I'm looking super cute.  My jeans are basically painted on.  I mean, what do I have to do to get some pincherization?"  A day in the life of a Braxton is also never complete without a random song, and today's song is dedicated to Toni finally being on time.  But the sisters focus on the real reason they are at lunch, and celebrate Towanda's birthday with a cake meant for some other Spanish woman named, "Conalingus" that is as hard as a rock.
Vince and Tamar are out for a romantic, celebratory lunch and it is obvious how proud Vince is of his wife.  Even with all the success, Tamar is still upset about what is going on with her sisters and regrets always giving them a hard time about ignoring "sister time" when they were juggling careers and their family.  BFVQuote: "It's not easy for me to give up my family time but I should get a little credit for thinking about my business."
The sisters leave Rome and head to Revello on the Amaffi Coast for some more R&R.  Of course the Braxtons brings the antics with them as the beautiful scenery is interrupted by a pesky bee wanting a nibble of another queen… Queen Boom Boom!  BFVQuote: "Just river dance, Trina.  It will go away."
Tamar is hosting the red carpet at the Soul Train Awards, and with this being all about fashion and music you know she is going to kill it.  Tamar is even running into celeb fans of her own, including Erica Hubbard, Ginuwine, and John Legend.  BFVQuote: "It's just like Tamartians are taking over the world.  They're everywhere."
The ladies head to a winery to learn about the process, stomp some grapes, and have a little taste.  Like Lucy and Ethel before them, Toni and her sisters create their own memorable grape stomping moments with a lot of laughter and a lot of clumsiness.  Our favorite grape stomper is of course Traci who does it with a lot of man power and a lot of f bombs.  BFVQuote: "I beat ya til your butt turns red."  However, when the owner of the winery takes a sip of the feet-tastic sludge, the girls are set over the edge.
After getting a bit dirty, the girls charter a boat to the island of Capri that may be the grand finale to Towanda's birthday celebration.  What may also act as a finale is Trina's desire to go topless, and Towanda's echoing support of the act.  BFVQuote: "We're in Italy.  When in Rome!"  It will be difficult to top that, but Toni has one more surprise as a old fashion convertible limo picks the girls up and takes them to a beautiful restaurant overlooking the Amaffi Coast.  Unfortunately, the girls miss Tamar but feel like she didn't come because she would not want to be apart from Vince.  BFVQuote: "However comma one or two days are not going to hurt you, Tamar Braxton.  If you can pull yourself away from the Velcro, perhaps you can have fun with your sisters."  Trina asks the sisters to all have a line in her boutique, and Toni invites everyone to visit her in Canada while she films her movie.  Toni makes the sisters promise to bring Tamar, and it seems like everyone is supportive of that idea… for now.
Unfortunately the Italian love affair has come to an end, and Toni is paying Tamar a visit to discuss some of the issues that arouse in Italy.  BFVQuote: "I call all of my siblings.  I damn near begged them to come and hang out with me and the answer is always no, or there is no answer."  Tamar insists she is not mad at anyone, and had no idea anyone had beef.  BFVQuote: "Girl, have several."  This looks like a job for Ms. E.  BFVQuote: "Life it too short for this foolishness."  If this drama doesn't get cleared up, Toni is seriously worried about the state of the sisterhood in Canada.
Will the sisters be able to put their issues aside and enjoy sister time in Canada?  Will Tamar take Ms. E's advice and fix the problem with Towanda?  What are you looking forward to this season?  WE want to hear from you!
Tamar is auditioning dancers for her showcase with LaShawn, Terrell and Nina, but she may be one judge short once those men start taking to "dance and prance."  T&VQuote: "I'm not saying you look at the thrust, but…"  T&VQuote: "I'm not sitting there to watch men dance and prance all over the place while Tamar and Terrell are getting their kicks off."  But, if WE had our way WE would give Nina the dancing spotlight.  She is INSANE!!  Now, upon Tamar's request for topless auditions LaShawn assumes the role of "thrusting police" and tries to get Tamar to turn her chair around.  Looks like you should be the one having several seats!  However, Vince thinks Tamar's request is unprofessional and rude… WE think he's masking some jealous feelings.  As the four deliberate on muscles verses slenderness, Terrell wants Tamar to get up there to see what she looks like with these dance hopefuls.  T&VQuote: "Not in these 'Rhythm Nation' 1914 boots."  Tamar agrees that everyone is right, and Daniel and Brandon are the best choice for the showcase… then she and LaShawn leave quickly before they are forced to fire anyone.
Tamar and Vince decide to take a small break from the showcase pressure and head to Vegas for the night.  LaShawn and April accompany the couple on their trip, and discuss all the progress each couple has made with therapy and some good, old fashion openness.  T&VQuote: "It always gets a little crazy before it gets better.  We are knocking on better's door."  Vince has a big surprise planned for everyone, but WE have a feeling Tamar will be the one that is really surprised.
T&VQuote: "Oh my God.  We at the church.  This is my surprise?  That ain't no surprise.  I go to church all the time."  But this church is a little different… they only specialize in the renewal of vows and the frequent quickie nuptials.  And in true Vegas fashion, they will be married by Elvis.  This wedding is positively cute and HAMtastic all at the same time between April's walk down the aisle, LaShawn's sing-a-long to "Amazing Grace" with Elvis, and of course, Tamar.  T&VQuote: "Only in Vegas would I be getting marries in a see through leopard dress by somebody who spends more time on their wig than I do."  It is super sweet that Vince put this all together, but that all goes to the side as Tamar serenades Vince her vows.  LaShawn can't even keep a straight face!
Now that Tamar is back from Vegas, it is time to get to work on this showcase!  First stop is the studio to practice her performance with Nina and the dancers.  T&VQuote: "So I'm slightly concerned watching my sister, Tamar do these dance moves.  I know she can smash down on them, But she's reserved today."  Tamar is clearly lost, and she will need another rehearsal to get this down.  T&VQuote:"When I think about the dance moves I forget the words, and this is starting to really affect my performance."
Tamar and Vince sit down to chat about the showcase, and how confident he is in Tamar's performance.  T&VQuote: "You weren't ready, but you're ready now."  Tamar is confident in herself, and wishes Vince would believe in her too.  She knows the songs, she knows the dances now, and she is reds to go.  T&VQuote: "Come on, Miracle.  Let's rock it!"
Tamar and crew have finally arrived at the showcase, and things are semi-bumpy between Tamar getting hung up on a chair while she is doing her sound check.  T&VQuote: "That old, ugly ass chair was here last night during rehearsal.  I hated it then, and I hate it even more right now."  Tamar goes off on everyone in the room, and with an hour and a half to go until show time, they need to get this resolved quickly.  Thankfully, Vince is there to calm her down… unfortunately, she does not want to be calmed.  Luckily, LaShawn is there to help out, Cartier, manicured hands, and all.
Toni has come to give support and help to Tamar.  Even if that means giving up her panties to help fix Tamar's wardrobe malfunction.  T&VQuote: "This wardrobe malfunction is the last thing I need in my life right now."  Tamar is running about 2 hours late, and is concerned about what people will think, and if they will get tired of waiting and leave.  Luckily, Tamar's stylist fixes the issue and she is ready to go on stage.  T&VQuote: "I'm just ready to do my thing, and go lay my ass down."
Tamar takes the stage, and from the moment she opens her mouth to sing "Love and War" you know this is going to be an amazing showcase.  Right after love and war, Tamar switches to another one of our favorites, "Hot Sugar" and the crowd instantly goes crazy.  The dance moves are crazy, Tamar's vocals are off the hook, and she simply kills it!  T&VQuote: "I mean, she did that!  I did my thing.  I am very happy for myself." Tamar has definitely proved her haters wrong, and this is only the beginning.
… stay tuned, Tamartians!