Tamar & Vince co-star April Daniels brought her "Rock Out with Me" campaign to the dirty south over the weekend. Daniels held her sold out event in Atlanta in conjunction with Ebony Magazine.
The purpose of the campaign is to show women how to provide support for each other by achieving self love and respect for themselves and one another. That's a platform WE can get behind! The festivities included a brunch and pampering suite so women could come together to network, inspire and uplift each other.
There was also panel discussion that talked about the images of African American women in entertainment and social media.
Looks like an empowering time for everyone! WE can't wait to hear where the next event will take place!
There's no greater gift during the holidays than the gift of spending time with your loved ones. From cuddling on the couch, to bringing both sides of the family to a log cabin, quality time and appreciating the ones you love is the most meaningful part of the season. WE tv stars are doing the same and they're sharing their holiday cheer with loved ones on Instagram.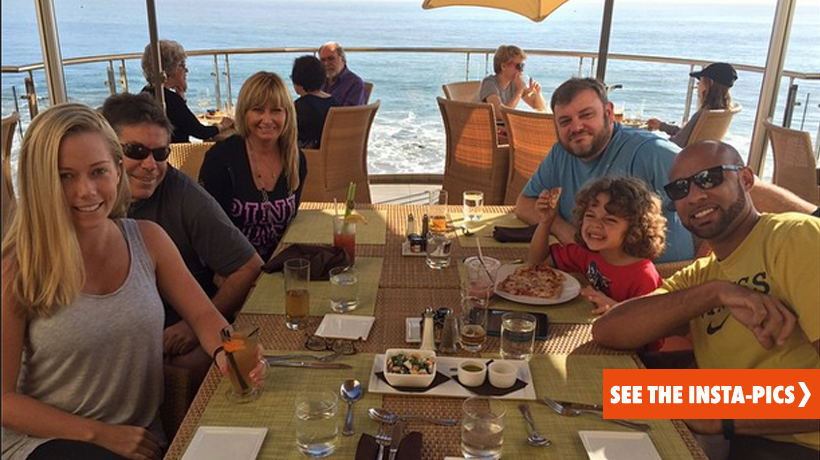 The claws are out on social media following yesterday's episode of The Real featuring our very own Tamar Braxton. The star of Tamar & Vince chatted briefly with her castmates Adrienne Bailon and Jeannie Mai about inter-friend-tions and fidelity, and the topic of Chris Brown and Karrueche's relationship came up. Though she actually defended Chris Brown saying he's not a "bad guy," he was not too happy with the discussion and blasted both Tamar and Adrienne as soon as he heard about it.
The "Loyal" singer posted and deleted a video bashing both ladies, alongside this angry rant:
"'BRING THAT ASS HERE BOY' ADRIENNE BAILON…. You ole trout mouth a** b***h. U tried it. Won't u the same b***h that was f***ing wit married men? U also was keeping up with the Kardashians! U can't talk about relationship goals when u don't even have life goals. Ain't you a cheetah girl? Last time u was important n****s was riding spinners and wearing 6x talk Ts. You the same b***h having threesomes like the rest of these hoes. U tried it too Tamara Braxton. U take the role of the ugly sister. It's always the people wit no career that talk all the s**t. Dat plastic surgery f***ed yo face up. B***h look like she always saying 'huh'? Muppet face ass! #basicb***hproblems #thotiannas I don't even need a photo for Tamar, that b***h is beat in every photo! #icanmakeabrokeb***hrichbutidontf***witbrokeb***hes."
Ouch. Of course, Mrs. Braxton-Herbert didn't take the attack sitting down. The "Love and War" songstress followed up with a post of her own on Instagram, apologizing if she offended Chris but also calling him out for being disrespectful:
"#whenyourgirlhasatalkshowinsteadofcryingaboutyouwhileONone… you are asked to talk about certain things such as A.relationships B.family C.fashion D. Things that has to do with HER in life!@chrisbrownofficial @karrueche no one came at either of you but was simply using your relationship as an example of things us ladies go through in a relationship!! I do not know nor do I give a hot damn about your relationship personally…. honestly and respectfully I'm VERY sorry if you BOTH were offended about our girl chat…. however you WILL NOT think its ok to come at GROWN women and talk to either myself or @adrienne_bailon as if u have EVER has us each in your bed at ANY point in our lives! (Maybe your mind is clouded) NOTE TO SELF: u are NOT my MAN or my DADDY so you got me completely FUCKED up!…(like your reputation) I'm not 20 nothing years old and I am fine with all 3 #1 tv shows and making my dreams come true with Love&War and now #letmeknow…which is on iTunes you are only a few years older than my son and I will not tolerate your disrespect when no one was coming for you!!! so this RICH/BLESSED muppet who WAS always VERY nice to you and your girl will continue to work my ass of and make amazing records and positive television while YOU…In this very queenish mood you are experiencing…….Instead of coming on ig…and acting like a B.A.N!!…should have and could have picked up the phone!! …or watched the show for yourself!!! At least that's what REAL men do! #thereal on fox and@bet #backtoworkigo #liveinyourtruth #wewouldbetheBESTJudiesEVER #letmeknowifkarruchiehasamouthsheshoulduseitnotYOU #dontfuckwithmefellasthisisnotherfirsttimeattherodeo #grown #still<3yalltho #wenotbeefing"
The Braxton Family Values star even posted video of the conversation, which proved that she had nothing but nice things to say about Chris Brown and was in fact defending him. One of Tamar's hashtags, which read "let me know if Karruchie [sic] has a mouth, she should use it not you," elicited a response from Karrueche. Chris Brown's reportedly pregnant girlfriend wrote that she doesn't care about outside opinions of her on-again, off-again relationship, which she once compared to John Lennon and Yoko Ono's epic love story. Though Karrueche has since removed the caption, it read:
"Unlike most of you… I could care less about the opinions of others.. Drama doesn't amuse me – so yes @tamarbraxton I do have a voice, just not like yours.. However my bf I can't speak for.. We all know he has no chill. Just like everyone else out there – he has an opinion. Have you ever thought to yourself how it may feel being judged for everything you do and half the time people have no clue what is going on? You people invest so much of your time in other peoples lives and business and get mad when they have something to say back?! If you can dish it.. You gotta be able to take it.. A lot of you mistaken my quietness for stupidity, and thats fine because I don't care what you think. Anyways- I'm not here for the drama ✌️What do you gain from the names you call me?"
Probably the most peculiar part of this social media beef is Rob Kardashian's role. Adrienne Bailon's former ex-boyfriend not only liked Chris Brown's initial rant against her, he followed him shortly after. Petty much?
This back-and-forth drama proves that conflict is best handled, as Tamar said, over the phone instead of on social media, where it plays out for the world to see. WE are hoping all parties can put this issue aside or perhaps, settle the obvious misunderstanding over a one-on-one conversation. In the meantime, WE have to ask: where was all Chris Brown's anger when Beyonce's fans blasted Karrueche for hours for making fun of Blue Ivy's hair? WE think she could have used his help a bit more then.
What do you make of this internet drama between "The Real" stars, Chris Brown and Karrueche? Do you agree it should have been handled differently?
WE tv is very fortunate to have so many amazing mothers on our shows! Whether it's Honey from Mary Mary or Evelyn from Braxton Family Values, these WE tv moms have led by example on how to be the best moms possible. In turn, their daughters are now instilling the same values on their children. While some chose to honor their moms for all the valuable lessons they have taught them in social (or instagram) posts, others chose to post how they observed the holiday with their loved ones.
Tamar's work ethic may have kept her from spending the entire day with her feet up, but that didn't mean Vince and Logan didn't make it extra special. See the on-stage surprise Tamar received at the end of her performance below.
Now see how other WE tv moms celebrated and commemorated: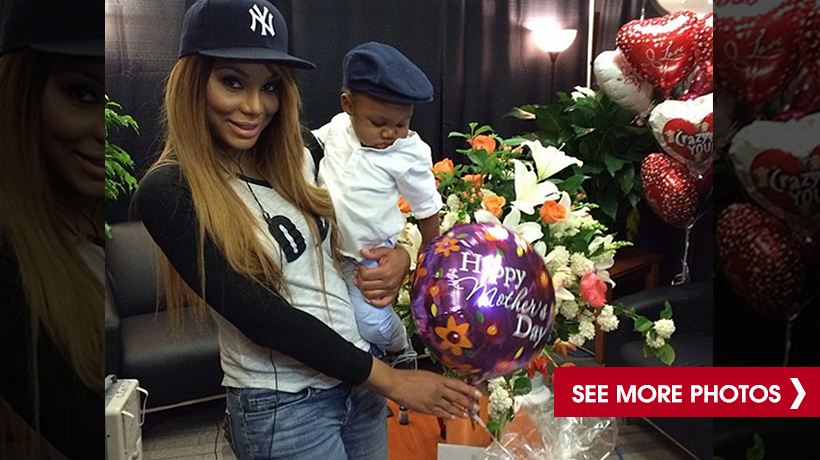 I got my EVERLASTING LIFE on this video shoot!
All my Tamartian friends have been asking when I would have Vince in one of my videos, so BOOM now you have it!
I couldn't wait 'til you guys saw my Teddy Rupskin in action and let's not forget SHE was beat too! #Yassgawd
It's great to have everyone see the warmer, softer side of the new Mama T (Tamar), and leave it to Mama E to put the wonders of mommihood into perspective. TVQuote: "You feel like you just want to explode because you're so happy." Logan is the best behaved baby and he is so damn adorable. Apparently, Tamar is the one to thank for these attributes which is the reason she needs her push gift STAT. All Tay Tay wants is a simple, tan interior, drop top Rolls Royce Phantom. TVQuote: "You know, having a baby is a lot. It's almost like pushing a Rolls Royce Phantom out of your purse, so why shouldn't I push it on the streets?" Poor Mama E still can't even wrap her head around a push gift, let alone it being a car.
The Real is about to start and Tamar is having major technical difficulties with her earpiece. The crowd is going wild for Tamar, so luckily this malfunction doesn't last long. Tamar LOVES working with her group of cohosts. TVQuote: "These girls get to know me for me… or not like me for me. But, they like me for me." During the show, Tamar gives a HUGE shout out to Mama E, and it seems like the crowd may have been even more excited to see the Braxton's matriarch. Evelyn even tells the whole audience (and national television) that Tay Tay did not look hot in a pair of sparkly shorts she had on. Guess that's why they call it The Real!
While looking at baby photos of Logan on Vince's phone, Tamar asks Vince to call Miss Ivy so she can put Logan on his back. With Tamar not having Miss Ivy's number, this prompts Vince to call Tamar a "bad mother." This does NOT sit well with Tamar, and Vince does not respond well to her icy response. TVQuote: "This is a lot of inappropriate ass sh*t." Tamar is extremely upset, and regardless of whether Vince was joking or not, this tough lady has some major hurt feelings. TVQuote: "It's not damn funny especially when you already feel guilty about not being damn home." At least Tamar has Terrell to comfort her. With the crowd calling, Tamar pulls it together and walks by without saying a word to Vince.
Logan is racking up another magazine spread, but this time it's in Ebony Magazine, but he is waaaaaaaay too tired to be excited. TVQuote: "Logan's everything like his father. When he don't feel like doing something, he don't do it and there's nothing you can do about it." Too see the final photos from the shoot, look through the spread here.
Get a glimpse into Tamar and Vince's lives from our crew's perspective with these exclusive details from our producer's notebook. In these notes jotted during Momma Works Hard For Her Coin, our producer spends time on the crazy set of Tamar's reality show "The Real".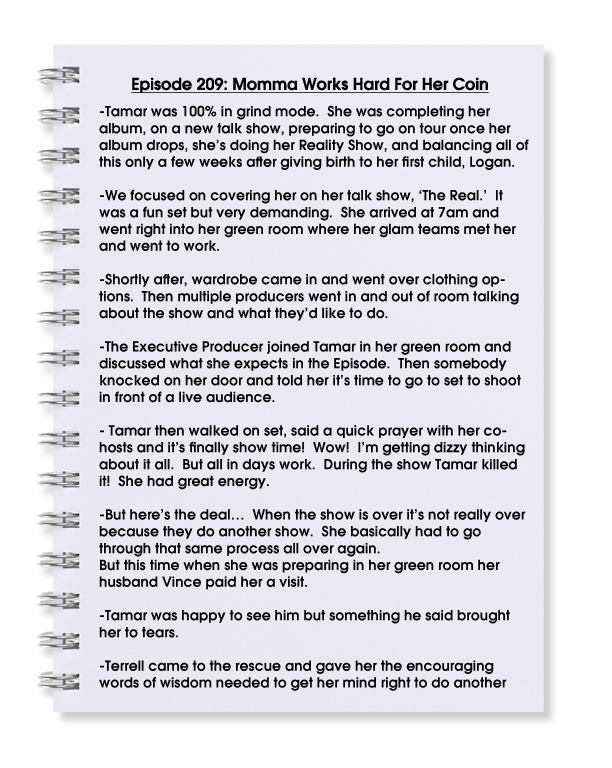 Here at WE tv, WE are obsessed with the new members of our family, and Logan is NO exception.
Tamar
posted the adorable photo of Logan…
And our #Tamartian friends just couldn't help themselves from making equally adorable (and hysterical!) memes of the little cutie.
At the end of last week, #TamarandVince were getting into an argument around an innocent comment that could be taken out of context during a stressful time. This week, WE pick up right where we left off!
It seems like Tamar was just trying to stress that she loves both of them and would never let anything harm them in anyway. TVQuote: "My feelings are my feelings." But then Vince goes and leaves Tamar in the car with all the bags? #HeTriedIt
Thankfully, this couple hits the town with Terrell for some cocktails, so WE expect the moods of these new parents to change very shortly. TVQuote: "She's gonna be white girl drunk tonight." This adult conversation quickly turns into who's getting an "oink oink" tonight and they haven't even started drinking yet! #CoverYourEars
Mama E has come back to L.A. with the new and improved Herberts so she can make sure she is there to see Logan grow up. But, don't get it twisted… this Braxton still has a lot of life left in her. TVQuote: "You're trying to lift up your skirt and fly, baby."
It is back to business as usual for Tay Tay as she meets up with Ashley for the wardrobe fitting for her album cover. TVQuote: "He doesn't know I'm thick-ums, for real." TVQuote: "If I was a rapper that would be my name. MC Fat." Ashley is willing to go back and pull some more ideas in larger sized, but Tamar does not think larger sizes mean she's gotten her snatch back. TVQuote: "Tomorrow I'm not going to be a size 4 and that's a problem." But you know SHE brings it once the cameras are on for her album shoot. Like Tamar said, TVQuote: "I have an album that I worked very hard on, and I don't want to push it back."
A few weeks later, it is time for the "Mommy and Me" Us Weekly photo shoot where Logan is beat to high heaven in some Versace and Dior. TVQuotes: "He's a prince." The pictures are purely precious and the prince is on his best behavior while Vince "works them to the bone." TVQuote: Are you Ike Jr.?"
Get a glimpse into Tamar and Vince's lives from our crew's perspective with these exclusive details from our producer's notebook. In these notes jotted during Jet Set Baby, our producer takes a ride in a private jet with our favorite couple and their newest addition to the family.