Tamar has officially announced the name of the Herbert's little boy!  Meet Logan Vincent Herbert!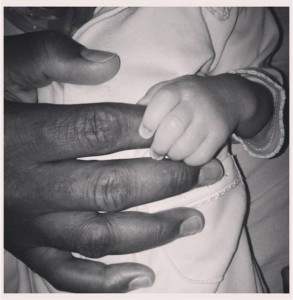 This picture was posted by Tamar on Instagram to wish the new daddy, Vince a "Happy Father's Day".  WE can't wait to see official pics of this little cutie.
Tamar and Toni hit the pavement trying to find comfortable yet fashionable shoes to fit Tamar's expanding pregnancy feet.  BFVQuote: "She's a very grumpy, pregnant diva."  Tamar refuses to wear flats (at least at this point of the pregnancy) and Toni is trying her hardest to convince Tamar otherwise.  BFVQuote: "This beat does not go with a flat."  No matter what option Toni presents to Tamar, her answer is a big, fat no.  BFVQuote: "I'm not cooking rice, Toni!"  Tamar won't even listen to the saleswoman who presented a great compromise.  Tamar finally finds a pair of short, wedge boots that they can both agree on.  Tamar loves them so much she breaks out into the "Baby Dance."  This spectacle is some kind of ridiculousness, but WE can't say we aren't completely amused.  BFVQuote: "Thank you, girl cuz my feet hurt like hell."
Traci and Trina are in Charlotte for the CIAA Tournament where they will both be performing solo.  Trina is super nervous to perform, especially since it got cut from Toni's show recently.  BFVQuote: "Now that I'm getting a second chance I can finally put all of that behind me."  Traci will be singing the Black National Anthem and this is really a great chance for Traci to "come out of her shell."  BFVQuote: "My little mollusk."
Towanda is helping a sister out by hooking Tamar up with a personal assistant from her Secret Squirrel School.  BFVQuote: "He's kinda like the gay version of Tamar." However, we know Tamar would sit her butt down on the couch even without being properly asked.  But, James is serving up some fabulous purse game that catches Tay Tay's eye immediately.  BFVQuote: "I became a squirrel.  And I'm just running up the tree."  Their personalities are so similar it is frightening.  Between the one liners, the quick wit and the comical sayings, WE are dying.  Tamar agrees on a test run shopping trip to see if James is really assistant material.
Back in Charleston, Traci is having her last sound check before her big solo performance at CIAA.  Traci is really nervous, but since Trina won't be performing until tomorrow she can look to her to calm her down.  BFVQuote: "Sister magic.  TING!"  Being fearful of someone taking her black card, Traci knows she needs to get all the words right and nail this performance.  BFVQuote: "For real though, somebody please help me!"  Even though Traci may look calm to Trina, she is a wreck.  BFVQuote: "I don't have to keekee.  You know how many times I sat down and it's not coming?"  There is a lot of pressure on Traci to do well after walking off stage at Toni's performance and dancing to her own beat during Trina's recent performance.  BFVQuote: "I know if I want to be a singer I have to go out there and do the right thing."  Luckily, Traci does a great job!  BFVQuote: "It is Traci season, honey!  Yesss!"
Back in L.A., Towanda and Tamar take James on his official interview.  James must pour Tamar some fro yo, hold her purse, and taste whatever Tamar wants him to taste.  BFVQuote: "His taste buds right now… they go together.  They are like boyfriend and girlfriend."  Tamar does not want to put on any extra weight, so having James eat everything in the store and describe it to her is the next best thing.  However, this goes downhill for James once he starts to taste some funky stuff.
It is now Trina's turn to rock center court!  However, there is a small problem… you can only wear white soled shoes on the basketball court.  Looks like someone is going shopping!  BFVQuote: "I'm gonna look really stupid performing a dance song by myself."
It is time for Tamar to make a decision about James, but first she will complain some more about being pregnant.  BFVQuote: "How do fat people do it?"  With that, Towanda uses up all her self control to not say a smart comment.  It also looks like James must restrain himself too.  BFVQuote: "My husband is not fat.  He is just tubs of lovin', ok?"  James' fate depends on whether or not he could get along with Vince, but with pregnant Tamar being even more EXTRA, it may be too much for poor Vince to bear.  BFVQuote: "I don't need two queens in the house right now."
It's almost "Game Time" for Trina, and it looks like her dancers have found appropriate center court shoe game.  BFVQuote: "Thank God for Jesus!"  The first thing Traci notices as she comes backstage to wish Trina luck is Trina's "ample" bust.  BFVQuote: "I thought I was gonna play bongos."  This is Trina's largest audience so she is right to be nervous… plus, she is going to have to stomp out in those thigh high hooker heels!  BFVQuote: "I am shaking in my sparkly boots!"  It looks like the crowd is really enjoying Trina's song and performance, and Traci is definitely her sister's biggest fan.  This is a big performance for Trina where she feels she will earn respect for singing "her kind of music."  BFVQuote: "I felt like one of my ootie booties was gonna come out."  Traci even reinforces the fact that the pom poms really worked with the routine.
Back home in the ATL Towanda and Traci take Mommy shopping to get her mind off of finalizing the move.  Evelyn would love Tamar to embrace her pregnancy, but the sisters can't help but remember how Tamar was with all their pregnancies.  BFVQuote: "You don't know until you go through it."  It seems like Evelyn is trying her hardest to defend Baby Tay Tay, but all that's doing is annoying the sisters.  Apparently Evelyn has a much different memory of each of their pregnancies, including the girls' attitudes.
Trina just got the video of her CIAA performance, and the two biggest critics, Tamar and Toni have come over to sample.  Immediately, these two are hung up on the sex of the dancers, the use of pom poms, and everything else about the performance.  The faces on these ladies says it all.  I'm just surprised they are being this silent so far, but you know that all is about to change.  BFVQuote: "Toni, don't you want dried up packets of food lookin' at them boots?"  At least the sisters think Trina sounded good!  BFVQuotes: "I think Toni is hard on me because she wants to see me succeed."  At the end of the day, at least Trina can take two things from this performance… leave the boots and the pom poms at home.
Next week, Evelyn looks like she has had just about enough complaining from Tamar, Evelyn goes out on a date and it's not with Doc (gasp!), and Toni does press for her movie!
Tamar is in Atlanta to see Dr. Jackie (yes, THE Dr. Jackie from "Married to Medicine") and see how her pregnancy is progressing.  BFVQuote: "You know, Toni, Towanda and Trina walked away with no scars, no stretch marks, and they didn't get super fat, and that's very important to me."  Despite what even Dr. Jackie said, He clearly had other plans for Tamar whether she was ready or not.  BFVQuote: "I have four kids in the freezer and I can find an old scallywag to carry our babies."  Dr. Jackie and Vince look less than impressed with Tamar's bright idea, however her mood perks right up when Dr. Jackie mentions the word "induce".  Seeing the ultrasound of the baby improves Tamar's mood even more, and you can definitely tell that even though she talks a big game, she is super excited to be a mom.
OMG it's Poundcake!  Move over, Miracle.  Trina and Gabe take Poundcake on a walk (even though Poundcake never leaves Gabe's arms) as they await a call from Caleb's school regarding an incident that occurred that day.  BFVQuote: "He's been having a little bit of problems with bullying at school."  After a child at school knocked food out of Caleb's hands, Caleb and the other student got into a physical altercation.  There seems to be a huge disconnect with how the school is handling the incident and reprimanding those who are truly at fault.  Good thing Caleb has parents like Trina and Gabe because these two are going to bat HARD for their son.  BFVQuote: "As a mom, it really makes me feel helpless especially since I can't go to school with him and walk him to all of his classes."  Gabe suggests signing Caleb up for a martial arts class so Caleb can build his self esteem.
Donned in all black, the Braxton family comes together to pay respect to a beloved family member who recently passed away… Jackson, Mama E's cherished Yorkie.  And, Tamar cannot stop rolling her eyes at this grand memorial service complete with invitations, pamphlets and an oil painting.  BFVQuote: "It's over the top so now I cannot hold the title for being over the top.  It would have to be my mama."  Trina even shares a poem to the group in honor of Jackson.  Yes, all of this can seem ridiculous but at least you have Diezel's speech to add some comic relief and Tamar to bring it all together with a random song.  Even Vince is hanging his head at this spectacle as everyone joins in including the keyboardist in the corner.
After all that mourning, Mama E makes a huge announcement which will give three of the sisters something additional to mourn about.  Mama E is finally moving to L.A. and will be moving in with Tamar and Vince.  Toni and Tamar are extremely excited, and Trina reveals plans on possibly moving to L.A. if Eric gets into USC.  BFVQuotes: "Trina's gonna do what Trina wants to do regardless of what anybody says."  At least Traci knows she is "not going to no California."  D.M.V. for life!
Because of what has been going on at school, Trina takes Caleb to his first martial arts class.  BFVQuote: "I decided to learn some moves myself because you never know when someone's gonna try it!"  Caleb is really getting out his frustrations… this actually seems like it may be a great release for him.  However, Trina is not adapting as easily to these surroundings.  BFVQuote: "I'm more like Kung Fu Panda… the early years!"  Keep up the good work, Caleb.  Trina, don't quit your day job!
Towanda and fam hit up the ballet store to get Brooke a new outfit to perform at Evelyn's birthday, but Andre thinks that it is a good time to bring up Towanda's stage mom habits.  BFVQuote: "It won't mess up her joints?  She'll be able to reproduce and stuff?"  Andre, just buy a dress, allow this lady to make a sale, and go about your day.
Because the house would be mighty lonely without Jackson, Tamar has taken Evelyn back to L.A. so they can start making plans for her big move. BFVQuote: "I need to start over again."  Mama E wants a fresh start in L.A. and a new man, but Tamar is not looking to play matchmaker.  BFVQuote: "You're too picky.  Ain't nobody got time for that."  Even though she attempts to argue with Tamar, Mama E does have an extensive list of must-haves for her future mate: he must have integrity, not be a "hip hop" man, tall, etc.  BFVQuote: "Pretty much my dad.  I tried it, but it's true."
Towanda and Traci are with Brooke at the dance studio trying to perfect the little ballerina's craft in time for Mommy's birthday party.  BFVQuote: "Smile or we're gonna start over."  Between the pointing of the toes, the elongating of the arms, staying on your toes when you turn, putting your head up and shoulders back, and whatever else this poor child is being told to do, WE are even too exhausted to continue.  BFVQuote: "I know exactly what that baby is going through."  And who knew Traci was the prima ballerina?!  Go on, girl!  Don't let Towanda stifle your shine.
Today, Gabe is going to Caleb's martial arts class to check up on his progress.  Caleb knows exactly whose face he will be picturing when he starts his exercises with his instructor.  BFVQuote: "I don't mind if Caleb thinks he's punching my face.  As long as he's feeling better about himself that's fine by me."  Gabe puts on pads and gives Caleb the opportunity to have at him for real.  And that is exactly what Caleb does!  He goes at Gabe with all the energy and emotion he has bottled up.  Gabe is really proud of Caleb and everything he has learned.
It's time for Mommy's big birthday bash and the girls are so excited to celebrate another year! Brooke immediately changes into her purple tutu to perform for her grandmother's special day.  Brooke is a little frozen and has a hard time warming up, but the family is very supportive and cheers her on.  The performance is a little short lived, but she did a great job!  Eric talks about his college picks, but is hesitant to go to school in California for fear that his mama will always be one step behind him.  BFVQuote: "You think I will mess up your groove?"  Even though Trina gets emotional, Eric makes sure to give his mama a huge hug and let her know that he loves her.  BFVQuote: "He's my baby… my oldest baby."  To stay in line with Braxton family traditions, the girls will perform a special birthday song for Mama E, but Trina is still visibly upset about the idea of Eric going away to school.
The girls sit down together for lunch before everyone goes back home, but Traci seems to be MIA.  When Towanda tries to track her down, Traci urges all the ladies to make their way outside.  WE have a feeling there is a grand reveal about to occur.  BFVQuote: "I ain't leaving my soup.  Y'all tell me what she says."  Begrudgingly all the ladies hustle outside to see what the fuss is about as Traci pulls up on her hog.  The sisters go crazy at the sight of Traci, but Toni wishes it was just a little more ladylike in appearance.  BFVQuote: "Somebody said she's like a little dike on a bike, but I ain't gonna say that about my sister.  I love her."  Once the Braxtons head back inside, the sisters ask Traci about possibly changing the fashion of a "biker."  But all in all, the sisters are super excited for Traci's new adventure.  BFVQuote: "To Traci ridin' dirty."
Toni and Tamar invite Mama E. out to L.A. so they can check up on the progress of her new "lifestyle" post hospital.  BFVQuote: "Plus, I think she needs to be in my kitchen cooking for me."  Tamar thinks L.A. would be a great change for Evelyn, and also boost her dating life.  BFVQuote: "We know he ain't in Atlanta.  You've been there long enough.  If he was around the corner he'd be living in your house by now."  But Evelyn has a life in Atlanta, and if she wants to go out every now and again she has a group of friends she can do that with.  BFVQuote: "It's what they think I should have."  However, what Tamar wants is for Mama E. to get some new, younger "moves" to attract her prospective man… like dropping it likes it's hot.  This is a whole new level of (hilarious) ridiculousness!
Back in Atlanta, Trina and Towanda meet to look at a potential property for the boutique.  The two love the space, but as soon as Trina mentions Gabe's name Towanda goes on the defensive.  Trina and Gabe have done a lot of the leg work together, but this is because this has been Trina's brain child even before it became a sister venture.  BFVQuote: "This is the calm before the storm."  ­­
Toni is being honored for her work with Lupus L.A., so Mama E., Trina, and Traci have come out to support her.  To sweeten the deal, Lupus L.A. is holding a purse auction and there is a burgundy leather bag that has Trina's name all over it.  However, even taunting all the prospective bidders will not insure that Trina goes home with this bag.  BFVQuote: "There is warfare going on in here… I'm out for blood tonight."  Too bad Trina is in those sky high heels and not a pair of Nikes because she was too slow maneuvering through that crowd to put down one final bid before the auction closed.   This night is all about Toni, so Trina must move on from the disappointment and attempt to take a picture of Toni and Jackee… or insult her by pointing out she doesn't have a touch screen phone.  BFVQuote: "I'm gonna kick your ass."  Toni and Evelyn are beyond embarrassed, and the embarrassment continues as Trina pulls a feather out of Jackee's hair.
Andre has surprised Towanda with Argentine tango lessons to wake the romance a little bit.  Andre has chosen to lead Towanda in this "dance of love" and she has willingly accepted this challenge since she "hates to fail at anything."  FVQuote: "It feels great that Towanda has let me have that role back."
Toni has stopped by Tamar's house to hang out with Mama E and based on her negative reaction to certain cuisine, Tamar thinks Toni has turned boojie.  BFVQuote: "I'm too rich to eat that.  I only eat chicken."  Toni fires back by saying Tamar likes "goat cuisine", but according to Tamar, BFVQuote: "Gout is a rich person's disease."  This has reached a whole new level of ridiculous.  Are they really arguing over food?  At least Mama E.'s secret dating life proves to be a much needed distraction.  BFVQuote: "What tax bracket is he in?"  Her dating past has consisted of a gentleman caller who apparently put on his heated seats without remembering he did not shower that day.
Trina takes Gabe to look at the possible location for the boutique, and he has come prepared with an arsenal of questions.  BFVQuote: "He wants his I's dotted and he wants his T's crossed.  Who can be mad about that?"  Gabe isn't completely sold on the space, and when he hears about the sisters' involvement he is certainly not sold on that either.  Looks like everyone is playing the game "Trina in the middle" since she is the only common denominator between this boutique idea, the sisters, and Gabe.  Oddly enough Gabe does not think this may be the perfect location for a boutique because of the unattractive power lines, but he does feel this is a perfect location to get down on one knee and present Trina with her new ring.  BFVQuote: "Glad I got my nails done."  While this whole display may scream a bit "low rent" to us, WE think it may just be about damn time, Gabe!  BFVQuote: "Maybe this wasn't the most romantic setting… but sometimes there is no time like the present."
BFVQuote: "All of us girls are in L.A. for some sister time and I'm a little nervous because Towanda went ham sandwich on me when she found out Gabe was working with me on the clothing store.  And I know she can't wait to bring this up with the rest of the sisters."  Here we go!  As Towanda tries to stir the shit, Tamar urges the sisters to let Trina speak.  Since Trina and Gabe had started this process long before she involved the sisters, however Tamar and Toni interject to remind Trina that the idea of the boutique came from a conversation all five sisters had about three years prior.  BFVQuote: "No one else was putting on conversations and meetings."  Trina feels that since everyone has the same vision, it makes the most sense for everyone to be involved in the store together (including Gabe).  BFVQuote: "I don't want him in my life other than my brother in law.  Other than my B-I-L.  I don't want to work with him."  Toni decides that if Trina would like to split her share with Gabe that's her decision, but there will be no sixth partner.  BFVQuote: "I ain't rollin' like that."  WE hope the sisters can come to an agreement.
Toni stops by the studio to hopefully get some motivation from Babyface.  BFVQuote: "Oddly enough, I feel nothing when I walk into the studio."  Toni definitely feels a bit tricked when she sits down in the studio because she is immediately filled with conflicting emotions and some great memories of when she used to love music.  BFVQuote: "I don't think you can be a real artist and a real musician and just walk away."  Toni admits that she is afraid, but since she has had a taste of commercial success it is difficult to just focus on your passion and not the measured success.  BFVQuote: "That bottom line is very important to record companies… I don't like that part of it."  Babyface thinks Toni's fear is stemming from her personal life; the divorce and her heath issues are weighing very heavy lately.  BFVQuote: "After the pain comes joy."  Toni agrees to work on a song with Babyface to possibly recharge her feelings for music.
What is Tamar's big news?  Will Trina's next trip into the studio be a success or a disaster?  Do you think Toni will stay in the music industry?  WE want to hear from you!
The Braxton brood gets together in L.A. for a united family dinner so things can really start going back to normal.  Even Evelyn and Michael are sitting across the table breaking bread!  BFVQuote: "That's the power of forgiveness."  Despite the best efforts to go back to the way things were pre-fight, there is still a lot of tension in the air.  BFVQuote: "There's no laughing, no giggy."  To try and clear the air, Michael suggests that they go around the room to discuss what each of them is thankful for.  At least this exercise has made everyone laugh together again, with both Towanda and Trina admitting to hating their names.  Towanda would have preferred a more generic name like Tori, and Trina would prefer something different like Torrance.  BFVQuote: "She goes from being this Canadian chick, now she wants to be a Valley girl.  Who's the real Trina, can you please stand up?"
To help rebuild their relationship, Tamar and Traci head to Sergeant Tchicaya for what WE are sure will be a HIGH-larious workout.  BFVQuote:"On your bed? I don't lay down on another man's bed."  Traci needs to get in tip top shape to participate in the Foundation for Women's Cancer run in D.C.  BFVQuote: "I'm gonna stretch that meat, okay?"  Tchicaya wants to also keep Traci's booty "firm and juicy like an apple."  WE know this is supposed to be Tamar/Traci bonding time, but it looks like Tchicaya is trying to get some of his own "Traci time."  BFVQuote: "Sgt. Tchicaya, is your wife giving you some 'hey hey' and some 'ha ha' cuz all of your things so far have been sexual."  Between "squeezing the meat" and Tamar giving Tichicaya a run for his money, WE hope Traci is getting her money's worth!
Since the family is on the mend, Trina has invited the sisters to lunch to discuss her clothing store idea again.  It seems like this store opening was Tamar's idea three years ago, but for some reason the idea never came into fruition.  It seems like Trina and the sisters (sans Tamar) are feeling this may be something fun for just the five sisters to do together, however, Tamar isn't convinced it's a smart business decision to exclude Mama E.  BFVQuote: "I just think in the beginning, the store is going to be age appropriate for just us."
Back in the D.M.V., WE get a little glimpse into the secret life of "Queens of Sheba" biker babe, Traci and her ridin' dirty, "Sons of Solomon" husband, Kevin!  BFVQuote: "Lord knows I'm just dying to get my own license to bike."  However, the most important thing is that your booty does not look too bootilicious on the back of your bike.  Who know?  Kevin is definitely feeling Traci on this bike, but he must be a fun snatcher and remind Traci she needs to take a class first before even thinking about the type of bike she will be riding.  BFVQuote: "Safety first!"
Back in L.A., Tamar and Toni hit up a golf store to try and find a 65th birthday gift for Michael.  BFVQuote: "What does he want? I think we should get him cufflinks."  However, after hearing just how expensive golfing equipment is, Toni thinks this should be the next place she checks for a man.  BFVQuote: "Everybody knows that the guys with a coin hang out at the golf course."  Toni pulls Tamar's leg (literally) to talk about the store, and Tamar explains to Toni how she finds it real shady that the girls are thinking of excluding Evelyn.  Toni explains that this is the first real sister venture they have ever done, and especially after the recent bickering, it may be best for Evelyn not to get involved in case fighting occurs during the early stages of this new business.  However, timing is also a huge concern of Tamar's and it looks like people are just too busy to get this process going.  BFVQuote: "Everybody's too busy to be busy."  And after all this time at the golf shop, Tamar and Toni decide to give Michael a family trip on a cruise.
Before Traci runs with the Foundation for Women's Cancer, she must film a PSA… luckily there are cue cards!  BFVQuote: "Who in the hell in the science-tisms of this world would want to put geocologic oncologist together?"  Traci definitely pulls it together, tongue twisters and all!  Now, onto her public speech!  BFVQuote: "My Black sisters, my Albino sisters…. Caucasian sisters?"  Traci is even confusing Michael Braxton on who is actually affected by this issue.  And of course, Traci still refers to her "Albino sisters" in the speech, and all you see are wide eyes in the crowd.  BFVQuote: "My grandma's white, how bout that? Boom!"  Traci shares her own health scare where doctors found pre-cancerous cells on her cervix after having her son.  Traci is a real trooper through her slip ups, and an even bigger trooper during the actual race.  BFVQuote: "I ran most of the way… actually, when I saw the cameraman I ran."  She also ran at that finish line.  She definitely did take the bull by the horns.  BFVQuote: "It was a fresh of breath air."
Toni and Towanda are hanging at the house while Toni completes her online Spanish class (with no help from Gabe).  BFVQuote: "He's a Mexican't."  Toni is really thinking of giving up her music career.  It just isn't fun anymore, and the stress outways the benefits.  BFVQuote: "I don't even love it anymore."  Towanda thinks she should talk to Babyface before making and serious decisions because he may be able to shed some light on how Toni is feeling about her career and the industry.
Tina and Gabe head to look at some possible store locations for the sister boutique.  BFVQuote: "Nothing about it says fabulous.  I'm not even sure we are in the right neighborhood to be honest."  With the traffic coming from the car wash, the Dominican hair salon, and the tattoo shop, how can this not be the perfect location?  But that other location dubbed, "Fern Gully" is definitely a winner!  Who doesn't like trying on clothes in the great outdoors where you can get your feet all up in the dirt?   BFVQuote: "We are opening a clothing store, not a park!  Seriously, what's wrong with you?"
Towanda and Mama E. take Brooke to her first ballet class with the new instructor.  Apparently, this is also Towanda's time to get her first ballet lesson… in the back… by herself.  Towanda also insists on correcting her daughter's ballet steps because clearly "mother knows best."  Poor Brooke!  BFVQuote: "I think you're a stage mother."  At least what could have been a stressful situation for Brooke turned into something fun when the whole family joined in.
Gabe and Trina sit down and talk finances regarding the new sister boutique, and Gabe is really unsure about getting all five sisters involved when he and Trina have done most of the legwork.  BFVQuote: "It won't be worth doing all that work when we are only getting a little piece of the pie."  Gabe is a firm believer you should not mix business with family, but that is second nature to the Braxton clan.  Trina firmly believes if the sisters can't do this together and resolve their issues, it is not worth doing.
Will the sisters tell Aunt Beverly where to shove it?  What does Traci need a gun for?  Will Mama E's health scare turn out alright?  WE Want to hear from you!
After all that drama last week, WE hope this week is at least filled with some resolve and positivity!  #Getittogether, ladies!
Trina and Mama E. meet up for lunch to discuss what happened at the #Tamarvention, including their little exchange of words before the session even really started.  BFVQuote: "I had to make it right with my mother."  Trina apologizes for her behavior brought on by stress, and acknowledges her disrespectful actions.  BFVQuote: "In everybody's life there is a season.  Your season right now is to work on each other's nerves."
Back in L.A., Michael Braxton pays Tamar a visit to find out what is going on between his daughters.  BFVQuote: "He has his work cut out for him because it's a mess!"  Michael hates hearing about all this conflict, so he wants Tamar to explain exactly what is going down.  BFVQuote: "First I'm changing, then I said something, then I did something… I don't know."  Michael wants to get everyone together so the girls can finally squash this drama.
Traci is back from L.A. and in the D.M.V. because Kevin had a health scare in the middle of the night.  BFVQuote: "Apparently, it was just an anxiety attack.  I got the damn anxiety attack."  Seems like someone got a little too worked up over that Redskin loss!  At least Traci can fill Kevin in on the drama that happened back in L.A., and apparently help Kevin get his "heart rate back up."  This marriage is still alive and spicy, that's for sure!
Toni sits down with Dr. Sherry so she can figure out why she got agitated enough to walk out on the sister therapy session.  BFVQuote: "I don't know how to coexist in my family dynamic… I don't know how to be me in this situation."  Dr. Sherry makes Toni put on glasses to "see what she didn't see before", and as much as this looks a bit cray Dr. Sherry's point is that everyone sees things through the same lenses differently.  Toni needs to get some resolution between Tamar and herself before it starts to affect her health even more.  BFVQuote: "If they have a problem it is none of business.  I'm going to remain neutral."  Toni is taking on the role of caretaker again, and Dr. Sherry makes her realize that is not her role anymore.
Michael finally convinces Tamar to attend a sister sit-down at Toni's, but if this is another #Tamarvention "she" is not interested!  BFVQuote: "Nobody likes to be in the seat all the damn time."  Michael reminds Tamar how the art of forgiveness makes you the bigger person, and at least gets Tamar to leave the car and enter Toni's house.  BFVQuote: "I really hope that by seeing me and their father in the same room being civil to each other that will inspire them to come together so we can just be a family."  Because of Michael's calming effect on Tamar, the sisters are glad to have him at this second meeting.  With the absence of Traci, Tamar thinks that Kevin's health scare may be a little more convenient than plausible.  Michael immediately tries to get to the bottom of the issue by playing mediator.  The girls try and explain that even though it felt like a #Tamarvention, Tamar had asked to know what the issues were and the sisters were trying to communicate just that.  BFVQuote: "You wanted to know? And they told you? And you got made because they told you?"  When Tamar doesn't agree with Michael or the girls, she tells Michael he is the one that is a horrible listener.  Ummm, pot meet kettle!  BFVQuote: "She has not heard a word we've said for six months."  Trina tries to bring everyone's thoughts together by admitting that no one is going to change the past so it is important to move on and move forward, but Tamar is still trying to dredge up her version of the #Tamarvention.  BFVQuote: "You're not listening.  You need to listen and understand what they are saying."  Everyone but Tamar also thinks everyone is owed an apology, however if Tamar doesn't think she did anything wrong, what will she apologize for?  Things are heating up quickly, and WE don't know if Michael and Evelyn can bring this conversation back.  When Toni asks for an apology, Tamar is quick to defend her actions because of how Trina, Traci and Towanda were acting.  However, that has nothing to do with Toni and the accusation of jealousy.  Mama E. has to finally jump in to try and mediate this heated convo between Toni and Tamar.  BFVQuote: "That's how you move on.  Not justify anything.  And you move on!"  Michael is not accepting Tamar's apology because it honestly wasn't an apology at all.  BFVQuot: "You know why you can't say it?  Because you don't feel it!"  Finally after 10 minutes of screaming, yelling, and caring on Tamar is able to apologize sincerely and Toni is able to accept it.  After Toni accepts Tamar's apology, it is almost too much to hold in anymore.  These sisters fight hard, but they love harder and no one in that room wants to continue with the way things are carrying on.  BFVQuote: "I'm not gonna allow anything to come between me and the feelings of my sisters."  Michael has even had enough, and walks out of the room feeling hurt and exhausted while Mama E. orchestrates a group hug.  Problem solved?
Back in the D.M.V., Michael meets with Traci to discuss what happened at the second sister meeting and Kevin's health.  Traci is very upset that she missed the second meeting, but after listening to Michael wax poetically about the meeting Traci looks like she may be glad she dodged that bullet.  She has no patience to hear how Michael didn't ask Tamar about her comments.  BFVQuote: "Let's just finish this and be over it."  This was just even more disastrous than the #Tamarvention part II!  Traci legit got in the car and sped off!
Cooler heads prevail, and Traci meets up with Michael to really sit down and discuss the issue at hand.  BFVQuote: "I'm upset with Tamar, but I can't let that effect how I treat my family."  Traci has lost her patience between Kevin's health scare and the Tamar issue, and it's becoming difficult for her to deal with all the drama.  Michael wants to sit down with Tamar and Traci to discuss the unresolved issues between them, and as much as Traci does not want to be in the same room as Tamar she knows it would make Michael happy.
Gabe has asked Traci and Towanda to come ring shopping with him so he can officially ice out Trina's ring finger.  Gabe has already picked out a ring, and as soon as Towanda and Traci hear "simple" and "solitaire" these two are all over Gabe.  BFVQuote: "That is something you can get up the street and in the alley somewhere."  Gabe is trying to stay within a budget (shocking!), and Towanda and Traci's desire for a bigger diamond in every setting is not helping.  BFVQuote: "I think Trina would like a nice, solid 2 karat diamond or more with a lot of friends around it."  As soon as Gabe is blinded by all the sparkle, even he is thinking about a heftier upgrade once he checks his finances.  BFVQuote: "Cheating is expensive."
Traci and Tamar sit down with Michael to finally hash out the issues.  Tamar is still confused as to what the issues are between her and Traci, and feels like she is treated like an outsider.  It seems like both Tamar and Traci have conflicting memories of what actually happened during the #Tamarvention, and Michael is having a difficult time keeping up with the variations.  BFVQuote: "Both of ya'll are wrong, and both of ya'll are right."  Right or wrong does not matter to Michael, he just wants some resolve.  Tamar does not want the fakeness of smoothing things over just for the sake of her parents, but Traci seems to sweep her thoughts under the rug just to avoid Michael's disapproval and another argument with Tamar.
Will the Braxtons ever get back to normal?  Did Traci really call Caucasians "Albinos" in a speech in front of thousands?  Is Toni really done recording?  What is happening, #BFV fans?  WE want to hear from you.
Trina shows her video to Tamar and Toni, Traci and her cigar get cut out of the "Party or Go Home" video, and Gabe undergoes a makeover to prove himself to Trina.
The girls meet at Toni's house for some sister bounding time, and for Toni to ask them a big favor.  BFVQuote: "I'm just going to have to eat crow, and bow down… and ask them to help me."  Trina has to think on this request a little bit.  It was only a few weeks ago Toni gave them both the boot, and now she wants them back!  BFVQuote: "I wasn't gonna make her sweat that long about it.  I mean, it's a free trip to St. Lucia."  Trina also tells her sister she is no longer in the band, and Toni doesn't even try and hide her happiness.  BFVQuote: "You can't be the quarterback handing out the Gatorade."  Traci is a little disappointed she wasn't pick, but knows Toni has legitimate reasons.  BFVQuote: "I was looking ratchet and ridiculous."
Gabe goes to visit Ms. E to get her advice on wooing Trina back.  BFVQuote: "I think she can point me in the right direction on how to make my marriage a success."  Gabe knows he wants his marriage to work, and Mama E is ready to help Trina and Gabe.  All Gabe wants is another chance, and to prove to Trina he is making positive changes.  BFVQuote: "Sometimes we go through these things so we can learn, so we can grow."  Ms. E wants to see Gabe's commitment, and it looks like he is receptive to change his appearance as well.
Towanda has the idea for all the sisters to participate in booty clapping class to get right and tight for St. Lucia.  BFVQuote: "Clap it. Wiggle. Wobble. Shake. Skank-a-vitch."  Their instructor, Firestarter gets right to business, making the girls saltshaker and then get "dirty and filthy".  Toni arrives with her assistant in tow, and a spray bottle filled with what we can only imagine to be 1 part bleach to 2 parts water.  Tamar is working on her title of Queen Booty Clap. BFVQuote: "Boom!"  Meanwhile, Traci may be putting her to shame.  BFVQuote: "She know what to do when it's time to get filthy and dirty."  Tamar just can't believe Towanda has the "undercover hoe thing" going on.  WE agree… where have you been hiding those skills, Towanda?!
Trina and Traci go to Derek's study to get a sneak peek of the POGH footage.  The video footage looks fierce, no doubt because of Gabe's coaching with the male lead.  BFVQuote: "Gabe was trying to give people instructions on how to hold me and how to grab me."  Traci also notices that she is barely in the footage.  Because she was standing behind Trina, there unfortunately aren't many shots of her (or her cigar).  BFVQuote: "How am I not gonna have my cigar up in the video?  That's the hottest thing.  Come on now!"  Trina insists they have saved the best for last, as the footage zooms in on Traci doing the robot.  BFVQuote: "Thank you for that cheeseburger."
Mama and Gabe go to the salon for a complete makeover.  BFVQuote: "For God's sake, we're going to get rid of this thing… that's hanging down from his head."  Poor Gabe thinks he's in the chair for a trim… WRONG.  This is a makeover, Gabe! It is time for a drastic cut and some color, boo.  BFVQuote: "And when you cut that, I need it for me weave."  Gabe even gets his goatee shaved off.  BFVQuote: "Wow Gabe! You look like a fine motor scooter."  Let's all bow our heads in moment of silence for Gabe's ponytail, grays, and goatee…
Trina meets Gabe out for dinner at a fancy restaurant, and she knows this must be a special occasion.  As Gabe 2.0 walks in, Trina breaks into hysterical laughter.  Trina, that is not the right reaction to have.  The main just lost about 20 lbs of hair to prove himself to you!  BFVQuote: "You look like Pat Sajak."  Poor Gabe!  He explains that changing his personal appearance is to show Trina that he is ready to be a good person and a good husband.  BFVQuote: "I'm going to continue to work on our marriage."  Trina feels that Mama E. helping Gabe proved that she accepted his apology.  Trina is unsure about this "new Gabe", and wants him to realize it is going to take more than a fresh cut and a new suit to prove to Trina he is a changed man.  BFVQuote: "That makes me look vulnerable and weak and dumb."
Trina confides in her sisters at lunch about what is going on with Gabe, and Tamar is the first one to object.  BFVQuote: "Can't you ever be a listening ear instead of an open mouth?"  Tamar reminds Trina that she has already given Gabe two chances, and he blew it.  She needs to make sure everything is on her terms.  BFVQuote: "Don't go back without knowing that you can't live without him."  Trina appreciates the sisters' advice, but knows it is ultimately her decision.
While attending St. Lucia rehearsals in L.A., Trina and Tamar go out for drinks.  This decision about Gabe is really weighing heavily on Trina, and she is getting stressed out.  BFVQuote: "It's just ratchet."  The kids are acting out, and Tamar sees a similarity with the way she used to act when Mama E split from Mr. Braxton.  Tamar is concerned for Trina, and just wants her to be happy.  BFVQuote: "I have to change my life for the comfort of my children."
Trina screens her video with Toni and Tamar (Eek!), and thankfully they think it looks good.  BFVQuote: "It looked like Ke$ha took a shower."  The ultimate feedback is that the video footage is great, but it needs to be edited a little differently.  Trina is concerned about getting money for the extra editing costs caused by the sisters' suggestions.  BFVQuote: "I already drained my bank account and Gabe's, so where do they think this money is going to come from?"  The last bit of criticism is for Trina to lose the DJ.  You can't have a model in your video taking away five seconds of your face time!  BFVQuote: "There will be no light skinned caramel chicks in her video.
In true Braxton's fashion, we wrap up this week's episode with an original song by Mr. Tamar Braxton-Herbert.  Use the lyrics below to sing along.
He has a dingaling of steel
He must
because there ain't no way
on God's green earth
I would ever
take him back, no
He must have a dingaling of gold
of gold
of gold
of gold
cause he must have a dingaling of gold
a dingaling of gold
Towanda has a blind date via Mama E, Tamar takes time out of being Vince's bodyguard to retrieve her eggs, and Trina gets her music video together.
Towanda and Mama E go out for bite to eat, and the convo quickly turns into a discussion of Towanda's dating life and ghosts of blind dates past.  BFVQuote: "The boy had his umbilical cord wrapped around his neck, and all that kind of stuff."  But we quickly move from the 27 year old with Similac behind his ears, to the elderly drunk!  BFVQuote: "I'm just scared for you to set me up with anyone else."  Mama E. knows Towanda has got it going on, and therefore doesn't see any reason why she shouldn't take her up on her blind date offer.  BFVQuote: "I just thinking Mommy is going to set me up with someone who has a kickstand and wooden teeth."  At this point, Towanda is just looking for a man with bank so she can "put skid marks on his credit card".  Well hey, Towanda… at least you got a plan!
Back in L.A., Tamar and Vince go out to lunch and talk about the next steps in fertility treatment.  BFVQuote: "Why are you trying me right now?"  Vince suggests possibly getting a nurse to help Tamar with her shots since he doesn't feel comfortable taking on the job, but Tamar is a little too concerned with what this nurse may or may not look like.  Not everyone is going to be after Vince, and WE think Vince is much too in love with Ms. Tamar to ever stray!  BFVQuote: "Tamar, please."  BFVQuote: "My name is Tamar 'She's always on it' Braxton-Herbert."  According to Vince, Tamar has outgrown her britches… the ones she used to wear when Vince took her on dates to Disneyland.  And the reason she doesn't get to go to Disneyland anymore?  Because she's been running her mouth too much!
In the A-T-L, Trina is getting things ready for the video for her single, "Party or Go Home".  The one and only, Derek Blanks is directing so we know this is going to be FIERCE!  BFVQuiote: "I love the idea of being surrounded by a team of buff dancers, but with a little gay flare."  It is clear Trina has a specific idea of how she wants her music video to be choreographed, and we are on board!  She wants to be the star diva, and if WE were starring in our own music video WE would want to be the center of attention too.  However, I'm not sure Derek is on board and Reco is acting like he is the H.B.I.C… Trina may have her hands full with this team of superstars.  BFVQuote: "Reco just needs to do the whole fashion thing, and then come down the 'keep-your-mouth-shut-oritis' and then let Derek do his job as the director."
Trina and Gabe sit down to talk about Trina's music video, and Trina asks Gabe to help her out with the budget and support her a bit… financially.  BFVQuite: "I could be a lot more friendlier to Gabe if he would cough up some cash and help me pay for my video."  Gabe is seeing this as a chance to be together, and that seems to be the only selling point he needs to say "yes".
Today is the day that Tamar gets her eggs harvested, and she is traveling with a huge support team consisting of Vince, Toni, and Mama E.  "Dr. Toni" seems to be giving Tamar the play by play of how they put you to sleep, but if that were us WE would not want to hear those details right before the procedure.  BFVQuote: "I can't wait to get into surgery so I can get away from Dr. Toni's ass right now."  Even Michael Braxton shows up to support Tamar.  BFVQuote: "He's not my favorite person.  Let's keep it real."
Trina is officially auditioning her backup dancers, and there is just something funny about this group of guys.  One of them is in a full on suit and tie, one looks like he is 12, the other one is dancing like it's 1995, and there is a dude in a cowboy hat and a Margaritaville shirt.  BFVQuote: "They're working it alright."  With the ideal number of dancers being 50 people, they have a looooooooong way to go.  BFVQuote: "Besides looking for some fun background dancers, I'm also looking for a yummy little piece of man candy that I can bump and grind with as my leading man."  Cue Gabe!  Talk about perfect timing.  The poor guy just winces in the corner like a little boy while some other guy smooches his wife!  Divorce or not, I bet that shiz still stings.  BFVQuote: "I cannot be worried about that right now."  Apparently, that little peck makes Gabe think Trina has no right to talk about his penis anymore (ew!).  BFVQuote: "Keep it cute and put it on mute."
Tamar's procedure is finally done, and the whole is there to greet her as she wakes up.  After hearing the good news about harvesting six eggs, the next question to follow is, "When are you going to put the babies in?"  Luckily, Dr. Kumar is there so bring the family back to earth.  This is not a process that should be rushed.  BFVQuote: "Finally a real doctor put Dr. Toni in her place."  The babies will be fertilized the next day and then frozen, BFVQuote: "so this means I could have my babies in year 2045 if I want to."
BFVQuote: "Everybody knows that if I want to look dirty and sexy, I need to go to Trina's closet because dirty and sexy is Trina's middle name."  Towanda's cup size leaves something to be desired when wearing Trina's clothes, and Trina thinks only a magician can help her.  BFVQuote: "I don't want to buy any."   Towanda thinks her entrance into the blind date arena is none of Andre's business, but mainly because it is not like she is marrying someone anytime soon.  BFVQuote: "It is gonna take me a long time to get that comfortable with somebody again."  This is just pure silliness!
Towanda (finally!) goes on her blind date and while she waits, she orders herself some liquid courage.  And who do you think walks through that door?  ANDRE!  Guess a blind date just means you have no idea who you are going out with, not that you don't know the person.  BFVQuote: "I could have stayed home with my little bullet and some double A batteries."  Andre is laying it on THICK, and we are not sure if Towanda is going to melt or bolt.  Andre has come with an arsenal of gifts too!  Didn't Towanda say she wanted to be wined and dined by her date?  BFVQuote: "Are you doing this because you want to get laid?"  Andre wants to rejuvenate the marriage, but Towanda can barely muster the energy to pick up her martini glass to toast to the well wishes.  It just got a little frosty up in here!
Trina runs through her video routine with some hesitation, and of course Towanda and Derek are there to give her a hard time.  They want to see Trina put some stank on it, and right now Trina is just trying to get the steps down.  BFVQuote: "You gotta work it in.  You gotta push it out."  WE are just a bit worried, and WE think Trina is too.  Towanda has agreed to fly Traci down so Trina can have a huge support group while filming the video.
Towanda fills Mama E and Trina in on her "blind date".  BFVQuote: "He just took his heart out of his chest and he squeezed all the blood in a glass and just poured it all out."  Trina wishes Towanda could just defrost a little bit and show some emotion.   BFVQuote: "You're a stone!"  Towanda claims she has not dated anyone since ending her marriage because of her children, but Trina is not convinced.  Poor Mama E tries to break it down, but we are still fuzzy about what tongues and teeth have to do with dating and foot rubs.  Towanda just needs a little more show, and less tell.  WE got our fingers crossed, Andre.
Do you think Towanda should give Andre a second chance?  Will Trina get her dance moves together in time to work it in her video?  When is Tamar having babies?  WE want to hear from you!
Tamar meets with surrogates, Toni models a sock dress, Trina takes a band hiatus, and Gabe talks about his "deposits"… ew!
Toni checks up on Trina to see how things are going.  BFVQuote: "Being the older sister, you know I'm psychic."  Toni thinks Trina's decision to drop the band is long overdue, allowing her to go out into the industry and figure things out for herself.  There is a lot of security with being in a group, and Toni thinks it is time for Trina to be on her own.  BFVQuote: "Don't be afraid to fly.  Just sore on your own."  Toni also gets a little something out of this conversation as well; Trina admits that she respects Toni and her opinion.  BFVQuote: "Don't do what I do.  Let my screw ups help you."
Tamar, her summertime hair, and Towanda go out for lunch… and for Tamar to tell Towanda she will not be her surrogate.  Why the change in do?  Apparently Towanda like Tamar's classic hair so much, she stole it.  BFVQuote: "We can't be sitting here looking like the bopsy twins."  But apparently she stole it from Toni!  BFVQuote: "Back in the day… when Toni Braxton was doing The Flamingo 'Revealed'."  WE don't know if Vince is really THAT worried about the baby picking up Andre's "bad habits" or the fact that it's a bit weird to rub his sister-in-law's belly while she is pregnant with his child.  Like Mama E says, "I'm just sayin'."  Although, Vince having his heart set on Tamar carrying this child may not be the right move either.  BFVQuote: "Why would I want to have a baby inside of me messing up my girly parts and stretching out my tight abdominal region that I work real hard for?"  But, the best part is Tamar's song about Towanda's cooch.  BFVQuote: "I sure see the light." <a href="http://we.tv/P5BNW3″>Click here to listen to the "Cooch Song"</a>
Toni has a dress fitting with Michael Costello, who has designed the sock dress Toni will wear in a photo shoot for Autism Speaks.  BFVQuote: "The cousins are good."  With Toni starving herself for Fashion Week, I don't think we need to worry about her looking "too big" in this dress!  BFVQuote: "I don't want to look like 'Oh, she knows where the dessert table is.  Not a good look."
Mr. Braxton is in town!  Tamar goes to lunch with her daddy to catch up and talk babies.  BFVQuote: "I need a glass of wine for this.  This is stressing me OUT!"  With Tamar still wanting to professionally achieve so much, she feels that babies can sometimes be a hindrance.  BFVQuote: "It doesn't have to be a Viking.  It could be a GE."  After the back and forth, Tamar and Mr. Braxton decide to put this conversation on the shelf and enjoy their lunch.  BFVQuote: "Aw Tamar, Tamar, Tamar.  You my baby."
Toni is in New York doing her photo shoot for Autism Speaks and SheKnows.com with Mr. Nigel Barker (BIG TIME!).    As soon as the music comes on, Toni works it OUT! The dress really looks beautiful, and with Nigel's creative set design this is going to be a great photo.  BFVQuote: "I'm just a singer trying to look like a model.  It's a whole body work out."
Back in Atlanta, Gabe comes over to discuss the possibility of moving back in.  BFVQuote: "I'm just working on not being angry right now for the sake of the children."  Can't blame the guy for trying!  But, Trina looks like she just saw a unicorn prance into the kitchen.  He thinks the progress he has made in sex addiction counseling and with his therapist is enough to gain Trina's trust back.  BFVQuote: "He is not supposed to be using it as a ploy to get back into the house, or back into my pants, or both. That's a big negative, soldier."  Gabe does raise a good point though.  While he is going through all this counseling, what is Trina doing?  Mr. Oral Transaction is still in the picture professionally.  And when Gabe calls it like it is, Trina looks like she's seen a ghost.  BFVQuote: "My penis made a deposit into another woman's vagina."  Hate to say it, but WE are semi on Gabe's side with this one.  But you're still our girl, Trina!  We know it's not about just this isolated incident.  At the end of the day, this couple still needs more time to sort out their beef.
Tamar and Vince meet with a slew of potential surrogates, you know from the beginning this is just a recipe for disaster.  BFVQuote: "It's not gonna work for me, but I'll check it out."  Margie kicks it off with a hug and Vince dives right in with offering for Margie to stay at the house while she's pregnant.  Tamar looks like she is going to fall off the chair.  BFVQuote: "She's not having it."  BFVQuote: "What's personal is you not wanting to push the baby out your coochie."  Next is Sarah, who may have wanted to wear a slightly more conservative top that didn't reveal the goodies.  BFVQuote: "I don't know how many other ways I can say hell-to-the-niz-o."  As soon as she says, "I would love to have your son" it is an open and shut case.  NEXT!  Oh, Lily, Lily, Lily.  BFVQuote: "This ain't 1-800-Rent-A-Womb!"
Trina meets with the band to break the news that she is officially leaving.  BFVQuote: "I am taking a band hiatus so I can kinda fly with my own solo career."  Trina is taking some members of the original band with her, so she knows certain people will be upset… including Mr. Oral Transaction, Christian.  BFVQuote: "I don't need the sexual innuendos.  What I need to do is clip his balls and neuter him out of my life."  Besides Christian, all the other band mates are extremely supportive so go figure that he needs to follow Trina outside to have a "talk".  HE should be a stranger!  BFVQuote: "Your account with the First National Bank of Trina is closed!  You need to take your business elsewhere."
On to Trina and Gabe, round two.  Gabe is concerned about Caleb's grades, and Trina think it has something to do with all the emotional stress he has been going through.  BFVQuote: "I don't think that Caleb is failing.  I think that we are failing."  Gabe thinks they need to spend more time with Caleb, whether it is together or separately.  BFVQuote: "Gabe is pulling at my heart strings being a good father to the boys, but he was a really terrible husband to me.  But, sometimes you have to choose what's right for your children over what's right for you."  Trina appreciates Gabe's commitment to staying around for the kids, and thinks it is the best thing for the family.
What do you think of Tamar talking in the third person?  Will Vince and Tamar EVER find a surrogate?  Are you on #TeamReunion or #TeamSeparation with Gabe and Trina?  Let us know what you think!
They're baaaaaaaack!  It is so good to see the Braxton ladies, especially since all of the women have been on the grind pursuing new endeavors.
Tamar is riding the baby train due to Vince's recent health problems, and visits with a specialist to get some tests done and talk strategy.  But Tamar, how you gonna be a mama when you squirm like a little girl when getting blood taken?  It looks like you have ants in your pants!  Next, Dr. Toner walks Tamar through the examination he will do to make sure she is able to carry a baby.  BFVQuote: "I didn't want to be the person to hold Vince back from being a father."
At Trina's house, Tamar is creating a new hot single using Trina's doorbell.  If we were Trina, we would have flipped!  BFVQuote: "That's dope!" BFVQuote: "No it's not.  That's dumb!"  Trina gets right down to baby business to find out that Tamar had quote an interesting procedure.  BFVQuote: "He novocained my coochie!"  With Towanda still in the running as surrogate, Tamar has to decide what her next course of action will be.  BFVQuote: "This is a huge weight lifted off of my shoulders."  Tamar has a lot she would like to accomplish for her music career, and a baby may not exactly fit into her schedule.  Toni has also asked the sisters to help her audition new background singers, and Trina and Tamar look like they will be tough critics!  BFVQuote: "If you have stretch marks and your stomach is touching your leg when you sit down that that's a problem."
Towanda and Andre head to lunch so Towanda can sit him down and discuss her possible surrogacy.  BFVQuote: "She's a good aunt, but a mother is a totally different thing."  Luckily, Towanda is guzzling that wine to build up some liquid courage to drop the bomb.  Poor Andre just looks plain, old confused.  For someone who didn't want to have any more kids, Andre doesn't understand why Towanda would agree to this.  Andre's concerns vary between complication of birth, medical builds, and the impression of his two children.  While WE understand why Towanda is offering to be a surrogate for Tamar, WE totally understand Andre's valid concerns.  BFVQuote: "Nobody cares about Andre, nobody cares about Braxton, nobody cares about Brooke."  Andre is concerned this is just another instance where the sisters are using Towanda and taking advantage of her generosity.  BFVQuote: "Is Vince gonna be there looking at your cutie cutie?"  I mean, that is a valid question… right?  Andre just wants everyone to take everyone into consideration.
Tamar and Trina sit down for dinner with Mama E to see how her life coaching business is going.  BFVQuote: "Bless Tamar's womb!"  Mama E already has a bunch of clients lined up, so business seems to be going extremely well.  Mama E has a lot of experience from being a youth counselor and a pastor.  BFVQuote: "Shhhhh! Why you always going in preaching mode?"  Tamar does do a spot on impression of Mama E though!
Finally, Toni's audition for new background singers is underway.  BFVQuote: "Get ready. Imma torture you.  You wish you never sung before a day in your life."  Are WE the only ones that are scared?  BFVQuote: "It's time for her to find little chickadees that she can make her pet."  Toni will miss having her sisters on the road with her, but it is the right decision for everyone to explore new options.  BFVQuote: "If they're rachet, they're wack, they're pornstars, they're video hoes, and stuff like that then I can pick them out. You have to go!"  Something we definitely learned from this audition is when Toni Braxton asks you to sing, you do not perform Chaka Khan!  Girl, save that for the karaoke bar because you just BLEW this audition.  BFVQuote: "I can't worry about being nice right now."  But Towanda, Towanda, Towanda… how did you not know the right lyrics to "Man Enough For Me" when you have probably performed it with Toni over 1,000 times?  You're lucky you didn't have to audition in front of a panel like these girls, or else Tamar would have called you out with a quickness!  But, the best part of this audition was Tamar's impersonation of Toni.  WE were dying of laughter.  Between this impression and the one of Mama E, WE think Tamar could have a career in this.  But, congratulations to all Toni's background singers.  You made it through one tough audition.  BFVQuote: "You can't be singing behind my sister looking like Ronald McDonald.  Have several seats, and the first one should be at the hair salon."
While her daughters are being tougher than the judges on American Idol, Evelyn meets up with Doc to form a working partnership to help grow her life coaching business.  Since Mama E deals with the mind, body, and spirit only, Doc can offer expertise in weight management, body image, and more.  Looks like Mama E's business is a one stop shop for women needing that extra boost of self esteem.
BFVQuote: "I just think someone else carrying my baby is a great idea because I still get to live my life.  I still get to drop it like its hot, pick it up, I can laugh and not pee and still have regular things go on in my life."  Vince doesn't seem too on board with Towanda carrying his baby.  BFVQuote: "I am not rubbing Towanda's belly."  Oh Vince!  WE think Vince and Tamar need to get on the same page before moving forward with any of this baby stuff.  BFVQuote: "May they all be from 'Tribe Ugly.'"
Do you think Towanda is making the right decision to be a surrogate for Tamar?  Were the sisters a bit harsh during the audition?  Is Tamar really ready to be a mommy?  Let us know what you think!