Because our fans are absolutely incredible, WE are bringing you some extra content for last week's episode of "Braxtons Family Values." Towanda takes Trina and Traci to lunch to share the exciting news about "Who Wants to Be a Millionaire," but before the girls even get their drinks TrinaQuote: "I really gotta go kee-kee. Don't talk about me while I'm gone." Traci Quote: "Don't worry, we will." The girls kept their promise! Towanda tells Traci all about when Trina peed in her pants during Mardi Gras in New Orleans. TowandaQuote: "Just close your eyes and imagine someone pouring water on the carpet." TMI Towanda! Towanda Quote: "Girl… I called everybody and told everybody she's pissing on herself."
It's great to have everyone see the warmer, softer side of the new Mama T (Tamar), and leave it to Mama E to put the wonders of mommihood into perspective. TVQuote: "You feel like you just want to explode because you're so happy." Logan is the best behaved baby and he is so damn adorable. Apparently, Tamar is the one to thank for these attributes which is the reason she needs her push gift STAT. All Tay Tay wants is a simple, tan interior, drop top Rolls Royce Phantom. TVQuote: "You know, having a baby is a lot. It's almost like pushing a Rolls Royce Phantom out of your purse, so why shouldn't I push it on the streets?" Poor Mama E still can't even wrap her head around a push gift, let alone it being a car.
The Real is about to start and Tamar is having major technical difficulties with her earpiece. The crowd is going wild for Tamar, so luckily this malfunction doesn't last long. Tamar LOVES working with her group of cohosts. TVQuote: "These girls get to know me for me… or not like me for me. But, they like me for me." During the show, Tamar gives a HUGE shout out to Mama E, and it seems like the crowd may have been even more excited to see the Braxton's matriarch. Evelyn even tells the whole audience (and national television) that Tay Tay did not look hot in a pair of sparkly shorts she had on. Guess that's why they call it The Real!
While looking at baby photos of Logan on Vince's phone, Tamar asks Vince to call Miss Ivy so she can put Logan on his back. With Tamar not having Miss Ivy's number, this prompts Vince to call Tamar a "bad mother." This does NOT sit well with Tamar, and Vince does not respond well to her icy response. TVQuote: "This is a lot of inappropriate ass sh*t." Tamar is extremely upset, and regardless of whether Vince was joking or not, this tough lady has some major hurt feelings. TVQuote: "It's not damn funny especially when you already feel guilty about not being damn home." At least Tamar has Terrell to comfort her. With the crowd calling, Tamar pulls it together and walks by without saying a word to Vince.
Logan is racking up another magazine spread, but this time it's in Ebony Magazine, but he is waaaaaaaay too tired to be excited. TVQuote: "Logan's everything like his father. When he don't feel like doing something, he don't do it and there's nothing you can do about it." Too see the final photos from the shoot, look through the spread here.
Get a glimpse into Tamar and Vince's lives from our crew's perspective with these exclusive details from our producer's notebook. In these notes jotted during Momma Works Hard For Her Coin, our producer spends time on the crazy set of Tamar's reality show "The Real".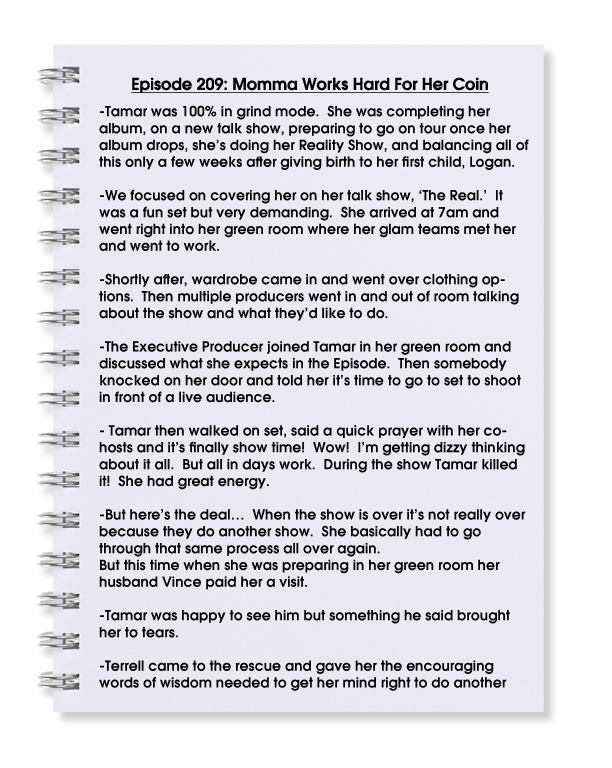 Here at WE tv, WE are obsessed with the new members of our family, and Logan is NO exception.
Tamar
posted the adorable photo of Logan…
And our #Tamartian friends just couldn't help themselves from making equally adorable (and hysterical!) memes of the little cutie.
At the end of last week, #TamarandVince were getting into an argument around an innocent comment that could be taken out of context during a stressful time. This week, WE pick up right where we left off!
It seems like Tamar was just trying to stress that she loves both of them and would never let anything harm them in anyway. TVQuote: "My feelings are my feelings." But then Vince goes and leaves Tamar in the car with all the bags? #HeTriedIt
Thankfully, this couple hits the town with Terrell for some cocktails, so WE expect the moods of these new parents to change very shortly. TVQuote: "She's gonna be white girl drunk tonight." This adult conversation quickly turns into who's getting an "oink oink" tonight and they haven't even started drinking yet! #CoverYourEars
Mama E has come back to L.A. with the new and improved Herberts so she can make sure she is there to see Logan grow up. But, don't get it twisted… this Braxton still has a lot of life left in her. TVQuote: "You're trying to lift up your skirt and fly, baby."
It is back to business as usual for Tay Tay as she meets up with Ashley for the wardrobe fitting for her album cover. TVQuote: "He doesn't know I'm thick-ums, for real." TVQuote: "If I was a rapper that would be my name. MC Fat." Ashley is willing to go back and pull some more ideas in larger sized, but Tamar does not think larger sizes mean she's gotten her snatch back. TVQuote: "Tomorrow I'm not going to be a size 4 and that's a problem." But you know SHE brings it once the cameras are on for her album shoot. Like Tamar said, TVQuote: "I have an album that I worked very hard on, and I don't want to push it back."
A few weeks later, it is time for the "Mommy and Me" Us Weekly photo shoot where Logan is beat to high heaven in some Versace and Dior. TVQuotes: "He's a prince." The pictures are purely precious and the prince is on his best behavior while Vince "works them to the bone." TVQuote: Are you Ike Jr.?"
Get a glimpse into Tamar and Vince's lives from our crew's perspective with these exclusive details from our producer's notebook. In these notes jotted during Jet Set Baby, our producer takes a ride in a private jet with our favorite couple and their newest addition to the family.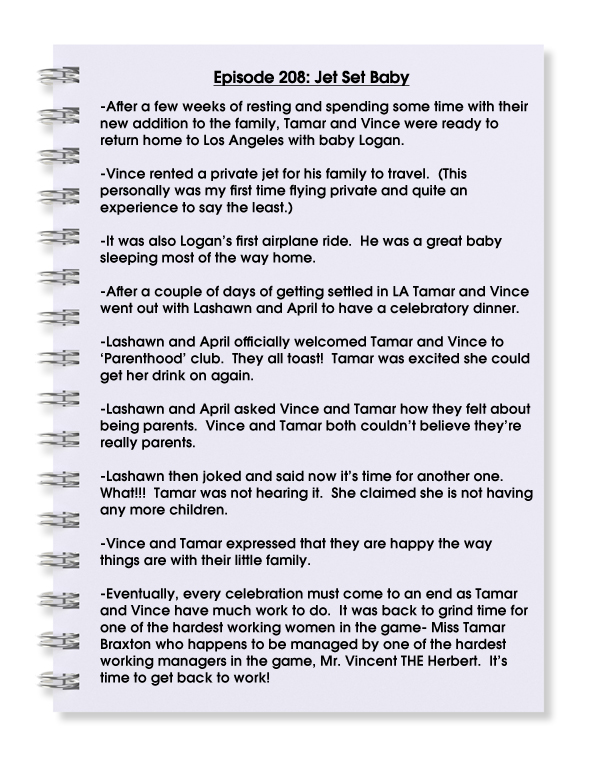 We are still IMPATIENTLY waiting for the arrival of baby Logan, but at least Tamar is four centimeters dilated. The whole family is here; even Michael Braxton came down in his Corvette). TVQuote: "I was at the birth of a couple of the grandchildren, but after a while that got old to me. So, since I wasn't there on the takeoff, wasn't no sense in me being there on the landing."
As everyone waits around for something (anything!) to happen, Tamar just goes through the motions and contractions after contractions. TVQuote: "A contraction feel like a dinosaur kick you in the back while you're having a period cramp." WE admire Tamar for dealing with all this for over 26 hours, but even she reaches her breaking point when a false alarm sounds. TVQuote: "I didn't come this far to not go home with no baby now." TVQuote: "Tamar is making a permanent decision in a temporary state of mind."
After a temporary breakdown, Tamar is back to normal self and doing an impromptu photo shoot with Traci. In true #TamarandVince having sex! Y'all need to watch that moment again…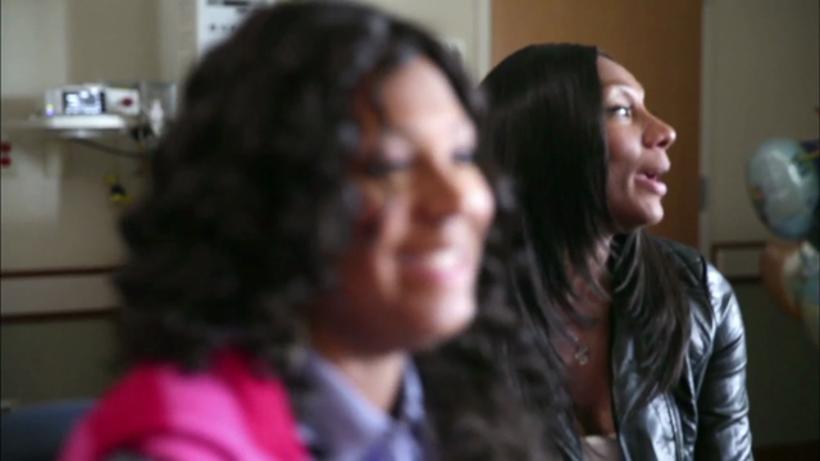 Then Toni starts krumpin! TVQuote: "Ton-Quisha in the house!" WE have never been too excited for the whole labor and delivery process, but if WE can make sure the Braxton sisters are present then WE'll think about it.
After 28 hours, Logan is finally ready to meet everyone! Logically, Traci is manning the camera during the delivery because TVQuote: "Traci's real ride or die." WE can tell Vince is a bit nervous, but he is being super strong for Tamar. TVQuote: "He came right on out looking like a king!" All the aunties are so excited to see Logan, and bffs Tiny and Toya are there to greet the new Herbert! TVQuote: "I done fell in love on a two way street." Logan is 6+ lbs of perfect, and Tamar is BEYOND proud! Now if only she can make some milk for the little guy.
It is time for the Herberts to go home and Logan is all dressed up in his Fendi duds. Vince is a very protective daddy and is taking every precaution possible. On the ride home, Tamar is taking very good care of Logan, but Vince is still in Papa Bear mode which starts a huge argument. WE hope this doesn't run such a beautiful moment.
Get a glimpse into Tamar and Vince's lives from our crew's perspective with these exclusive details from our producer's notebook. In these notes jotted during episode 207, Baby Herbert Arrives!, our producer talks about what it was like to be there for the birth of Tamar and Vince's baby.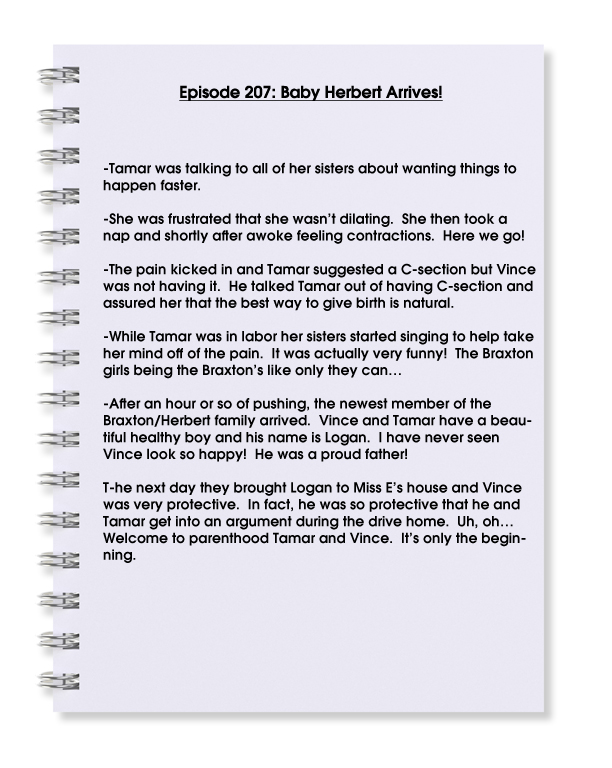 10 Reasons to Watch Tamar and Vince Tonight
1. You think it's hilarious hearing Tamar complain about being hungry, thirsty and in labor
2. You want to see all of your favorite Braxtons in one room
3. You can't get enough of the Braxton sisters' always appropriate sing-a-longs
4. You can't wait to see how many names Tamar can come up with for her lady parts
5. You want to see Vince's face when he realizes he's a father
6. You're curious to see if Tamar is about the natural birth or C-section life when the pain kicks in
7. You love babies, especially baby Braxton/Herberts
8. You want to hear how Tamar and Vince chose a "luxurious" baby name
9. You have bets on whether or not Tamar and Vince can refrain from arguing during this joyous occasion.
10. You want to be part of an amazing moment in Braxton/Herbert history
Click here to see exclusive photos from tonight's episode.
The #WEtvInsider was in L.A. during the promo shoot for this upcoming season of #BFV. Between wardrobe changes, hair troubles, late arrivals, and busy schedules, the Braxton sisters got it together and did what they do best… Delivered!
Check out the BTS gallery for more!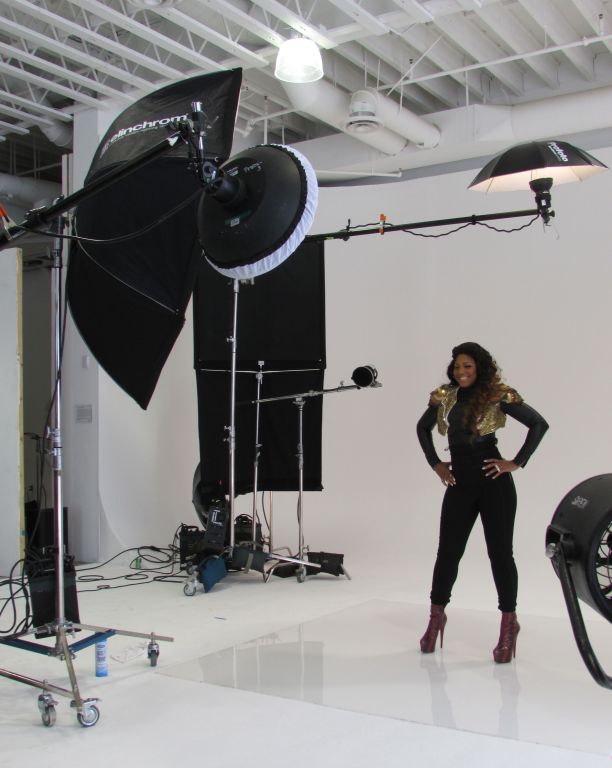 Get excited for the new season!