Braxton Family Values star Toni Braxton is set to "Let it Flow" with a biopic that's headed for television. Lifetime Network has given the greenlight for the film titled "Unbreak My Heart: The Toni Braxton Story" based on her 2014 memoir of the same title.
The authorized life story is billed as "the never-before-told story of the measures Braxton took to make herself and her family whole again, serving as an inspiration to people around the world." From her humble beginnings to her battle with Lupus, financial woes, divorce, and raising a son with autism, the story will also highlight her success in the music industry as a Grammy Award winning singer.
Reports say Braxton may even be planning to play herself in the film! The film goes into production later this year and WE can't wait to see it!
Sometimes you just want to tap into your inner starlet when the beat drops. Reality star and actress Nene Leakes tapped into her inner Toni Braxton and got her groove on! In a video posted on Instagram, Leakes appears to be in a clothing store that's playing Toni Braxton and Babyface's song "Where Did We Go Wrong" as she sashays her hips and mouths the words to the song. WE love that she's paying homage to the Braxton Family Values star!
WErk Nene! WE think she's got Toni's sassy sexiness down pat! Toni even dubbed her Nene Braxton!
It's Autism Awareness Month, and Braxton Family Values star Toni Braxton visited HLN this week to chat with Robin Meade on the Morning Express to raise autism awareness.
Toni's son Diezel was diagnosed with autism when he was three years old. Toni explained that she knew something was wrong when there were signs like he wouldn't make eye contact, very little communication, and was hard to reach emotionally. She said one of the biggest misconceptions is that those with autism can't learn, and she said they just learn differently. Braxton also said the organization Autism Speaks was able to help give her the tools to get Diezel on the right track.
As for Diezel and his aspirations for the future? He wants to be the next Denzel Washington or Anthony Anderson. WE would love to see his dreams come true! Watch a clip of the interview:

WE were also able to round up a few pics from Toni's visit. In this shot she snags a pair of Robin's heels! No pair of cute shoes is safe around this Braxton sister!
All is well as the ladies give the camera smooches!
Braxton also revealed she is going on tour with Babyface overseas! WE can't wait!
WE are so excited that Braxton Family Values returns in May!
Ain't no party like a Braxton party, cuz a Tamar Braxton-Herbert kind of party don't stop!
Over the weekend Tamar held a fun filled Easter holiday party complete with an Easter egg hunt, Easter bunny, and of course, they had to 'get their life' with some karaoke!
Tamar and Toni Braxton took the mic for a little fun but don't get it twisted – these ladies do more than just sing, these Braxton sisters have got some rap skills in their repertoire! Tamar, Toni, "The Real" co-host Adrienne Bailon and friends rocked the mic to Notorious B.I.G.'s "Big Poppa" and WE must say, we're impressed!
WE even love their hip hop names Tamar bestowed upon them – WE see you MC To To and MC Tay Tay!
WE hope they display some of their rapping skills on their future albums!
It was hot off the court, and not just because of the Miami Heat was in the house! Toni Braxton along with sisters Trina and Towanda rocked the stage at the Black Tie on Ocean Drive party over the weekend. Miami Heat president, Pat Riley and his wife Chris hosted the event presented by Hublot. Toni opened the set with "You're Making Me High" while the Heat's co-captains Dwyane Wade and Udonis Haslem ushered her onstage with the rest of the team following.
Sometimes when the singing is so good, WE just have to join in – and apparently actress Gabrielle Union and Paije Speights had the same idea. They joined the Braxtons onstage to sing "Another Sad Love Song."
WE see you Toni Braxton serenading Pat Riley!
Mr. Pat Riley

A photo posted by Toni Braxton (@tonibraxton) on Mar 14, 2015 at 9:34pm PDT
Trina and Towanda pose for pictures before taking the stage.
WE think it looks like a fun time was had by all!
From good ol' fashioned girls nights to extravagant galas, this week was – for the most part – all about the WE tv ladies. Check out some of our top insta-happenings of the week.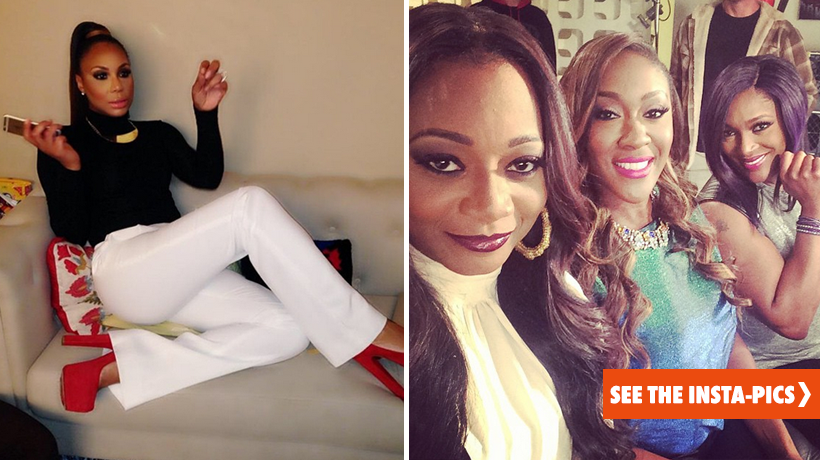 Braxton Family Values star Toni Braxton was honored Monday night with the prestigious Spirit Award during the NAACP Theatre Awards in Beverly Hills. The Spirit Award is presented every year to an individual who brings energy, tenacity, innovation, commitment, talent and spirit to the theater scene. Toni was recognized for performance as a special guest star vocalist in the Broadway musical After Midnight which celebrates Duke Ellington's years at Harlem's famed Cotton Club. NAACP Theatre Awards executive producer, Tia Boyd, said "We are thrilled to show our admiration and highlight her theatrical career in a momentous way."
Toni looked drop dead gorgeous in a cobalt blue velvet gown by Marc Bouwer. WE love the plunging neckline and high slits!
Toni was escorted down the red carpet by her two handsome sons, Denim and Diezel.
This season of Braxton Family Values is over, but that doesn't mean you have to miss out on a daily dose of Braxton moments! Your GIF's live on to tell the stories of our favorite sisterhood – here are the ones WE love most.
1. You all know how much WE love Tamar's Tamarisms, but this girl knows how to throw some serious #SHADE.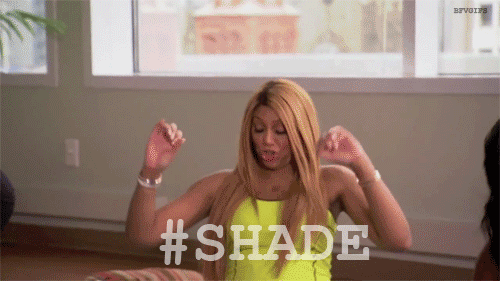 2. There's just way too many feels going on right now, and Tamar ain't feelin' all the feels.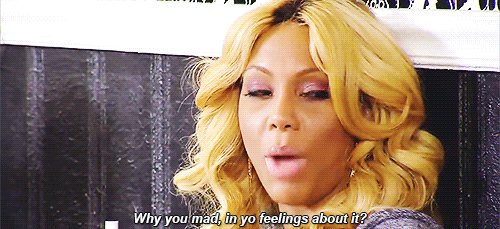 3. A meet and greet with fans is always a little awkward…just take it from Toni's hilarious facial expression. Really, dude? You want to be the next guy in one of Toni's sad music videos? Take a number. BYE.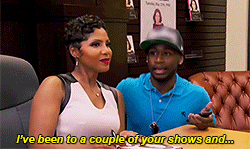 4. When Tamar's sisters try to 'surprise' her on stage, all hell breaks lose – Tamar throws more than just shade.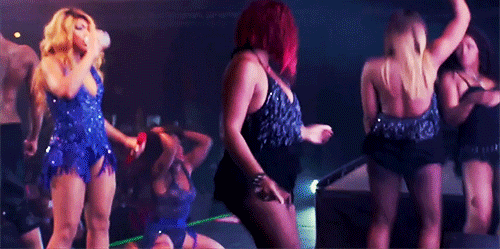 5. Trina Braxton – can she twerk or nah? According to Tamar, they ain't twerkin' in Canada yet.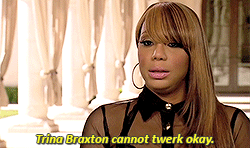 6. No doubt that one of this season's greatest moments is a game of truth or dare gone seriously wrong…especially when "your stomach looks like a loaf of bread," is thrown out there…eek!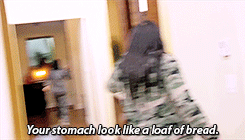 7. That awkward moment when…you tried It to capacity.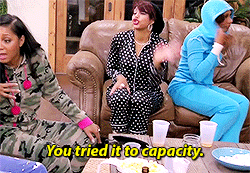 8. Feel that music! It looks like Tamar might be the only one feeling the dancer's moves, but WE are totally feeling that face she's making!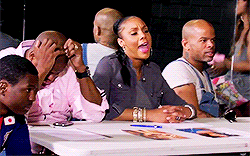 9. *Takes Vince With Her Everywhere*, but seriously…look at poor Vince moseying his way on the sidewalk with Tamar's bag in hand.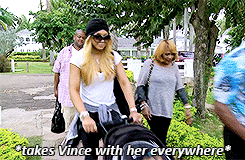 10. Sip that tea, girl!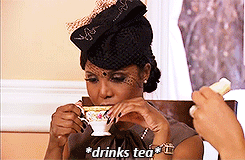 Motherhood is a beautiful thing, but sometimes Mommy needs a little alone time. Whether you need to get your hair done, spend some time with your hubby, or throw back a few with your friends, it's important to remember to carve some time out for M-E, me!
WE found some celeb moms that were taking a little time out for themselves, while looking amazing (obvi). See if your favorite super mom made our list!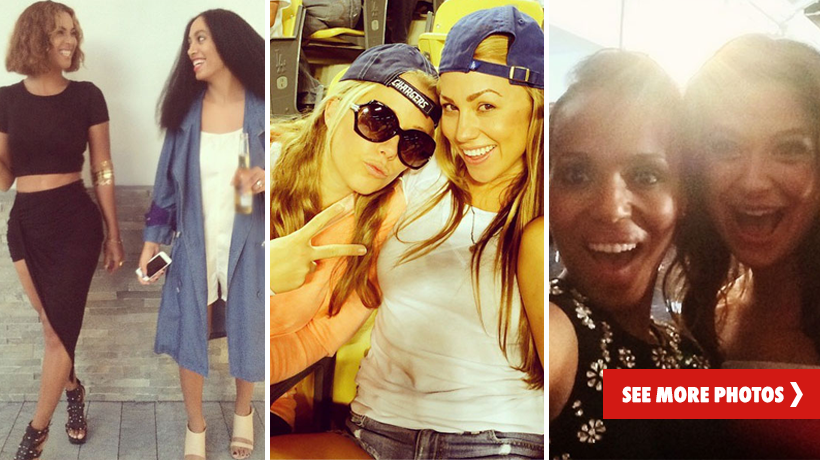 Mama E has asked Towanda to meet up for a one-on-one lunch, but Towanda can't help but be skeptical. EvelynQuote: "So what's doing with you and Tay-me?" TowandaQuote: "Whatchu mean?" "I know it's not my issue, but it seems like y'all taking so long!" Even though Towanda doesn't think Mommy should get in the middle of a sister issue, Ms. E feels life is too short for this nonsense. EvelynQuote: "This is a family for God's sake… let's act like it." It is Ms. Evelyn's choice to be in the middle, but Towanda thinks she's taking a side. WE can only hope that Mommy is right and Towanda chooses to rectify the conflict between her and Tamar. #FingersCrossed
It's Grammy day, and Tamar is a heap of nerves! TamarQuote: "This is a magical, wonderful moment for any artist, and I'm super excited!" It is one hour until red carpet time, and SHE is not ready! To make matters worse, Tamar is debating on a drastic change- she wants to cut off hair! QQuote: "This is why I was hitting up everybody for a 6am call time so we could discuss this. Not 30 minutes before." TamarQuote: "OK, do it!" If Tamar doesn't like this cut, she's "ass out." As the huge chunks of hair start to fall, Tamar starts to panic. TamarQuote: "Who cuts their hair right before they go on the red carpet?" After Q curls the newly short 'do, Tamar's panic turns into a quick decision to flat iron her hair, and she is adamant about it. VinceQuote: "You look absolutely amazing." Leave it to Teddy Rupskin to calm Tamar's nerves. The Insider stops by to get some pre-Grammy dish, and with a quick shot they are out the door.
Trina has bought a tour bus for Bar Chix, and the ladies have traveled cross country to serve up some beverages at Tamar's Grammy party. Trina is just as nervous as Tamar was a few hours before, but she takes a moment to make sure the girls are all set. TrinaQuote: "I'm just hoping no one tries to give their phone number to no one, cuz that would piss me off!" #Agreed However, Trina is in for an earful from the girls since the accommodations haven't been to their standards. AjaQuote: "We're in America and the f*cking water is brown? I have a problem with that." Sandra tries to calm down a heated Aja, but she is on a 10 right now. Trina addresses their concerns, and everyone moves on from the Mo-tel, Mo Problems situation.
Traci and Mommy watch the live stream from Traci's apartment since both of them are under the weather, and Toni and Towanda have chosen to remain at Toni's house for the Grammy viewing to avoid getting sick. TamarQuote: "And the winner is… it ain't me." Tamar was really looking for that validation from all the haters, but WE still recognize all the hard work Tamar has put into her career and so do all the Tamartians.
TowandaQuote: "Being nominated for a Grammy is a big deal. That means your work has spoken for itself." Traci is anxious to give Tamar some love and support, but Tamar is MIA at the moment! Vince shows up, Michael Braxton shows up, Evelyn arrives, Trina, Traci and Towanda are waiting… and still, no Tamar. Luckily, she has Toni there to force her to come to her own Grammy party! ToniQuote: "It's ok to be sad and disappointed sometimes, but you shake yourself off. This is your moment. Relish in it!" #Preach The sisters rush to Tamar's side to show her how extremely proud they are of her success. TrinaQuote: "It was a moment to be there for each other, and it's all coming back together again." #BabySisterTrophy
To keep on theme with family togetherness, Tamar has decided to throw Vince a birthday party AND surprise him by having Logan baptized by Evelyn and Michael. TowandaQuote: "I think it's going to be like a race. Who's going to get to the finishing line first?" And as predicted, Mommy and Michael try to outdo each other with words of prayer and praise. The looks being shot around the room are priceless. #StarSearch And how cute is Logan is his christening attire?! #CutestKidAward It's now time to get the party started! This has been #BackToBackFun for the sisters, and they really ended season 3 on a great note! (But will Toni back out of the gospel album?! Stay tuned…)