Braxton Family Values star Trina Braxton is another step closer to her dreams. The owner and founder of Bar Chix held a private soft launch for her new Atlanta bar on Thursday evening. The soft launch gave the party goers a chance to check out the wine and tapas bar before the doors open for the public. It also gives Trina and her employees a chance to work out the kinks. There were several WE tv stars in the building to support her endeavor.
Evelyn, Traci, and Towanda Braxton all came out to show their support.
The ladies of Selling It: In the ATL were in the building!
WE are family!
Stars from the show Hollywood Hillbillies came to check it out!
Actor Carl Payne came through to show his support!
The Bar Chix staff is ready to work!
These cupcakes look delish!
No event is complete without cake!
Tamar couldn't make it but posted on Instagram just how proud she was of Trina and was glad she listened and added chicken wings to the menu!
Congratulations Trina, WE are happy for you and wish you much success with Bar Chix!
Trina Braxton has a new man! The Braxton Family Values star and recent divorcee introduced her sisters and mother to her new bae Jacent in last week's episode. Meeting a group of women is intimidating enough, but meeting the Braxton women… WE think Jacent handled it pretty well.
The ladies seemed to welcome Jacent with kind hearts and not too much 'tude and shade. Traci was however, shocked that Trina is dating a black man. "Trina told everyone she was dating a black man. But I never really believed her until now. Black! Not just Black, he Blaq with a Q! Her life is going to change forever!" WE hope things work out for Trina and Jacent!
WE know Misster Ray had something to say about this budding romance! Check out this week's Reality Wrap where he breaks down Trina's love life and serves up some realness about last week's episode of Cutting It: In the ATL.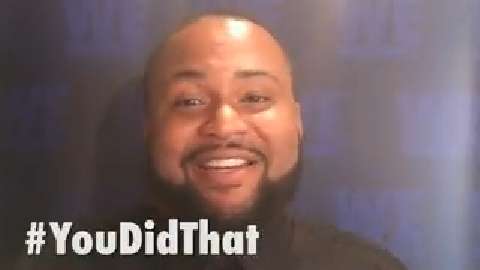 Halloween may have come and gone but that didn't stop Braxton Family Values star Trina Braxton from celebrating her 40th birthday over the weekend in super heroine style in Atlanta. The whole Braxton family got in the super hero spirit and brought their costume "A" game for the party!
Tamar & Vince stars Tamar Braxton-Herbert dressed up as Poison Ivy from the Batman series and hubby Vince.
Towanda Braxton pauses to pose with friends.
@towandabraxton @SandyeLomax pic.twitter.com/0NWeqTDBrA

— JAQUITTA WILLIAMS (@jaquittaw) December 8, 2014
When Poison Ivy (Tamar) and Toni Braxton as Storm from X-Men get together there's bound to be some SLAY-AGE.
The Braxtons showed up and showed out in their super hero costumes, included Evelyn Braxton!
WE love the costumes! Looks like a fun time was had by all!
This season of Braxton Family Values is over, but that doesn't mean you have to miss out on a daily dose of Braxton moments! Your GIF's live on to tell the stories of our favorite sisterhood – here are the ones WE love most.
1. You all know how much WE love Tamar's Tamarisms, but this girl knows how to throw some serious #SHADE.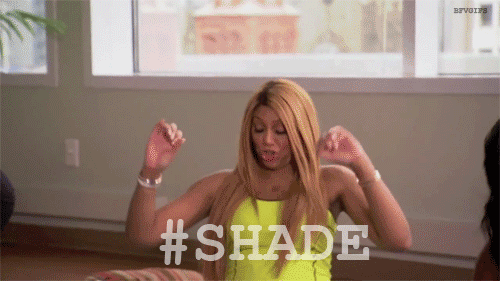 2. There's just way too many feels going on right now, and Tamar ain't feelin' all the feels.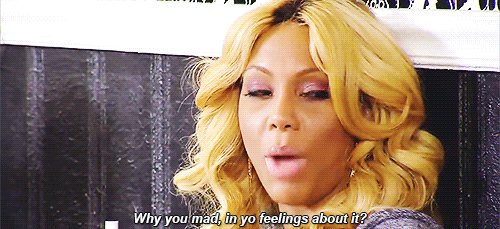 3. A meet and greet with fans is always a little awkward…just take it from Toni's hilarious facial expression. Really, dude? You want to be the next guy in one of Toni's sad music videos? Take a number. BYE.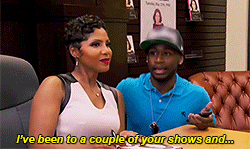 4. When Tamar's sisters try to 'surprise' her on stage, all hell breaks lose – Tamar throws more than just shade.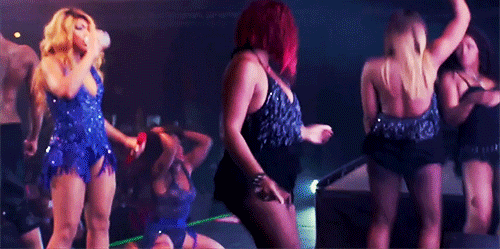 5. Trina Braxton – can she twerk or nah? According to Tamar, they ain't twerkin' in Canada yet.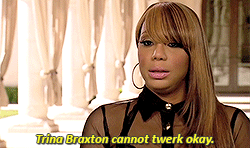 6. No doubt that one of this season's greatest moments is a game of truth or dare gone seriously wrong…especially when "your stomach looks like a loaf of bread," is thrown out there…eek!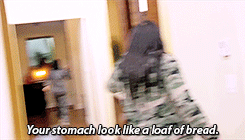 7. That awkward moment when…you tried It to capacity.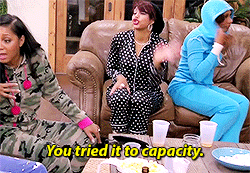 8. Feel that music! It looks like Tamar might be the only one feeling the dancer's moves, but WE are totally feeling that face she's making!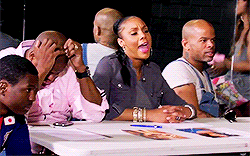 9. *Takes Vince With Her Everywhere*, but seriously…look at poor Vince moseying his way on the sidewalk with Tamar's bag in hand.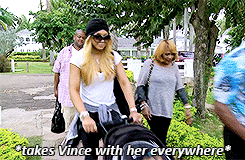 10. Sip that tea, girl!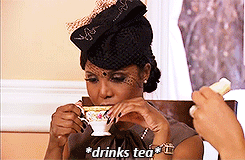 Motherhood is a beautiful thing, but sometimes Mommy needs a little alone time. Whether you need to get your hair done, spend some time with your hubby, or throw back a few with your friends, it's important to remember to carve some time out for M-E, me!
WE found some celeb moms that were taking a little time out for themselves, while looking amazing (obvi). See if your favorite super mom made our list!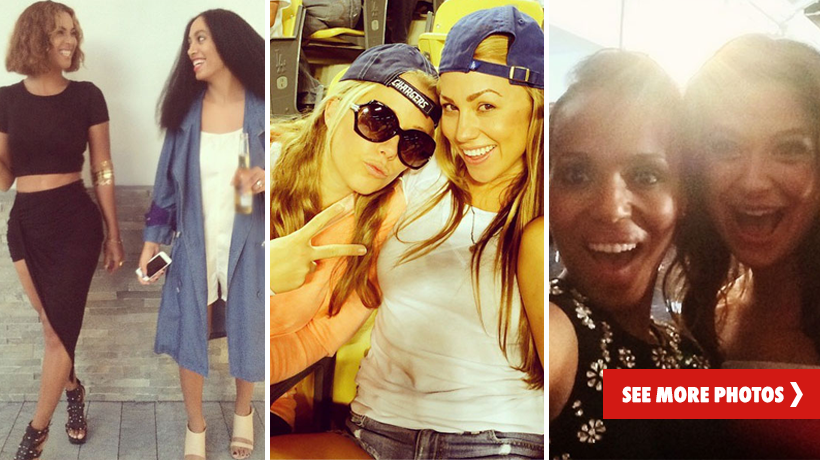 Last week Washington, D.C. was filled with black professionals who came together for the Congressional Black Caucus Foundation's 44th Annual Legislative Conference. The four-day conference boasted a number of prominent political names and famous faces who gathered to discuss issues that impact black communities around the world.
The event wouldn't be complete without some of our own talent making an appearance. Trina and Towanda Braxton even had the opportunity to meet First Lady Michelle Obama. WE wonder if she takes a break from all the "Scandal" in the White House to watch Braxton Family Values? WE wouldn't blame her if she did.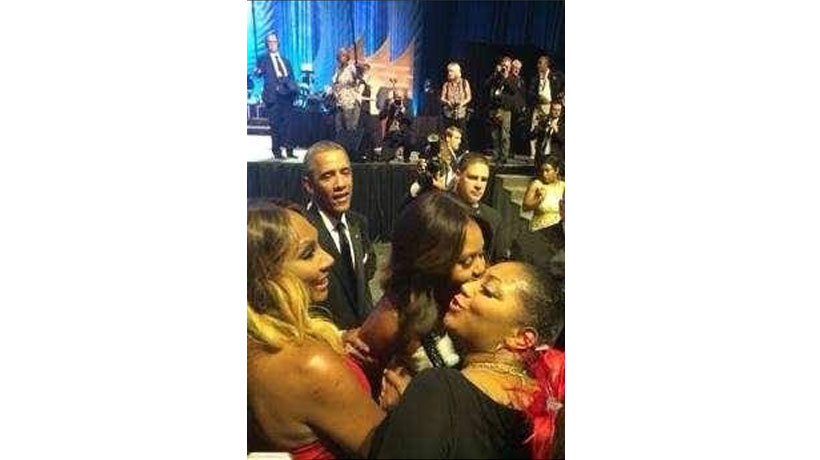 The Braxton sisters were telling all on a recent episode of The Wendy Williams Show. Towanda and Trina talked family drama, new music and the explosive upcoming fourth season of Braxton Family Values.
Towanda defended the outburst seen 'round the world in the Season 4 preview, revealing that she was releasing 40 years of pent-up frustration toward her family but she and sister Tamar are now on "good" terms. Towanda also cleared up rumors about dating Real Housewives of Atlanta star Porsha Williams' ex Kordell Stewart, coyly saying they're "just friends."
Trina commented on her on-again, off-again relationship with her husband of 11 years, Gabe, saying they're focusing on being "good parents." The couple, who now share the Twitter account @trinaandgabe, do get physically intimate from time-to-time but Trina affirms that's not our business. *sips Kermit tea*
The question on everyone's minds, however, was did the family album ever get finished? Trina mistakenly revealed that the answer to that is a huge 'No.' Will they be able to get it together this season to finally complete the record? Do Towanda and Tamar really make peace? What in the world is going on with Trina and Gabe's marriage? Be sure to tune into the season premiere of Braxton Family Values on August 14th at 9|8c to see the drama unfold.
In the meantime, check out their interview with Aunt Wendy below:
Mama E has asked Towanda to meet up for a one-on-one lunch, but Towanda can't help but be skeptical. EvelynQuote: "So what's doing with you and Tay-me?" TowandaQuote: "Whatchu mean?" "I know it's not my issue, but it seems like y'all taking so long!" Even though Towanda doesn't think Mommy should get in the middle of a sister issue, Ms. E feels life is too short for this nonsense. EvelynQuote: "This is a family for God's sake… let's act like it." It is Ms. Evelyn's choice to be in the middle, but Towanda thinks she's taking a side. WE can only hope that Mommy is right and Towanda chooses to rectify the conflict between her and Tamar. #FingersCrossed
It's Grammy day, and Tamar is a heap of nerves! TamarQuote: "This is a magical, wonderful moment for any artist, and I'm super excited!" It is one hour until red carpet time, and SHE is not ready! To make matters worse, Tamar is debating on a drastic change- she wants to cut off hair! QQuote: "This is why I was hitting up everybody for a 6am call time so we could discuss this. Not 30 minutes before." TamarQuote: "OK, do it!" If Tamar doesn't like this cut, she's "ass out." As the huge chunks of hair start to fall, Tamar starts to panic. TamarQuote: "Who cuts their hair right before they go on the red carpet?" After Q curls the newly short 'do, Tamar's panic turns into a quick decision to flat iron her hair, and she is adamant about it. VinceQuote: "You look absolutely amazing." Leave it to Teddy Rupskin to calm Tamar's nerves. The Insider stops by to get some pre-Grammy dish, and with a quick shot they are out the door.
Trina has bought a tour bus for Bar Chix, and the ladies have traveled cross country to serve up some beverages at Tamar's Grammy party. Trina is just as nervous as Tamar was a few hours before, but she takes a moment to make sure the girls are all set. TrinaQuote: "I'm just hoping no one tries to give their phone number to no one, cuz that would piss me off!" #Agreed However, Trina is in for an earful from the girls since the accommodations haven't been to their standards. AjaQuote: "We're in America and the f*cking water is brown? I have a problem with that." Sandra tries to calm down a heated Aja, but she is on a 10 right now. Trina addresses their concerns, and everyone moves on from the Mo-tel, Mo Problems situation.
Traci and Mommy watch the live stream from Traci's apartment since both of them are under the weather, and Toni and Towanda have chosen to remain at Toni's house for the Grammy viewing to avoid getting sick. TamarQuote: "And the winner is… it ain't me." Tamar was really looking for that validation from all the haters, but WE still recognize all the hard work Tamar has put into her career and so do all the Tamartians.
TowandaQuote: "Being nominated for a Grammy is a big deal. That means your work has spoken for itself." Traci is anxious to give Tamar some love and support, but Tamar is MIA at the moment! Vince shows up, Michael Braxton shows up, Evelyn arrives, Trina, Traci and Towanda are waiting… and still, no Tamar. Luckily, she has Toni there to force her to come to her own Grammy party! ToniQuote: "It's ok to be sad and disappointed sometimes, but you shake yourself off. This is your moment. Relish in it!" #Preach The sisters rush to Tamar's side to show her how extremely proud they are of her success. TrinaQuote: "It was a moment to be there for each other, and it's all coming back together again." #BabySisterTrophy
To keep on theme with family togetherness, Tamar has decided to throw Vince a birthday party AND surprise him by having Logan baptized by Evelyn and Michael. TowandaQuote: "I think it's going to be like a race. Who's going to get to the finishing line first?" And as predicted, Mommy and Michael try to outdo each other with words of prayer and praise. The looks being shot around the room are priceless. #StarSearch And how cute is Logan is his christening attire?! #CutestKidAward It's now time to get the party started! This has been #BackToBackFun for the sisters, and they really ended season 3 on a great note! (But will Toni back out of the gospel album?! Stay tuned…)
Because our fans are absolutely incredible, WE are bringing you some extra content for last week's episode of "Braxtons Family Values." Towanda takes Trina and Traci to lunch to share the exciting news about "Who Wants to Be a Millionaire," but before the girls even get their drinks TrinaQuote: "I really gotta go kee-kee. Don't talk about me while I'm gone." Traci Quote: "Don't worry, we will." The girls kept their promise! Towanda tells Traci all about when Trina peed in her pants during Mardi Gras in New Orleans. TowandaQuote: "Just close your eyes and imagine someone pouring water on the carpet." TMI Towanda! Towanda Quote: "Girl… I called everybody and told everybody she's pissing on herself."
Anyone who follows the Braxton family can close their eyes and pick Tamar out of a crowd by simply hearing her voice. Her latest and greatest fan is no exception to the rule. I am riding on the tour bus with Vince and Tamar. Every time Tamar opens her mouth, 3 month old baby Logan snaps to attention. Okay, so it's normal for a baby to recognize his mommy's sound, smell, touch, etc. But Logan takes it a step farther. While we are all busy making him the star by giving him our attention, he is giving his attention to Tamar's concert videos. That's right, pop in a video and you can see him listening attentively in his car seat! I keep expecting him to sing out a line from The One!
Don't worry about Vince though. Logan definitely knows his daddy too. The way he and Vince look into one another's eyes lets you know that father and son share secrets. They are best buds. I can already see Vince teaching Logan to drive his first car! But we have a while before that happens.
In the meantime, I am having a ball watching my 12th grandchild grow up on the tour bus. No one has had much time to enjoy the beautiful L.A. home that Vince purchased for his family. However, Logan's presence on the tour bus has made the bus quite a home away from home. We are so mesmerized by his laughing, cooing and how much he has grown that we don't even mind the close quarters and long rides.
Each time I count my blessings I am amazed by how the list continues to grow. When the Braxtons' show first started, having a baby was the farthest thing from Tamar's mind. Now I peep in at her while she sleeps with Logan curled up next to her. I can hardly believe what an awesome mommy she has become and what a beautiful grandson she has given me. I feel honored that God has chosen me to be blessed with beautiful children and grandchildren, I am enjoying the ride. Look at God!!